Join us on Lower Antelope Canyon photo tour as we travel through the narrow passageway carved into the sandstone by wind and water.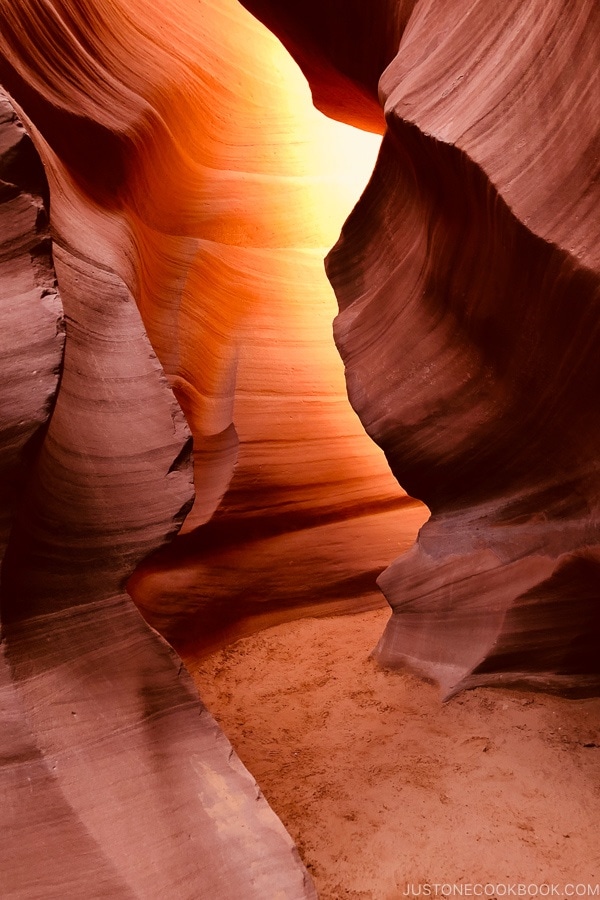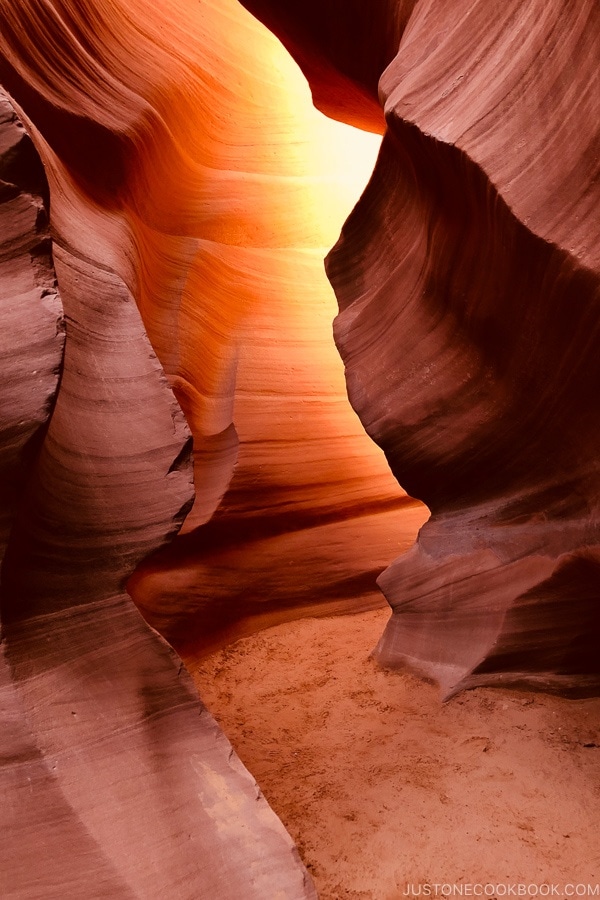 Our family took a trip to Utah and Arizona during children's spring break to visit the National Parks and other nearby wonders. It's been a dream of Nami's to visit Zion and Bryce Canyon National Park for a long time. In case you're not aware, Nami's dream job when she first came to the US was to be US National Park ranger. You can read about it in our Yosemite National Park Travel Guide post.
For this travel series, we'll share the following posts.
Ready to go explore mind-boggling landscapes with us? Let's go!
Watch Lower Antelope Canyon Video Tour
Join us on Lower Antelope Canyon photo tour as we travel through the narrow passageway carved into the sandstone by wind and water.
Getting to Lower Antelope Canyon
You've most likely seen images of Antelope Canyon before. Its popular scenery had been used for Windows desktop wallpaper and login screen. Did you ever wonder where these beautiful canyons are located? Both Upper and Lower Antelope Canyon are located near Page, Arizona. From our Airbnb in Kanab, Utah, it was about 1.5-hour drive east. If you drive from Las Vegas or Phoenix, it's about a 4.5 hours drive.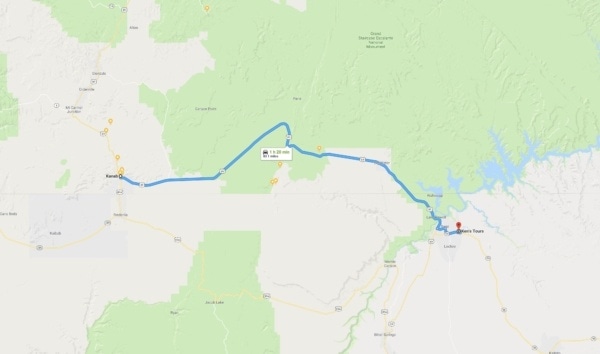 Lower Antelope Canyon – Quick Tips
Both Upper and Lower Canyon are on private Navajo Land; they are not places where you can visit by yourself. There are only 2 tour companies that operate Lower Antelope Canyon. Both tour offices (Ken's Tour/Dixie Ellis Tour) are located right at the canyon. For Upper Antelope Canyon, the vendors like Antelope Canyon Navajo Tours are off highway 98. They have trucks that will bring visitors to Upper Antelope Canyon.
Here are some tips for Lower Antelope Canyon:
The Canyon is not wheelchair accessible. In order to tour, visitors would need to climb down steep metal stairs.
It is very crowded. For our time slot at 11 am, the tour was at least 50-60 people. They divide the folks into groups of 10-15 visitors per tour guide and each tour guide then leads his or her group into the canyon.
Even though the floor is not paved, it's sandy and pretty easy to walk with regular shoes.
The Lower Antelope Canyon is a V-shape slot canyon with wider openings at the top and narrow walkways. The Upper Antelope Canyon is A-shape with wider walkways. Most photographers choose Upper Antelope Canyon for the unique light beam shots as it shines down through the crack onto the canyon floor.
No bags of any kind (including camera bags) allowed in the canyon except purses and hydration packs like Camelbak.
If you want to learn about the canyon during your visit, walk close to your tour guide otherwise it's hard to hear him/her. If you want to capture good photos, stay in the back of the group so you'll have time to capture shots when the rest of your group clear from the path.
Why we chose Lower Antelope Canyon?
We chose lower antelope canyon over upper antelope primarily because of cost, $40 vs $63/$74. A friend had been to both and recommended visiting just 1 as they are quite similar for casual "sightseers".
Most photographers choose Upper Antelope Canyon for the unique beam shots but those Photographers' tours are quite expensive at $150+ per person.
Lower Antelope Canyon Photo Tour
The canyons are below ground so when you arrive on location, you can't actually see the feature itself. Besides the ticket booth, there's a small gift shop, gallery, and snack bar in the main building.
Visitors wait in the waiting room until the tour time. Once it's time, you are assigned a tour guide as you head out the door.
While walking towards the slot canyon, you can see interesting patterns on the sandstone carved by wind and other natural forces over the millions of years.
The tour was backed up when we arrived at the slot canyon, we waited for about 10 min before descending the stairs.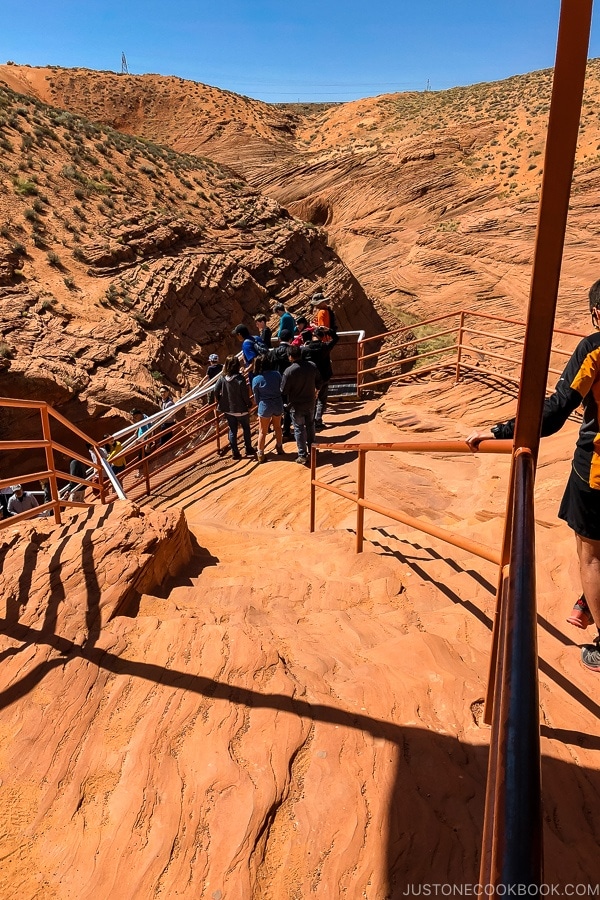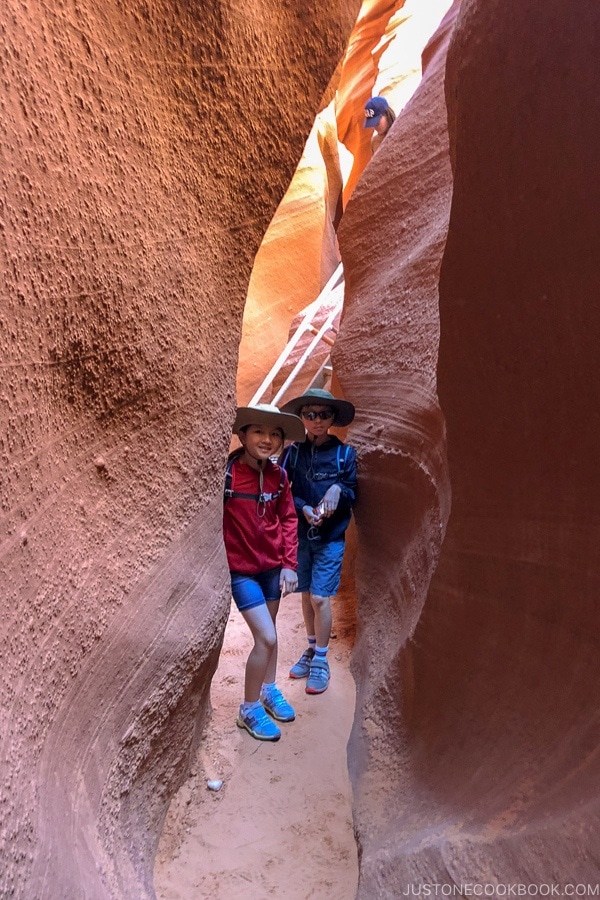 There is no barrier between visitors and the sand rock walls, you can get right up to the walls to touch them and see the details up close.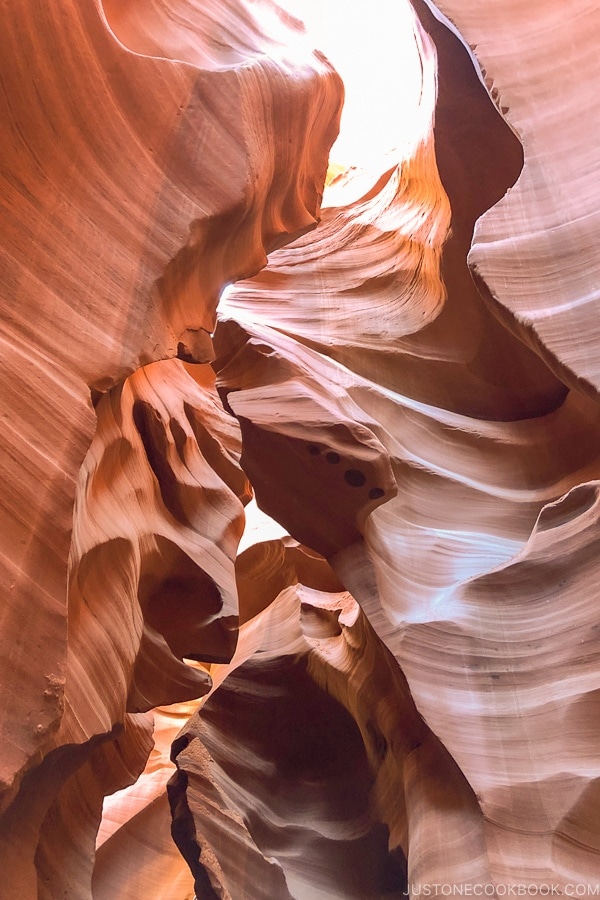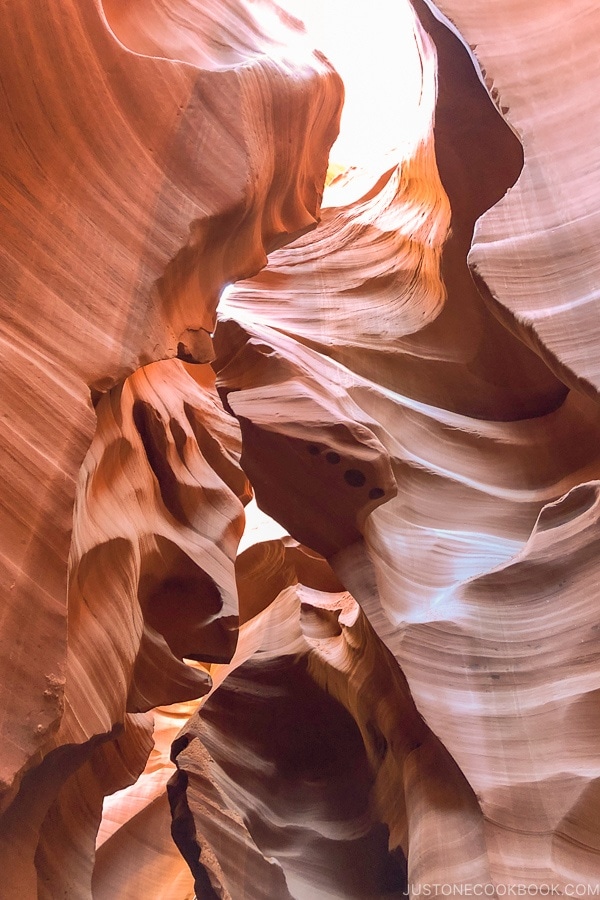 Due to its popularity and crowd size, it's very difficult to get shots of the canyon without people inside.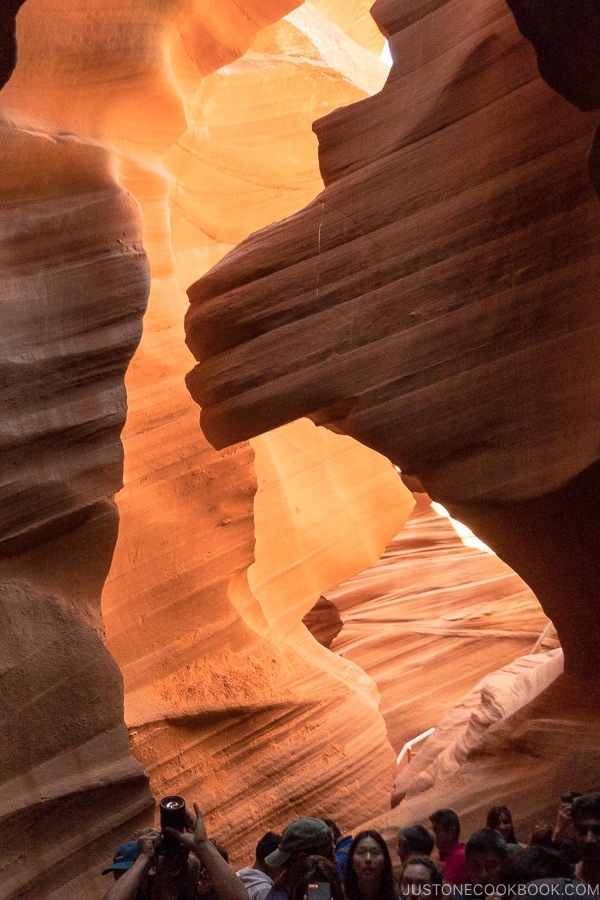 The tour is 1 hour of casually strolling through the canyon with pauses in between when it gets backed up. The views of the canyon are incredible throughout the entire tour.
PRO TIP: If you want some great photos from the canyon, ask the guide to take some of the pictures for you. They do the tour 5-6 times a day so they're aware of all the best photo ops.
Lower Antelope Canyon is pretty narrow most of the way, but it does opens up at certain points.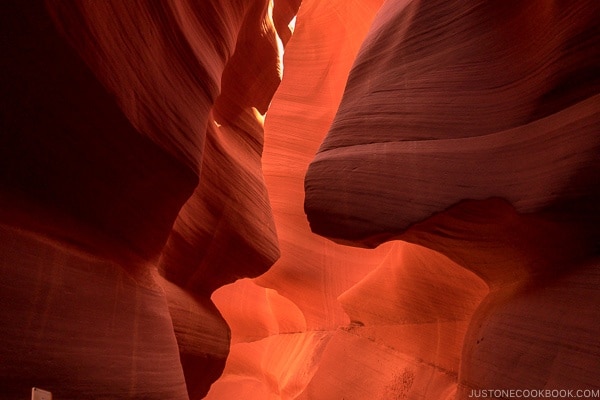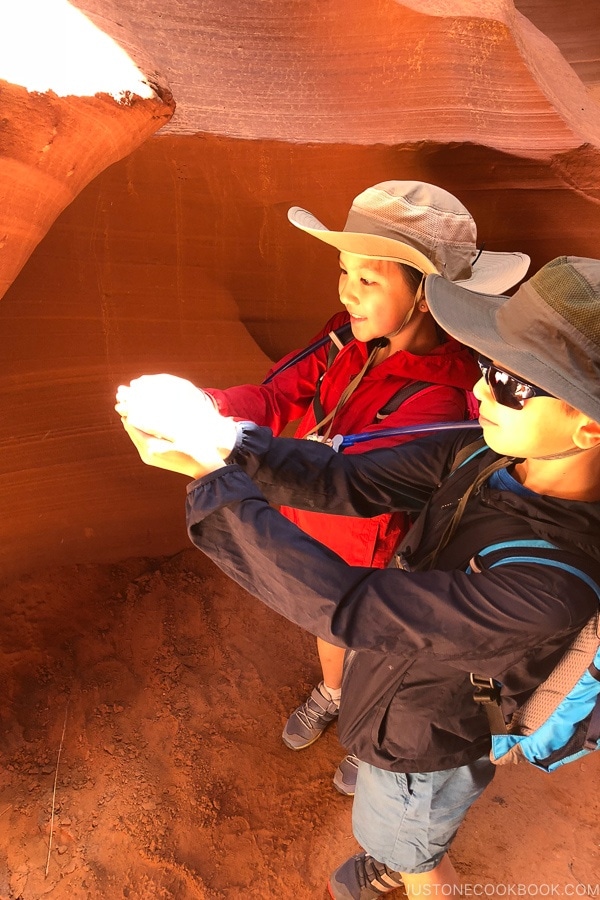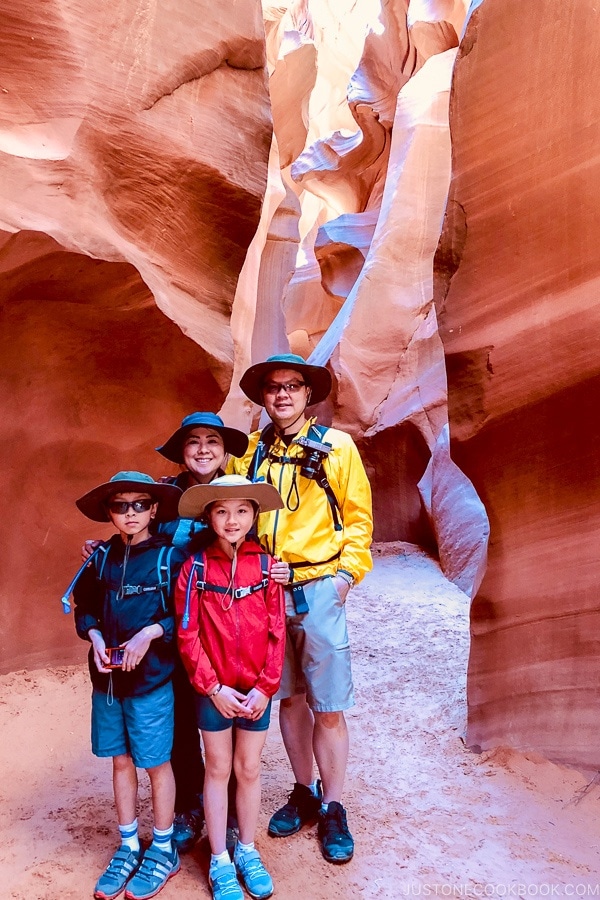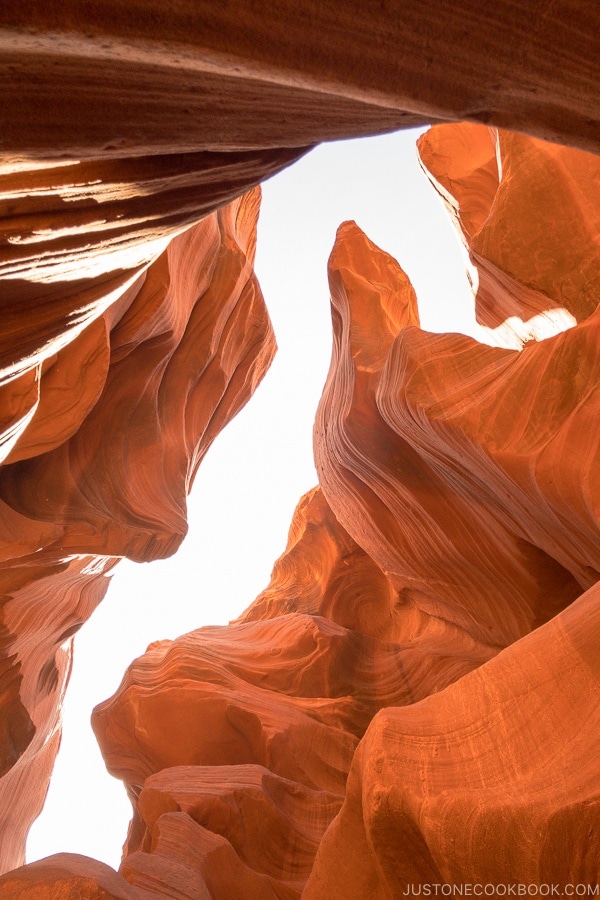 After the 1-hour tour, you exit the canyon through a crack in the ground.
If you are interested in how the canyon is formed, view our highlight video on YouTube.
Upper Antelope Canyon
In case you're interested, here are some images from Upper Antelope Canyon.
We hope you enjoyed the photo tour of Lower Antelope Canyon. It's amazing how water and wind created this amazing work of art from sandstone. We highly recommend visiting either Antelope Canyon on your next trip out to Page, AZ.
Many of you reached out to us asking where we stayed, ate, and what else we did in the area. It's all coming up on the next travel post.
Don't want to miss a recipe? Sign up for the FREE Just One Cookbook newsletter delivered to your inbox! And stay in touch on Facebook, Pinterest, and Instagram for all the latest updates.