California central coast is full of natural wonders, roaring ocean, inviting beaches, and breathtaking sunsets. Join us as we road trip through the central coast and discover its charms.
California central coast covers a very large area between San Francisco and Los Angeles. It stretches 250 miles from Monterey all the way down to Ventura. Our family has visited San Luis Obispo area in the past but as the central coast continues to grow in popularity, we thought it's time for us to take a road trip with our pup Miso.
Day 1 in California Central Coast
It is just slightly over 200 miles from our home to Pismo Beach where our hotel is. Without traffic, the drive is about 3.5 hrs so we drove down in the late afternoon. This way we can start early the next day. We only had two full days for this trip and wanted to enjoy a slower pace vacation so we didn't pack in too many activities.
Our day 1 morning started with one of our favorite searches—good local coffee and breakfast. Steaming Beans coffee shop was not too far from our hotel and served up excellent breakfast sandwiches and pastries along with great coffee.
After breakfast, we drove to Paso Robles which is known for many fabulous wineries.
Vineyard Dining at Justin Winery
Justin Winery in Paso Robles is one of the best-known wineries in the area. Besides their wine, the Restaurant at Justin has been receiving rave reviews. The weather was perfect for outdoor dining and wine tasting when we visited.
Lunch at Justin winery was served in a relaxing patio area facing rows and rows of vines. There was a small selection of dishes for lunch but everything was super tasty. Homemade pasta, fresh salad, juicy burgers, and flavorful steak to go with the wines.
After lunch, we walked around inside the winery to see their wine library. There was a framed letter from the White House acknowledging Justin Wine was served during an official state dinner hosted by President Clinton!
San Luis Obispo – Heart of California Central Coast
After the delicious lunch, we stopped by and walked around San Luis Obispo. We've always loved SLO and you can read about our previous visit when our children were younger. We started at the beautifully kept Mission San Luis Obispo de Tolosa. The mission offers free tours and visitors are free to see the inside.
San Luis Obispo Higuera St
The main retail street in downtown San Luis Obispo is Higuera St. and there is always something going on during the day and night. The street has plenty of restaurants and bars to wind down, and every Thursday night there is a lively farmer's market.
Unlike the main street in most large cities, there aren't too many big box stores. Instead, you'll chance upon interesting and unique stores like Rocket Fizz. Rocket Fizz sells fun and unique treats from all over the world.
Whether you want to figure out who is the best ax thrower amongst friends or drink mai tai at a tiki bar by the creek, there is plenty to do on Higuera St.
Lastly, it's a bit gross but a must—stop by the bubble gum alley and add yours to the ever-growing and ever-changing street art!
Ember Restaurant Arroyo Grande
Prior to our trip, we did research on restaurants that are both destination-worthy and dog friendly, and made a reservation at Ember for our first dinner. When JOC readers found out we were visiting the area, several of them reached out and recommended Ember to Nami so we were excited to try.
Ember is known for its live-fire cooking including a majestic pizza oven and a roaring fire cooking in the kitchen. We were seated in the outdoor patio in the back which allows dogs.
It was an excellent dinner with super friendly service. Many of the dishes were really good with the pork belly and blackened albacore as standouts. However, what really took us by surprise was the ribeye. Ember's ribeye was simply cooked to perfection and we all agreed that it's probably one of the best dishes we had on the entire trip.
We ended the first day by just relaxing on the hotel balcony and watching the sunset as a family.
Day 2 in California Central Coast
On our second day, after our breakfast and morning coffee, it's time to tackle the Oceano Dunes!
ATV on Oceano Dunes State Vehicular Recreation Area
Our exciting portion of the trip was to ride a dune buggy at Oceano Dunes State Vehicular Recreation Area. It's a vast sand dune with over 3,500 acres along eight miles of shoreline, stretching about two miles inland. Some of the land is set aside as a nature preserve, but over 1,200 acres is set aside for recreational off-highway vehicles. There is a ban that will go into effect on March 18, 2024, which will not allow off-highway vehicles anymore.
We booked the first driving slot of the day starting at 10 am from Sunbuggie. Sunbuggie requires customers to show up 1 hour before the drive time to fill out forms, watch a safety video, and get fitted for helmets and goggles.
We would recommend booking an earlier drive time since the helmets are dry and somewhat cleaner since no one's used them for the day yet. Optionally, you can bring your own helmet and goggles to wear. After we were explained which areas were open to off-road vehicles, we waited for the bus to take us to the vehicle check-in area.
We originally rented a 6 person buggy but after hearing horror stories from our friends about being stuck in the sand, we told Sunbuggie our concern. Sunbuggie recommended us to rent a 6 person ATV instead. It's less likely to get stuck and also not as loud. They've seen dogs being super terrified in the buggy and do not recommend it. In case you're interested, the 6 person ATV is called the Viking. For some reason, it's not available or listed on their website.
We rented the ATV for 1 hour which was plenty to drive up and down the beach several times and venture into a bit of the dune. The ATV doesn't go that fast and tops out around 15 mph. We avoided any steep slopes and had a great time.
Fun Time at the Beach
After returning the ATV, we spent a bit of time by the beach for the kids to boogie board and had tasty sandwiches from Pier St. Deli nearby. The hot pastrami and the club sandwich were delicious.
Next, we stopped by the popular Old West Cinnamon Rolls in Pismo Beach to pick some up for snacks. During our past trips, we've had clam chowder from Splash Cafe and spent time at Pismo Beach so we skipped on this trip.
Los Olivos and Solvang
Since our dinner is at Bell's in Los Almos, we decided to explore wine tasting in Los Olivos further south from Pismo Beach and to walk around the charming Solvang before dinner.
Los Olivos is a really cute small town with many wine tasting rooms. We made a tasting reservation at Brewer-Clifton, whose founder/winemaker Greg Brewer won Wine Enthusiast Magazine's 2020 "Winemaker of the Year".
The tasting room is simple and elegant. We got to try many good pinot noirs and chardonnay that were from local vineyards in Santa Rita Hills. The staff was super friendly and explained the characters of the grapes were different based on the vineyards' location and their proximity to the ocean.
We also took a little walk and tasted some really flavorful olive oil at Olive Hill Farm.
Solvang Danish Town
After wine and olive oil tasting, we drove 10 min to Solvang – "The Danish Capital of America". Solvang is known for its unique Danish-style buildings and windmills. A group of Danish-Americans settled in the area in 1911 but the Danish-style buildings didn't start until the late 1940s.
There is plenty to see and do in Solvang. Walk around the town and take in the view of windmills and unique Scandinavian architecture. Browse through the many boutique shops, whimsical antique stores, and small museums.
Besides shops, there are restaurants, wine tasting rooms, and Old Mission Santa Ines nearby.
Now it's time to head to Bell's for our dinner!
Bell's Restaurant
Our dinner on the second night was at Bell's Restaurant in Los Almos. We made the reservation many weeks in advance and Bell's was recognized for a Michelin Star shortly before our visit! The menu at Bell's is a 4-course pre-fixed meal for $75, and there are a few choices for each of the courses.
The restaurant was already buzzing at 5 pm and we were seated in the back patio since we had Miso with us. The staff was super friendly and told us about all the various dishes that were available for the day.
Since there were several of us we were able to order most of the dishes on the menu and tried a bit of everything. Everything was well presented and super tasty! The food is Californian with French influence and we all loved the meal.
We highly recommend making a reservation at Bell's if you are in the area and taste the exciting and creative food they offer.
After dinner, we relaxed and listened to the ocean waves hitting the rocks outside the balcony. It was a fun and relaxing trip, but definitely a bit shorter than we would like.
California Polytechnic State University, San Luis Obispo
The next day on the way back to San Francisco, we stopped by Scout Coffee in San Luis Obispo and checked out California Polytechnic State University, San Luis Obispo. As our son who will be attending college in 3 years, this made a convenient stop. It's a bit scary to think that he'll be leaving us soon, making these family trips so much more important for us. Time is precious.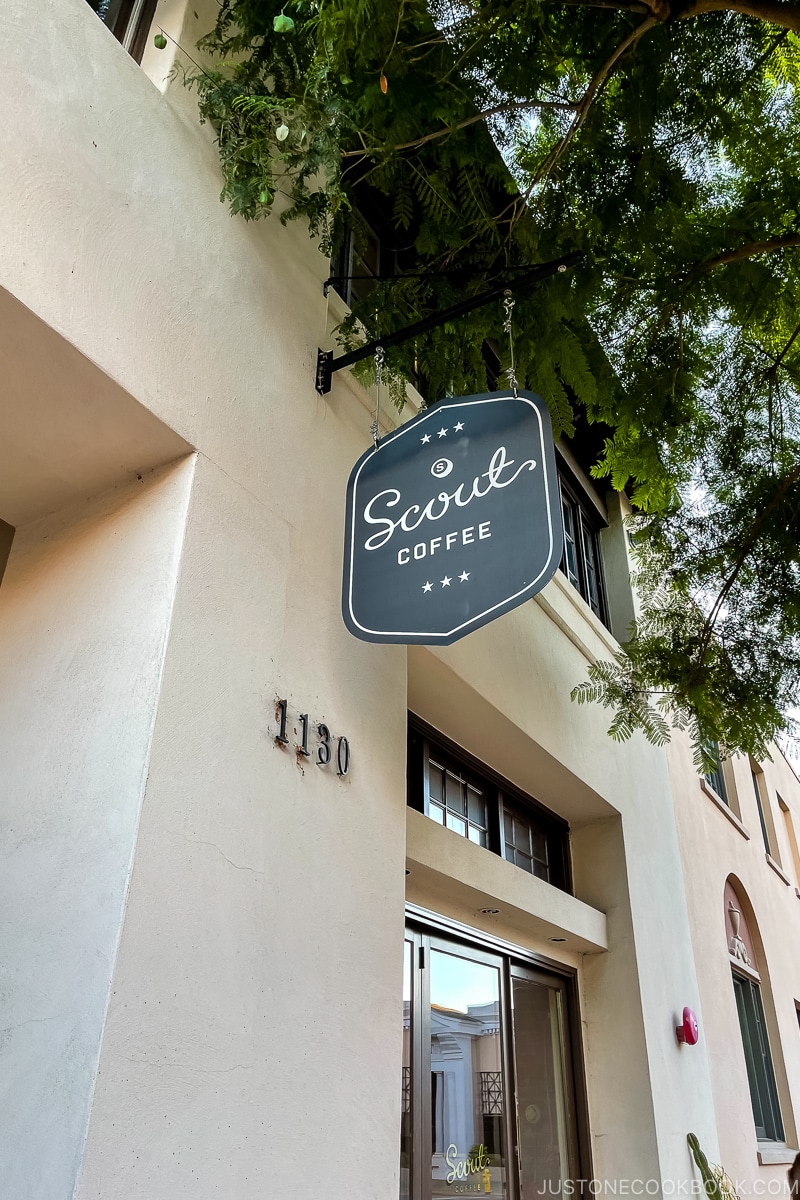 The Cal Poly SLO campus was beautiful and many of the buildings looked really new. If our son does attend Cal Poly in the future, it'll give us more reasons to visit the California Central Coast!
Other California Central Coast Places to Visit
California Central Coast is a vast area and our two-day trip there doesn't come close to covering the endless activities visitors can do there. Just a bit north of Pismo Beach is Morro Bay, there are many seafood restaurants and outdoor activities, including paddle boating in the bay.
Looking for something more exciting than ATV? How about zipline through pastures and vineyards! Margarita Adventures offers zip line tours for visitors to take in nearby scenery with 6 zip lines.
Another destination we wanted to visit on this trip but couldn't was Hearst Castle. The roadway to the castle is under repair so it's closed until the repair is complete. If you haven't been, it's quite the experience and we highly recommend it.
If you have other recommendations for our next visit to California Central Coast, please let us know in the comments below.
Dolphin Bay Resort
Our stay this time was a 2 bedroom suite at Dolphin Bay Resort. We appreciate the spacious suite with the in-unit laundry machine and 2 bathrooms. The hotel is right next to the ocean and it felt amazing waking up to the sound and views of ocean waves each morning!
On the way home, there aren't many food choices along Hwy 101. One of the highly recommended restaurants is The Cork & Plough in King City, but unfortunately, it was closed.
Instead, we stopped by Salinas City Barbeque and loved it! The beef brisket and bbq sauce are some of the best we've tasted around the bay.
We hope you enjoyed our 2-day trip to California Central Coast. We realized we haven't explored it much after this trip so we look forward to going back again!