Today I'm joining Table for Two USA (TFT) to promote their World Food Day Campaign 2017. This campaign promotes healthy Japanese food and aims to provide 1 million meals to children in need.
Table for Two USA is a non-profit organization that aims to tackle obesity and hunger issues simultaneously.  Their campaign starts today from October 5th to November 15th. As a part of the campaign, it features the Japanese iconic food "Onigiri" aka Japanese rice balls.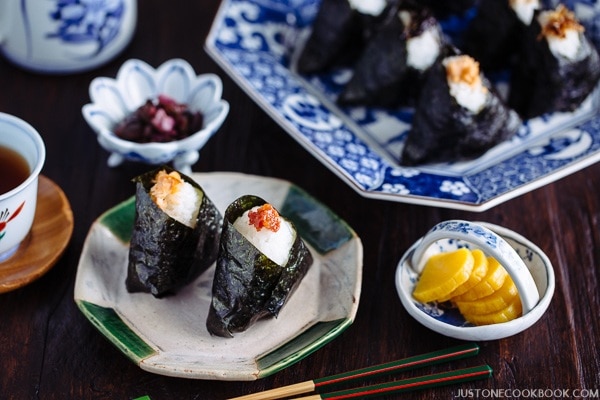 ONE Onigiri Photo Post Brings 5 School Meals!
The onigiri picture above can bring 5 school meals to children in need.
Yes, it's that simple. Sponsor organizations will donate 5 school meals per photo submitted!
In Africa, 25 cent donation can provide one school meal to a child.  In the U.S., the same donation enables schools to provide school meals upgraded with fresh vegetables and fruits in low-income neighborhood school districts.
Here's How You can Participate #OnigiriAction
Step 1. Snap a picture of your Onigiri
Take pictures of your Onigiri preparation and enjoyment.  You can take a picture of your Onigiri preparation to show off your cooking talent, OR snap a photo you eating Onigiri with your friends. You get to contribute to a good cause and let your creativity shines at the same time! Have fun making & eating Onigiri.
Step 2. Post your photos on the Website or on Your SNS
You can submit the photos to the campaign page or post on your SNS (Instagram, Facebook, and Twitter) with hashtag #OnigiriAction (and #justonecookbook so I can check your creation too!)
Your participation = School meals will be delivered to the children in need
And as a bonus, the Best of Best Onigiri photos will be selected and recognized.
Watch How To Make Onigiri (Rice Ball)
Stuffed with a variety of fillings and flavors, these Japanese rice balls make an ideal quick snack and are a fun alternative to sandwiches for lunch.
If you need some inspirations, click here to learn more about Onigiri and see the step-by-step picture tutorial on how to make Onigiri (rice ball).
Let's make a difference together #OnigiriAction!
Last year's #OnigiriAction generated 108,815 onigiri photos from all over the world. I know I can count on the supportive and caring JOC community to make this campaign a success again. Together we can end childhood hunger by connecting kids to the healthy food they need, every day. Let's join #OnigiriAction together for the great cause!
To visit the campaign site, please visit here. For more information about the organization Table for Two, please visit their website.
A collage made with all the photos submitted last year by people around the world!