Make a soft and fluffy homemade chocolate soufflé dusted with powdered sugar. Serve with a side of vanilla ice cream or whipped cream, drizzle chocolate sauce on top, or a dusting of powdered sugar for a restaurant-level dessert!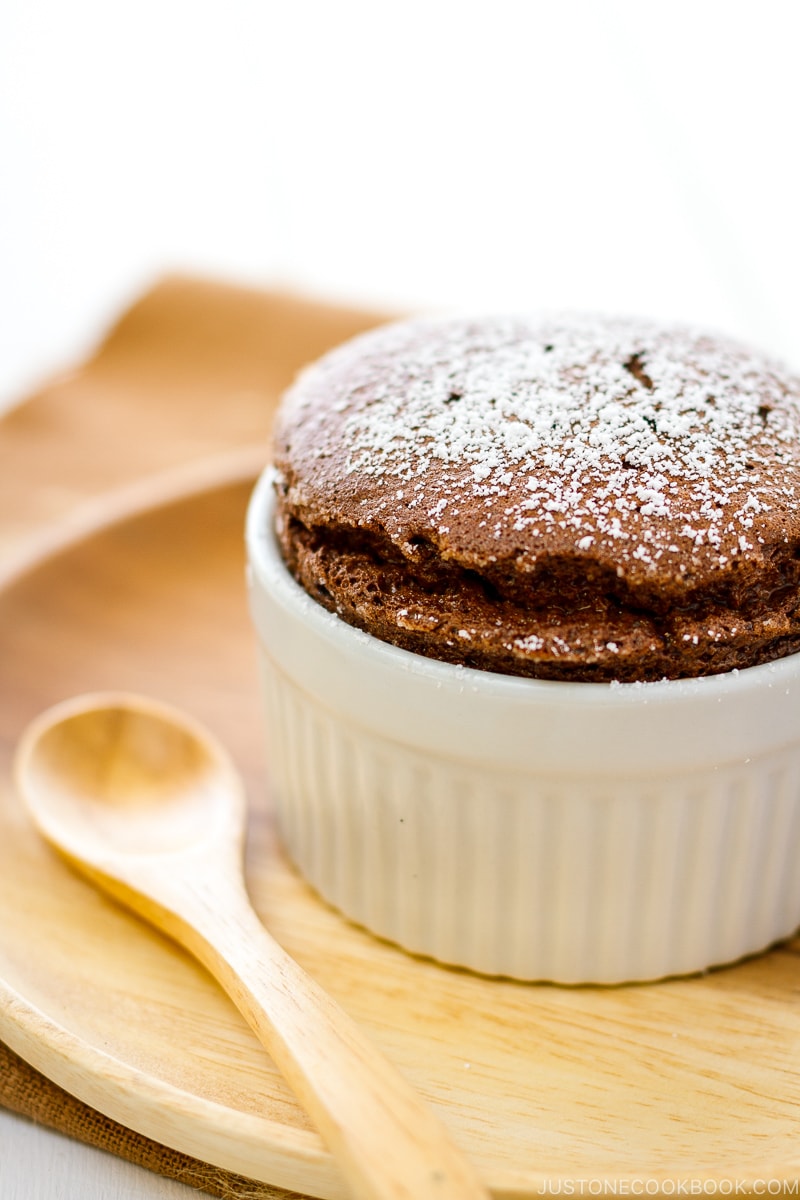 Do you remember my Chocolate Ice Cream recipe that you need to wait five days to get the perfect results? That recipe required six egg yolks, and I had to figure out what to do with the leftover egg whites. That's how I came up with this amazingly delicious Chocolate Souffle.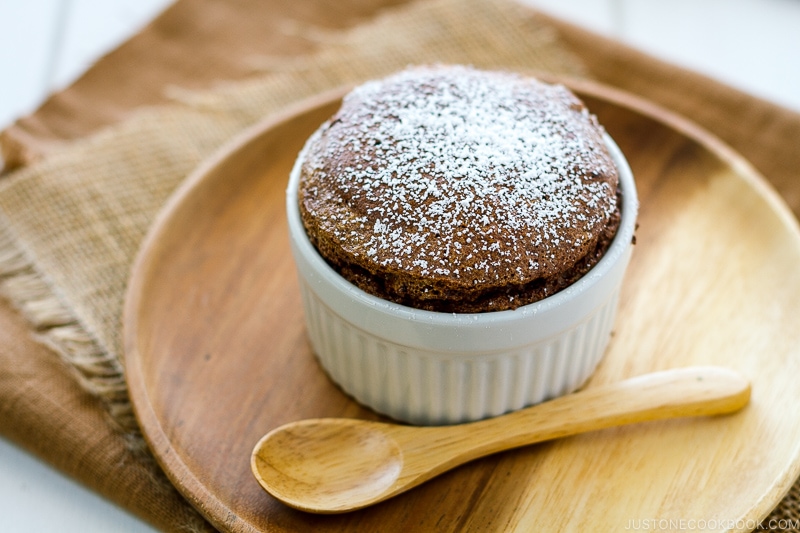 It turned out that I needed an additional two egg whites for this recipe, but my oh my… it was heavenly. From the outside of the oven window, I could see the souffle rose high above the ramekins. It was a beautiful sight; the texture looked fluffy and airy. After I took out the perfect-looking souffle from the oven, I was mesmerized by the beauty for several seconds, which brought me back to reality. When I realized that, it started to deflate slowly. Oh no!!!!!!!!!!!!!!!
I quickly dusted powder sugar, ran to my "photo studio" (just part of my living room next to a big window), and started taking pictures. No, I wasn't ready for a photoshoot. As I took pictures, I immediately gathered some props (a spoon, fabrics, etc). The result? I'm unhappy because I couldn't capture my perfectly risen souffle!
It was probably the most challenging food photo I've taken, even more time-sensitive than an ice cream shot, and I wasn't prepared.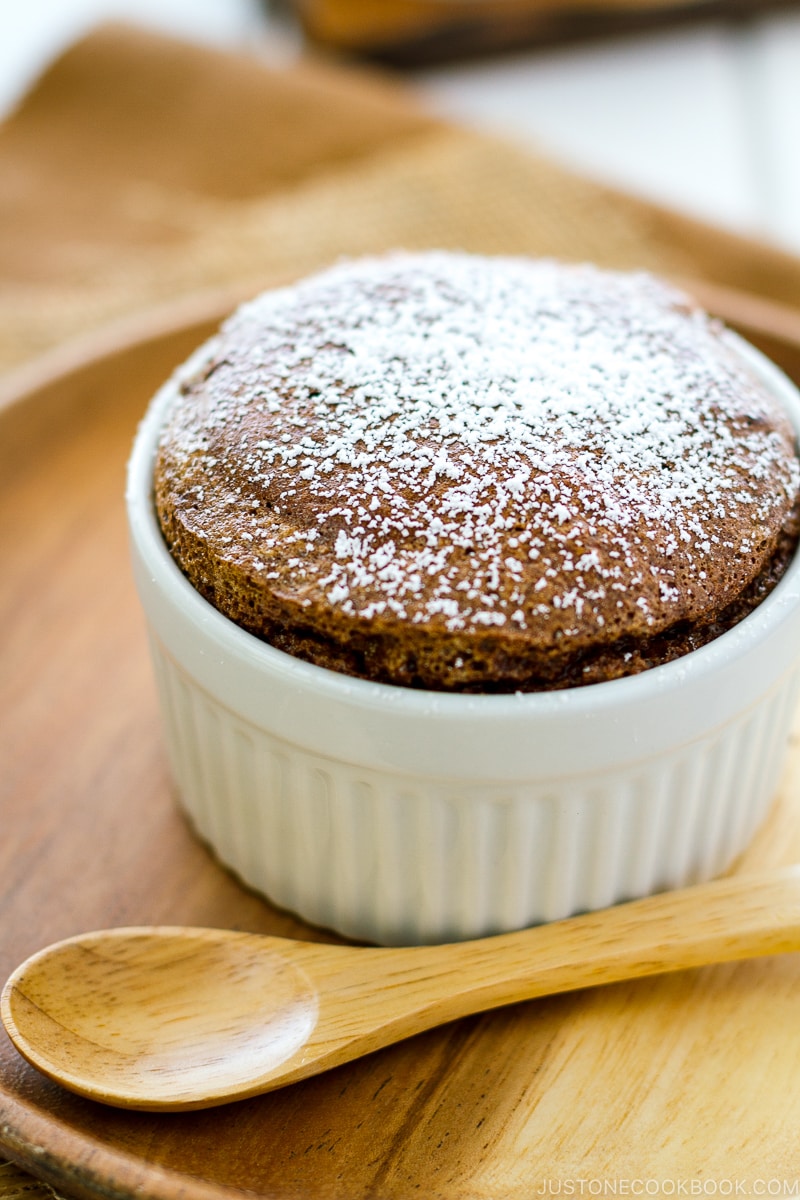 The story does have a happy ending. As the souffle beckoned for a bite, I took a big spoonful, rich from the chocolate flavor. I forgot about the chaotic photo session until I started writing. Maybe I'll have to make it again and retake pictures. I will set up everything this time and run to the "studio" as fast as possible! I hope you enjoy this Chocolate Souffle.
What's Half-and-Half?
Half-and-half is an American dairy product that blends equal parts whole milk and light cream with a 10-12% fat content.
If you live outside of the U.S., here is a substitute for 2 cups of Half-and-Half in the recipe.
Option 1: Mix 1 cup (240 ml) whole milk + 1 cup (240 ml) light cream (18-30% fat).
Option 2: Mix 1 ½ cup (360 ml) whole milk + ½ cup (120 ml) heavy cream (36-38% fat).
Option 3: Mix 1 ⅓ cup (320 ml) low-fat milk + ⅔ cup (160 ml) heavy cream (36-38% fat).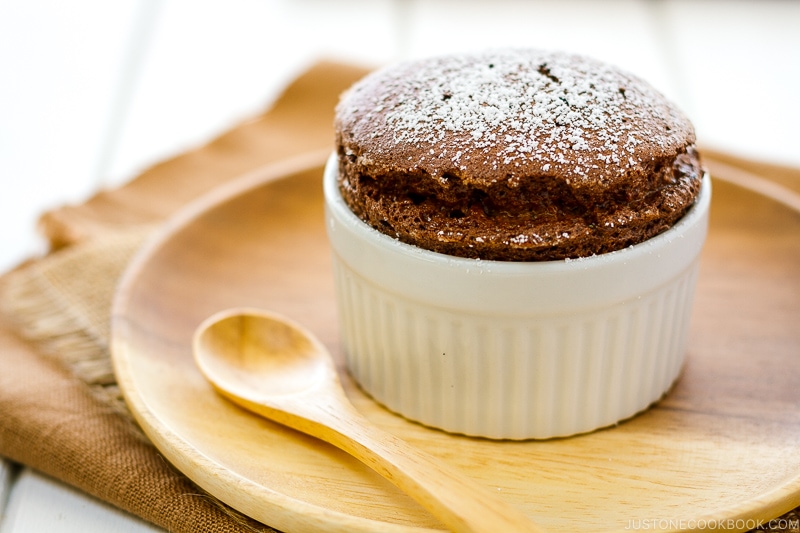 Wish to learn more about Japanese cooking? Sign up for our free newsletter to receive cooking tips & recipe updates! And stay in touch with me on Facebook, Pinterest, YouTube, and Instagram.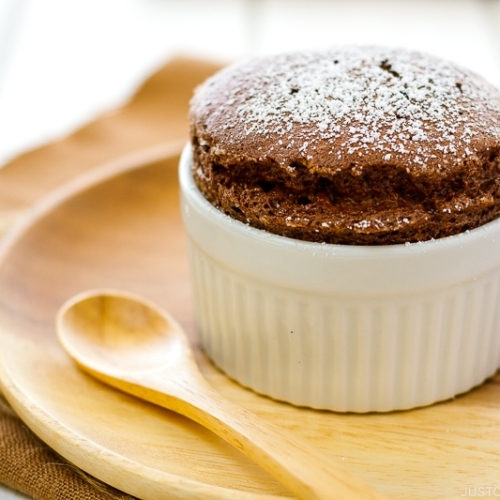 Chocolate Souffle
Make a soft and fluffy homemade chocolate soufflé dusted with powder sugar, simply delicious and heavenly!
Ingredients
1

Tbsp

Unsalted butter

(to coat the ramekins)

2

Tbsp

sugar

(to coat the ramekins)

3

oz

bittersweet chocolate

(next time I'll use really good chocolate)

⅓

cup

half-and-half

(an American dairy product of equal parts whole milk and cream that contains 10.5-18% milkfat; Substitute 1: Mix ⅙ cup (40 ml) whole milk + ⅙ cup (40 ml) light cream (18-30% fat). Sub 2: Mix ¼ cup (60 ml) whole milk + 4 tsp (20 ml) heavy cream (36-38% fat). Sub 3: Mix 3½ Tbsp (53 ml) low-fat milk + 5 tsp (26 ml) heavy cream.)

½

cup

unsweetened cocoa powder

⅓

cup

water

8

large egg white

½

cup

sugar

confectioners' sugar

(for dusting)
Japanese Ingredient Substitution:
If you want substitutes for Japanese condiments and ingredients, click
here
.
Instructions
Gather all the ingredients. Preheat the oven to 375°F (190°C). For a convection oven, reduce cooking temperature by 25ºF (15ºC).

You will need 6 4-oz (½ cup, 120 ml) ramekins. With a pastry brush, coat the inside souffle ramekins with softened butter.

Put some granulated sugar in the ramekin and cover the opening with your hand and circulate. Once sugar is attached to the ramekin, remove the excess to the next ramekin and continue this process until all ramekins are coated with sugar.

Chop the chocolate into small pieces.


Pour the half-and-half into a saucepan and heat over medium high heat until bubbles begin to form around the edge of the pan.


Remove from the heat and make a ganache by adding the chopped chocolate. Stir well until combined and all of the chocolate has melted.


Make a double-boiler by setting a large mixing bowl over a pot of boiling water. Place the ganache in the mixing bowl.


Add the cocoa powder and water, and mix until very hot. Remove from the heat and set aside.


Place the egg whites in a stand mixer and whip on medium speed until foamy.


Increase the mixer speed to medium-high and make a meringue. Add 1 Tbsp sugar at a time and whip the whites till stiff but do not over whip the egg whites.

Use a rubber spatula to gently fold about half the meringue into the warm chocolate mixture.


Then fold (not mix) the chocolate mixture into the remaining meringue in a standing mixer bowl. Do not deflate the batter. It's okay if you still see streaks of meringue in the batter.


Use a large spoon to gently place the souffle mixture in the ramekins. Fill to about 1/4 inch below the rim of the ramekin. Run your thumb around the rim to remove the excess butter and sugar. Place the ramekins in a baking pan (for easy transfer to and from oven).


Bake at 375°F (190°C) until the souffle has risen to about 1 ½-inch over the rim and starts to brown on top, about 11-12 minutes. Remove from the oven and dust the top with powdered sugar. Serve immediately.
To Store
You can keep the leftovers in an airtight container and store in the refrigerator for 2-3 days. To reheat, bake the room temperature souffle in a preheated 350°F (180°C) oven for about 6 minutes, until they rise.
Nutrition
Nutrition Facts
Chocolate Souffle
Amount per Serving
% Daily Value*
* Percent Daily Values are based on a 2000 calorie diet.
©JustOneCookbook.com Content and photographs are copyright protected. Sharing of this recipe is both encouraged and appreciated. Copying and/or pasting full recipes to any website or social media is strictly prohibited. Please view my photo use policy
here
.