Did you know there is more than one type of vinegar that is used to season sushi rice? In addition to rice vinegar, top sushi chefs also use akazu, a special red vinegar, to make sushi and specifically traditional Edomae sushi. In this article, we'll explore the history and recent comeback of akazu red vinegar in sushi making.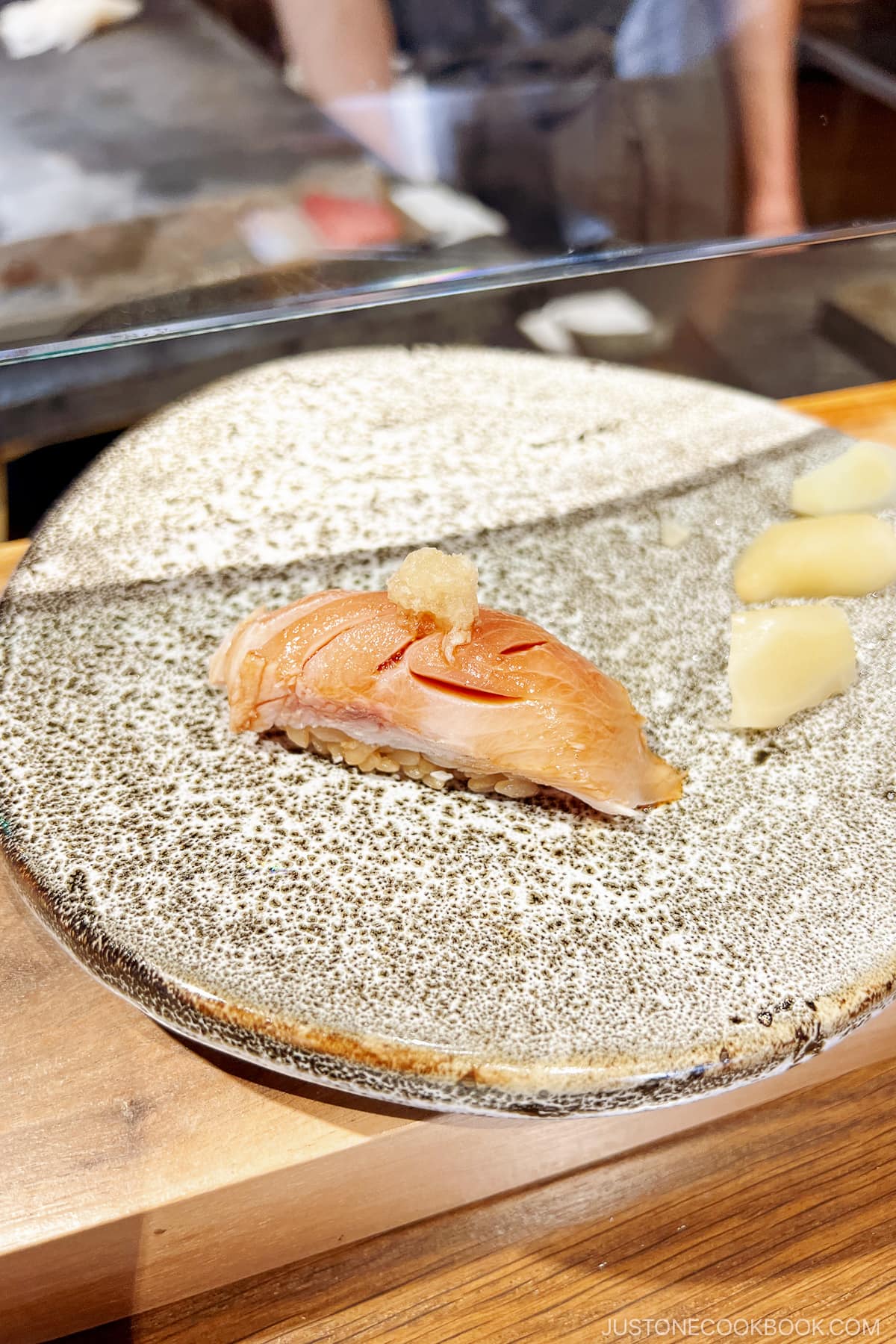 When it comes to preparing sushi rice (shari), many of us are most familiar with rice vinegar or komezu (米酢). However, there is another vinegar called akazu (赤酢), a special red vinegar that has been around since the Edo period in Japan.
Despite its long history, akazu—the once popular vinegar—only found itself back in the spotlight in recent years. Today, it is the vinegar of choice for making Edomae sushi that can be found in high-end sushi restaurants in Japan or abroad.
Let's discover the origin of this traditional condiment and its use in sushi rice.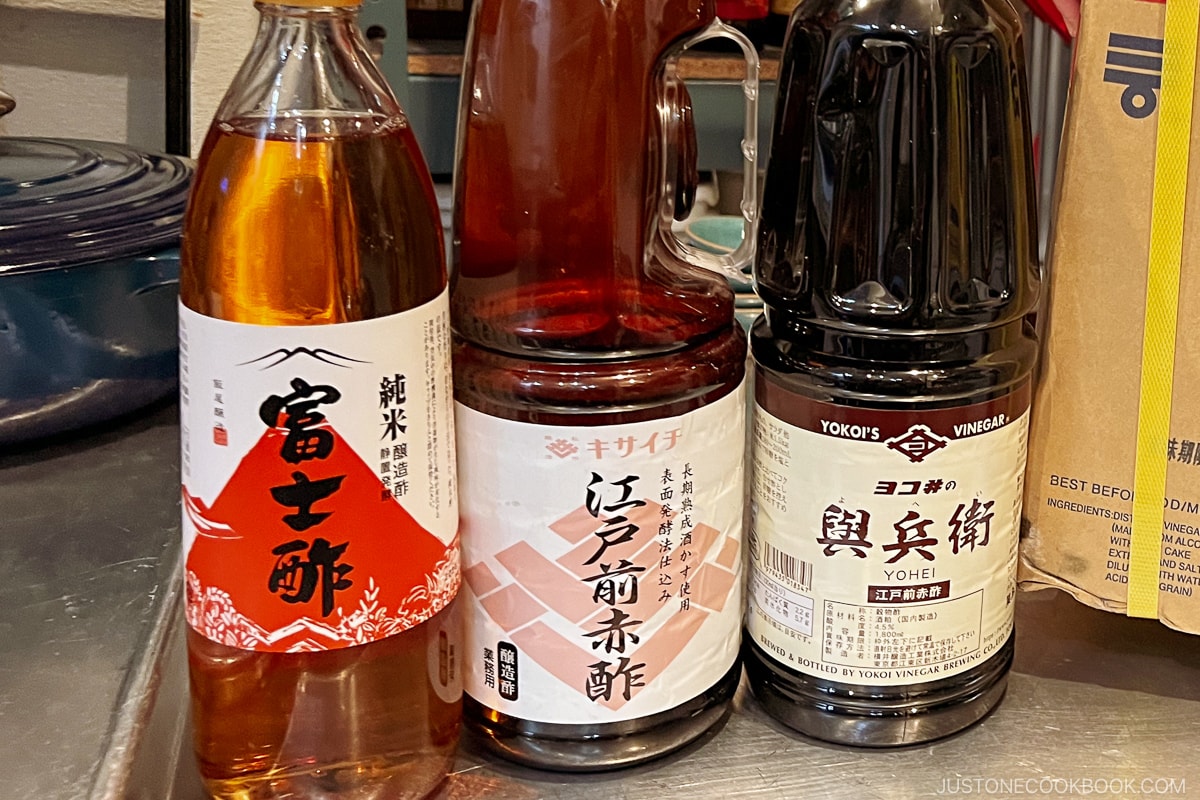 What is Akazu?
Akazu (赤酢), also called kasuzu (粕酢) vinegar, is a Japanese red vinegar made of sake lees, a by-product of sake brewing. It is dark reddish-brown because of the sugars and amino acids in the sake lees.
Compared to rice vinegar (komezu), which takes about one year to produce, akazu involves a long fermentation period of three to four years, resulting in a high price tag.
Although you can find other uses for this special vinegar, akazu is primarily used to season sushi rice. This red vinegar imparts a brownish color to the white rice, adding umami without the sharp vinegar flavor. When the sushi rice is seasoned with akazu, we'll call it akashari (赤シャリ), literally red sushi rice.
Wish to learn more about akazu? Read this article.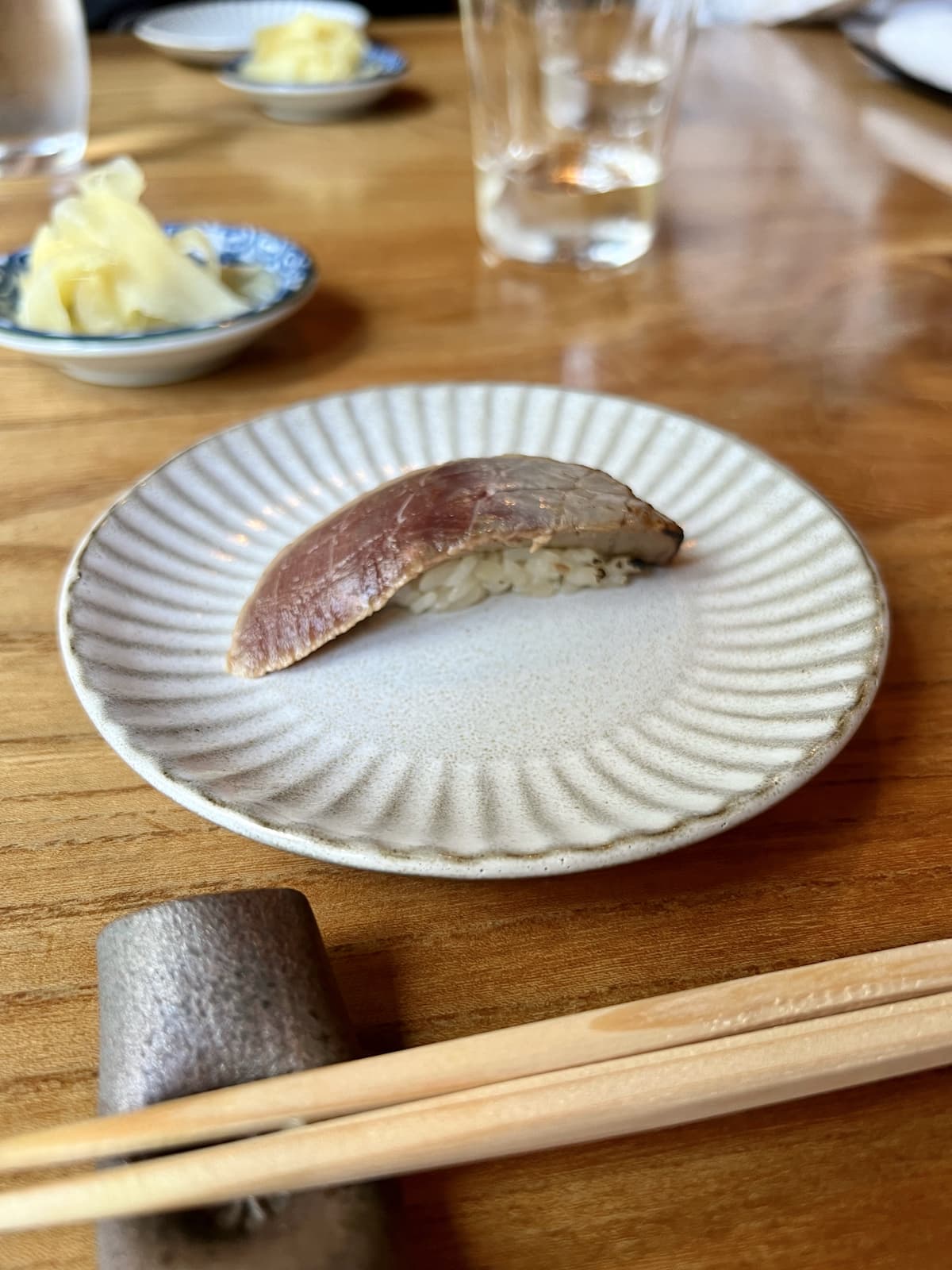 Two Types of Sushi Rice: Akashari and Shiroshari
We've discussed this before: Sushi rice (or shari, シャリ) is the foundation of nigiri sushi. Sushi rice enhances the flavor of the toppings, and each sushi restaurant has its recipe for sushi vinegar. Some may blend several kinds of vinegar and adjust the ratio of ingredients, resulting in a broad spectrum of sweet and acidic sushi rice.
Shiroshari (白シャリ, white shari) is shari made from rice vinegar and other ingredients such as sugar and kombu. This is the sushi rice found in most sushi restaurants. The vinegar blend is a light pale yellow, so it does not impart color to the rice.
Akashari (赤シャリ, red shari) has a brownish color that looks like brown rice at first glance. The akashari has an elegant balance of acidity and sweetness if appropriately prepared. But if prepared poorly, the strong vinegar can overpower the topping, resulting in poorly constructed sushi.
If you had the chance to try sushi at a high-end sushi restaurant, don't mistake those brownish-looking sushi rice for brown rice!
Akazu and Edomae Sushi
Akazu was popularized during the latter half of the Edo period (1603-1867) due to the popularity of Edomae sushi (江戸前寿司), Edo-style sushi (Edo 江戸 is the former name of Tokyo). Rice was a precious commodity, so rice vinegar was a valuable condiment used by the upper class.
Meanwhile, akazu, which uses sake lees, was cheaper than rice vinegar. Vinegar was a crucial ingredient in sushi, which prevented spoilage and food poisoning at the time without advanced refrigeration.
During the Edo period, sushi was cheap fast food sold by mobile street vendors. The nigiri sushi was pre-made, and diners would choose which to eat. The proliferation of sushi's popularity across the country was thanks to akazu, the primary choice of vinegar for Edomae sushi.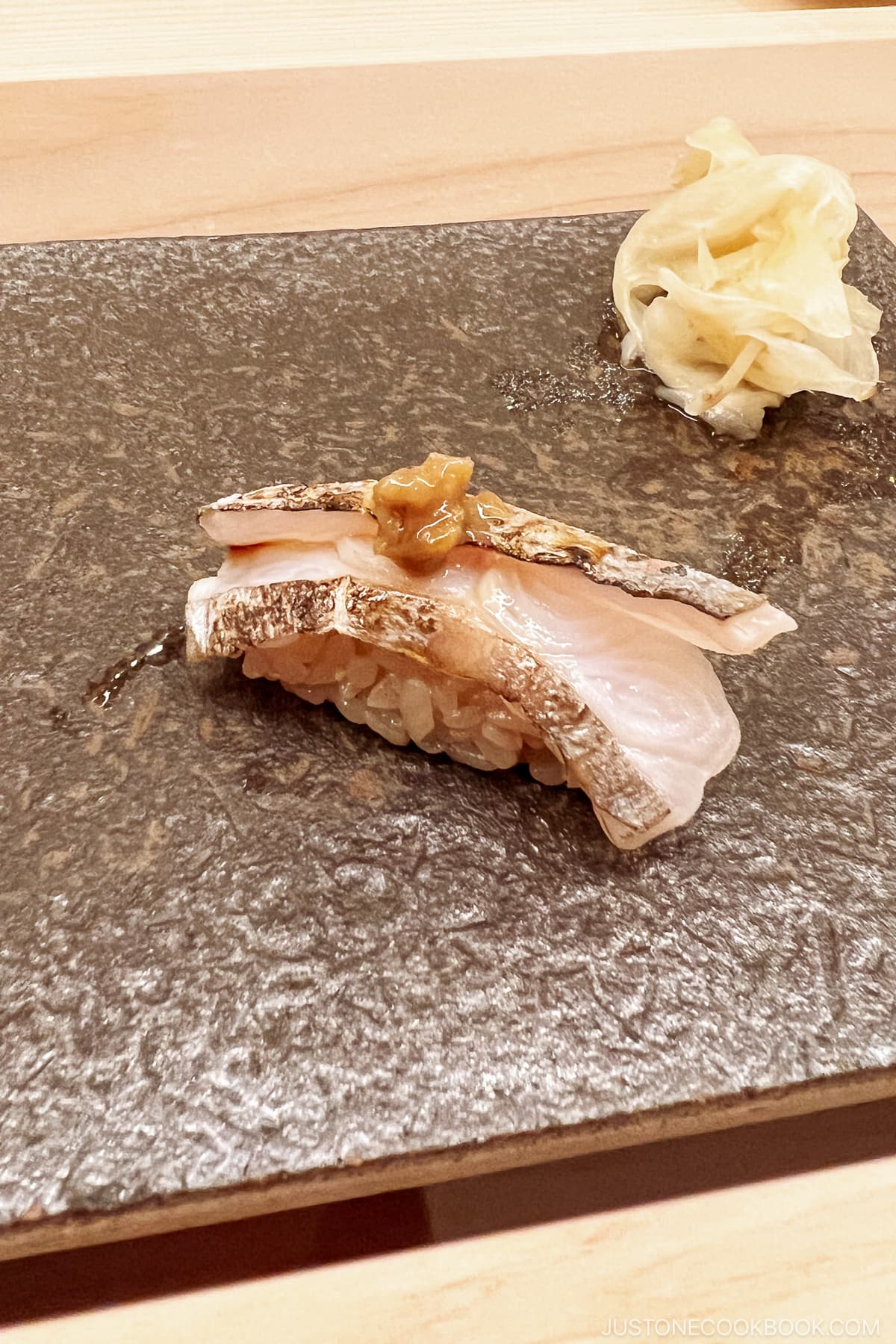 Akazu – Post-WWII and Its Comeback
Akazu remained the cost-effective option for sushi until WWII, when the war efforts halted stable rice cultivation. As akazu requires a long process, it took several years for production to begin. A further blow was the 1951 "yellowed rice incident," where 2,000 tons of imported rice were contaminated with Penicillium, which is toxic if consumed. It was a traumatic incident in a country still suffering from the repercussions of the war.
The reddish-brown appearance of sushi rice alarmed diners, reminding them of moldy rice, and sushi chefs were forced to switch from akazu to rice vinegar. However, rice vinegar lacks the richness and sweetness of akazu. Thus, the current technique of adding sugar to sushi vinegar appeared.
Fortunately, akazu has been making a comeback in recent years, both domestically and abroad, as a new way of preparing sushi rice. Akazu was revived by Sushiro, a popular Kaiten Sushi chain, in 2018 when they introduced a menu featuring akashari (sushi rice made with red vinegar). More restaurants have started incorporating red vinegar into their blend of vinegar. But getting the right balance is expensive and tricky, so you don't see every sushi chef using it.
Sushi Restaurants that use Akazu
Are you curious to try Edomae-style sushi or akashari (red shari)? In Tokyo, you can check out Michelin-starred sushi restaurants, but not every restaurant features the menu.
In the US, we've tasted omakase-style sushi made with akashari at Kusakabe, Akikos, Ken-SF, and Ju-Ni.
Where to Buy Akazu Red Vinegar
You can find akazu being sold at online specialty stores below:
We're glad that akazu has finally earned back its spot in the art of sushi making, and hopefully, it will become more mainstream, and we get to enjoy it outside of high-end sushi restaurants.
Have you had sushi made with akashari? Do you like it? Let us know in the comment below!
---
Sushi Recipes on Just One Cookbook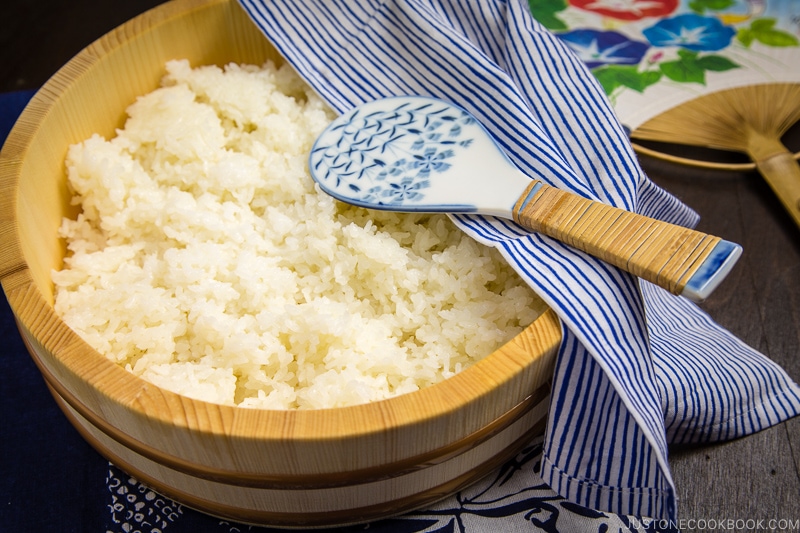 Sources: