Incorporate seaweed into your diet with a dried seaweed salad mix. Just reconstitute in water for a few minutes and add to your salad greens!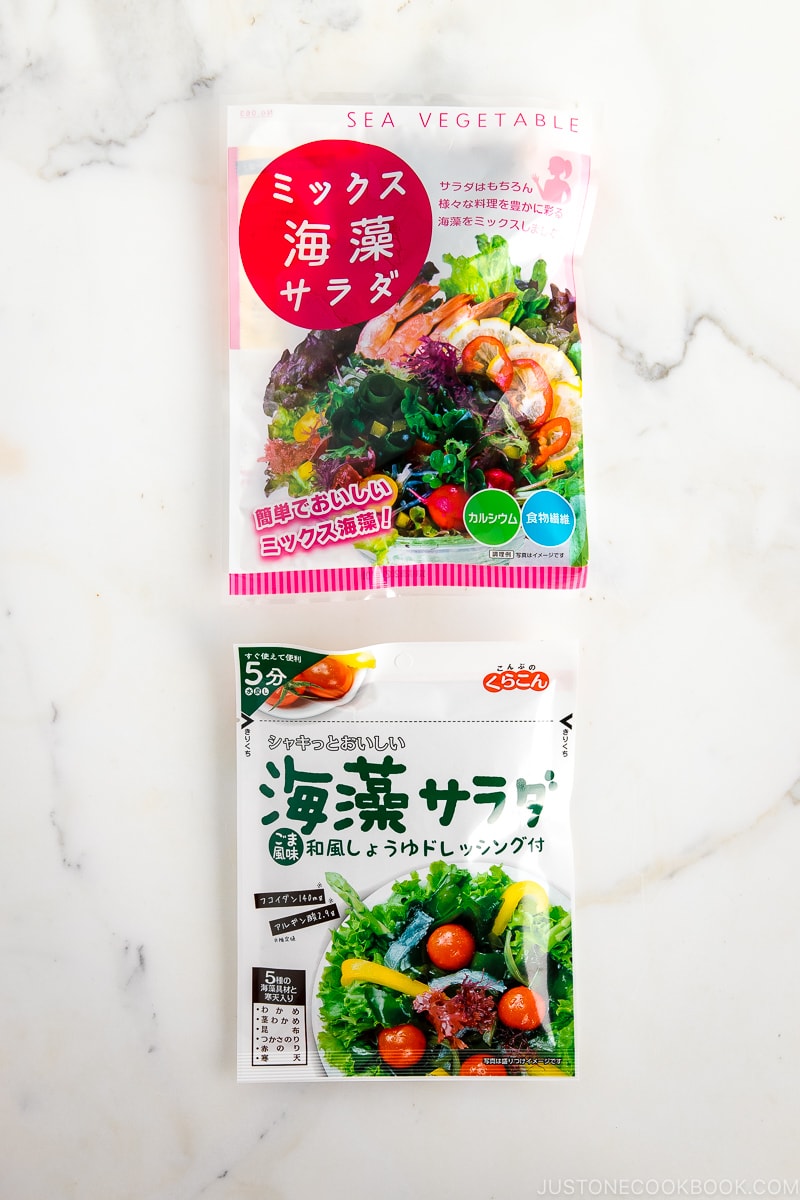 Dried Seaweed Salad Mix, or Kaiso Salad (海藻サラダ), is a mix of an assortment of seaweed. Some come with dressing, so you must reconstitute it in cold water for a few minutes, then drain it and add it to salads. You'll add texture, color, and nutrients to your salad greens!
What Is Dried Seaweed Salad Mix
Dried seaweed salad mix refers to commercial mixes of various sea vegetables. It may include wakame, wakame stem, kombu, and red seaweed. It's usually a side dish eaten on its own, mixed into a salad, or added to miso soup.
Learn more about the different varieties of Japanese seaweed Discover Seaweed: The Essential Ingredient of the Japanese Diet
What Does It Taste Like
It tastes like seaweed – briny with various textures. It is usually unflavored.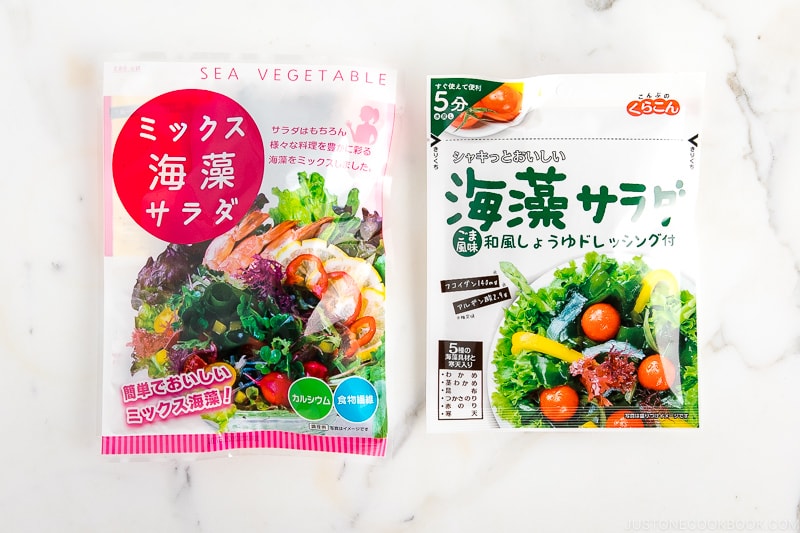 How To Use
Take a pinch of the mix and reconstitute it in a large bowl of water for a few minutes. Drain excess water before use. You do not need to boil it. Toss it with salad dressing (miso dressing or Japanese salad dressings) and sprinkle sesame seeds or chopped scallions on top.
It will expand when reconstituted, so start with a small pinch.
Where To Buy
Find dried seaweed salad mix packages at Asian and Japanese supermarkets or health food stores. You can also find it online, such as on Amazon.
Health Benefits
Seaweed is a rich source of essential nutrients such as vitamins (including vitamins K, A, and some B vitamins), minerals (especially iodine, iron, and calcium), and antioxidants. It is also low in calories and fat while high in dietary fiber, making it beneficial for weight management and digestive health. Additionally, seaweed contains compounds like fucoidans and phlorotannins, which have anti-inflammatory and potential anti-cancer properties. The iodine content in seaweed supports thyroid function, and the presence of omega-3 fatty acids contributes to heart health. However, it's crucial to consume it in moderation due to its iodine content, which can be excessive in large quantities and may affect thyroid functions.
---
Wish to learn more about Japanese cooking? Sign up for our free newsletter to receive cooking tips & recipe updates! And stay in touch with me on Facebook, Pinterest, YouTube, and Instagram.