Join us on our ski and snowboard adventure to Hakuba, one of the largest and best-known ski areas in Japan. Hakuba hosted several events for Nagano Olympic and its hot springs are an amazing way to rejuvenate your muscles and aches after a day on the slopes.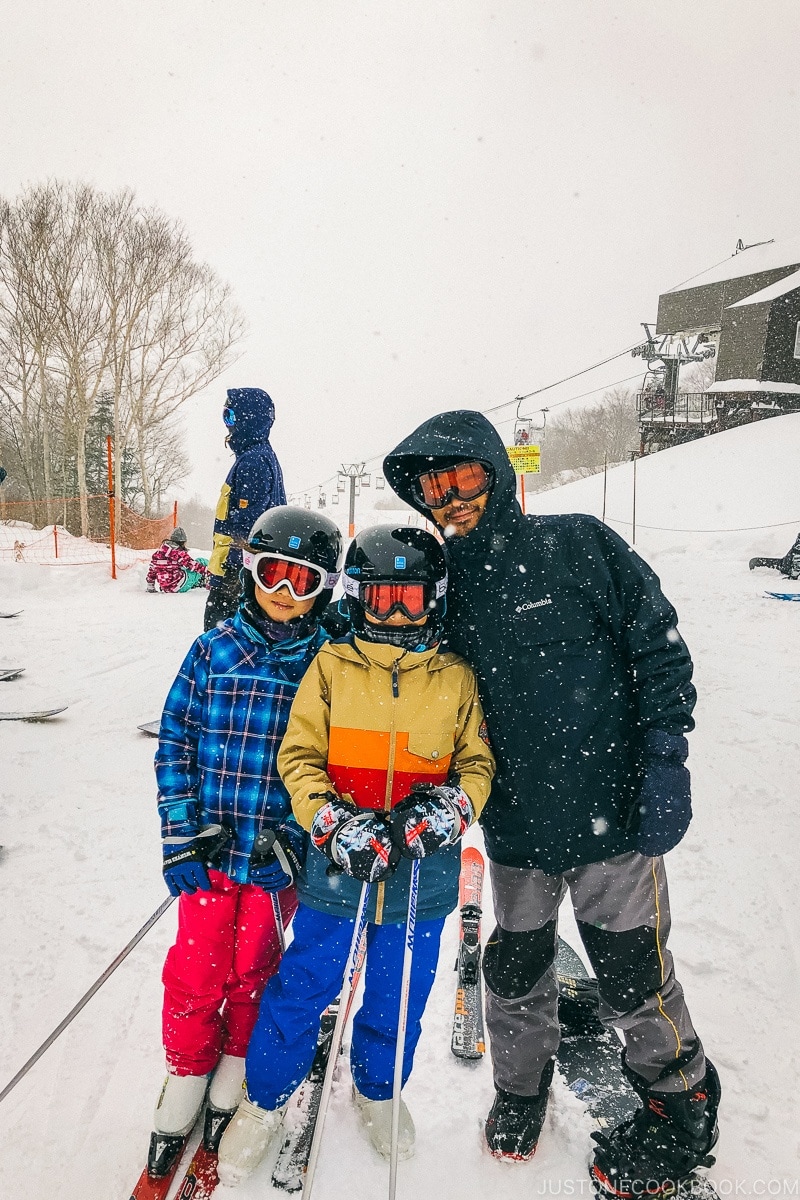 During our recent winter visit to Japan, we went on a family ski trip to Hakuba (白馬村) located at the northern tip of Nagano Prefecture. It is a popular ski area in Japan and several of the Nagano Winter Olympic events took place at Hakuba ski resorts including alpine skiing and ski jumping. We want to share our travel experiences with you in case you are interested in skiing in Japan. We'll also explain the economical ski package we purchased compared to the a la carte options which are more expensive.
How to Get to Hakuba from Tokyo
There are several ways to get to Hakuba from the Tokyo area:
You can rent a car just drive there (4 hrs without traffic). Cost of car rental and highway toll (toll is 6,000 yen each way).
Take Shinkansen and transfer to a bus from Nagano (roughly 10,000 yen each way per person).
Take the express bus from Shinjuku (5,000 yen each way per person)
Regardless of the choices, it's pretty pricey just to get to Hakuba. But don't worry, we'll share the details of the ski package shortly and you'll see why it's fairly affordable to go skiing in Japan.
Japan Ski Packages
Before we left for Japan, we were trying to figure out the most economical choices for the ski trip when Nami's brother introduced us to Ski Market (unfortunately the site is in Japanese only). Ski Market packages include round trip transportation from Tokyo/Yokohama area, 1 or 2 nights hotel, ski/snowboard rental, breakfast and dinner at the hotel during the stay, ski clothes rental, and lift tickets. It's all included!
For our trip, we upgraded the 2-night stay plan to include a third-day lift ticket and the package total was USD $350 per adult. Isn't that amazing? If you want to save some cost skiing in Japan, definitely check out Ski Market. To find out the package cost, you simply choose your origination point and destination resort, date, and how many nights you want to stay.
Leaving Shinjuku for Hakuba
By the time we purchased our package, all the buses leaving from Yokohama were all booked so we had to leave from Shinjuku. The required meeting time is 6:30 am so we had to take a very expensive cab (USD $120) from Yokohama at 5:30 am to Tokyo Metropolitan Government Building in Shinjuku. There is a large public bus parking under Tokyo Metropolitan Assembly Building where all the ski buses gather.
It was so interesting to see no businessmen on the street in Tokyo during the early morning but an army of snowboarder and skiers walking towards the bus parking. When you get to the gathering space, find your tour company and they'll let you know which stall your bus will park at. The bus arrived on time and everyone quickly loaded their luggage below the bus and hopped aboard. When we board the bus there was a seating chart telling everyone where is their assigned seating. There is plenty of storage under the bus if you choose to bring your own equipment. We brought our own boots and helmet from the US but used rented ski and boards.
Bus Ride to Hakuba
It was a long 5-hour ride to Hakuba but the time passed by quickly between watching Netflix and chatting. There is no wifi or bathroom on the bus so keep this in mind.
The bus made 2 stops at highway rest stops on the way so riders can buy snacks and use the bathrooms. The highway stops in Japan are really clean and full of food and dining options. Each stop was only 20 min so there wasn't enough time to order hot food from the restaurants, but you can buy sandwiches and snacks from the stores to eat on the bus.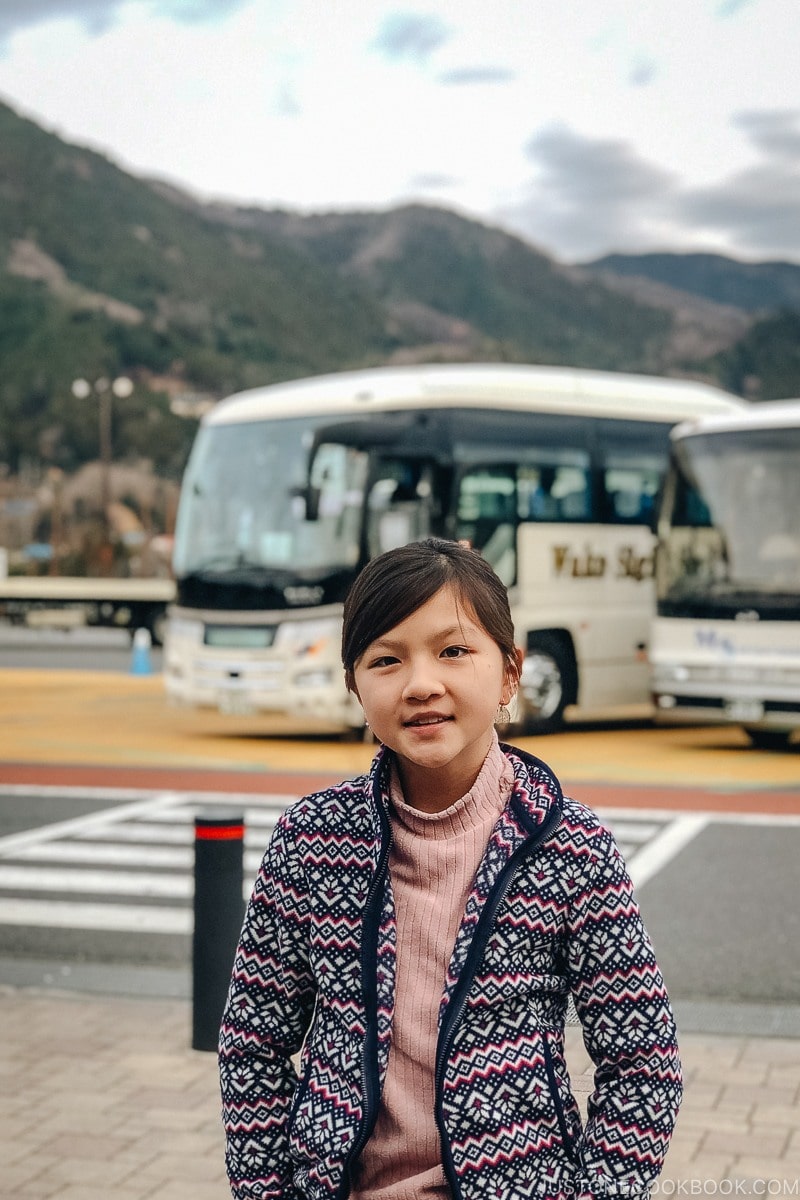 The view from the bus along the way was quite pretty, especially with the clear winter air and snowcapped mountains.
After 3 hours the bus leaves the freeway for the local roads. As we see the snow-capped mountains our family got so excited since we didn't ski all of 2018 due to scheduling conflicts and poor snow conditions.
Once we entered Hakuba village, there was snow next to the roads but since it's still early in the ski season it was still light. Most resorts in Hakuba opened their first runs around mid-December.
Hakuba Ski Resorts
The bus made 5 stops in Hakuba and depending on where your hotel is, you get off at the associated stop. When you check in with the tour at Shinjuku, they tell you which stop to get off. The first stop was Escal Plaza at Hakuba Goryu Snow Resort.
Hakuba has a total of 10 ski resorts and 5 were located in the area we were at. There is a shuttle that takes you to the different resorts for free or low cost if you wanted to try different resorts during your trip. As the bus was heading up from the south towards the north, the ski resorts in order were
For more details on the resorts, please check Hakuba Valley Ski. I also found this hotel's descriptions of the resorts helpful.
We got to see all the different ski resort as our stop was the last for Tsugaike Ski Resort. Luckily our hotel is only 2 blocks away and 5 min walk from the bus stop. When we selected our hotel Resort Inn Marion Shinano, we picked one with onsen (hot spring) facility and close to the slopes. It takes only 2-3 min walking from our hotel door to the gondola at Tsugaike Ski Resort.
Arai Sports Equipment Rental
When we checked into our hotel, it was around 12:30 pm and our room wouldn't be ready until 3 pm. They have a chill room for guests to rest or temporary store luggage until the room is ready. During the check in at the hotel, they give you the ski/snowboard rental and lift ticket vouchers. After dropping off our luggage in the chill room and changing into our ski gear, we headed downstairs to the rental shop. It's pretty cool the Arai Sports rental shop is located on the first floor of the hotel.
The shop had all the usual ski gears and the ski package came with basic equipment. We upgraded our equipment for an additional 1,000 yen per day. There was also some 500 yen fee we had to pay. If you don't have your own ski clothes, this is where you would get them and it's included in the package.
Tsugaike Ski Resort
After we got our gears, it's time to hit the slopes. It was already 2:45 pm and the lifts closes at 4 pm so not too much time left to hit the slopes for the first day.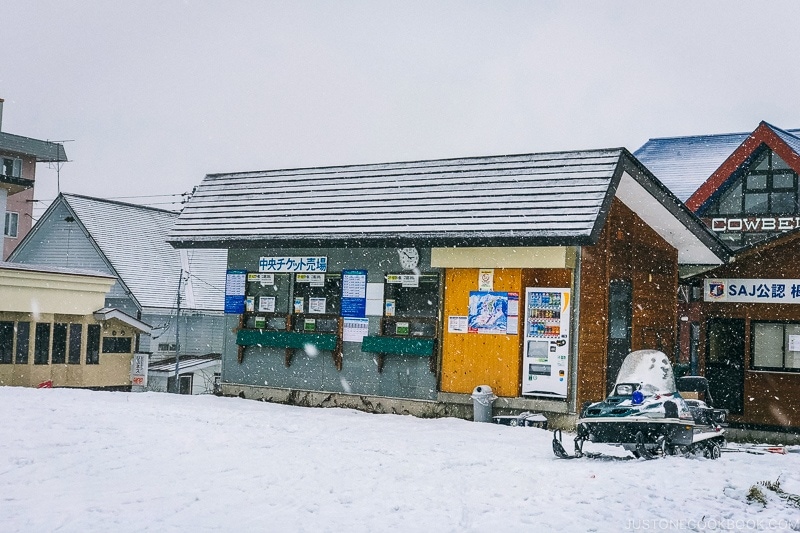 We did a couple warm-up runs and rode the gondola (20 min) to the top once to wrap up the day. The first day we were there the sky was cloudy and the snow was quite icy. Many spots on the runs still had dirt showing through as the snow was quite thin.
Resort Inn Marion Shinano
Back at the hotel, we checked into our Japanese tatami room for 5 people. The rooms are basic and to be honest, the hotel was not in good shape. The interior was dated and not well maintained. As part of the package, the hotel does not clean or make up the rooms during your stay, but will take out the garbage once a day. Since the room wasn't big enough to have both sitting and sleeping areas, we had to make our own futon to sleep in each night and put them away during the day. However, ski trip is about spending time with family and enjoying each other's company so we didn't mind so much.
Dinner and bath at Resort Inn Marion Shinano
Before dinner, we soaked in the hot spring and got ready for dinner. The hot spring at Marion Shinano was really small, only 3 wash stations for men and 6-7 wash stations for women and a soaking tub that fits maximum 6-7 people. As part of the package, dinner and breakfast are included. The food was not good but can't really complain with the price. The first night's dinner included salad, soup, fish, steak, and dessert.
Skiing and Snowboarding at Tsugaike Ski Resort
Day 2, time to hit the slopes after breakfast. It was a beautiful sunny day and we could see for miles from the gondola. It was absolutely gorgeous.
Around 2 pm on the 2nd day, the sky turned from a bright blue to dark gray fairly quickly and it started snowing. The weather forecast expected continued snowfall for the night and through next day. Since we started at 8:30 am, we called it a day around 3 pm and went back to the hotel to rest. Dinner was different the second night but still not so tasty. It was soup, salad, fish, meat, and dessert. The breakfast options were the same each morning, a small buffet with both Japanese and Western food.
During the night on the second day, it started snowing pretty hard and the streets were completely covered in snow. As we look through our room window in the morning, there was a least a foot of new snow. Fresh powder!
The scenery was different during the snow storm and beautiful in its own way.
The visibility during the snowstorm was pretty poor and as it was a Friday the slopes were more crowded compared to the previous two days. However, the fresh powder was amazing and there's nothing like carving through fresh snow.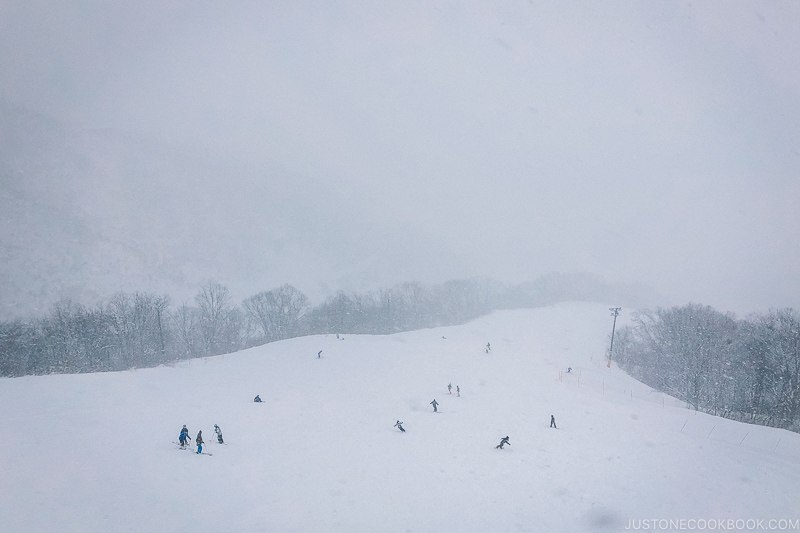 After a day of skiing in powder, we ended around 2 pm to get ready for our bus ride at 4:30 pm back to Yokohama. However not before the giant snow fight.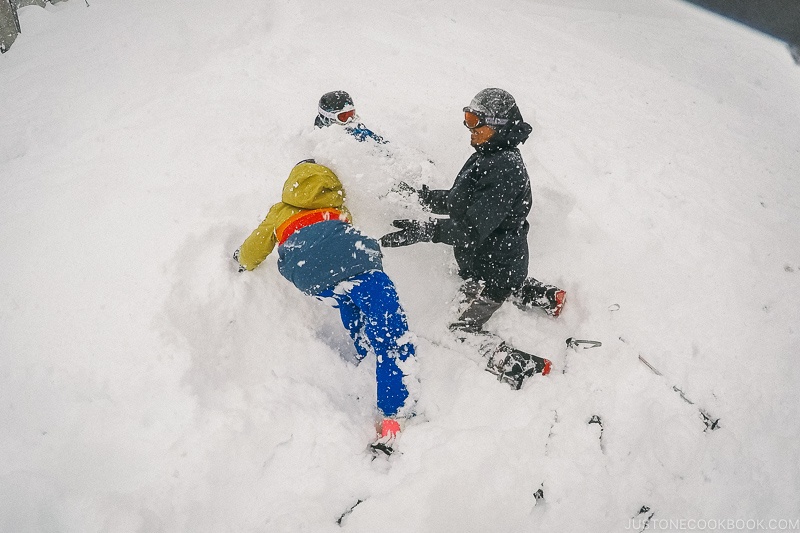 On the first floor of the hotel, there is a gift shop that carried local souvenirs so we purchased some back home to try.
The interesting local snacks included apple flavored Pretz, grape flavored Pocky, and wasabi potato chips.
Dining Choices at Tsugaike Ski Resort
While skiing and snowboarding during the day, there are many food choices and restaurants to choose from. There are various restaurants at the bottom of the hill and 3 more dining areas scattered on the slopes including a Burger King.
Ski Bus Ride back to Yokohama
We were able to book the bus ride back to Yokohama instead of Shinjuku and it left at 4:30 pm. After returning our equipment and changed into regular street clothes, we were able to relax in the chill room for a bit before heading to the bus stop. The bus had to stop by every resort on the way back so we didn't get to Yokohama until 11:00 pm. It also made 2 stop on the freeway for a bathroom break and food.
It was snowing like crazy but the bus driver didn't seem to be fazed by it and the ride felt pretty safe.
We hope you enjoyed reading this quick guide on skiing and snowboarding in Hakuba and how to book an economical ski package. We had a wonderful time as a family as we missed spending time in the snow and it was our children's first time skiing with their uncle. What would we change for the next trip? Probably try a different resort on the second or third day as Tsugaike Resort is not considered large compared to US ski resorts and we had to do the same run over and over again (run data below).
Let us know if you have any questions and if you are interested in our Japan travel, check out more travel posts here.