The beautiful gorges and natural landscapes at Jozankei Onsen are only a short 1-hour drive from Sapporo. This popular hot springs destination is perfect for healing and relaxing all year round.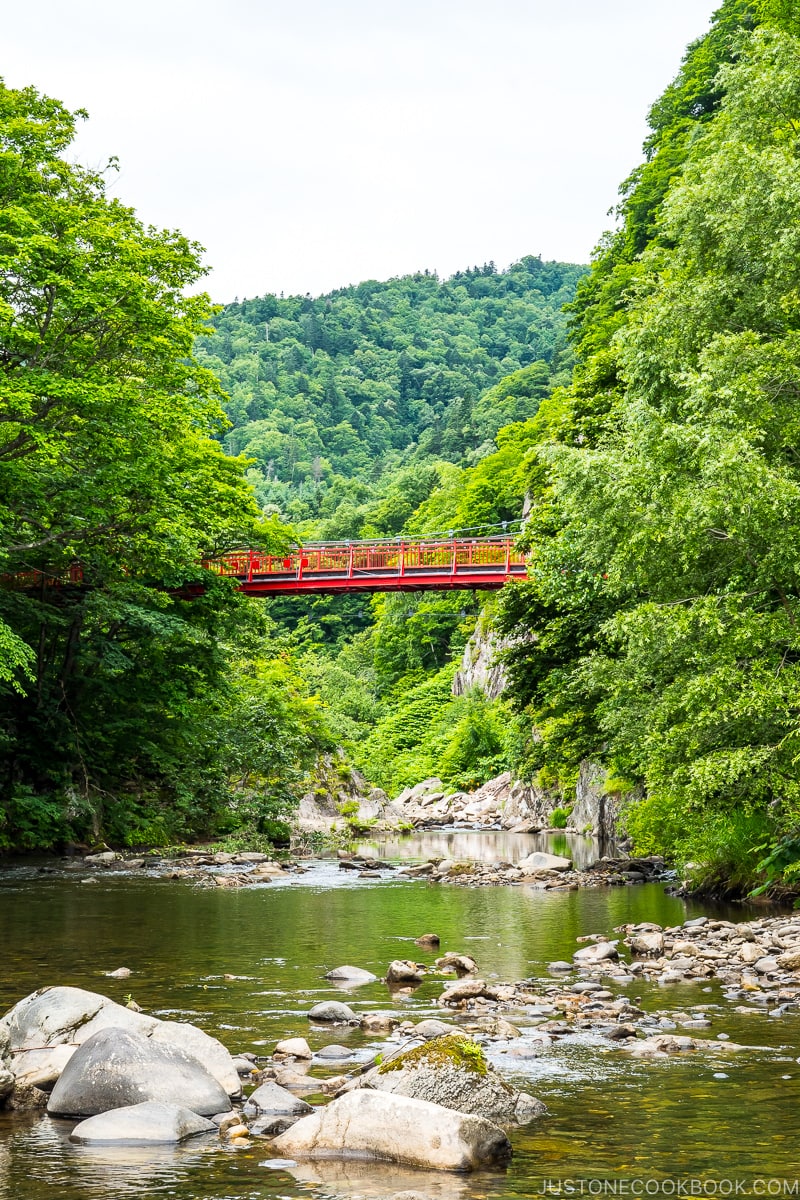 One of the most popular onsen destinations in Hokkaido is Jozankei Onsen 定山渓温泉. Its close proximity to Sapporo and beautiful scenery make it an attractive destination for both Japanese and foreign visitors. Ready to check it out? Let's go!
Where is Jozankei Onsen
Jozankei Onsen is located in the northern tip of Shikotsu-Toya National Park nearby Sapporo, the largest city in Hokkaido. It is surrounded by a lush green mountain landscape and the surrounding activities include skiing, fruit picking, and rafting.
How to get to Jozankei Onsen
Jozankei Onsen is 40 min by car southwest of Sapporo and visitors can also get there by bus (70 min). From the New Chitose Airport, it takes about 1.5 hrs by car (2 hrs by public transportation).
After arriving at New Chitose Airport, we headed to the Toyota Rent a Car counter to pick up our rental car. If you rent from Toyota at New Chitose Airport, keep in mind that they have two branches.
The rental car lot is off-airport so we had to take a shuttle to pick up the car.
Due to the high volume of foreigner that visits Hokkaido, the rental car staff has the process down to an art. It was the most efficient rental car experience we had in Japan.
Jozankei Onsen
After settling in our rental car and driving for 1.5 hours (on well-paved 4 lane roads) through scenic mountain terrain, we arrived at Jozankei Onsen.
The area is popular with millions of visitors a year and it's one of the largest onsen areas in Hokkaido with over twenty hotels. However, it's still much smaller compared to Hakone and the more popular onsen destinations around the Tokyo area. Once there, you don't need a car to get around as you can walk everywhere.
The main attraction during our stay was Futami Park that lit up at night with lights and music. I'll share more about it below.
Before the nighttime, we spent some time walking around and enjoying the natural scenery as well as the hotel's amenities.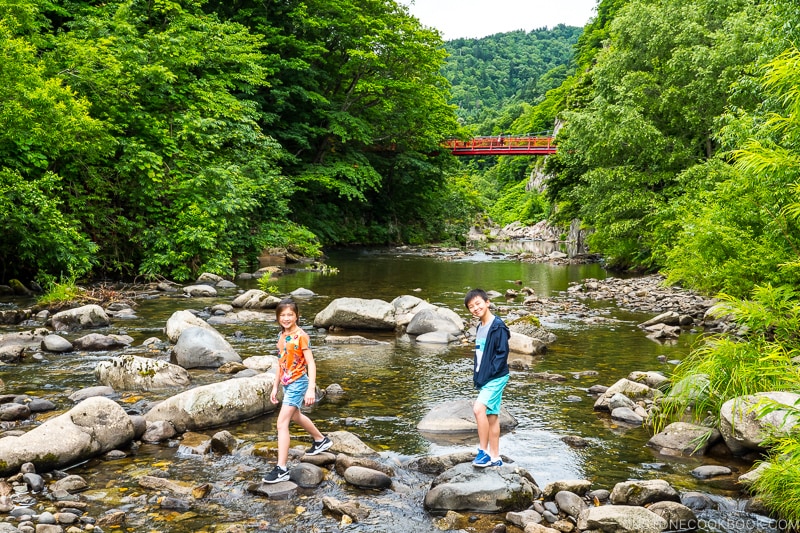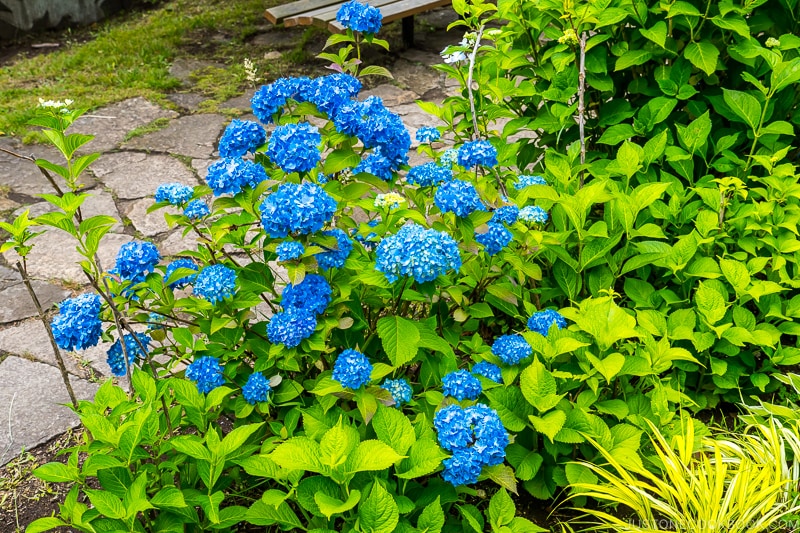 Hana Momiji Sapporo Hotel 花もみじ
Our stay at Jozankei Onsen was at the Hana Momiji Sapporo Hotel. It is a large hotel with updated interiors and offers many amenities for guests.
Unlike standard hotels, hot spring hotels (called ryokans) are meant to rejuvenate their guests – heal the body and mind by bathing in hot springs, eating delicious and nutritious food, and enjoying delightful tea and treats.
At Hana Momiji Sapporo Hotel, they generously offered complimentary coffee, tea, manju snacks, and wine in the lobby lounge for guests.
The lounge area also played classical music while guests relaxed on comfortable chairs and sofas.
Onsen – Japanese Hot Springs
If you're not familiar with onsen, we have a detailed post on Japanese hot spring etiquettes and popular onsens throughout Japan.
Staying at a hot springs hotel is an interesting and unique experience and one of our family's favorite things to do in Japan.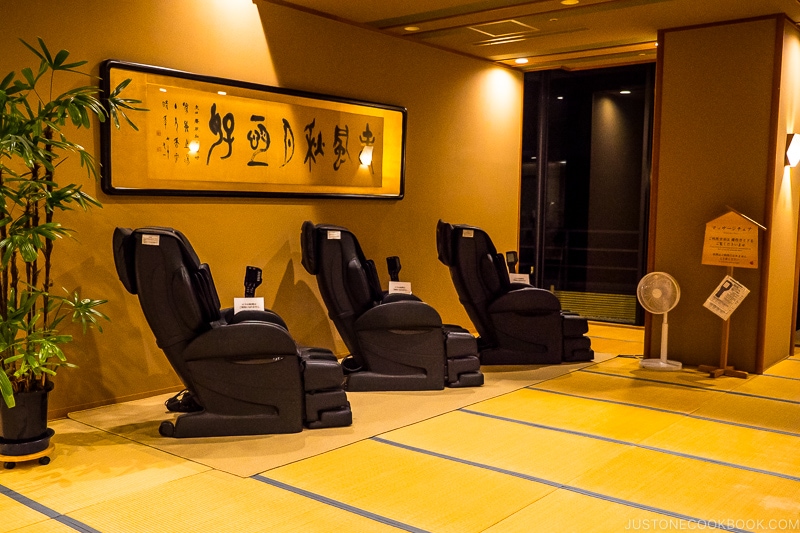 Hotel Room at Hana Momiji
We booked a standard room that's set up like most typical ryokan hotel rooms. It had a main tatami sitting/sleeping area and sitting space with two chairs next to the windows. At night, the tatami area is converted for sleeping with futons. This is usually done while guests are eating dinner.
After arriving in the room in a ryokan, guests are served green tea and a small snack. On the table was a small steamer with warm manju inside waiting for us!
After snacking and drinking tea, it's off to bath time and then dinner!
Kaiseki Meal
One of the biggest highlights at any ryokan stay is the dinner meal. The meal is usually a kaiseki meal showcasing seasonal local ingredients.
Not knowing what will be served, there's always a surprising element to Kaiseki. And we love it when our expectations for the meal are exceeded. At Hana Momiji Sapporo Hotel, the standard meal was very luxurious compared to most ryokans.
It featured Hokkaido's famous seafood such as crabs, uni, and abalone.
Our dinner was phenomenal and we couldn't wait to eat the fabulous Hokkaido food for the remainder of our visit.
Jozankei Nature Luminarie
Between July – Oct, one of the biggest attractions is Jozankei Nature Luminarie. Jozankeifutami Park is transformed into a magical wonderland with moving lights and music at night.
It was super entertaining to see the lush green park lit up with lights moving along with the music. Not quite like Team Lab but fun nevertheless.
Other Sightseeing Spots in Jozankei Onsen
With a week of traveling ahead of us in Hokkaido, our family decided to spend most of our time relaxing in the hotel. However, there are some sightseeing spots at Jozankei Onsen worth visiting on a day trip. Including:
Many free footbaths for visitors to soak in.
Picturesque fall foliage and changing colors.
The famed Iwato Kannondo with its 120-meter long worship cave.
4. Nearby Sapporo Lake to take in the pristine view and mountain scenery.
Thank you for reading and we hope you've enjoyed the hot springs trip to Jozankei Onsen. Our adventure in Hokkaido continues as we travel and eat delicious food from all over the island!
For more adventures check out our Japan travel posts.