Here's my detailed video and step-by-step tutorial on how to clean clams. This method is the best and easiest way to purge sand and grit from clams! Use this guide when you use fresh clams in a recipe.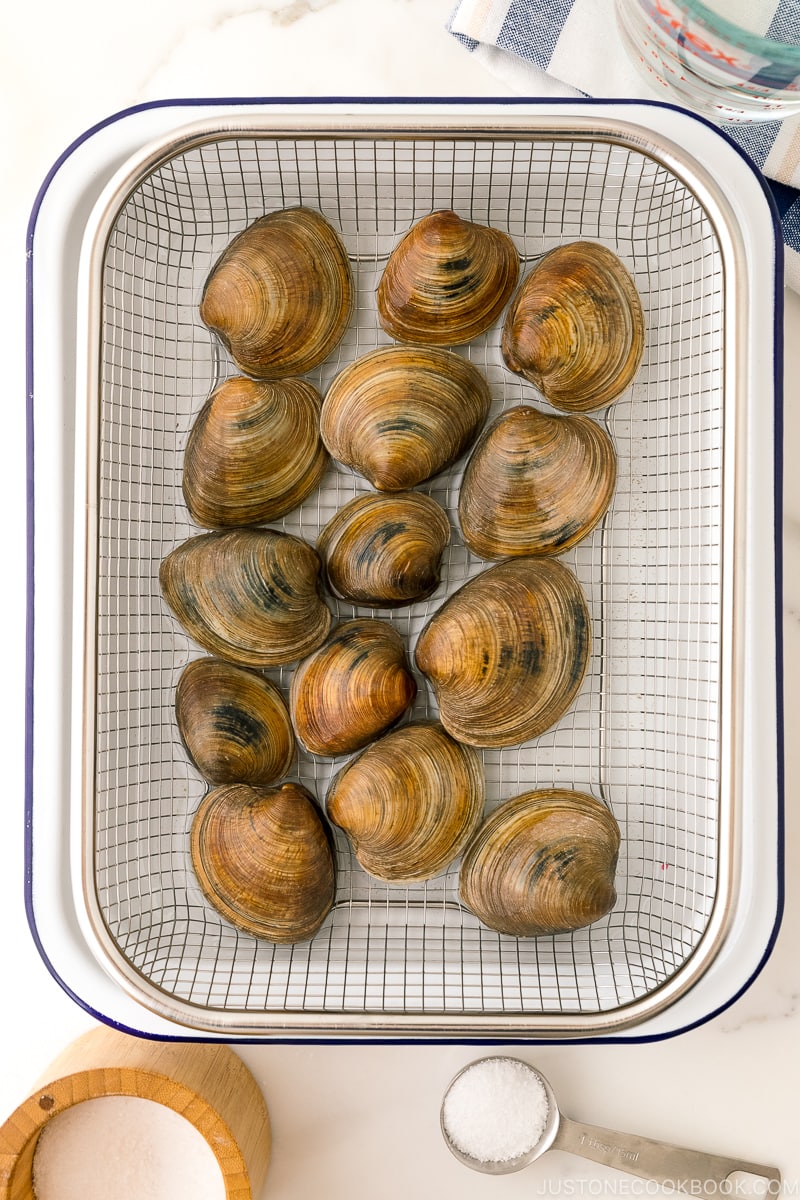 Why We Need to Clean Clams
Live clams filter out sand and saltwater out of their systems when they breathe. Clams that you caught at the beach definitely need to be purged, but how about ones you get from the supermarket?
You may think the clams at the store are ready to be cooked, and some packages may say "cleaned". However, the clams haven't thoroughly purge sand yet. Besides sand, clams emit poop, dirt, and saltwater constantly as they are alive! So I still recommend cleaning the clams when you get home.
The worst experience is that while you're enjoying clams, you crunch into gritty clam in your dish. It happened to me before for those "cleaned" clams. Don't take a risk and ruin your meal.
When to Clean Clams
The best time to clean clams is when you come home from grocery shopping (or clamming at the beach). Refrigerated clams slow down and it will take more time to purge. So sooner the better!
Different Ways to Clean Clams
There are various articles on the Internet on how to clean clams and each method will probably work just fine. In the US, popular methods include the use of cornmeal to get the sand out of clams. Clams purge the sand and grit out by ingesting the cornmeal.
In Japan, the most common method is by using simple saltwater. Fishermen and housewives all use this method and that's how I clean clams, too. If you are interested in the Japanese way, here's how we do it.
What You'll Need
Salt – It is important to make salt water as close to seawater as possible. The salt concentration of seawater is about 3%.
Water
Flat tray (or large bowl)
Wire rack (or large sieve) – will explain in the instructions
Aluminum foil
Brush
3 Easy Steps
Make salt water.
Let the clams purge in salt water for 1 hour.
Clean and ready to use!
Check the detailed instructions below and see how to do each step.
Clam Recipes on Just One Cookbook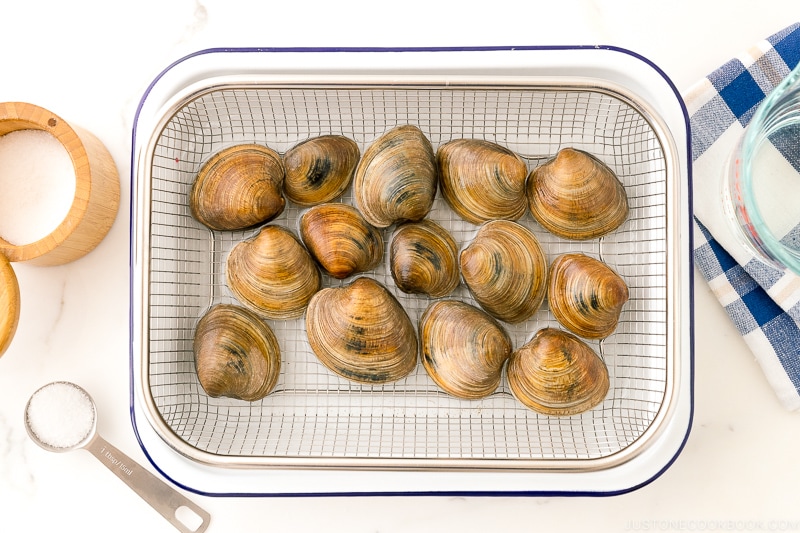 Wish to learn more about Japanese cooking? Sign up for our free newsletter to receive cooking tips & recipe updates! And stay in touch with me on Facebook, Pinterest, YouTube, and Instagram.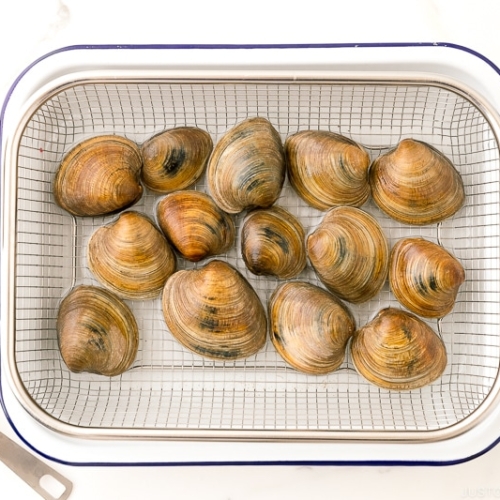 How To Clean Clams – The Best Way to Purge Sand
Here's my detailed video and step-by-step tutorial on how to clean clams. This method is the best and easiest way to purge sand and grit from clams! Use this guide when you use fresh clams in a recipe.
Japanese Ingredient Substitution:
If you want substitutes for Japanese condiments and ingredients, click
here
.
Instructions
Before You Start…
Live clams should be cooked within 48 hours of purchase. Even though you do not use the clams right away, it's important to de-grit them first as soon as you bring the clams home from the store. Keeping the clams in the refrigerator will slow them down and they may not purge sand later.
To Purge Sand from Clams
Gather all the ingredients. Gently tap any

clams

with open shells and discard any clams that do not close their shells within a few minutes or that have cracked or chipped shells.

To make the salt water, combine

2 cups water

and

1 Tbsp Diamond Crystal kosher salt

in a measuring cup or bowl and mix well until the salt is completely dissolved. For my setup, I doubled the ingredients to 4 cups water and 2 Tbsp kosher salt.

Place a wire rack/sieve inside the large tray/bowl and put the clams in a single layer. The purged sand goes to the bottom of the rack/sieve and it will not be consumed again by the clams. Pour the salt water into the tray/bowl. The salt water should be right around the clam's mouth. Don't submerge the clams under the salt water! If there isn't enough salt water, then make more using the same ratio of water and salt. 

Cover the top with aluminum foil (clams prefer to be in a quiet and dark environment), leaving some space at the corner for air. Keep it in a cool dark place for 1 hour. Clams become active when water is around 69ºF/20ºC. If you live in a hot climate, you may need to adjust the water temperature between the refrigerator and a cool place in your house. If you get your own clams from the beach, you will need about 6 hours for clams to purge sand.

After 1 hour, remove the aluminum foil cover and take out the rack/sieve. Discard the dirty salt water and clean the tray/bowl.
To Purge the Salt from Clams
This step is only for clams that you got from clamming yourself. Place the rack/sieve again to de-salt as the clams contain a lot of seawater. Keep the clams in the sieve and leave them at the counter for 1 hour. Without this process, the clams may taste too salty.
To Clean the Clams
Wash each clam with a brush under cold running water.
To Use and Store
Now the clams are ready! Put the clean clams in a bowl/tray and cover them with a damp paper towel on top. Keep it in the refrigerator for up to 2 days. To freeze, place the live clean clams in a plastic bag and remove the air. Store it in the freezer for 2 weeks.
Nutrition
Nutrition Facts
How To Clean Clams – The Best Way to Purge Sand
Amount per Serving
% Daily Value*
* Percent Daily Values are based on a 2000 calorie diet.
©JustOneCookbook.com Content and photographs are copyright protected. Sharing of this recipe is both encouraged and appreciated. Copying and/or pasting full recipes to any website or social media is strictly prohibited. Please view my photo use policy
here
.
Editor's Note: This post was originally published on March 01, 2011. New images have been added and the blog content has been updated.