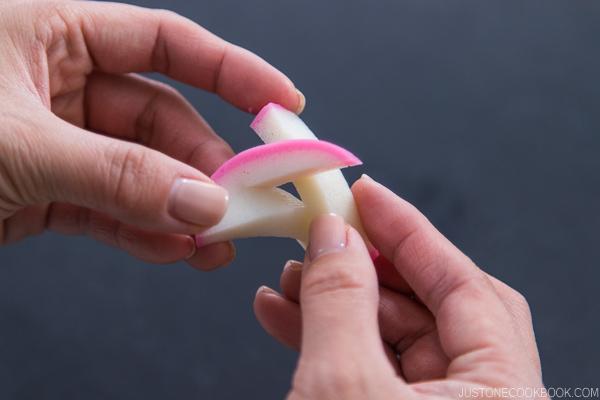 Pine needle design (Matsuba 松葉) gives an attractive 3 dimensions to kamaboko, even though the design may not be as obvious. It's a great fish cake design for your appetizer platter which doesn't require any knife cutting skill.
Watch How to Make Kamaboko Pine Needle
Two Japanese fish cakes (Kamaboko), seven beautiful designs! Make ordinary fish cake into decorative designs on this Oshogatu (Japanese New Year)!
---
Step 1: Remove kamaboko from the wooden board.
Step 2: Slice off the uneven edge on both ends.
Step 3: Cut red-skin kamaboko into a 1/3-inch (8 mm) slice.
Step 4: Place kamaboko flat on the work surface. Make a 1-inch (2.5-cm) slit one third from the pink-skin top. See Step 6 for reference.
Step 5: Flip the fish cake and make a similar slit one third from the bottom edge.
Step 6: Lift up both ends.
Step 7: Lock the ends against each other. And now you have a Kamaboko Pine Needle that symbolizes longevity, wisdom and youth.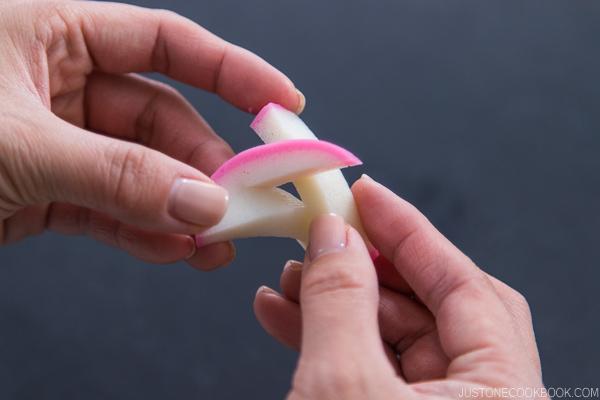 To learn about other beautiful designs of kamaboko (Japanese fish cake), click here.