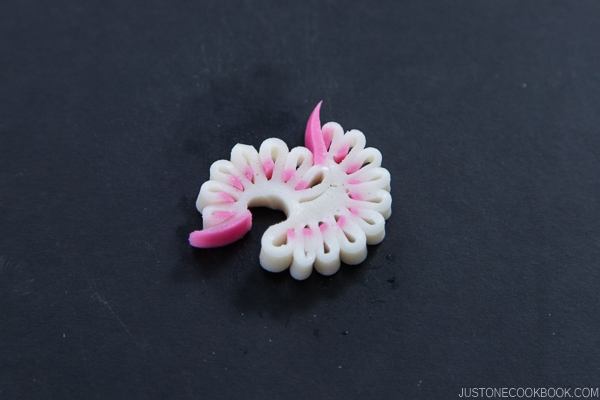 This kamaboko design is the traditional Japanese pine tree pattern. It is slightly complicated to make, but the final result makes it truly special and unique. Before you give this design a try, I recommend watching the video to grasp a better visual of the process.
Watch How to Make Kamaboko Pine Tree
Two Japanese fish cakes (Kamaboko), seven beautiful designs! Make ordinary fish cake into decorative designs on this Oshogatu (Japanese New Year)!
---
Step 1: Remove kamaboko from the wooden board.
Step 2: Slice off the uneven edge on both ends.
Step 3: Cut red-skin kamaboko into 1/4-inch (6 mm) slice.
Step 4: Place the kamaboko flat on the work surface. Make thin slits (2-3 mm) half way through to the center, from top to bottom of the kamaboko.
Step 5: Turn 90 degrees and make thin slits from the edge to center, leaving 1/10 inch (2.5 mm) on the bottom and center of kamaboko.
Step 6: Using a pair of chopsticks, gently roll up the slits, all the way from the bottom to the top of the kamaboko.
Step 7: Continue roll up the slits. And here you have a Kamaboko Pine Tree (Matsu 松) that symbolizes long life and good fortune.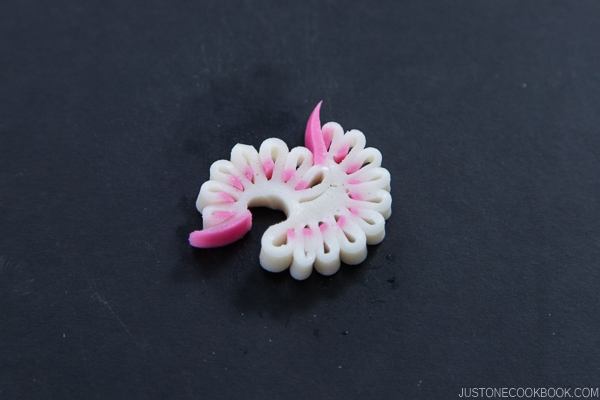 To learn about other beautiful designs of kamaboko (Japanese fish cake), click here.