The edible bulb of the lily plant, yurine or lily bulb is used in upscale Japanese cuisine and the New Years' feast. The Japanese eat the starchy and crisp vegetable raw and cooked.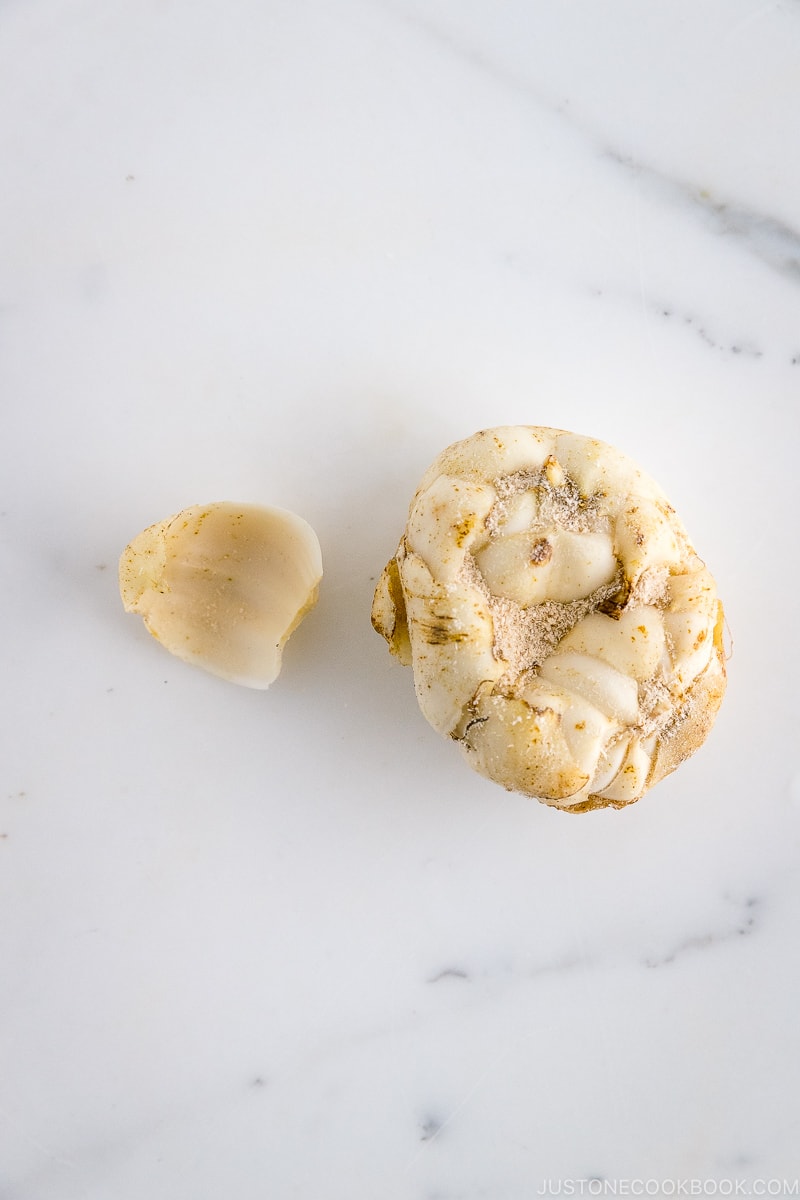 Lily bulbs or yurine (百合根, ゆりね) are the edible bulbs of the lily plant. They can be eaten raw, stir-fried, deep-fried (like tempura), simmered, or added to sweets or soups. They are a starchy vegetable commonly used in high-end Kyoto cuisine (京料理) and Osechi Ryori.
What Are Lily Bulbs
The bulb of Lilium longiflorum and Lilium brownii varieties are eaten in Japanese and Chinese cuisines. Like garlic, lily bulbs consist of tightly layered flat scales or petals connected at the stem base. It's an expensive and time-consuming crop that takes six years to grow, then left to mature for two to three months.
Hokkaido in northern Japan produces the majority of the lily bulbs in Japan.
What Does It Taste Like
The raw petals are crisp with a crunchy texture and have a mild, refreshing flavor, similar to water chestnuts. Cooked lily bulbs taste sweet with a slightly bitter aftertaste, similar to turnips and potatoes.
How To Use
Lily bulbs are very delicate, so treat them gently. Yurine bulbs are usually shipped whole in sawdust. To use, gently wash the bulb and peel away the petals. Shave off black or brown blemishes.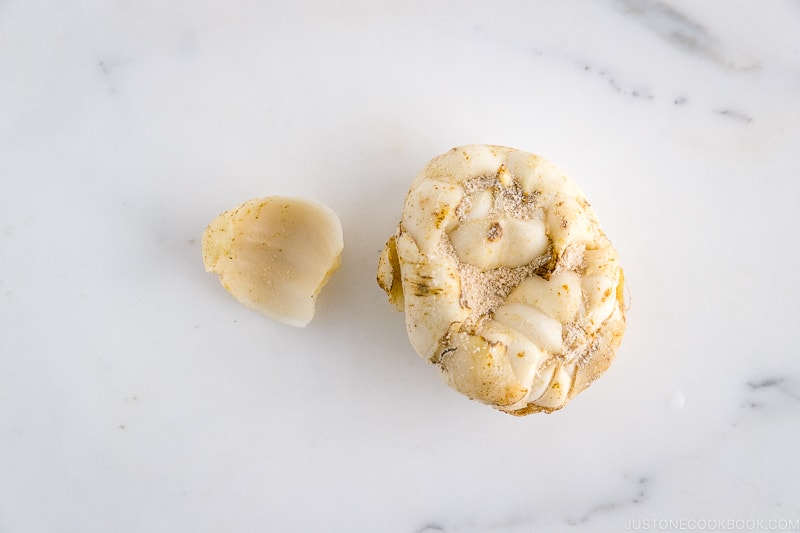 Recipe Using Lily Bulb
Where To Buy
You may find them at Japanese grocery stores between September and February when in season.
How To Choose The Best
Choose those that are white and firm to the touch with tightly wrapped petals. Avoid those with black or purple blemishes, as they may be bitter.
How To Store
Lily bulbs are sensitive to humidity and moisture. Store fresh, whole yurine in a box of sawdust in the refrigerator for up to a month. If they did not come with sawdust, wrap them in newspaper. They will keep for about a month.
To store in the freezer, blanch the petals in lightly salted water, then freeze once cooled or puree and freeze. It can keep for three months.
Health Benefits
The Chinese and Japanese have used it in traditional medicine for centuries to suppress coughing, improve insomnia, and calm the mind and body.
It's high in potassium, iron, phosphorous, and calcium. Potassium can help prevent high blood pressure, kidney failure, and smooth muscle contractions. It's also rich in the dietary fiber glucomannan, which can alleviate constipation and stimulate digestion.
---
Wish to learn more about Japanese cooking? Sign up for our free newsletter to receive cooking tips & recipe updates! And stay in touch with me on Facebook, Pinterest, YouTube, and Instagram.