With over 5,000 restaurants and literally almost one on each corner, Montreal is one of the best travel destinations for foodies.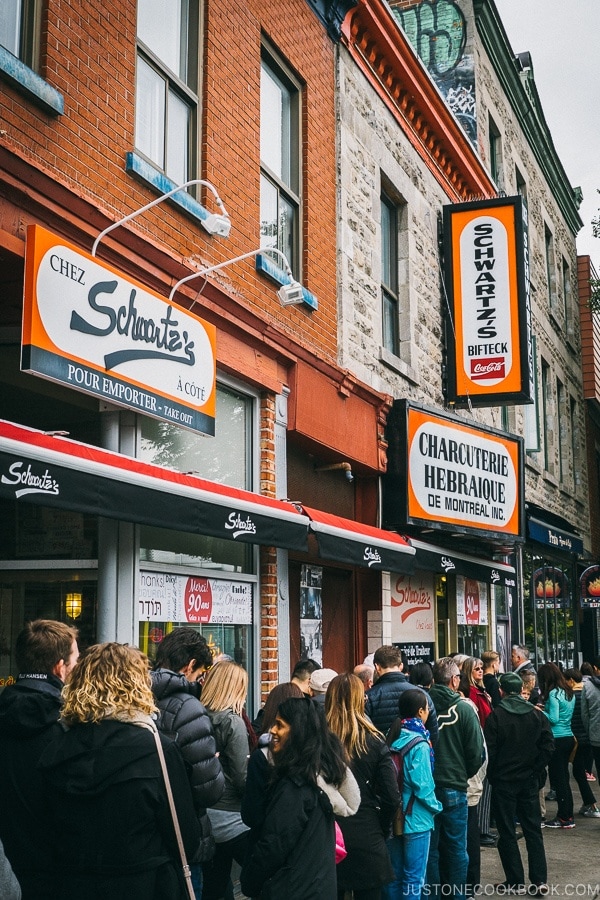 Every time the fall season comes around, Nami would mention to me how much she misses the mesmerizing fall scenery in Japan with the leaves changing colors. Our children had a 3 day weekend in October so we decided to visit somewhere in North America where we can enjoy the foliage. Our destination was – Montreal, Canada.
One of the favorite activities for our family to do together is to explore new places. We want our kids to have the memory traveling together, learning new things, and tasting new food as a family. Hopefully, they will continue this tradition with their own family one day.
To involve our kids more in the travel planning process, I gave our daughter the option of suggesting places we can go. Immediately she said, "Canada, I've never been there". It just so happens and Nami and I have always wanted to visit Montreal so we planned the spontaneous trip. What we didn't know were:
There are a lot of JOC readers in Montreal. Thank you all for offering tips on what to do and where to visit in your amazing city.
Montreal is a foodie's heaven!
When we travel, most of the time we would plan out activities and then try to squeeze the meals in between the best we can. In Montreal, we did the opposite. We planned out where to eat and tried to squeeze activities in, and we ate non-stop our entire trip.
Since there are over 5,000 restaurants in Montreal we didn't even scratch the surface of what's there. However, we do want to share with you the great experiences we had eating there.
If you want to read about what we did in Montreal, check out our Montreal Travel Guide.
Schwartz's Smoke Meat
We took a red-eye flight from San Francisco and by the time we landed, drove to the Airbnb, and got ready for the day, it was already lunchtime. Where to eat our first meal? Schwartz's of course!
Montreal is known for its smoked meat and though there are many restaurants that serve smoked meat, Schwartz's is the best well-known. Fun fact, they also invented the popular Montreal Steak Seasoning.
The legendary meat shop always has a line out front and it was no exception when we visited. There are actually 2 parts to the restaurant, a take-out only shop on the left and the restaurant on the right. The line for the takeout was short so we opted for that rather than waiting in line.
Schwartz's takeout had a simple menu, just 3 choices for sandwiches, turkey, salami, and smoked meat. You can also buy the meat by the pound. For the sides, they offered fries, poutine, pickles, and peppers.
There are some seating and bar table in the back for takeout folks to eat at but it's small, the space fits 12-15 people max.
As you unwrapped the heavy sandwich, you're immediately greeted by half a pound of smoked meat. The sandwich was delicious, smoky, salty, juicy, full of flavors. It was very filling so we ended up sharing 2 sandwiches and a poutine for lunch as a family.
If you're in Montreal, make sure to stop by Schwartz!
Poutine at La Banquise
If the smoked meat mecca is Schwartz's, then La Banquise is the same for poutine. Quite a few JOC readers reached out and insisted we eat at La Banquise.
Many times during the trip we did try to eat at La Banquise but we were either too full or just about to eat a meal. We finally tried it immediately after eating lunch on our last day. As I said, we ate nonstop. We were already stuffed but we couldn't leave Montreal without trying La Banquise.
We walked 10 blocks from our lunch spot to La Banquise hoping it'll help burn some calories walking in the cold. There was a line out front and similar to Schwartz; there is a to-go side on the left and the line to wait for the restaurant is on the right. We waited in line for about 20 minutes before we got our table. Surprisingly, the restaurant is actually quite large inside than it appears from the outside.
The menu had more than 30 types of poutines and based on the staff's recommendation we ordered La Reggae and La Classique.
We had to wait about 15 min for our orders to arrive. We had expected the fries to be really oily and filling but surprising it was somewhat refreshing. La Reggae had guacamole, tomatoes, and ground beef toppings and the La Classique is just gravy and cheese. If you are wondering, yes, we finished both french fries! After eating, we understood what the hype is about and so don't leave Montreal without stopping by La Banquise.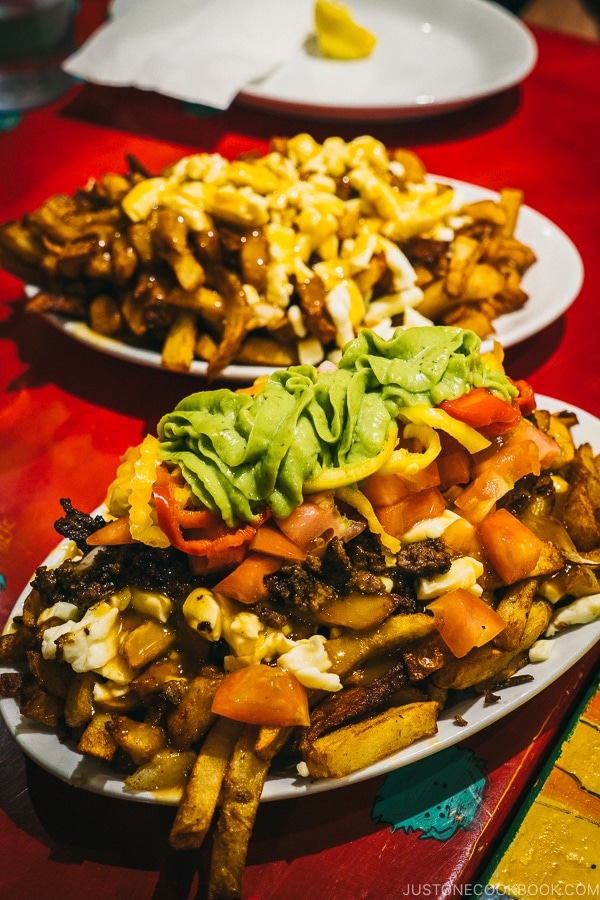 Rotisserie Romados
Up there with smoked meat, poutine, and bagels, Montreal is also known for its Portuguese Chicken. There are many Portuguese restaurants and one of the most popular ones is Ramados. We also chose Romados so we can walk and eat at La Banquist after.
The menu choices at Romados are simple, whole chicken, half chicken, or quarter chicken (you can pick breast or thigh). You can get the chicken a la carte or with salad and fries.
Once you order, the staff grabs the succulent grilled chicken from the oven, and cut it into pieces in front of you. The sauce is then brushed on the chicken and you can pick either hot or regular sauce.
The chicken was so juicy and flavorful, our children absolutely loved it. The eating area is very limited inside Romados so keep this in mind when you visit. Nami and I shared half chicken and the kids shared quarter chicken.
There are many other highly recommended Portuguese chicken spots in Montreal including Coco Rico right next to Swartz's and Ma Poule Mouillée so definitely give them a try.
Wood Fire Bagel War | St-Viateur vs. Fairmont
Nami loves her bagels and if she could she would probably eat bagels multiple times a week for breakfast. Montreal's bagels are famously made in the wood-fired oven and we couldn't wait to try. And luckily for us, our Airbnb is within a short walking distance to 2 of the most legendary bagel shops in Montreal: St-Viateur and Fairmont bagel.
Both shops are open 24 hours a day so you can get bagels anytime you want.
To enjoy our bagels, we stopped by for cappuccino and hot chocolate at Cafe Olimpico just a few blocks away. It's considered one of The 50 greatest cafes on earth by The Telegraph and a coffee institution in Montreal. Their coffee was so yummy and the staff was super friendly (they let us eat bagels inside but we did ask for permission first).
After trying bagels side by side from both shops, our family's overwhelming winner is St. Viateur. We preferred their "mocchiri (もっちり)" texture (Japanese expression for springy/bouncy, mochi-like texture) over Fairmont's denser bagels. We loved it so much we brought some back with us to San Francisco.
Fine Dining in Montreal
Besides casual eats, we splurged a bit on our dinners in Montreal. Before our trip, many readers had recommended Joe Beef and its sister restaurants but we were unable to get a reservation since it was a spontaneous trip. We ended up having dinner the first night at Chasse-Galerie and the second night was at BOUILLON BILK. Both restaurants were excellent but very different.
Chasse-Galerie
Chasse-Galerie is located on the basement floor of a building on the busy St. Denis Street. The restaurant is rustic and cozy and the food was fantastic. On the night we visited, diners had a choice of 5 or 7-course tasting menu, and you can order the dishes a la carte as well. The dishes for a la carte and tasting menu are the same.
Nami and I got the 7 courses while the children shared the pork rib and mushroom dish. All the dishes are done really well and creative. Chasse-Galerie had a festive atmosphere and a bit noisy.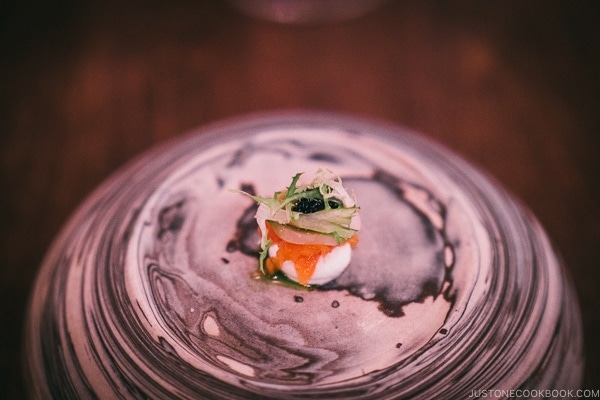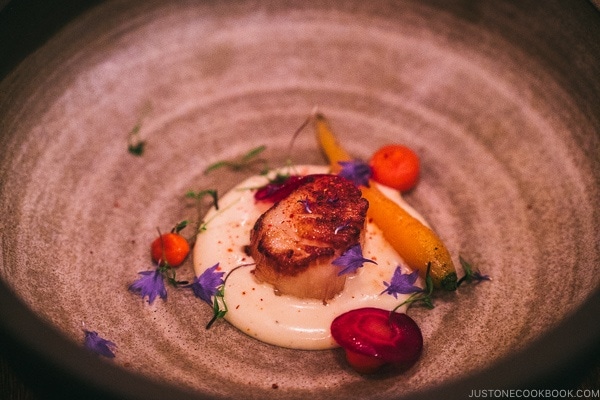 BOUILLON BILK
Bouillon Bilk is consistently ranked one of the best restaurants in Canada and it was the priciest meal of our visit. We were really happy we were able to get a reservation.
Compared to Chasse-Galerie, they had a wider selection of appetizers and main courses. They also offered a tasting menu which has completely different dishes from the main menu. However, they do allow patrons to order a la carte off the tasting menu as well.
The interior of Bouillon Bilk is modern chic and welcoming.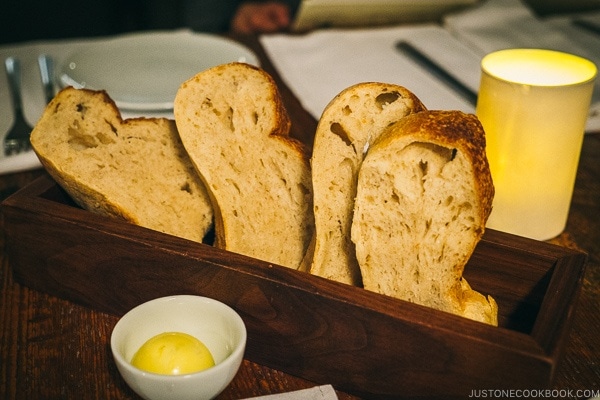 I apologize for the dark photos as the restaurant was very dimly lit, you have to trust us when we say the presentation of the food was creative and even though it is French influenced, the dishes are not heavy and you can taste all the fresh ingredients they used.

H4C
For Sunday brunch, we ate at H4C. It is located in a beautifully restored building with a modern and welcoming interior.
The Sunday brunch menu had plenty of choices for everyone and the homemade jam with pastries was the biggest hit with our family.
Besides the pastries, we shared a lobster benedict, tuna over english muffin, and some pancakes. All the dishes are well prepared and quite delicious.
Restaurant Mélisse
While we were waiting for our scooter tour of Montreal, we had a bit of time so we tried the pastries and coffee at Restaurant Mélisse. They are known for their lunch and brunch menu, and from the looks of the food being served around us, they looked really appetizing.
It's really nice when restaurants put thoughts into the presentation of their food and dishes. The cheese scone could have been easily served a plain white plate but the dish made it look so much tastier in this little plate with gold rim.
Public Markets in Montreal
Besides the restaurants, we also explore two of the large public markets in Montreal: Marché Atwater and Marché Jean-Talon.
Marché Atwater
Marché Atwater is a public market that first opened in 1933. There is both an interior and exterior part with numerous food and produce stand, as well as ready-to-eat food stalls.
Even though we just had scones and bread, we couldn't pass up the chance to try food from Reunion Island. The food had a lot of spices and flavors but not spicy.
Marché Jean-Talon
Similar to Marché Atwater, Marché Jean-Talon is a farmer's market with produce and pastry stands along with specialty shops.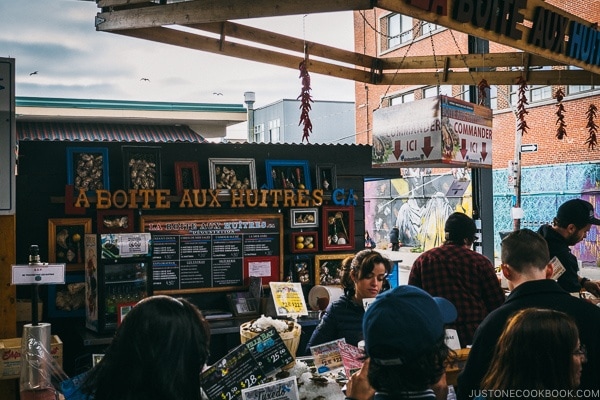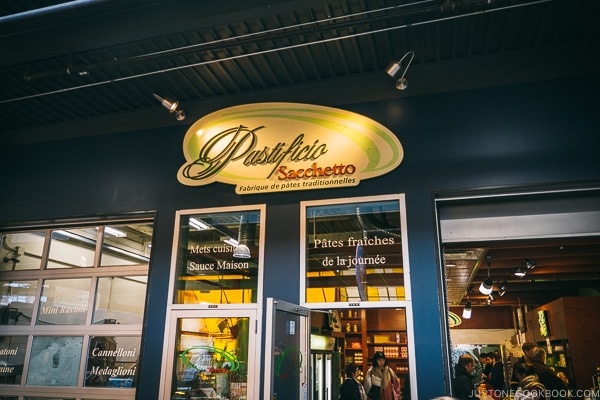 We ended up buying some macaron and egg tarts as afternoon snacks.
As you can see, we ate nonstop in Montreal during our short trip there. All the food we tried were fantastic and made us wish we had all these wonderful choices nearby where we live.
Thank you for reading our eating adventure in Montreal and if you are interested in what we did in Montreal, click here.