There are many activities for visitors to do in Montreal, including walking through historic Old Montreal, hiking up Mount Royal, and visiting the grand St. Joseph's Oratory.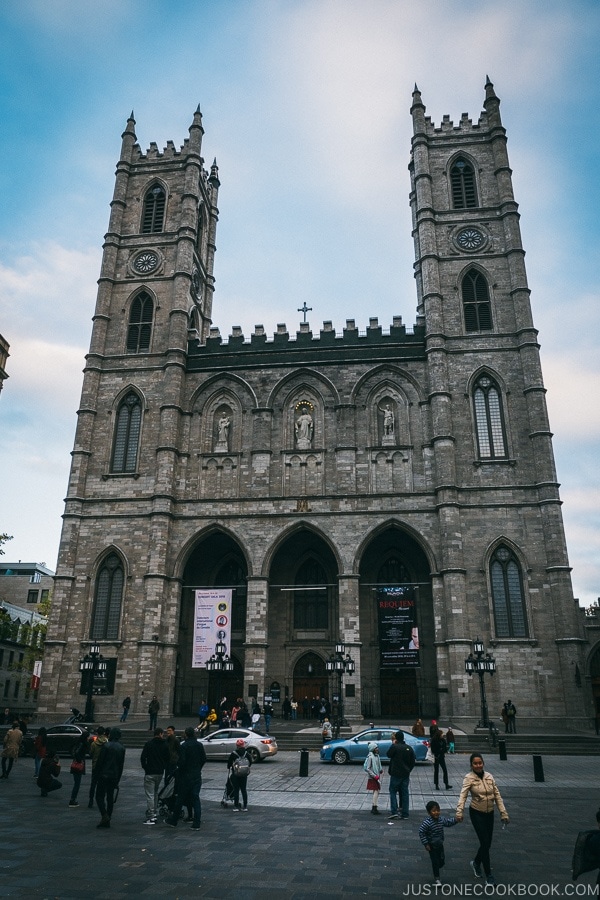 As we ate our way through Montreal (Read our Montreal – A Foodie's Heaven post), we tried to squeeze in some activities and see as much of the historic and artistic city as we could. The best part is that most of the tourist areas are not far from each other and we didn't have to spend too much driving around in the car going to different places. Ready to tour Montreal? Let's go!
Seeing Montreal from a Scooter
Our children is used to walking quite a bit when we visit new cities. In Japan, it's not unusual for us to walk 15,000+ steps a day.
To make the trip more memorable, I secretly booked a Montreal electric scooter tour with Goofy through Airbnb and surprised our children with the experience. They absolutely loved it and had a blast. Our host Goofy was a super cool guide and our family had so much fun with him.
Goofy's tour took us from Old Montreal along the canal to Marché Atwater and back up to downtown. He purposely avoids the "touristy" part of the Montreal and provides his guests a more authentic local experience.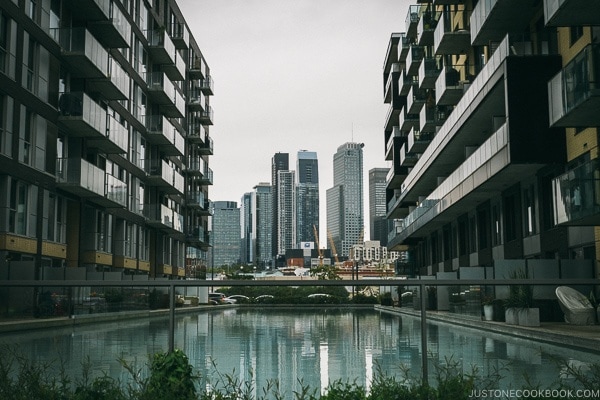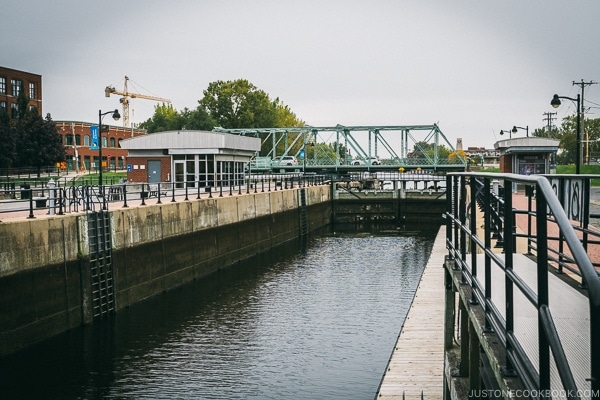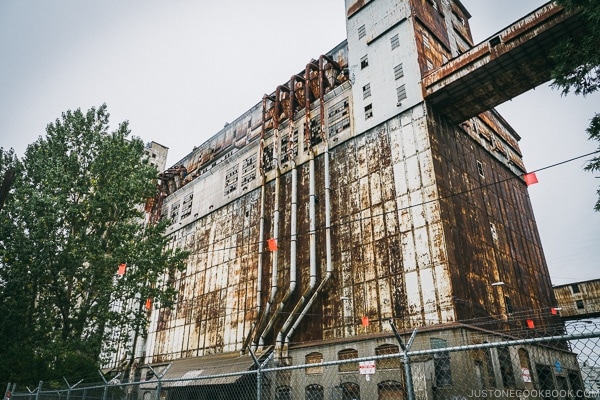 Besides the scenery, Goofy took us to check out BOTA spa. It's an old boat converted into sauna and spa, ultra cool.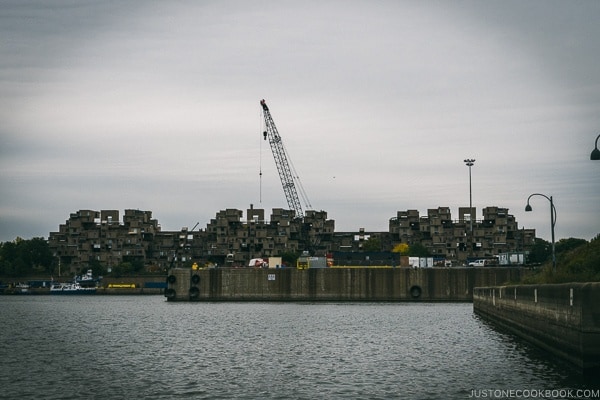 Goofy's tour is super fun and we highly recommend it. The minimum age is 6 years and above to ride the scooter and most of the time we were on the pedestrian paths so it was pretty safe.
Old Montreal Walking Tour
On our second day there, we booked an Old Montreal Walking Tour (east tour) through Airbnb. It was a 2-hour walking tour through old Montreal.
Notre-Dame Basilica of Montreal
The tour began at Notre-Dame Basilica of Montreal, where Celine Dion got married!
The interior of the Basilica was grand and beautiful.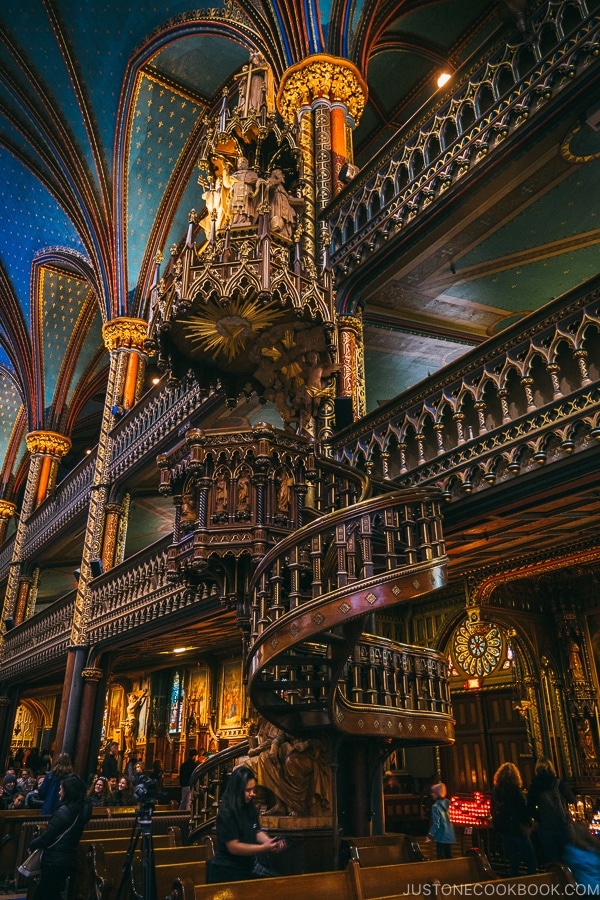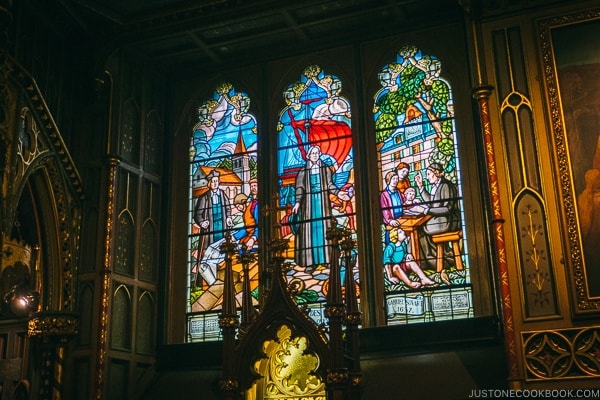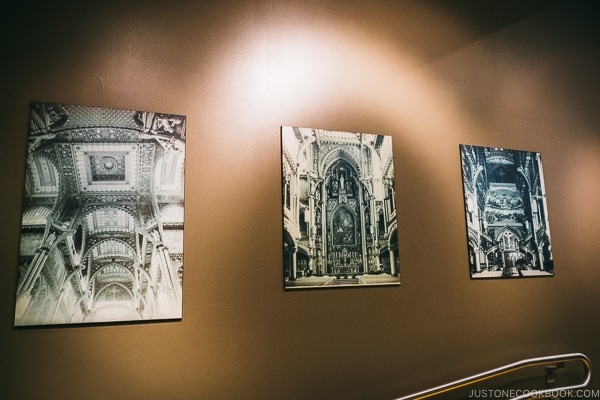 The walking tour continued on St. Paul street and along the route, the guide explained the buildings that we passed by as well as their historical significance.
St. Paul Street – Montreal
St. Paul is Montreal's oldest street and many parts of it are still covered in cobblestone.
The street today is lined with shops, bars, and restaurants.
It was interesting to see a building being updated, as they use scaffolding to maintain the historic front but build a completely new interior. St. Paul Street intersects with Place Jacques-Cartier where the Montreal City Hall and Chateau Ramezay are located.
The leaves had just started to change and made the plaza extra beautiful.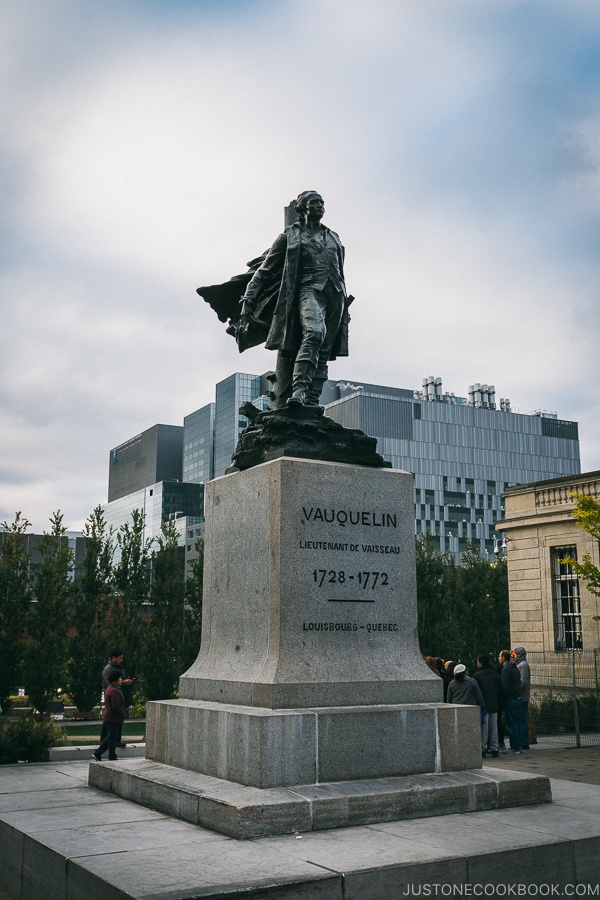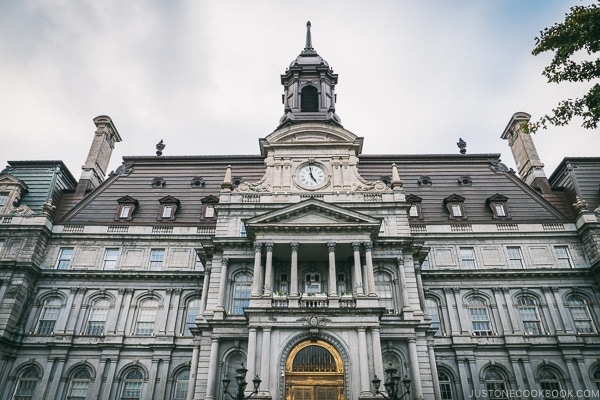 The tour ended at Marché Bonsecours near the Jacques-Cartier Pier.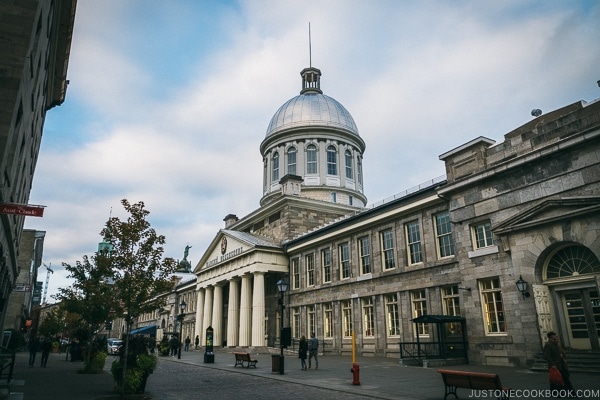 Would we recommend the walking tour? Not really, you can easily visit the Basilica and walk around Old Montreal by yourself. The history of the city and buildings from the guide was helpful but nothing that we wouldn't be able to discover ourselves with a bit of web browsing.
It didn't help that a few members in the group decided to go rogue and kept straying so our guide spent a lot of time just keeping track if everyone was still around.
Mount Royal
Besides the tour, we visited a few parks by ourselves in search of foliage. Montreal is a pretty flat city and it's very easy to bike around (I'll touch on this later in the post). The one exception to this is Mount Royal park which rises above the rest of the city. The leaves haven't quite changed their colors when we first arrived but by the third day when we visited Mount Royal Park, the colors had started to change.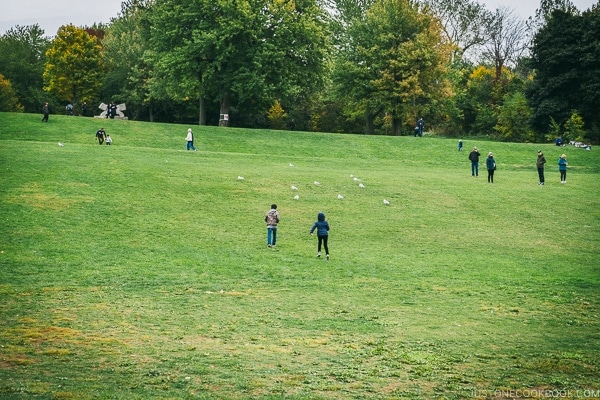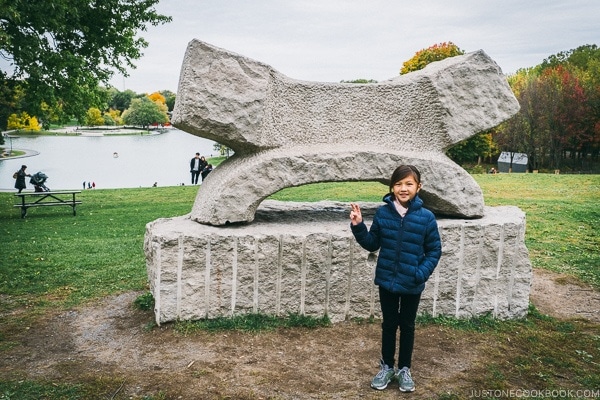 We started our day by Beaver Lake and then hiked up towards Mount Royal Chalet for a panoramic view of the city.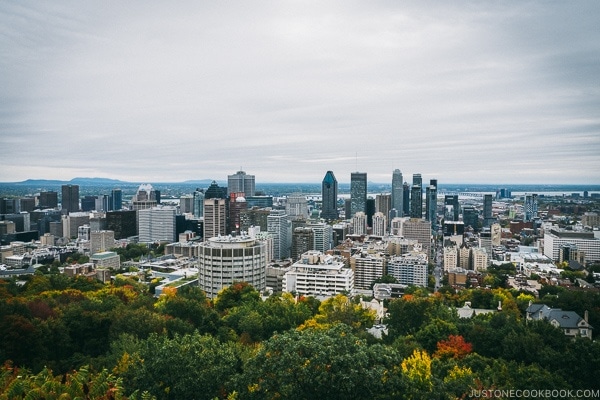 The view from Mount Royal Chalet allows you to view from the north to the south along the St. Lawrence River.
After taking in the view of the city, we head to the chalet. Inside the chalet, there is a coffee shop, restrooms, and history of Montreal playing through small screens.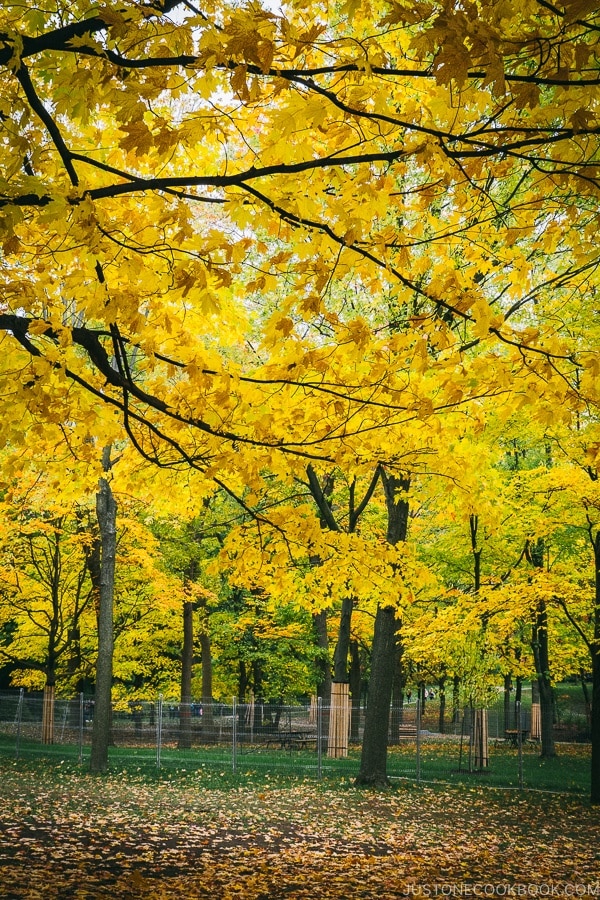 Saint Joseph's Oratory of Mount Royal
Near the southwest side of Mount Royal is Saint Joseph's Oratory. It is Canada's largest church and built on top of the hill. It is open to the public and more than 2 million visitors and pilgrims visit the church each year.
The church was grand and majestic from both the outside and the inside.
Besides the outdoor staircase, there is also escalators inside the church to go up for those who have trouble walking.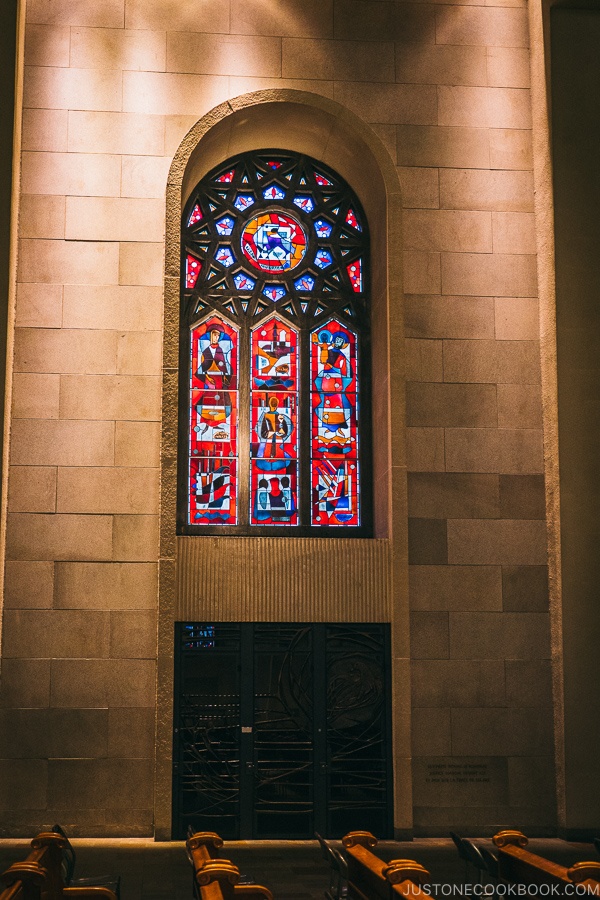 As it's a place of worship we didn't want to take too many pictures, but it's a must-see when you're in Montreal.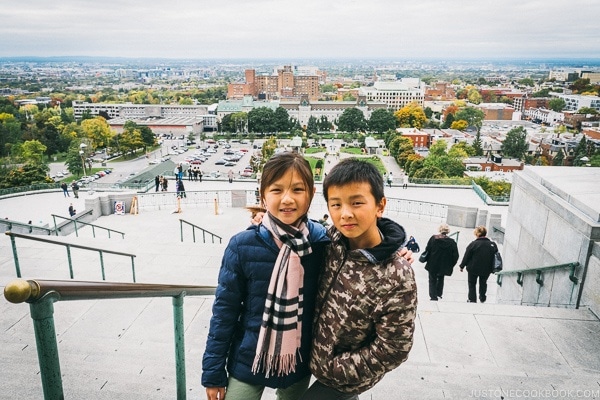 It was at Saint Joseph's Oratory we met up with a JOC reader Jessica was so nice to gift us probiotics from her company. Thank you, Jessica!
Park La Fontaine
On the first day in Montreal, we stopped by Parc La Fontaine but unfortunately, most of the leaves hadn't quite changed colors yet.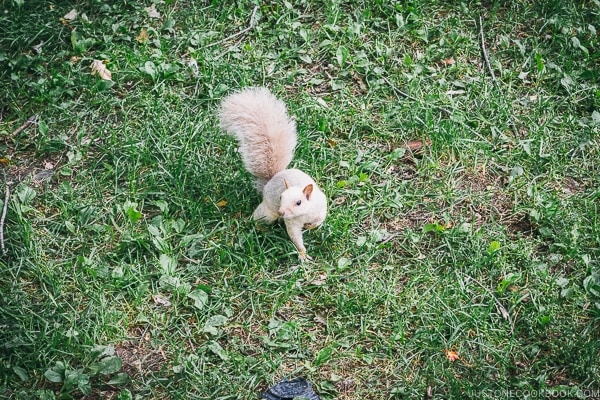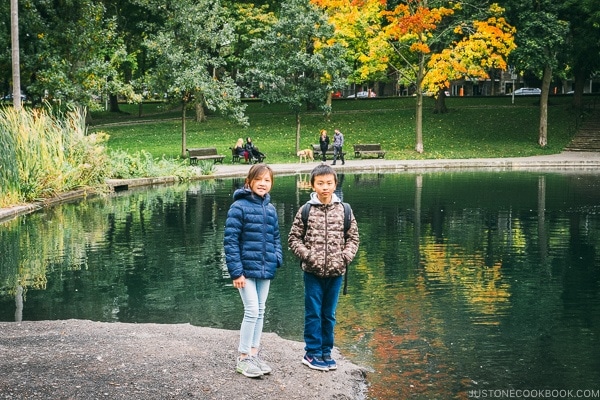 It's a beautiful park great for strolling around in the city.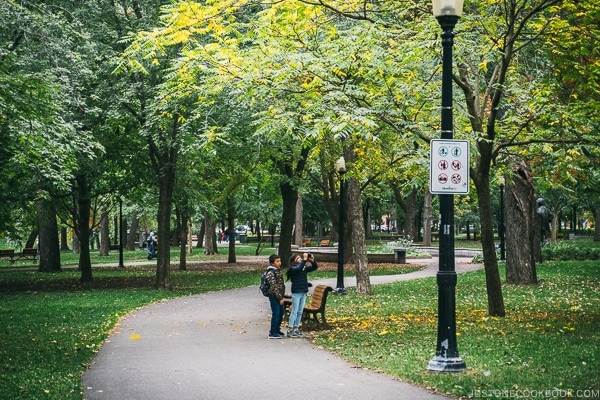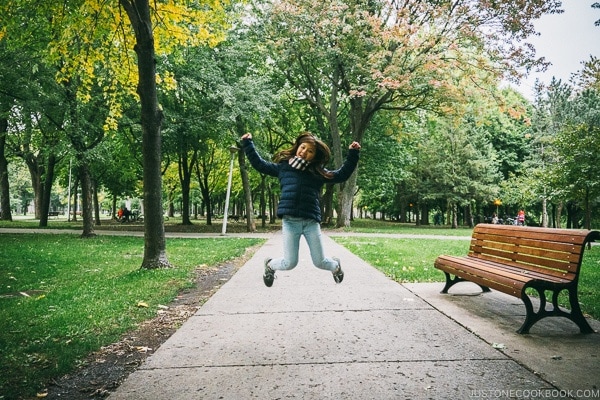 Montreal Airport & Rental Car
In case you are wondering how we got around, we rented a car from the airport. The rental car is located right at the airport and just a few mins walking from the terminal. The Montreal Airport was clean and updated.
BIXI Montréal rental station
If you prefer not to have a rental car in Montreal, it's completely fine. It's one of the most bike-friendly cities we've visited and there are public bike rental stations all over. It cost just CAD$5 to rent for an entire day in 30-minute increments. If you go over 30 minutes, there's a slight surcharge but not much. As long as you stay within 30 minutes, you don't need to worry.
I had some trouble with my US credit card trying to rent from the machine, so I ended up installing the app and renting the bike through the app. Before you grab your bike (by simply entering the code), test to make sure the tire is not flat.

Airbnb in Montreal
We stayed at an Airbnb during our visit at Mile End. The staff and host of our Airbnb are by far the best we ever encountered and they went out of their way to make sure our stay was nothing short of amazing. From the communication to the cleanliness of the apartment, we had a wonderful experience. Our daughter had left some stuff behind and they even mailed it to us. Here is the listing if you are interested.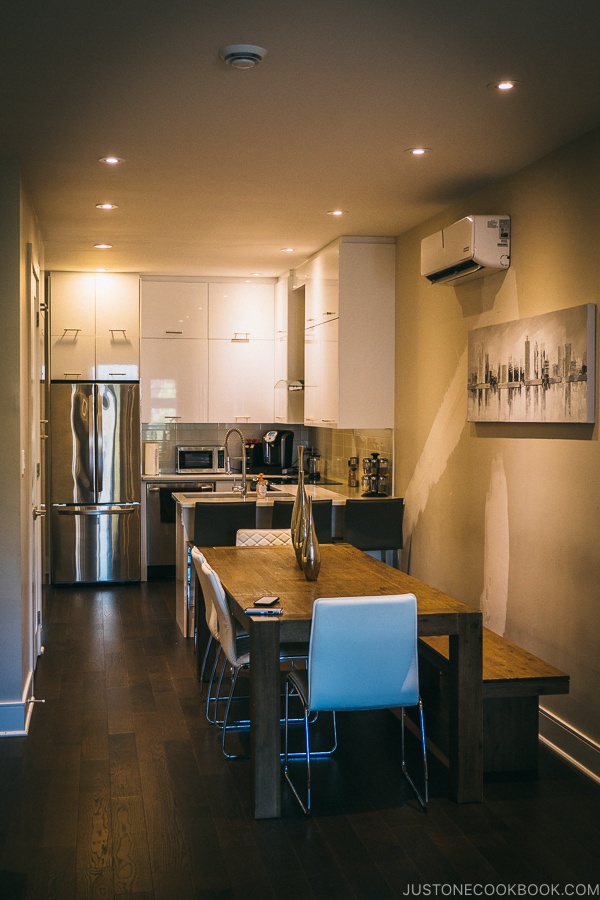 The host owned the entire building and there are 5 units, the apartments are fairly new and very well-maintained. There is free parking in the back of the building.
Public Parking in Montreal
Public parking is available all over Montreal and the hourly price depends on the location. It's usually around CAD$1 per hour but much more expensive when you are in Old Montreal. Each spot usually has a signpost telling you the spot number; in the example below, it's PE367. When you get to the machine (there is an English language button), simply enter your spot number and pay. You can also pay via an app. I took advantage of the app when our meter expired while we were still in the middle of eating.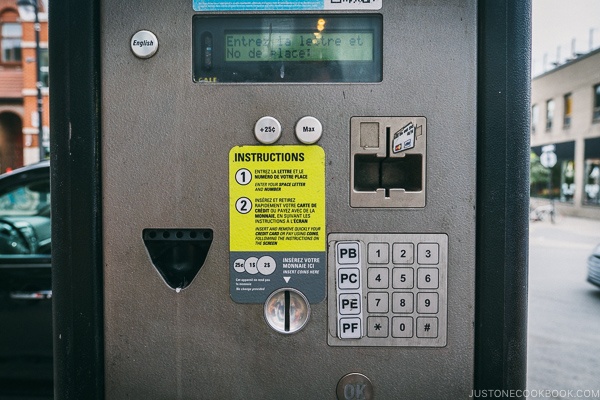 Art and Culture in Montreal
With its rich history, Montreal has so much to offer culturally for visitors to absorb. All over the city, you can see art is encouraged and you see it's everywhere when you walk around.
During our visit, there is construction everywhere including roads, condos, and buildings, and you feel a sense of new energy as you look around.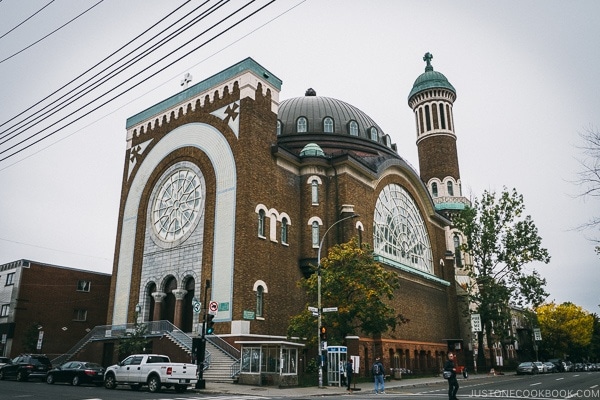 We had an amazing time visiting Montreal and highly recommend it for anyone looking for a quick 3-day trip to unwind, and of course, eat great food.
We hope you enjoy our short Montreal Travel Guide. Don't forget to check out what and where we ate!