After all the holiday indulgences, Nanakusa Gayu (七草粥) or Seven Herb Rice Porridge is enjoyed on January 7 of the New Year allowing our stomachs to recover.
On January 7th of the New Year, the Japanese observe a tradition known as nanakusa no sekku (七草の節句), or the Festival of the Seven Herbs, by eating a healthy rice porridge called Nanakusa Gayu (七草粥). This time-honored custom is believed to bring good health and to ward off evil spirits for the rest of the year.
The simple meal of rice porridge hits the spot after all the feasting and helps our overindulged stomach to heal and recover. If you're ready for a reset, this tasty yet light porridge will be a nice welcome to get us back on track.
What is Nanakusa Gayu?
Nanakusa gayu, literally translates to "seven herbs rice porridge", is a type of okayu or rice porridge that consists of seven (七 nana) herbs (草 kusa). We sometimes say haru no nanakusa (春の七草), which means spring seven herbs, because young herbs that are available during this time of year are more tender and fragrant.
The custom of eating hot rice porridge on the 7th day of the Japanese New Year has its root in Chinese belief and can be traced back to ancient times in Japan. Based on the Chinese legend, January 7th is also known as Jinjitsu 人日, one of the 5 seasonal festivals (節句), which we celebrate everyone's birthday as it is the day humans were born.
In Japan, we usually eat a plain bowl of okayu when we're feeling under the weather because it is light, comforting, and easy for the stomach. It is a suitable meal to heal any heavy feelings or sicknesses. As we wrap up the New Year festivities, it makes sense to eat nanakusa gayu. Since there is little green during this season, the young herbs incorporated into the porridge bring color to the table and represent renewal for the new year.
Use These Seven Herbs for Nanakusa Gayu
Here are the seven herbs used in nanakusa gayu:
Water dropwort – Seri (せり)
Shepherd's Purse – Nazuna (なずな・ぺんぺん草)
Cudweed – Gogyo (ごぎょう)
Chickweed – Hakobera (はこべら)
Nipplewort – Hotokenoza (ほとけのざ)
Turnip – Suzuna (すずな・かぶ)
Daikon radish – Suzushiro (すずしろ・大根)
To help remember the herbs, we even have a song that goes like this: 「せり なずな、 ごぎょう はこべら ほとけのざ、 すずな すずしろ これぞ七草 (ななくさ)」("Seri Nazuna, Gogyo Hakobera Hotokenoza, Suzuna Suzushiro Korezo Nanakusa.")
For those of us who live outside of Japan, it would be a challenge to find all the seven herbs. However, that doesn't mean you can't make nanakusa gayu and enjoy the porridge at home. Over the years, I've cooked with various herbs and made my own versions, and each one turns out just as delicious.
Here are some common herbs that you can use, but make sure nothing is too strong or dominant in the amount that overkills the flavors:
Cilantro
Basil
Chervil
Chives
Fennel
Mint
Watercress, etc
Where To Find Nanakusa (Seven Herbs)
In Japan
You can find these packages of convenient "Haru no Nanakusa Set" (春の七草セット) in grocery stores. They are basically a bundle of fresh herbs ready for use in making nanakusa gayu.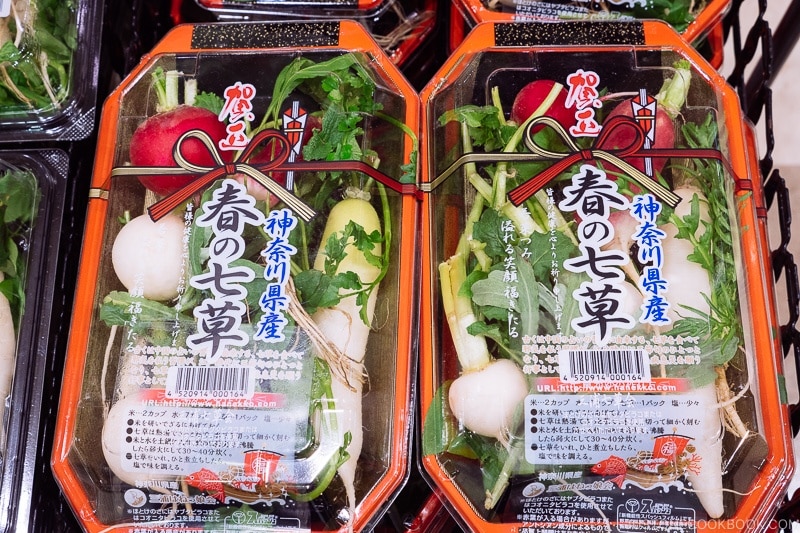 Outside of Japan
Most of these greens will probably be pretty hard to come by in the US or anywhere outside of Japan, so my recommendation is to use a selection of greens you enjoy that are available near you.
I waited for years to share this recipe on my blog because these fresh herbs were not available. Luckily, my local Japanese grocery store (Nijiya Market) started selling this freeze-dry nanakusa.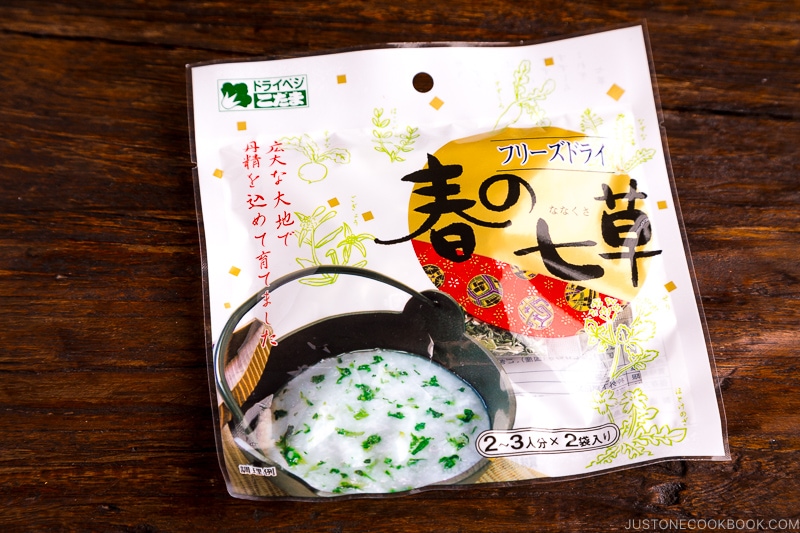 The package includes 2 small servings of freeze-dried herbs.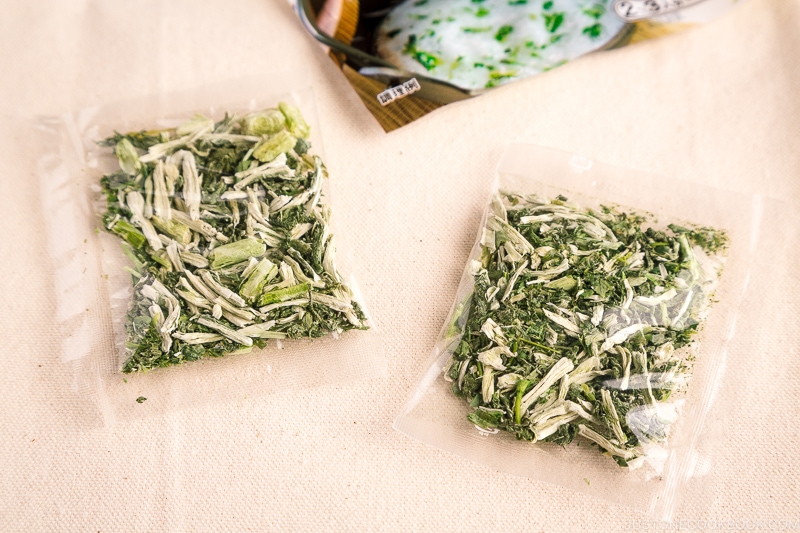 Use Japanese Earthenware Pot Donabe for Nanakusa Gayu
For best-tasting okayu, I recommend using a donabe (土鍋), a Japanese earthenware pot, to cook the porridge.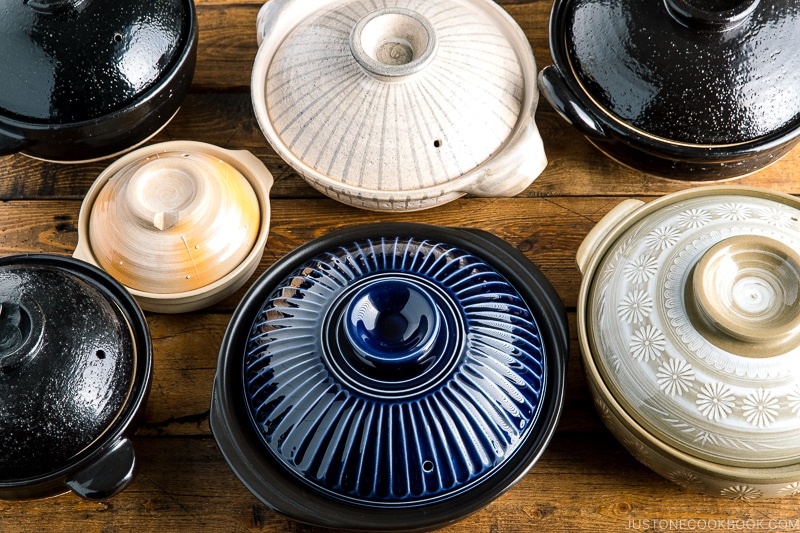 This traditional clay pot distributes heat beautifully and retains heat well, and it makes a beautiful serveware for nanakusa gayu. It certainly suits the spirits of Japanese New Year by serving such a meaningful meal in a donabe.
Before you start using your Donabe, please learn how to season and care for your donabe.
More on Japanese New Year Traditions & Foods: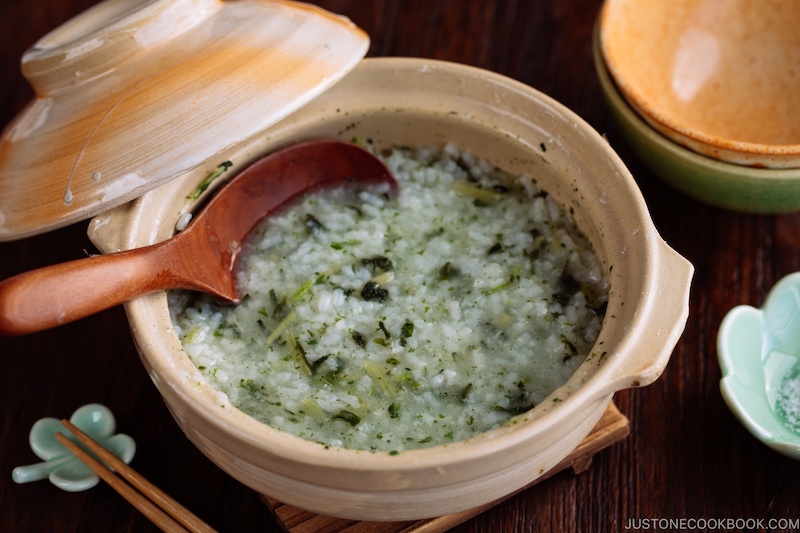 Wish to learn more about Japanese cooking? Sign up for our free newsletter to receive cooking tips & recipe updates! And stay in touch with me on Facebook, Pinterest, YouTube, and Instagram.
Nanakusa Gayu (Seven Herb Rice Porridge)
After indulgence of New Year feast during Japanese New Year celebration, Nanakusa Gayu (七草粥) or seven herb rice porridge is enjoyed on January 7 in Japan allowing our stomachs to recover.
Japanese Ingredient Substitution:
If you want substitutes for Japanese condiments and ingredients, click
here
.
Instructions
To Make Rice Porridge
Add ¼ cup (50 g) short-grain rice in a bowl and rinse under running water while gently rubbing the rice with hands. Repeat until the water runs clear and drain.

Put the rice back in a donabe (I used a small Japanese earthenware pot) or a heavy-bottomed pot, add 250 ml of water, and cover with a lid. Soak the rice for at least 30 minutes. Tip: With the heavy-bottomed pot like a donabe, the heat is distributed not as strongly/directly as a regular pot, so you can cook rice evenly.

Bring the rice to a boil over medium-high heat. You can open the lid to check during this time.

As soon as it's boiling, gently mix with the spoon once, making sure the rice is not stuck to the bottom of the pot. Then lower the heat to the stove's lowest heat setting (make sure to use the right size of stove burner for your pot size), cover the lid, and simmer the rice for 25-30 minutes. During this time, don't open the lid or mix the rice (See Note).

After 25-30 minutes, turn off the heat and set aside for 10 minutes to let it steam. The rice should be soft and thickened.
To Make Nanakusa Gayu
Add nanakusa (fresh or freeze-dried) and mix gently. Sprinkle salt to taste. Enjoy!
Notes
Use of Fresh Nanakusa: Blanch in boiling water (with a pinch of salt) for a few seconds and let cool in iced water to stop cooking. Drain and squeeze water out. Cut into small pieces. If you cook daikon and kabu, cut into thin slices and blanch till tender and let cool. Then blanch herbs in the same pot. Use of Freeze-Dry Nanakusa: Read instructions on how much freeze-dried nanakusa you will need for each serving. Cooking Instructions: I follow 1 to 5 rice-to-water ratio for my Okayu recipe. With a good size pot, and the lowest heat on the stove, water should not boil over. If you cook with more water or your pot is smaller than my pot, you may want to cover the lid at a slight angle so the water doesn't boil over. If unsure, you can quickly peek and make sure there's enough water so the rice doesn't burn the bottom of the pot. You can stir the pot or add "hot" water if needed. Otherwise, don't touch the rice because you would end up breaking the nice shape of rice kernels. Rice-Water Ratio:
Zen-gayu – 1 : 5 (50 grams : 250 ml)
Shichibu-gayu – 1 : 7 (50 grams : 350 ml)
Gobu-gayu – 1 :10 (50 grams : 500 ml)
Sanbu-gayu – 1 : 20 (25 grams : 500 ml) Using Cooked Rice:
Add rice and 2-3 times water in the pot. Cook stirring over medium-low heat. Adjust the consistency by adding more water.
Nutrition
Nutrition Facts
Nanakusa Gayu (Seven Herb Rice Porridge)
Amount per Serving
% Daily Value*
* Percent Daily Values are based on a 2000 calorie diet.
©JustOneCookbook.com Content and photographs are copyright protected. Sharing of this recipe is both encouraged and appreciated. Copying and/or pasting full recipes to any website or social media is strictly prohibited. Please view my photo use policy
here
.
Editor's Note: The post was originally published on January 5, 2017. It has been updated with new images in January 2019 and republished in January 2022.