The best part about skiing in Utah is after a day on the slopes, we can choose from a plethora of restaurants in Salt Lake City serving up imaginative and delicious food.
One of the activities we look forward to the most after skiing an entire day in Utah is trying out the many restaurants to eat in Salt Lake City. We usually stay at the Doubletree Suite in downtown Salt Lake City and there are so many great restaurant choices within a 10 min drive.
What to Eat in Salt Lake City
Typically 2-3 weeks before we head to the Salt Lake City, I start doing research on our dining options and start making reservations on Open Table or Yelp. Most restaurants that take online reservation use one of these two services.
For dinners, we would make the reservation for dinner around 6:30 pm. The slopes close at 4 pm and it takes only 45 min to get back to downtown Salt Lake City so there is ample time to get ready for dinner.
Pago Salt Lake City
The first restaurant we want to share with you is Pago Salt Lake City. It was voted in 2018 as the Best Restaurant in Utah by Salt Lake Magazine readers and we highly recommend it as well. Our first visit was 2017 and the food was so tasty we wanted to revisit on this past trip.
Unlike San Francisco's restaurants which are astronomically priced, Salt Lake City restaurants are much more affordable. Pago's appetizers are between $10-15 and entrees are mostly $20-$30. The menu is updated seasonally so different dishes were offered during our two visits. On our first visit, we had the beet salad, venison chops, halibut ceviche, and Scottish salmon. Everything was excellent.
On this trip, we got to try completely different dishes and it didn't disappoint. We started with red bell pepper soup with a nice spicy kick and chili flavors. The kale caesar salad was refreshing, cheesy and earthy, with a hint of sour fruit from the dressing.
Besides the delicious preparation, the dishes were downright imaginative, with little details that delight your senses. The poutine dish was served on a hot skillet with charred potato halves and shiitake mushroom gravy. Another unique dish we had was the pasta called agnolotti. It's like ravioli stuffed with sweet potato puree, cooked in brown butter so it tasted like a Christmas dinner. We were warmed right up after being out in the cold.
If you only have time for 1 meal in SLC, you can't go wrong with Pago. The talented team at Pago also run George (previously Finca), East Liberty Tap House, Hub & Spoke Diner, and Trestle Tavern.
The Copper Onion Salt Lake City
The second restaurant we want to share with you is the classic The Copper Onion in Salt Lake City. We've dined at Copper Onion every time we visited SLC because of their signature 2 dishes: the ridiculously good carbonara and their irresistibly juicy burger (which our son adored).
This time we also ordered the house bread, octopus, skirt steak, and beef stroganoff. The house bread had a striking tanned crust, so good looking that you wouldn't forget. It was a dream with a slather of honey butter and a tiny pinch of salt.
The octopus dish is not your typical preparation. Served with a rich black garlic aioli and smoked potatoes, you get a contrasting texture and savory-spicy edge that brings it on a lot of levels.
The skirt steak had bold flavors but a bit on the salty side. Beef stroganoff was composed of homemade pasta, tender cubed beef, and mushrooms including shiitake. Everything was on point.
If you decide to visit the Copper Onion, do order one of their pasta dishes as their house-made pasta is simply superb.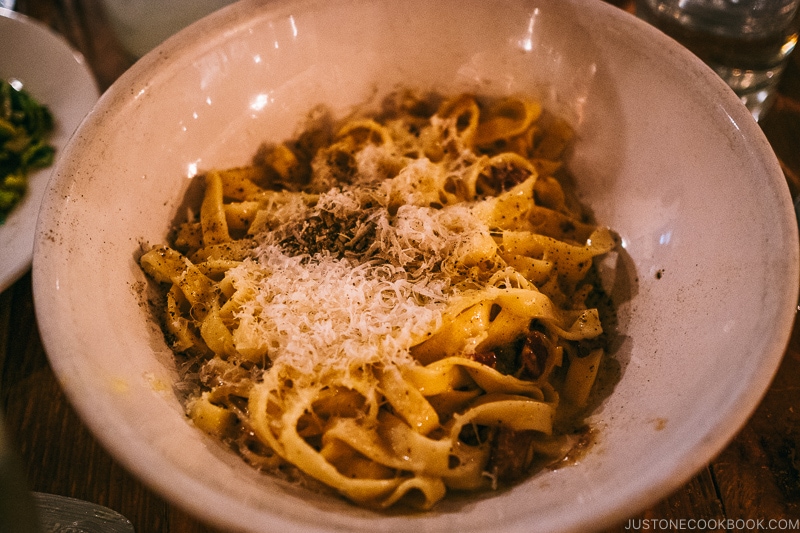 HSL – Handle Salt Lake City
HSL is one of the two new restaurants we tried on this trip and although we feel a bit guilty for betraying Pago, HSL is now our favorite restaurant in Salt Lake City! Coincidentally, it's voted the best restaurant in Salt Lake City (vs. best in Utah for Pago) by Salt Lake Magazine readers.
The vibe of HSL is very different from Pago. Pago is smaller, intimate, doesn't seat a large number of people, and you can see the staff working in a small open kitchen. HSL is just the opposite, slick, bustling, exquisite, mature, with a large kitchen and a giant wood-burning oven.
Every dish we tried at HSL was well thought out, complex, unique, and everything seems to work together. We started our meal with a few appetizers. The first dish was hamachi crudo with spaghetti squash and lemongrass ponzu. The unexpected combination tasted similar to Chinese jellyfish with a bit of spice.
The second dish was the sourdough with soft cheese that felt like something out of this world! The bread was soft and chewy, the optimal texture for a sourdough. And the unexpected mix of lavender honey and hazelnuts took it to another height.
As you can see, we went a bit overboard with the amount of food we ordered at HSL. For entree, we had the fried chicken, steak, and tostada. The steak was cooked perfectly with a nice smoky flavor. It was tender and served with potatoes and vegetables in a rich reduction.
The fried chicken tasted like a curry dish. Spicy with a crispy crust, the meat was juicy and filled with flavors.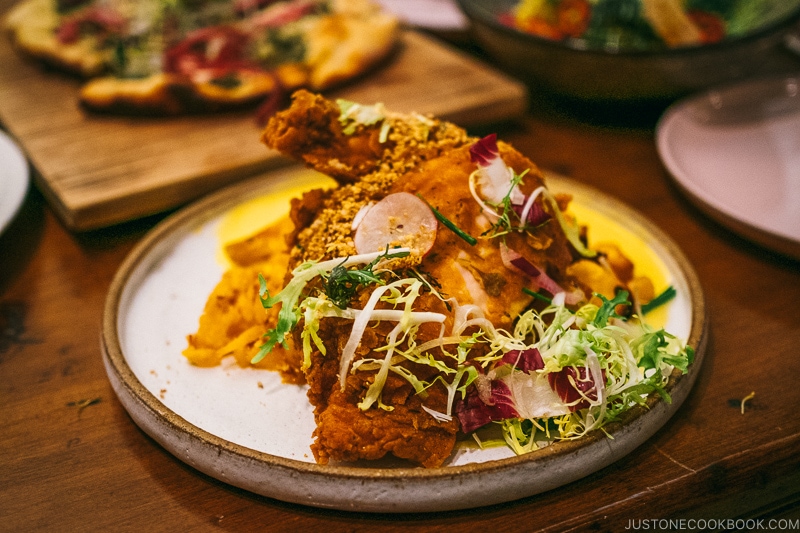 ven though we were completely stuffed by the time we were done with the entree, it was hard to pass on the desserts. The chocolate torte was rich and creamy, a fitting contrast with the refreshing sorbet. The apple pie was so creative! It was soaked in chilled coconut milk to intensify the flavors of apples and caramel, and made the dessert warm and cold at the same time.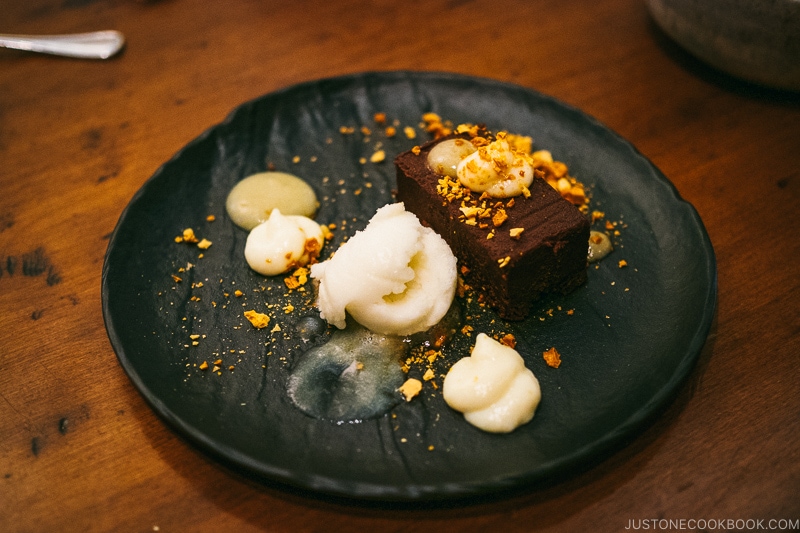 It's a meal we'll be remembering for a long time and we can't wait to go back to HSL on our next ski trip to Utah.
Provisions Salt Lake City
The last restaurant we want to share with you is Provisions. We had it on our list of places to try and JOC readers also recommended it to us. Provisions is about 10 miles from downtown SLC, but it takes only 15 min to drive even during rush hour.
The interior of the restaurant is really cute, like craftsman meets farmhouse.
Our table was right next to the kitchen so we could see all the action that was taking place. We had an early reservation so it wasn't crowded when we arrived.
It was interesting to study the menu since it's an "American Craft" kitchen but many of the appetizers and entrees had an Asian flair. After ordering, our food came out quickly.
We started with an assortment of appetizers and the first dish was hamachi. It was different and delicious, a bit spicy but the coconut milk and basil complemented the fish. The texture was enhanced by the rice balls and the dish was a hit for the entire family.
Next up were the pork buns. I loved it but Nami didn't like the strong pork taste. I thought it matched well with the spicy and sour sauce inside the soft white buns.

Following the pork buns were the duck spring rolls. Didn't I say we were surprised by the heavy Asian influence? The warm duck roll had hints of mint and strong dark soy sauce flavor. The rolls were soft on the outside with crunchy texture inside. It didn't taste like typical Vietnamese spring rolls and was really delicious.
The last appetizer we had was wood-fired cauliflower, which was soaked in fish sauce and peppercorn. Everything was so exceptional that we ordered another dish of brussels sprouts. The brussels sprouts were first fried then soaked in katsuo dashi. Nami and I agreed they tasted like agedashi tofu and it was yummy.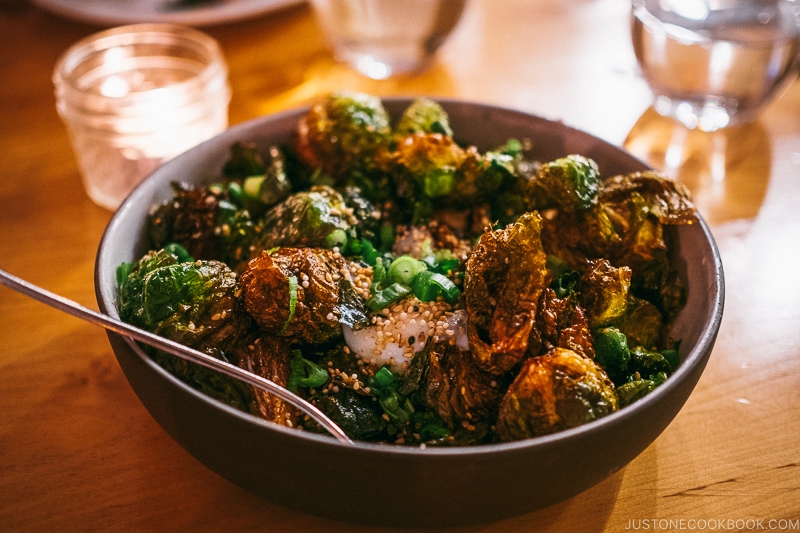 By this time, we couldn't wait for the entrees to arrive as everything we had tasted so far have exceeded our expectations. For entree, we ordered the pork shank, roasted chicken, and housemade fettuccini with pork ragu.
Regrettably, all the entrees were disappointing. The chicken was bland and flavorless, the pork ragu was watery and the pasta was subpar. Even though the pork shank was tender it was over sauced and not in a good way. We were surprised by the inconsistent quality of food that we regretted ordering the entrees. Only if we would have known, we would order more appetizers instead. Maybe it was just an off day, but we would choose the chicken at Pago's and the pasta at Copper Onion any time over Provisions.
Fun Restaurants to Eat at in Salt Lake City
Besides the four restaurants above, we've also dined at From Scratch, Arito's, and Pallet (we had Elk with Smoked Persimmon Purée – simply amazing). We would recommend all three of these restaurants, you can't go wrong with any of these choices. There have been a few others which we liked but are now closed or been updated (e.g. Finca to George).
Regardless, we love the food scene in Salt Lake City and it's part of the reasons why we always stay near downtown during our ski trips. We can't wait to go back and discover more awesome food to eat. Also, if you are looking for great coffee, stop by The Salt Lake Roasting Co. It's run by a JOC friend and I know you'll love the coffee and pastry there!
Thank you for reading our post, if you are want to check out what we've been chowing down, head over to Nami's Instagram or our restaurant review section.
If you want to check out our recommendations on where to ski in Utah, read Utah Ski Vacation Planning.