A quick and helpful guide for enjoying Utah's epic powder snow on a ski vacation. Ski or snowboard at one of the many family-friendly resorts around Salt Lake City.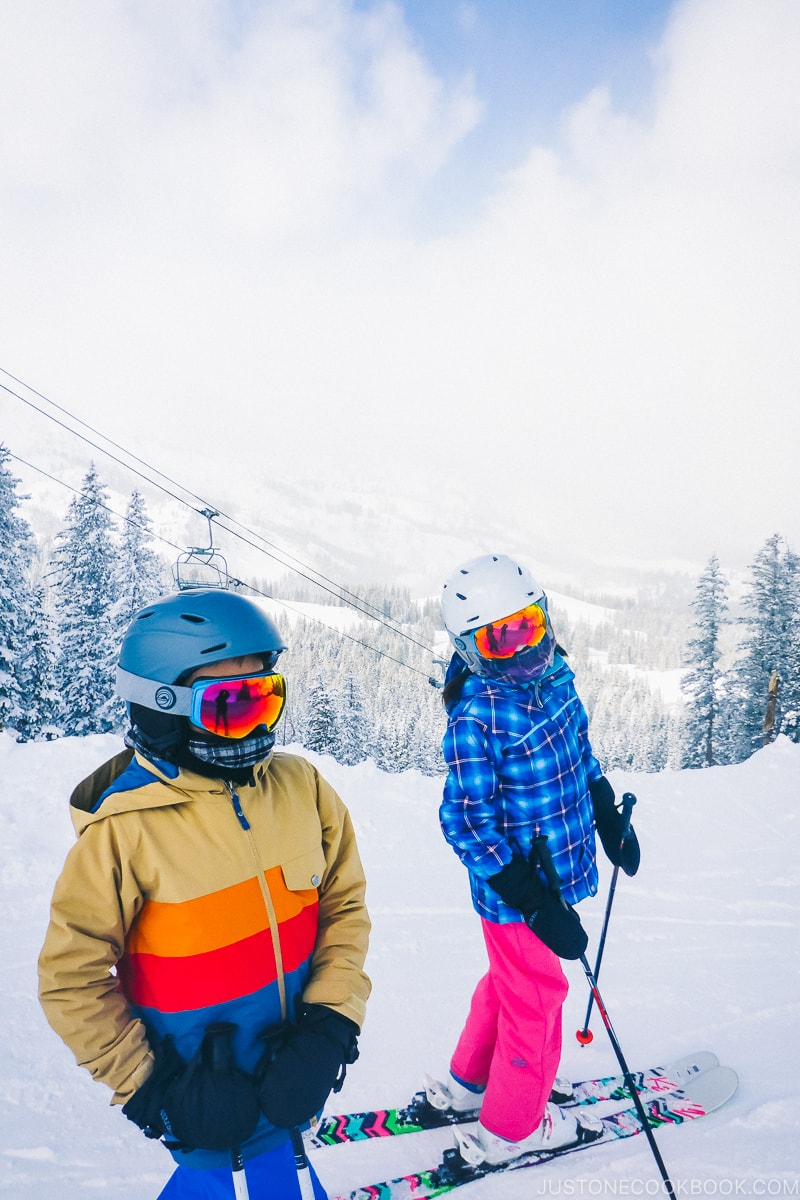 Our family has been going to Utah for ski vacation the past few years. After our recent trip, Nami received many questions from JOC readers who are interested in going as well. We'll share our experiences that we've learned through the years for the ski resorts we've been to, ski lessons, logistics, hotel stay, and the essential list for packing your ski bag.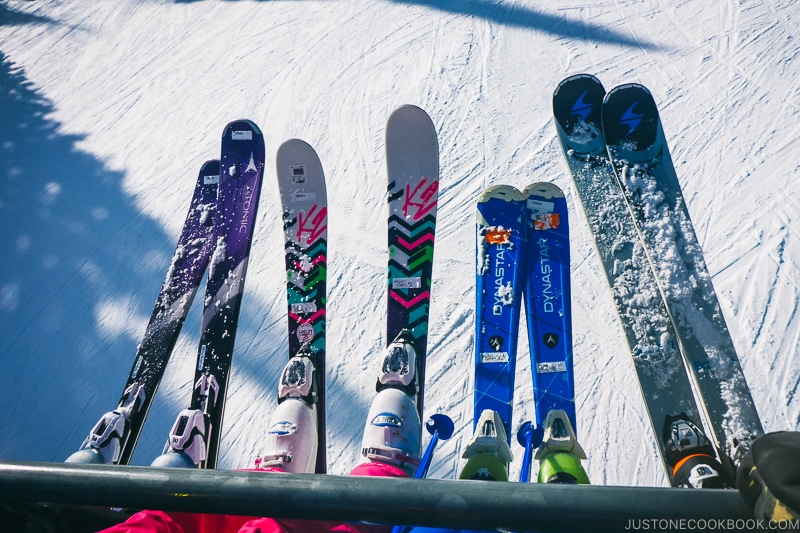 Let's address the main topic first, skiing. I've been skiing/snowboarding for about 30 years (with a 10-year break in between) but Nami and the kids started their snow adventure just in 2015. The short story of they got started is our neighbor had rented a really beautiful and large house in Salt Lake City over the holidays. They were super sweet and invited our family to stay with them. How could we say no? We quickly purchased our ski wear and off to Salt Lake City we go.
Before the first trip to Utah, I did a bit of research and Salt Lake Tribune recommended Snowbasin for beginners so we decided to enroll our children in the ski school there. Nami decided at the last minute since she's in Utah she shouldn't waste the opportunity, so she signed up for adult group lessons as well. Fast forward to today, going to Utah for a ski vacation is our family's yearly tradition.
Getting Ready for Skiing Q&A
Here are some questions from the readers and we'll discuss them in more details below:
Q: Is it easy to check in skis on flights?
A: Yes, you simply check ski bags in just like other luggage. The luggage pick up for skis at most airports is the odd sized luggage area.
Q: Do I need any experience before going to ski?
A: No, however, it would be good to sign up for a beginner group lesson at resorts to learn the basics. If you don't sign up for lessons, there aren't coaches/personnel to help you ski.
Q: Do I need special equipment or shoes?
A: Yes, always dress properly for the weather and make sure the clothing is designed for skiing or snowboarding. I'll share more on this below.
Q: Why do you ski vacation in Utah instead of Lake Tahoe?
A: Better powder (less moisture content), less crowded ski resorts, shorter time to get there (1.5 hr flight vs. 3+ hrs driving), better food! I'll do a follow-up post on Salt Lake City restaurants that we love.
Ski Vacation in Utah
If you live in the US, you've probably see Ski Utah commercials on TV. In my personal opinion, they should be called Ski Salt Lake City instead. From downtown Salt Lake City, there are over 10 ski resorts within 1-hour drive, including the famed Park City, Snowbird, and Deer Valley resorts. Of the Utah ski resorts, we've been to Snowbasin, Snowbird, Brighton, Solitude, and Deer Valley. The feedback and opinion we shared on the resorts below are strictly our own.
Snowbasin Resort
Snowbasin is located about 50 min north from Salt Lake City and it was our family's first Utah ski resort that we skied at.
For Nami and the kids, we started with 2 days of group lessons. They loved it so much we signed up for an additional 1 day of ski lesson. By the fourth day, they were able to ski on their own without instructor so skied together as a family. If you want to learn how to ski and get comfortable, plan on 2 or 3 days of continuous skiing. It's very difficult to just ski one day and get the hang of it.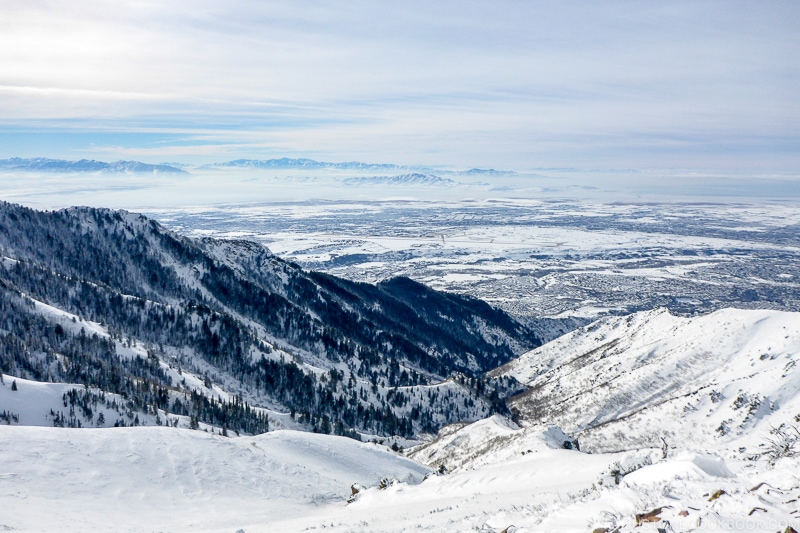 The group lesson at Snowbasin was excellent, the instructors were very patient with the students and it was 1:3 instructor to student ratio so each individual received a lot of attention. For parents who want their children to be in a lesson, it was easy because the lessons go from 9:30 am until 3 pm.
Snowbasin is considered a luxury ski resort and it has a beautifully decorated lodge at the base of the mountain. What does luxury mean? The lodge had nice thick carpet that extends even into the restrooms. Snowbasin offers abundant food selection in their restaurants but keep in mind everything is on the pricier side.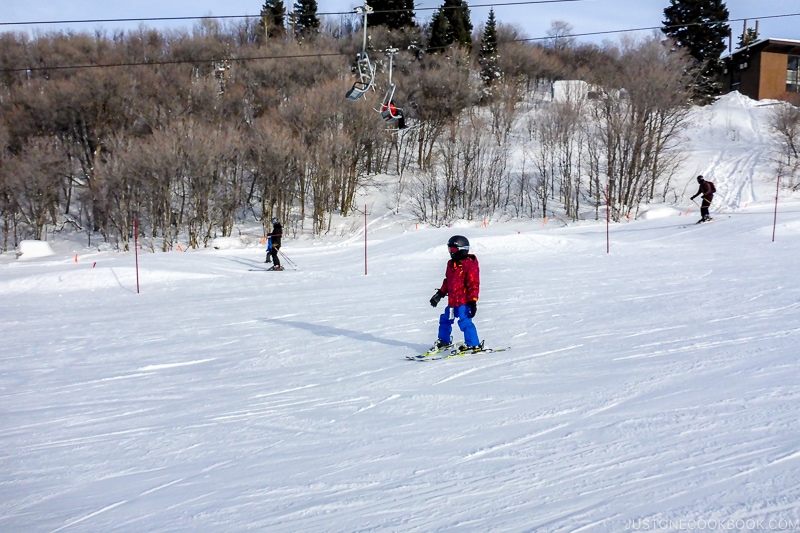 Snowbasin will always have a special place in our family's heart since it's where we first went on a ski vacation. However, we have not gone back since 2015 due to its limited beginner and intermediate runs.
Brighton Resort
Brighton resort is 45 min southeast of Salt Lake City and it's the ski resort we frequented the most over the years. It is family friendly, rustic, easy to park, and best of all kids under 10 ski free! Amazing right? There are only 6 lifts so it's easy to meet up with friends and family even if you get separated and the wait is usually short.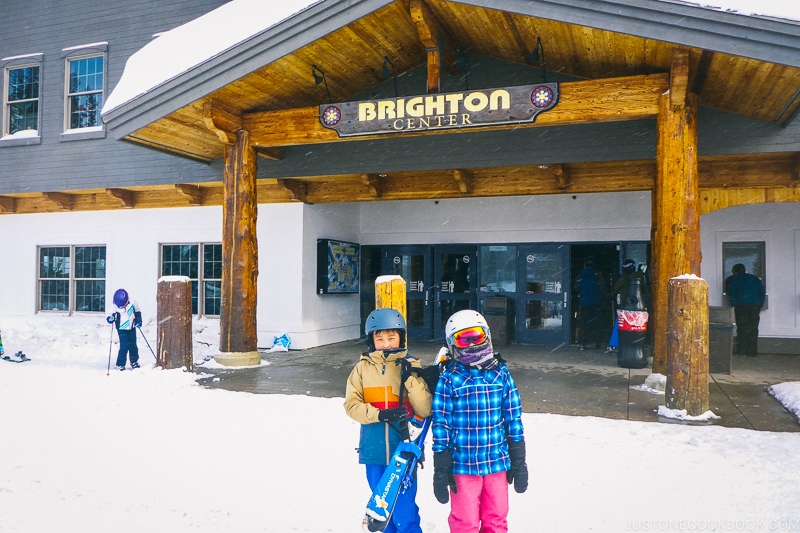 If you are just starting out and want a no-frills resort for your ski vacation, we highly recommend Brighton. There are plenty of beginner and intermediate runs to enjoy the powder.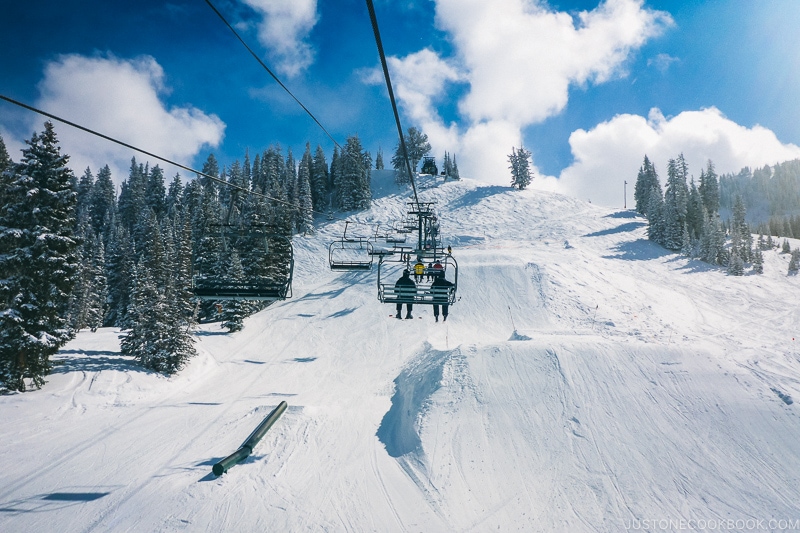 Solitude Mountain Resort
Solitude is located 2 miles on UT-190 on the way to Brighton and we passed it each time we go to Brighton. In fact, you can ski to Brighton from Solitude.
This past winter we finally skied it and the family agrees it's now our favorite resort. It's known for short waits at the lift and the runs are wide and wonderfully groomed. The food is fantastic compared to Brighton and we can't wait to go back. Solitude is owned by the same company as Deer Valley and we noticed the excellent attention details to make the visit pleasurable.
Besides the food and amenities, we also like Solitude over Brighton as there are more intermediate runs that are good for our family's ski level.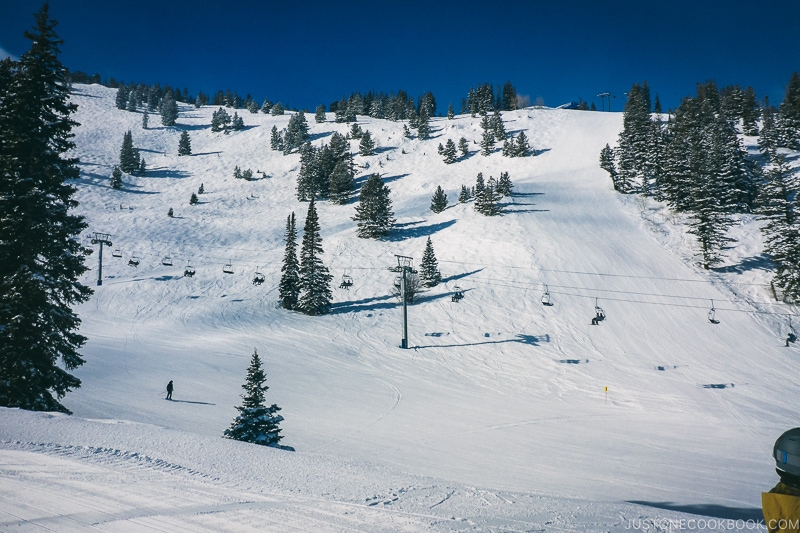 Deer Valley Resort
Deer Valley was another resort our family got to ski for the first time this past winter. It is the ultimate experience for ski vacation with a 5-star treatment. The service was on a completely different level compared to other resorts we've been to. The number of mountain hosts that are available to help skiers all over the mountain are unreal. They cater to the visitors' every need. If you want to be pampered on a ski vacation, look no further than Deer Valley.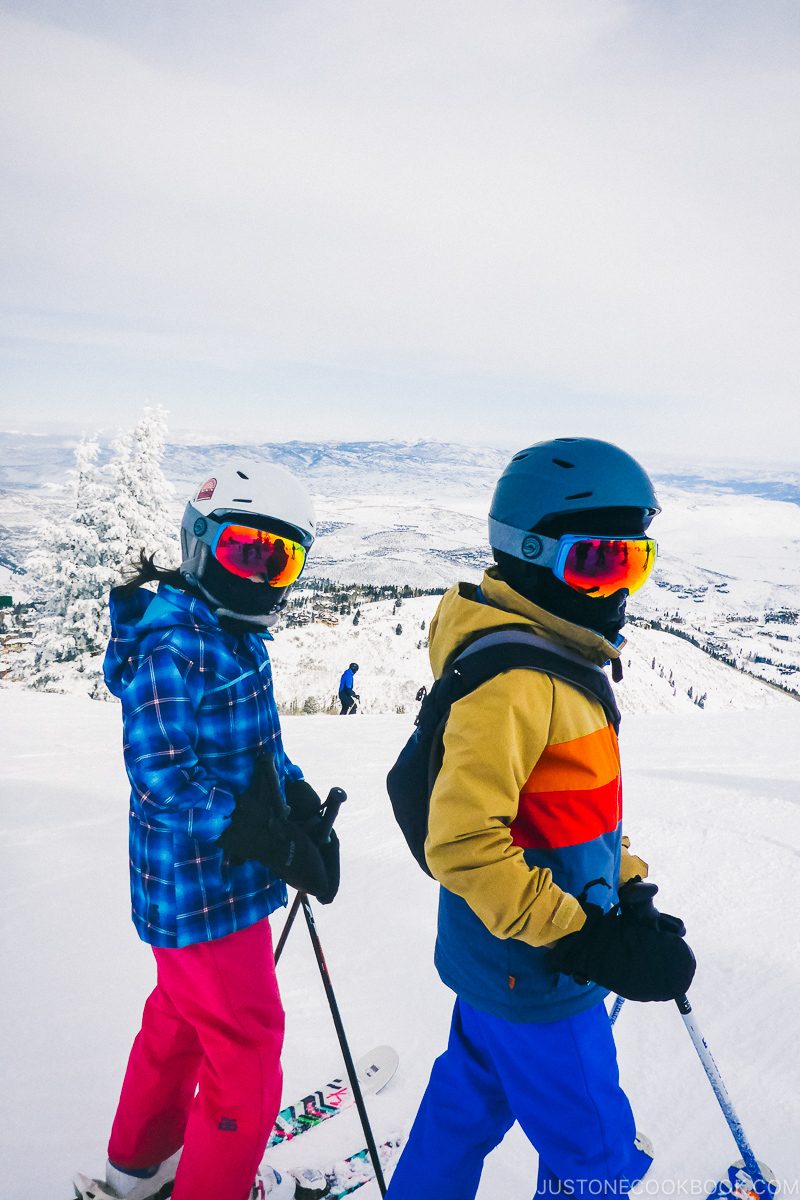 Deer Valley is located in Park City, which is about 45 min east of Salt Lake City. Rather than a resort, it's more like a mini-city. There's the St. Regis hotel, lodges, homes and condos you can rent plus plenty of restaurants. You can ski in and out of many premier properties right next to the slopes. Some of the large homes we saw had their own pool and hot tub.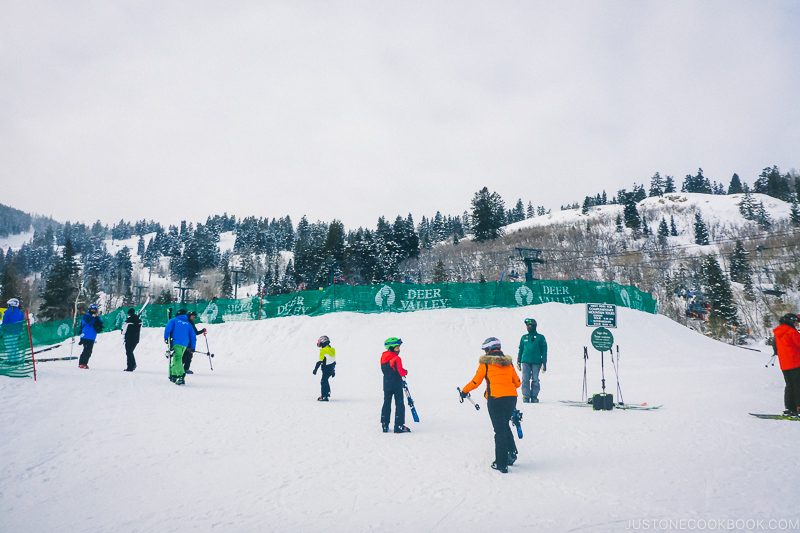 Deer Valley is ski only, so no snowboarding allowed. You can snowboard in all the Salt Lake City resorts except for Deer Valley and Alta.
It is a much bigger mountain compared to most ski resorts in the area with the exception of Park City and gets a lot of visitors. However, the mountain is spread out over 5 different areas and 21 lifts so you don't feel like it's too crowded. We were able to find a lift that we took over and over again without any wait.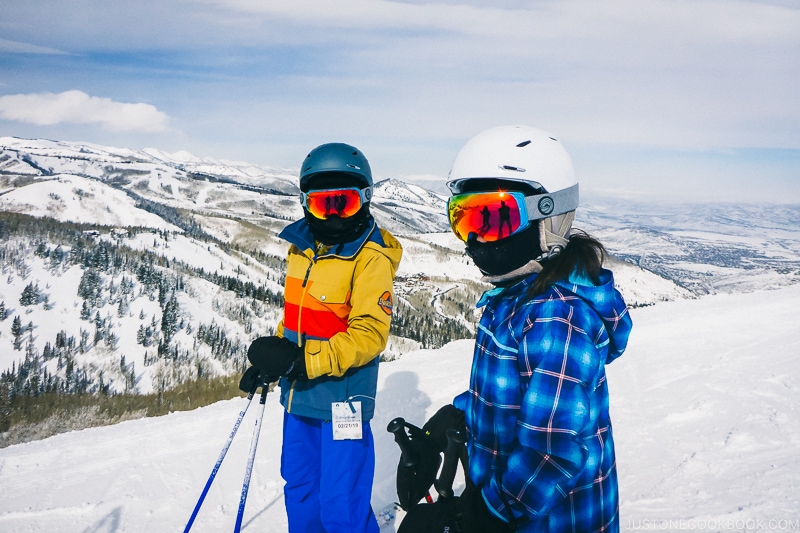 There are many restaurants at Deer Valley to choose from and we had lunch at Silver Lake Restaurant. You can pick from your choice of tacos, pizza, burgers, salad, and other food choices.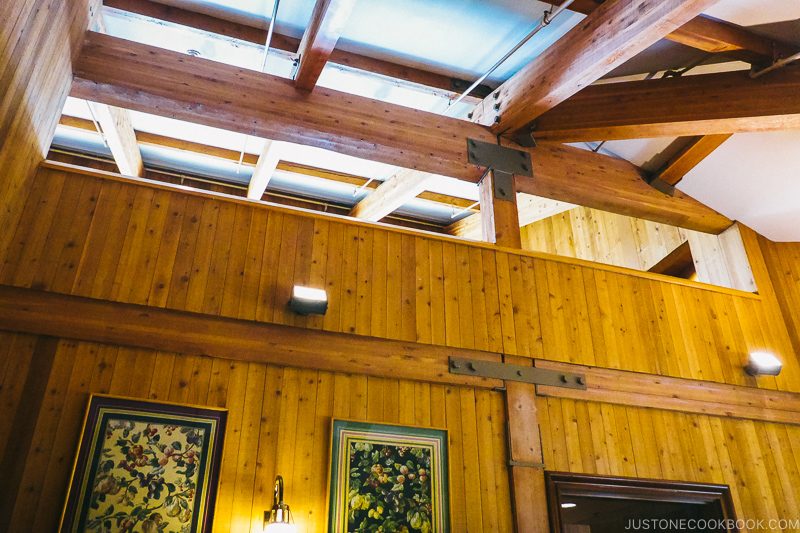 We hope our feedback on each resort will be helpful for you to choose the one that fits your need. You can't go wrong with any resort in Utah as we've experienced a friendly vibe and great service everywhere we visited. It's more what's your budget and how much you want to be pampered.
One thing we would caution is to avoid Snowbird if you are a beginner. Snowbird's run are notoriously difficult and their greens should be considered blue and blues considered blacks.
How to Pack a Ski Bag
When we travel for a ski vacation, we each have a carry on suitcase for our regular clothing, and the rest all go into the ski bag. Here is our ski packing list:
The Ultimate Packing list for Ski Trip
Ski goggles – Nami and I wear Zeal Automatic, the photochromic changes tint based light condition so we don't need to change lenses when it goes from sunny to a cloudy day. Our kids used to wear Bolle but they were too dark for cloudy days so now they wear Wildhorn Outfitter (glacier blue/blaze). They really like the Wildhorn goggles.
Balaclava – Super important for skiing in cold weather (it's usually around 10F or less in Utah). Makes you look like a bank robber but they work! We've tried other face warmers but they get loose during the ride or get too much moisture build up in front of the nose and mouth area (starts to smell).
Helmet – Important for safety. Our daughter's helmet was hit twice really hard by the lift when she fell. It would have been really painful without the helmet. We got ours from Costco.
Ski/Snowboard socks – Smartwool socks are awesome, keeps your feet warm and sweat away. We prepare 1 pair for each day.
Gloves – For adults, it doesn't matter as much but kids hands get really cold. We recommend buying children's gloves with gore-tex without individual fingers so they stay warmer. We find the cheaper gloves are horrible at keeping the moisture out (don't buy gloves from Costco). We are big Burton gore-tex glove fans.
Hand and toe warmers – Essential for keeping kids warm.
Snowboard/Ski/Ski poles
Ski boots/Snowboard shoes
Jacket – Most ski jackets will work, but what we've experienced are more of a durability issue. I had purchased an off-brand jacket (avoid Wantdo brand on Amazon) and it lasted 2 days before seams started ripping apart. Our family loves Burton jackets, they think of everything you need (phone folder, ticket pocket, goggle holder, etc). Plus they're super light and soft.
Ski pants – We buy our kids' ski bibs from Amazon since they outgrow them quickly. I love my Burton AK pants, they are very thin and light but keep me really warm. In general, we love Burton's clothing and highly recommend them for snow sports.
Camelbak – We carry our own water to drink while skiing. Remember to keep the drinking hose and tip inside the backpack so it doesn't freeze. It's not fun when you're thirsty and find the hose completely plugged up with ice.
Beanie – Keep head warm
Go pro – Capture memories of the trip. They're easy to operate even with gloves on and capture smooth movie. If you try to take pictures or movies with a cell phone while skiing, a couple of things happen 1) shaky video footage 2) your hands become frozen 3) you're probably not looking at what's in front of you vs. the screen.
Uniqlo HEATTECH shirt/pants – we wear uniqlo HEATTECH long sleeve and pants as the first layer, and then a fleece top with ski jacket and pants on the outside. We find this sufficient to keep us warm.
Lip balm – trust us, you'll need it.
Sunscreen (at least 30 spf)
What Goes Inside the Ski Bag
When we pack for a ski trip, ski clothing and equipment all go into the ski bag and regular clothing goes into the carry on suitcase. You can see below we pack our gloves, Camelpacks, jacket, helmet, and pants. For socks, HEATTECH underwear, and any loose items we have them in a separate linen bag inside the ski bag.
We like Dakine ski bag with wheels as they seem to stand the rough and rumble of luggage better than other brands. Make sure to get ski bags with wheels only to make your life easy. We used High Sierra bag as well and it broke after just a few uses.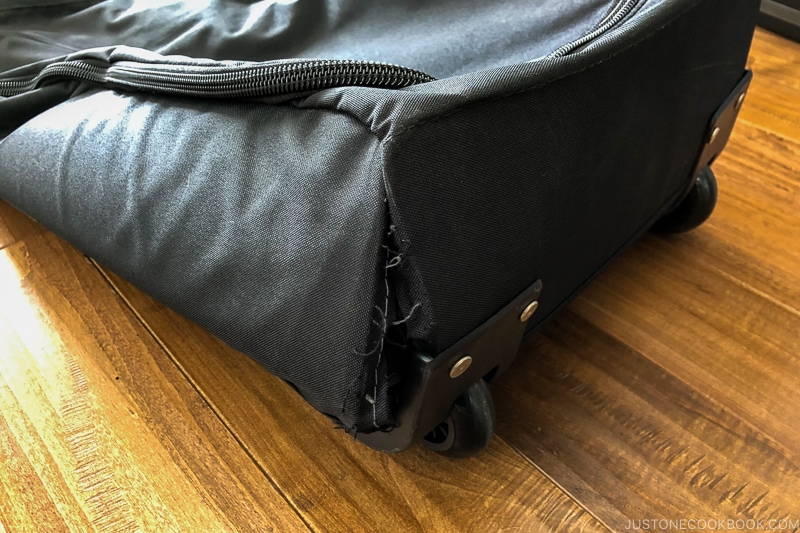 Kids ski bag are tricky to pack because their skis are shorter. I use a High Sierra bag and tie off the front so it becomes shorter. If anyone knows of good ski bags for kids please let m know.
Ski Equipment Recommendation
We are not experts with ski equipment so talk to your local sporting goods store about what fits you the best. For me, I have really wide feet so I wear Solomon boots for skiing. Solomon boots can be "custom baked" to your feet so it's a comfy fit. For our children, we enroll them in the Junior Trade program at Any Mountain.
When the skis or boots no longer fit they just go back and trade in for a bigger set (used). Besides the initial cost ($100), the trade-in cost the same as 1 day of rental ($50) at a ski resort so you save big.
Rental Car for Ski Trip in Utah
Since we have 4 suitcases and 4 ski bags, the minimal size we can get by is a mid-size SUV and it gets packed. We always get an all wheel drive because it's required on snow days or you need to deal with chains. Utah snow is super light so it doesn't accumulate quickly on the roads. It's very easy to drive even during a snowstorm as the roads are cleared quickly.
Our Favorite Hotel in Salt Lake City
We always stay at the Doubletree Suites in downtown. Reasons are:
Located in downtown and only 10 min from the airport and right off the freeway exit.
Spacious suites to dry out all the ski clothing for the next day
Covered parking so don't need to deal with snow
Indoor pool & hot tub
Next door to a ski shop in case you forget anything. We didn't realize the children's helmets were too small until we were about to head to the mountains. It was nice to just walk next door and get the helmets.
Free cookies!
Ski Utah Passport and Ikon Pass
If you have a 5th or 6th grader, you can get them a Ski Utah Passport for $45 which will allow them to ski 3 days at many resorts,. This is an amazing offer so take advantage of it, If you are planning to spend quite a bit of time in the Utah mountains, consider getting the Ikon Pass. It'll allow you to ski at Deer Valley, Solitude, Brighton, Alta, and Snowbird (38 destinations total worldwide).
Utah Ski Season
Utah ski season is much shorter than California and typically ends by early April. Also, make sure to check the condition of the resort before you head there. The conditions are less desirable during drought years.
Thank you for reading the ski vacation in Utah post. We hope the guide was helpful if you had planned on skiing there. If you have any questions just leave a comment below. If skiing is not for you, consider visiting the beautiful Zion National Park or Bryce Canyon in Utah.
If you want to check out our recommendations on where to eat in SLC, read Our Favorite Restaurants in Salt Lake City.