Quail eggs are tiny eggs consumed by humans for over 2,000 years. Their small size and rich flavor make them a protein-rich tasty treat.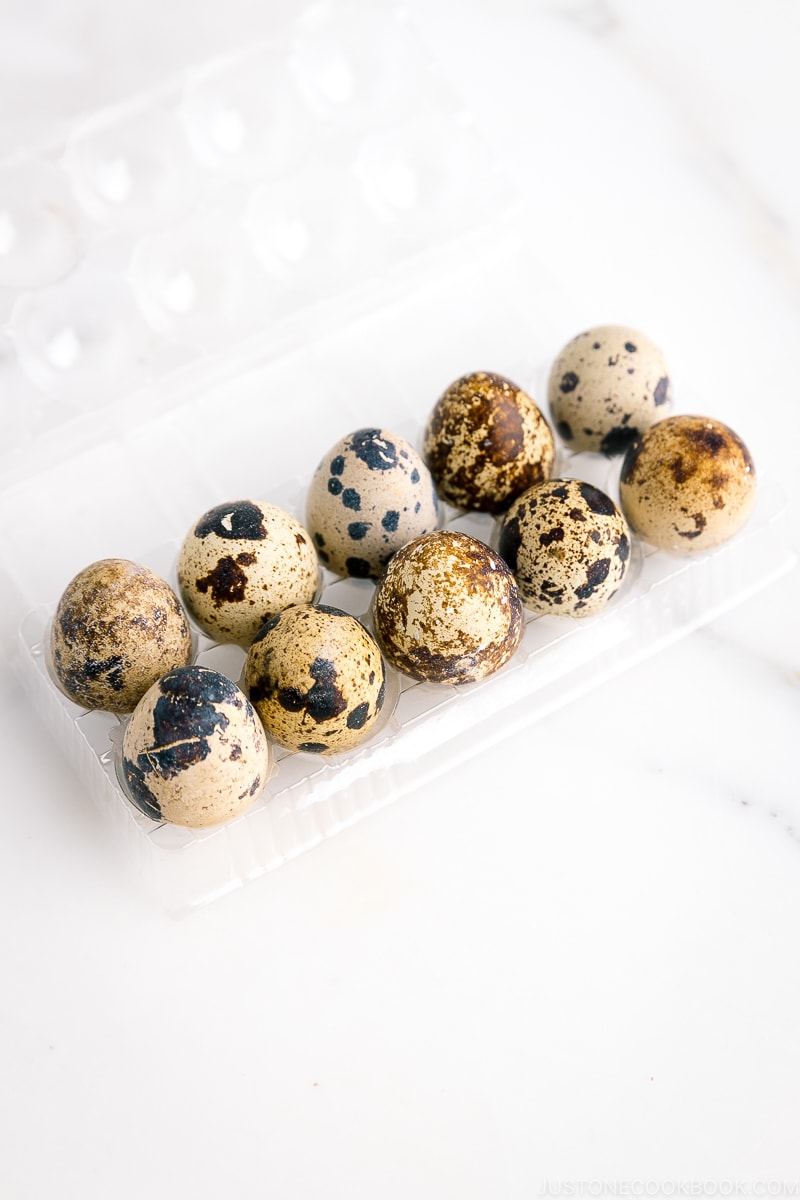 Quail eggs, or uzurano tamago (うずらの卵) in Japanese, are considered a delicacy in many parts of the world. They're one-third of the size of chicken eggs. You may have seen these tiny eggs on a restaurant appetizer, added to stir-fries, deep-fried, or used as garnish. The Japanese use it in cooking and pack the eggs in bento.
What Are Quail Eggs
Quail eggs come from medium-sized birds in Europe, North Africa, Asia, and the southern United States. The eggs are white and tan with dark brown speckling and are a smaller and cuter alternative to chicken eggs. You can easily swap them for chicken or duck eggs in salads, stir-fries, scrambled eggs, and more.
If you're allergic to chicken eggs, avoid quail eggs. Pregnant women and people with compromised immune systems should eat them only if thoroughly cooked.
What Does It Taste Like
Quail eggs taste like regular chicken eggs. It has a higher egg yolk-to-white ratio, meaning they have a creamier and thicker composition. Compared to duck eggs, the taste is relatively mild.
Quail Breed
There are five breeds of quail, which have been domesticated for their eggs and meat.
Due to its rapid growth and meat-heavy carcass, the Coturnix quail is a meat bird. The Japanese quail lays many eggs, around 200 eggs in their first year.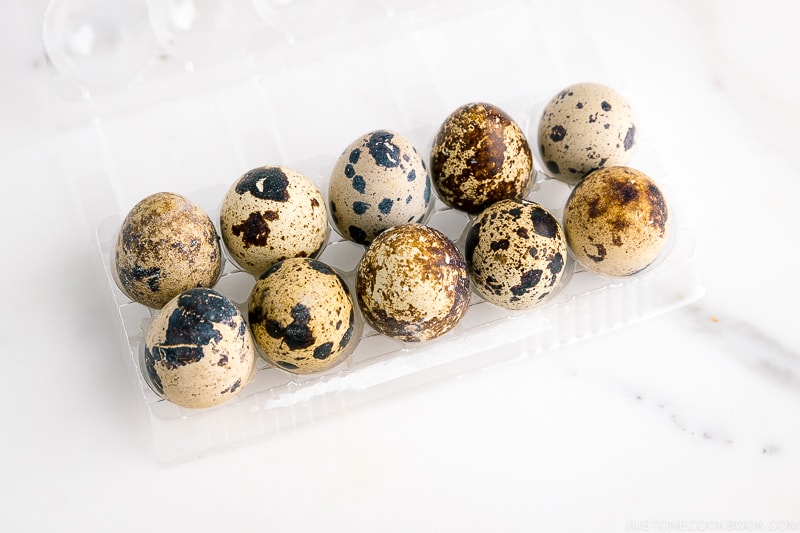 How to Cook Soft/Hard-Boiled Quail Eggs
Bring water to a boil in a saucepan. There should be enough to cover the eggs.
Bring to just under boiling, then carefully submerge the eggs.
Cook the eggs for 2.5 minutes (soft-boiled) to 3.5 minutes (hard-boiled).
Remove the eggs with a slotted spoon and transfer them to an ice bath.
Let cool completely and peel the shells.
Where To Buy
You may find it fresh at specialty grocery stores, farmers' markets, or high-end supermarkets. They tend to be slightly more expensive than chicken eggs.
You can buy canned or precooked quail eggs packed in water for convenience.
Health Benefits
These little eggs are packed with lots of important nutrients and antioxidants! They are higher in iron, B12, folate, protein, and phosphorus than chicken eggs.
Balances cholesterol levels
Eggs are one of the best sources of cholesterol. Good cholesterol (HDL) boosts your heart health to offset the adverse effects of bad cholesterol (LDL).
Rich in protein
They're also an excellent source of protein. Proteins are made up of amino acids, used to build and repair muscles and bones and make hormones and enzymes. They are also used as an energy source.
Reduce the risk of anemia
Iron is an essential component of red blood cells, which carry oxygen to the cells in our body. An iron deficiency or anemia can cause low energy, shortness of breath, fatigue, and headaches. Quail eggs can help reduce the risk of anemia because they are iron-rich.
Treats allergies
Quail eggs contain ovomucoid protein, a natural anti-allergenic. It helps the body fight off congestion, inflammation, and other symptoms caused by allergic reactions.
Boost immunity
Quail eggs are a great source of vitamin C and vitamin A. These vitamins can help neutralize free radicals and protect your health.
Improves metabolism
A high metabolic activity helps burn calories faster, promoting weight loss. Quail eggs are rich in vitamin B, which boosts metabolism and supports your body's health. Specifically, riboflavin (vitamin B2) and selenium help your body break down food and transform it into energy. Compared to chicken eggs, quail eggs may have six times more vitamin B1 and fifteen times more B2.
Recipes Using Quail Eggs
---
Wish to learn more about Japanese cooking? Sign up for our free newsletter to receive cooking tips & recipe updates! And stay in touch with me on Facebook, Pinterest, YouTube, and Instagram.