Marinated in sake lees, a byproduct of sake production, this Salmon Kasuzuke is a classic Japanese dish that requires simple ingredients. The grilled salmon has a deep sake aroma and elegant flavor that truly stands out. Impress your dinner guests tonight with this seafood fish!
Do you eat fish regularly in your diet? Living in the US, while the options of fish are somewhat limited compared to Japan, I try to incorporate fish routinely in our family meals. Fish provides high-quality protein and beneficial omega-3 fatty acids, so I am glad that my children enjoy eating them. Among the different choices, they love mackerel, salmon, and hamachi kama best.
Today I'll show you a delicious Salmon Kasuzuke (鮭の粕漬け) recipe – a traditional Japanese method of cooking fish. It preserves the healthful qualities of the salmon and accentuates the flavors wonderfully.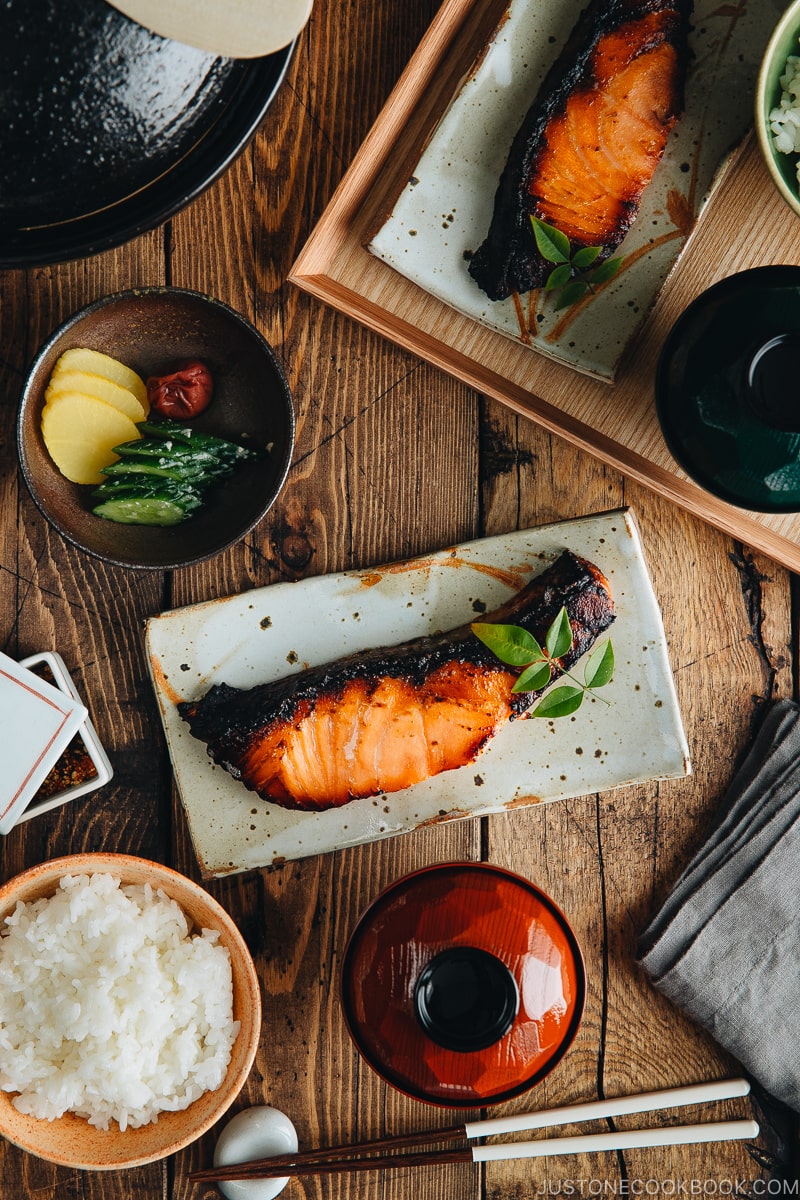 What is Kasuzuke?
Salmon Kasuzuke is a classic Japanese dish of which salmon is marinated in sake lees (sake kasu), and then grilled on the stovetop or broiled in the oven to perfection. The dish stands out with its uniquely sweet and alcoholic aroma.
Kasuzuke (粕漬け) means sake lees "kasu" and pickling/marinade "zuke". This cooking technique preserves ingredients and imparts complex flavors, and has been around since 1200 years ago.
If you are interested in learning more about Kasuzuke in detail, please read my Tsukemono – Kasuzuke (Sake Lees Pickling) post. In today's recipe, we use the sake lees marinade – called kasudoko (粕床) – to pickle/marinate salmon.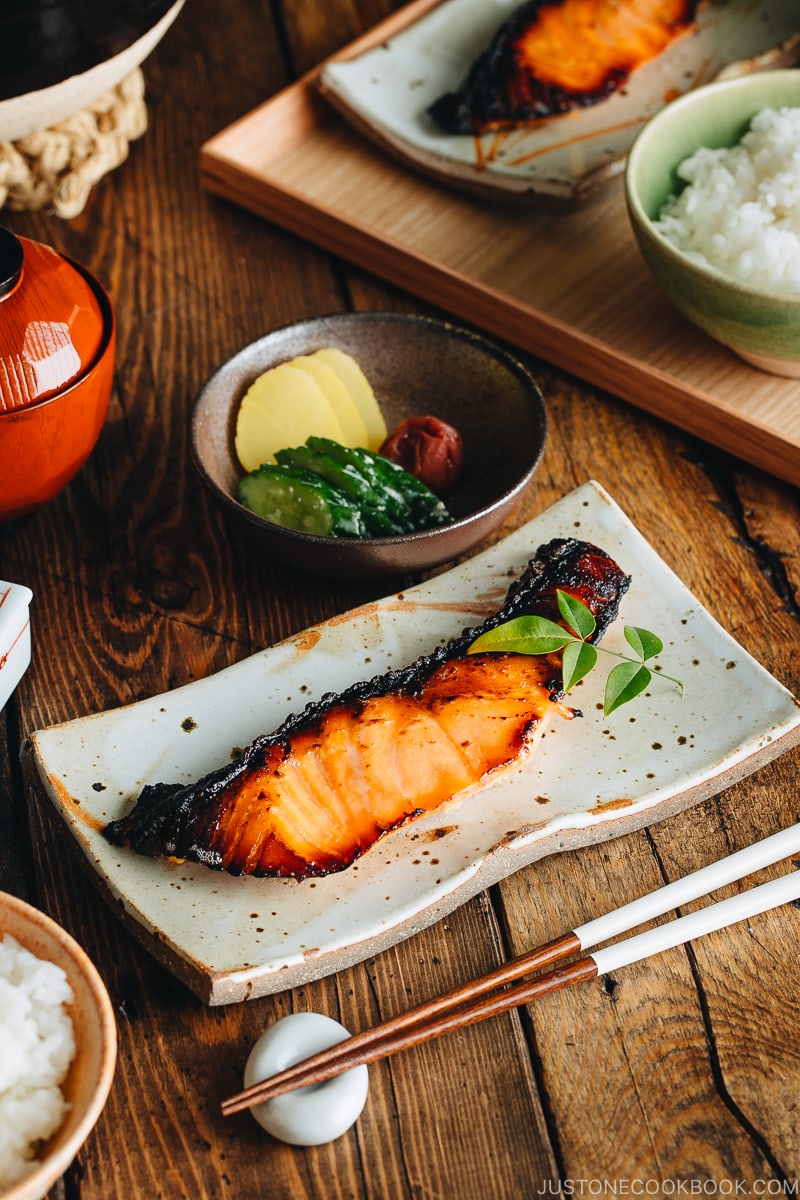 3 Reasons You Should Make Salmon Kasuzuke
Kasuzuke… this unfamiliar Japanese word can be very intimidating. But I'm here to tell you 3 reasons why you should make this salmon dish.
1. Extremely easy to make
Despite its complex flavor, cooking salmon cannot be any more simple with this method. Check out the step-by-step instructions below, and then check how to make misodoko (the marinade). Very easy, right?
2. The Kasudoko (Sake Lees Marinade) lasts for 6 months!
The sake lees marinade that you put on the salmon is reusable and lasts up to 6 months! That means this marinade is always available in your fridge. All you need to do is to dunk the salmon fillets in the marinade and wait for 24 hours. Very budget-friendly too.
3. Great health benefits from salmon and sake lees
Salmon is packed with omega-3 fatty acids which bring big health benefits. Think of extra protection for your brain, nerves, and eye development. As the body can't make omega-3 fatty acids, the best way to obtain them is through the food we eat.
Sake lees (sake kasu) are a byproduct of sake production and they are left behind after the liquid is filtered from the fermented rice. Sake lees are packed with nutrients like protein, carbohydrates, fiber, vitamins, organic acids, and minerals. They have amazing health benefits to help people suffering from ailments like diabetes and high blood pressure. Sake lees are great for making your skin beautiful, too! Who doesn't want that?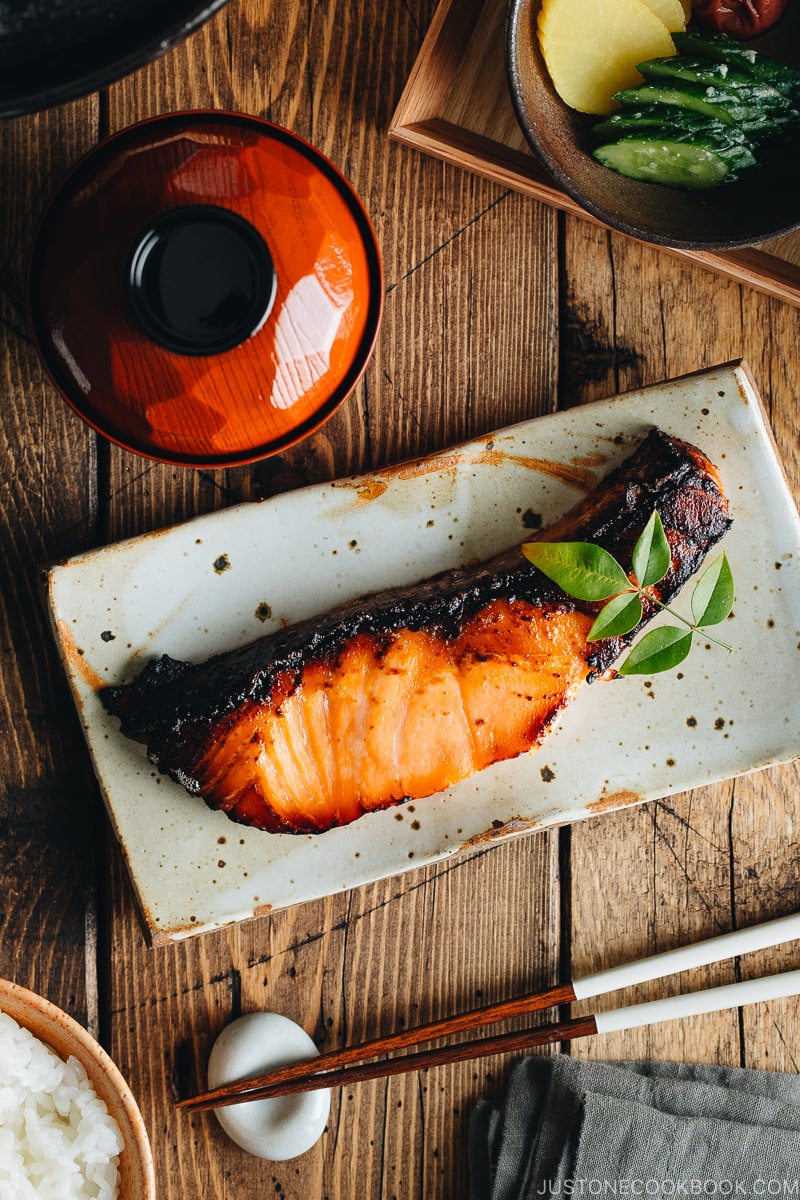 What to Serve With Salmon Kasuzuke
We usually serve grilled fish like Salmon Kasuzuke with steamed rice, miso soup, and small side dishes. If you're interested in serving fish in the Japanese way, you can read Plan a Japanese Meal: One Soup Three Dishes "Ichiju Sansai". Here are some dishes that go well with Salmon Kasuzuke:
Rice
Miso Soup
Tonjiru (Pork and Vegetable Miso Soup)
Side Dishes (Choose 2-3)
Pickles
I hope you enjoy this time-honored, simple yet delicious salmon recipe!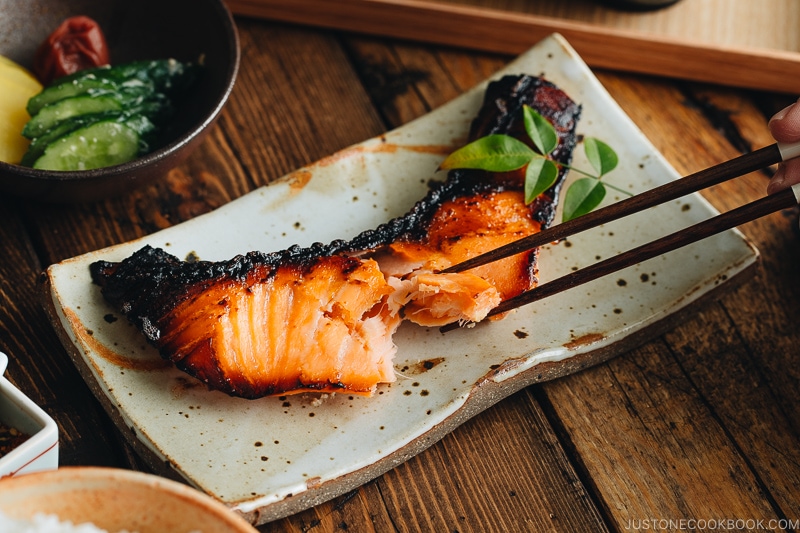 Wish to learn more about Japanese cooking? Sign up for our free newsletter to receive cooking tips & recipe updates! And stay in touch with me on Facebook, Pinterest, YouTube, and Instagram.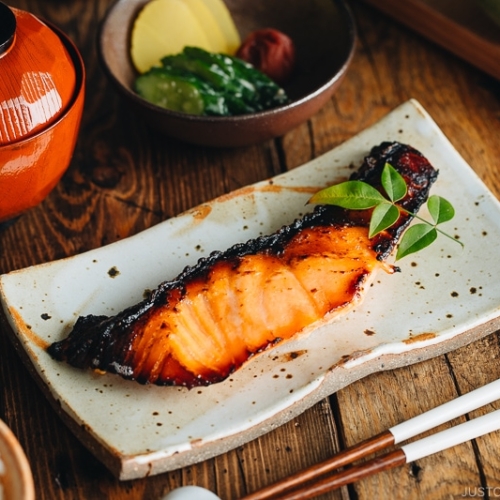 Salmon Kasuzuke (Sake Lees Marinated Salmon)
With the deep sake and elegant flavor, Salmon Kasuzuke (sake lees marinated salmon) is a classic Japanese dish to impress your dinner guests.
Ingredients
4

skin-on salmon fillets

(

1

lb,

454

g; I use salmon from a Japanese grocery store, so it's a thinner cut)

2

tsp

Diamond Crystal kosher salt

(2% salt of salmon weight, 9 g)
Japanese Ingredient Substitution:
If you want substitutes for Japanese condiments and ingredients, click
here
.
Instructions
Gather all the ingredients.

Sprinkle salt on both sides of salmon and set aside for 30 minutes.

Remove the excess moisture on the salmon with a paper towel.

Place the salmon in the kasudoko. All sides must be covered completely.

Marinate in the kasudoko for 6-24 hours.
To Prepare for Cooking
Take out the salmon and wipe off the kasudoko as much as possible. Some recipes may say to rinse off the miso with water, but I do my best to remove with hand or paper towel.

Place the salmon on top of the baking sheet lined with parchment paper.
To Broil (Recommended)
Preheat the broiler* with a rack placed about 6" (15 cm) away from the top heating element (in the center of the oven) for 5 minutes. When broiling, you don't control the temperature in the oven; instead, you control the distance between the broiler and the surface of the food. It's similar to using hotter and cooler zones on your grill. *Broiler setting: Low (450ºF/232ºC), Medium (500ºF/260ºC), and High (550ºF/288ºC). I usually use medium (6" away) or high (8" away).
To Bake (Optional)
Preheat the oven to 425°F/218ºC with a rack placed in the middle. For a convection oven, reduce cooking temperature by 25ºF (15ºC). Bake the salmon on parchment paper for 10-12 minutes.
To Serve
Transfer to individual plates and serve immediately.
What to do with Kasudoko
You can re-use kasudoko for up to 6 months. If it gets watery, I recommend discarding it. Make sure to refrigerate and reuse for salmon or another type of fish. I do not like to mix with meat. You can NEVER use this kasudoko to pickle vegetables or any food that you eat raw.
Nutrition
Nutrition Facts
Salmon Kasuzuke (Sake Lees Marinated Salmon)
Amount per Serving
% Daily Value*
* Percent Daily Values are based on a 2000 calorie diet.
©JustOneCookbook.com Content and photographs are copyright protected. Sharing of this recipe is both encouraged and appreciated. Copying and/or pasting full recipes to any website or social media is strictly prohibited. Please view my photo use policy
here
.