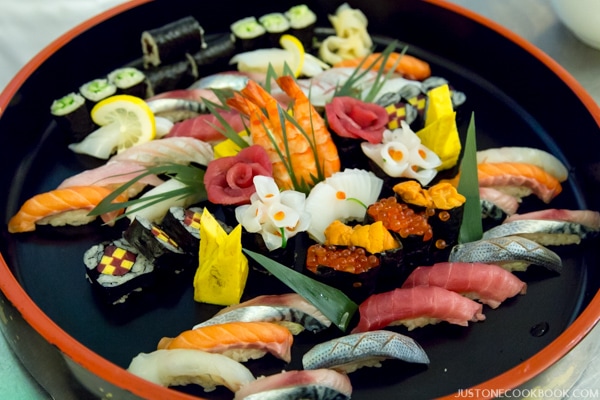 Last week I was invited by Consulate of Japan to attend a Sushi Skills Seminar in San Francisco. Even though I've been preparing sashimi and maki mono (sushi rolls) at home, I thought this was a great opportunity to learn the basics from a true Japanese sushi master. So one weekday morning, I drove up to the University of San Francisco where the seminar was held.
San Francisco Sushi Skills Seminar
Prior to the event, I wasn't sure if this sushi skills seminar would require participants to actually cook and make sushi. I found that out as soon as I entered the seminar room where the chairs were all facing forward. A big screen at the front was playing a video of 2015 World Sushi Cup Japan and a video camera was projecting the chef's table to the 2 TVs at the front.
This free (yes, it's free!) sushi skills seminar was intended for sushi chefs and Japanese restaurant staff members around the Bay Area. I saw some folks wearing chef's uniform and the age of participants was a wide range. The lady who sat on my left was a personal chef who traveled with clients and the lady on my right owned an Asian catering company. Both of them were looking into serving sushi as a part of their menus.
This seminar lasted 4  hours and covered many topics. So today I'm going to share a few things I learned at the sushi seminar.
Making Sushi Rice "Shari"
The lesson started with the introduction of the sushi chef Masayoshi Kazato (風戸正義) by a staff from Consulate of Japan.
He talked about the type of rice used in sushi making, and he demonstrated how to wash the rice properly (see above). Then he talked the importance of making sushi rice "Shari" (すし飯, シャリ) correctly.
Things I learned:
To bring out the umami of the sushi rice, you need to remove the sugar residue (米糠) from the surface of rice. If the rice is cooked with the sugar residue, the inherent Bacillus cereus bacteria begins to spread on the grain surface, preventing the absorption of vinegar and making the sushi rice less antimicrobial.
I knew that we need to allow for the rice to sit for 10-15 minutes with the lid on after rice is being cooked, but I didn't know it had to be exactly 15 min. I learned that if you don't allow it to rest for 15 minutes, the center of the grain will not be fully cooked. And if you leave it more than 15 minutes, the rice surface will become too soft and absorb too much vinegar (if you're making sushi rice). This will affect the umami taste and make the sushi rice less anti-bacterial (learn more here).
Making Sushi Vinegar "Awasezu"
Chef Kazato said the sushi vinegar varies depends on the regions and sushi restaurants.
Things I learned:
Edomaezushi (江戸前寿司), a type of sushi in Tokyo region uses mostly raw fish toppings, so the sushi vinegar is more acidic making it antimicrobial. On the contrary, in western Japan, sushi vinegar is sweeter suited for takeouts, as more sugar prevents the sushi rice from dehydrating. Adding salt to the sushi vinegar helps it's disinfecting powers. So remember, don't cut down on sugar and salt when you make sushi rice!
Rice vinegar has strong acidity (pH2.0 to pH 3.5) and high antimicrobial effects. It helps to remove unpleasant odors and to hinder the growth of germs on the surface of the fish. Don't make sushi with regular steamed rice!
By the way, did you know Edomaezushi back in early 1800s was this big? The fish size is about 1.5″ x 2″ (4 x 5 cm) (See above)!!
Selecting and Slicing Maguro
We also learned about maguro, tuna. The common tuna for sashimi/sushi includes Honmaguro (bluefin tuna), Minamimaguro (southern bluefin tuna), Kihadamaguro (yellowfin tuna), Mebachimaguro (big-eyed tuna), and Binchoumanguro (albacore tuna).
Things I learned:
Fatty meat "Toro" started to become a prized part after the Westernization of Japanese dietary habits. Till then, people cared for the best grade fish. Without a proper refrigeration back in 1800s, the fatty parts would melt and lose freshness quickly. Therefore, light and lean red meat "Akami" was marinated in soy sauce to preserve the flesh (we call "zuke").
Tuna's quality (fat content, color, freshness, and flavor of the meat) is judged by looking at the cross-section of maguro's tail. Tuna has similar ligament patterns to wood grain!
The chef cut into different parts.
And… Nigirisushi! We took a short break while we ate samples of delicious sushi prepared by the sushi chefs at the sushi skills seminar.
Japanese Knives
The chef Kazato brought his knife set from Japan and showed his collection. Usuba (薄刃包丁) for cutting vegetable, Yanagiba (柳刃包丁) for cutting sashimi, and Deba (出刃包丁) for three-piece filleting and cutting hard bones.
Things I learned:
Japanese knives are made so the index finger rests on top of the knife and the middle finger rests between the handle and blade to prevent the knife from slipping.
Japanese knives are single sided knife. It can create a different texture for the front and back side by the way it is used for the food. The cross-section of the food is smooth (for tongue) and the back side of the food shows the ligaments.
A sharpen knife will create smooth texture on the cross-section of the food. As a result, it reduce exposure to air and delays oxidation, deterioration, and the propagation of bacteria.
"The skill of a chef can be known by examining his knives."
Cutting Bamboo Leaves "Sasagiri"
Sasa (笹) or bamboo leaf is used as a partition and decoration, and it is also used for its disinfecting properties to prevent sushi from spoiling.
Things I learned:
Sushi and bamboo leaves are served together because the bamboo leaves help to preserve freshness of sushi.
The deterioration (dryness) of bamboo leaves indicates that sushi is no longer fresh.
It's an art!!
Making Hand Pressed Sushi "Nigirizushi"
Chef Kazato said the rice pillow should be molded with the right amount of pressure to balance the shari (sushi rice) and "neta" (the raw fish on top). The chef says, "each grain should be left intact and the shari crumbles gently in the mouth." From my experience eating in sushi restaurants outside of Japan, most sushi pillows are either squeezed too tightly or falls apart.
Things I learned:
For delivery or takout, sushi pillow should be pressed loosely as it hardens over time.
I had no idea there are 6 shapes for sushi pillows. Interesting! See below.
Making Sashimi
It was fascinating to learn different techniques to cut sashimi. Chef Kazato says, "to bring out umami from sashimi, chef's knife skill matters."
Each sashimi is cut into different thickness, depending on the fish's characteristics. Firm white fish like sea bream is cut into thin slices. The red meat of Maguro is cut into thick slices. Fatty yellowtail and chutoro will be cut into medium slices and the otoro into thin slices.
There are different style of sashimi, depending on how you cut the fish:
Hikizukuri (引き造り): The knife is inserted perpendicularly and pulled straight through. Suitable for tuna, bonito, yellowtail, sea bream, and salmon.
Hirazukuri (平造り): The knife is slanted to left and then pulled straight through. It's suitable for same fish as Hikizukuri.
Sogizukuri (そぎ造り): Slant the knife to the right and thinly slice. This cut is used for nigiri sushi and suitable for white fish.
Usuzukuri (薄造り): Same method as Sogizukuri, but thin as transparent. Suitable for blowfish.
Sugatazukuri (姿造り): Cut pieces of fish meat is rearranged to reproduce the original shape of the fish.
When you order sashimi next time, check out the different cut of sashimi. How many types can you recognize?
Beautiful Sushi Platter at Sushi Skills Seminar
As the final demonstration for the seminar, chef Kazato made "Morikomi" the sushi platter. We could watch how he swiftly moved left and right to prepare Morikomi, without wasting moves.
Throughout the seminar, he emphasized A LOT about keeping excellent hygiene. He said, "as a chef who serves raw food, it's chef's job and responsibility to handle raw fish efficiently, quickly, and gracefully to avoid warming them with your body temperature."
Last fall (2015), making sushi with latex gloves was a big topic (read here and here). Do you feel uncomfortable when sushi chefs make your sushi without gloves?
As part of the topic, Chef Kazato showed us interesting pictures. They were images of bacteria on latex gloves, bare hands, and bare hands dipped in tezu (sushi vinegar).
I was honestly felt scared and a bit disgusted seeing how much bacteria was attached to the latex gloves. Please remember, wearing latex gloves doesn't mean bacteria-free if you keep using the same gloves and touching raw food.
Chef Kazato says, the sushi chef always put tezu on their hands before making EACH sushi. Tezu, made equal parts of vinegar and water, not only eliminates the odor of previously handled fish but also keeps the hands anti-bacterial.
When I went to a shop that serves sushi burrito, I saw the staffs wearing latex gloves. I also noticed they don't change their gloves with every sushi burrito they make. They kept making different kind of sushi burritos for different customers even though they touched raw fish. Yikes!
So guys, don't be disguised that latex gloves keep your food bacteria-free. When you go to a sushi restaurant, look at their work space, clothes, equipment. It's fundamental for sushi chefs to keep everything very clean as they deal with raw food. If that's not what you see, you might want to reconsider about revisiting.
Now here's the morikomi by chef Kazato.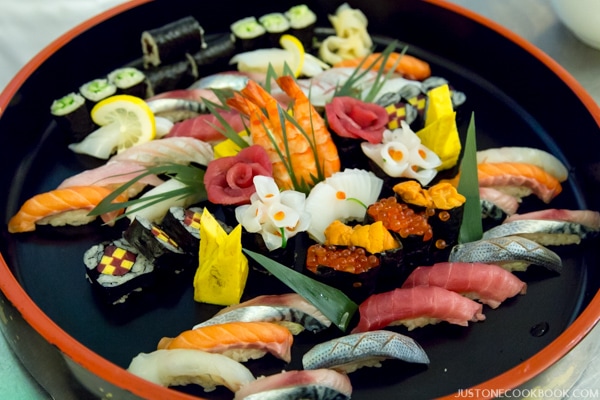 Absolutely gorgeous!
Last but not least, I'd like to send special thanks to Chef Kazato and his team for this excellent 4-hour seminar. I also would like to thank Japan Consulate for inviting me to this event.
I hope you enjoyed reading my re-cap on Sushi Skills Seminar in San Francisco! Interested in making sushi at home? Check out my sushi posts, including the popular California Rolls and traditional Futomaki.
Our Recommendations for Buying Sashimi Online


When we have a sudden craving for sashimi we usually buy from our local Japanese supermarkets. If you don't have a reliable shop to purchase quality sashimi nearby, we would recommend buying from Catalina Offshore online.
They've been in business for over forty years and all the sashimi products we've tried from them are outstanding. Use J1COOK20 for 10% discount. Disclosure: We earn a small percentage commission from your purchase of products linked to Catalina Offshore.