Visiting & Eating in Kaohsiung, Taiwan: Not-to-missed local night markets, exotic local food, Taiwanese weddings & local massage.
We're back in the U.S. after spending 8 days in Taiwan and feeling a bit exhausted. We are used to traveling abroad but it does require more energy and dealing with jet lag (kids waking up at 3 am) is a whole other story. However, we had a great trip overall and we already miss Taiwan and our family very much.
This is vol. 2 of our Taiwan Trip 2014. If you missed vol. 1, here's the link to the post. First, let's continue talking about food in Taiwan! Some of these pictures were shared on my Instagram.
Food in Taiwan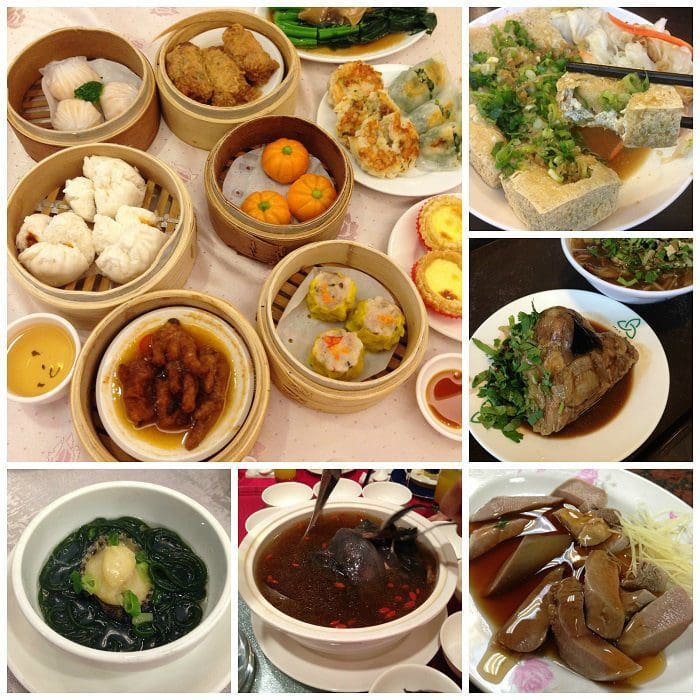 When we're in Taiwan, we usually eat out most of our meals as Mr. JOC's parents run a hospital and they are very busy all day. We like to try out new places every time we visit Taiwan but we also go back to our favorites. The Han-Hsien Heping Restaurant is our local favorite dim sum place. Parking garage is next building and it's easy to take out Mr. JOC's grandma for lunch there as she's now having trouble walking. The dim sum served there is very authentic and sometimes they have special dishes they offer. This time they even had Strawberry Daifuku (Japanese dessert)on seasonal dessert menu, which was really tempting. My favorite pick of the day was the kabocha shaped mochi with taro inside. Absolutely adorable!
When you're in Taiwan, don't miss an opportunity to try Stinky Tofu (臭豆腐). When I first tried it for the first time 9 years ago from a street vendor at a night market, I had to say it was a challenging experience. I could eat it, but it was definitely not something that I look forward to eating. A lot of readers ask me how stinky it is and how it tastes, so let me put it this way… It feels like you're eating deep-fried tofu in the middle of farm where there are bunch of cows and horses. You're basically smelling very earthy, grassy, stinky odor while eating tofu. Besides the smell of tofu, it tastes great. I wish it has more pleasant odor so more people are willing to try, but this is definitely an acquired taste. After 9 years of being married to a Taiwanese person, I now can appreciate more about stinky tofu than before. Especially King of Stinky Tofu (江豪記臭臭豆腐王) makes a really good one, and it is one of my must go stops when I visit.
Compared to last year, my son is more into a variety of Taiwanese food. Zongzi (glutinous rice stuffed with pork, egg, chestnuts, peanuts, mushrooms etc, middle right picture) became his favorite during the trip. He had it several times at different stores, and his favorite so far is Liu Chia Zongzi (劉家粽子).
I'm still hesitant to try some food in Taiwan such as pig hearts (bottom right picture). I keep telling myself that I'd try one day… The Chinese Black Chicken Herbal Soup was served at both weddings. Black color chicken (black all the way to the bone) may look a bit scary to you, but this chicken called "Silkie Chicken" actually looks fuzzy and friendly. Have you tried it before? Abalone are also commonly served as one of the course at weddings.
Taiwan Night Market
If you visit Taiwan, spend one night in the local night markets. A lot of people are out hanging out and dining with friends and family. There are so many varieties of food available in night markets, including giant squid legs, snake meat, grilled Thai shrimp, Turkish ice cream, and the list goes on and on. Night markets remind me of Japanese summer festival with all the street vendors selling food and random things (toys, clothes, jewelries, etc), but Taiwanese night market happens every night, all year around! I don't like oysters but Taiwanese Oyster Pancakes are one of my favorite food to eat from night market and we must have fresh Papaya Milk! SO good!
Japanese Food in Taiwan
As a Japanese person, Taiwan is very easy place to live because there are Japanese foods pretty much everywhere. These days there are many Japanese chain restaurants such as Mister Donut, Ootoya (大戸屋), MOS Burger, Tonkatsu Shinjuku Saboten, and many bakeries that serve Japanese style (European style) bread and pastries. We alternate our meals between Chinese and Japanese while we visit, depending what our children are craving at the moment.
Weddings in Taiwan
Mr. JOC's brother's weddings were very nice. I said "weddings" in plural because in Taiwanese culture it's common to have two weddings – groom's side family hosts one, and bride's side family hosts one the day after. We had two weddings back to back in different cities so our last weekend became very hectic. I was going to document what Taiwanese wedding is like, but I became occupied with preparing traditional ceremony at home and leading the flower boy and flower girl (yes, there is no ring bearer), so I failed on even taking pictures on my iPhone. There were close to 500 guests for groom-side wedding and a lot of the guests remembered our wedding 9 years ago as I greeted them. After greeting the most of the guests at their tables during the wedding, we ended up missing about half of the meal (therefore no photos…sorry!).
Sheraton in Hsinchu
Hsinchu ( 新竹) was the location of the bride's side wedding. It was my first time stopping by this city which is commonly known as Silicon Valley of Taiwan. The city feels really new – with a lot of brand new high-rise condos and apartments everywhere, I rarely saw old parts of Hsinchu during my short stay. We stayed in Sheraton where the wedding was located. It was relatively new and the kids especially loved the shallow swimming pool next to the regular size swimming pool. The best part is the pools are indoor and heated! I wanted to eat Taiwanese breakfast for one last time before going back to the States, but McDonald's and Starbucks were the closest restaurants so we had breakfast at Starbucks instead. Our flight home was the same day as the wedding, so everything was pretty chaotic.
 What We've Been Doing in Kaohsiung
Well, not much, to tell you the truth. To avoid the kids waking up way too early due to jet lag, we put them sleep around 9 to 10 pm every night. We definitely took advantage of our free baby sitter (my parents-in-law) and enjoyed watching The Wolf of Wall Street at the theater and visited our local massage place (左腳右腳經典泡腳會館) for 1 hour body massage twice within a week! I've been going to the same person (#7) for the past 9 years and I definitely recommend him if you happen to be at this location! He has magical hands that rejuvenates your body and mind (but oh so painful!! Just focus on after the massage…).
Thank you so much for reading my Taiwan Trip 2014 posts! I hope you enjoy photos from Taiwan. If you're interested in more photos, check out my Taiwan Trip 2012 post as well. We look forward to visiting Taiwan later this year again!