Win a nourishing care package filled with yuzu flavored goodies from Kokoro Care Packages! This is a worldwide giveaway, so enter for your chance to win the delicious box for yourself.
With the anticipation of yuzu season, we're partnering with Kokoro Care Package to give away their upcoming Yuzu-Inspired October Nourishing Essentials Care Packages.
At a time when many of us are unable to travel, this is the opportunity to travel to Japan with your taste buds! Yuzu is a beloved Japanese citrus fruit that brings out the best of Japanese cuisine. You're going to enjoy the delicious yuzu-flavored condiments and pantry items presented in the care package.
The giveaway is open to Just One Cookbook readers worldwide, and three (3) lucky winners will be selected!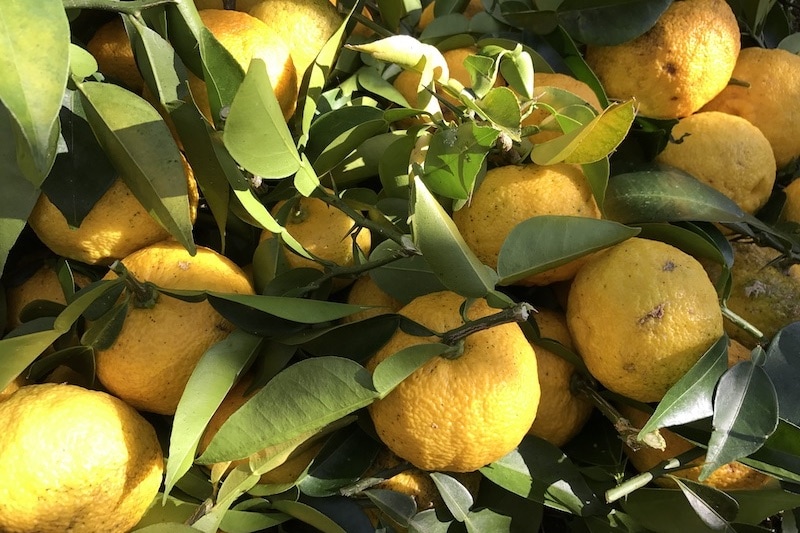 Win a Box of Yuzu-Inspired October Nourishing Essential Care Package Today!
The Yuzu-Inspired Box from Kokoro Care Packages includes:
Yuzu Soba Noodles (with Tsuyu Sauce) – Japanese soba noodles, made from buckwheat, have a buttery smooth nutty flavor. The noodles are made within an hour of being milled to preserve their flavor and can maintain their freshness even when stored at room temperature. The addition of yuzu in the dipping sauce gives a unique twist to the classic soba noodle sauce, providing a citrus zest to the sweet mirin and umami-rich soy sauce.
Yuzu Sansho Pepper Paste – Use as a seasoning in soups (miso soup, noodle soups, etc.), with grilled meat, fish or vegetables, in pasta dishes, in stir fries, or on gyoza.
100% Yuzu Juice – This 100% authentic, fresh Japanese yuzu juice from Tokushima brings the subtle, grapefruit-like flavor of yuzu to your kitchen. Use whenever the dish calls for a splash of citrus.
Yuzu Salt – This artisanal salt from Mera Foods includes locally cultivated yuzu peels which are dried and ground before being combined with salt left behind by the high tides around Miyazaki prefecture. Sprinkle on soups, pasta, chicken, fish, or vegetables just before serving, or on sweets such as ice cream.
Yuzu Sanbei (rice crackers) – Senbei are local treats that have the sweetness of a cookie with the crispy crunch of a cracker, and are often given as gifts or served to guests. These senbei have a subtle citrus sweet taste from the added yuzu, which is sourced from Kobayashi City in Miyazaki Prefecture.
Yuzu Sour Chips – The flavorful, aromatic peel of yuzu can be thinly sliced and used when cooking, pickling vegetables, or delicately candied to make these Sour Yuzu Chips. Enjoy as is or chop finely and sprinkle on yogurt or ice cream, or stir into muffin batter or scone dough.
They partner with local producers who are passionate about their products and connect you to the stories behind what makes each of their items so unique. Their products are chemical-free and many cannot be found outside of Japan. They also include English translations and suggested so you can easily enjoy all the wonderful foods.
You can find more inspirations on how to use yuzu here.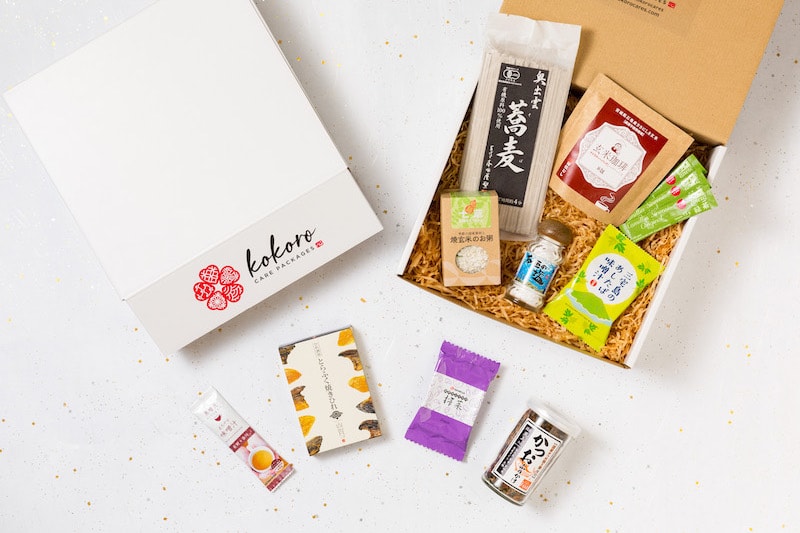 About Kokoro Care Packages
Kokoro (written as 心 in kanji) translates into "heart" in Japanese, yet has a much deeper meaning. It represents the "spirit", "soul" and "emotion", and is the foundation of each of the Kokoro Care Packages. You can read more here.
Kokoro Care Packages was founded by two female entrepreneurs, Lillian Hanako Rowlatt and Aki Sugiyama, two friends living an ocean apart but who wanted to share their love of authentic Japanese food while supporting local Japanese farmers and producers. They offer hand-crafted Care Packages filled with premium-quality, all-natural Japanese foods delivered straight from Japan to your door.
Each item (including noodles, cooking essentials sauces, spices, snacks, soups, teas and more) is carefully selected for its quality, ease of use and of course, great taste! All products are free from chemicals and many cannot be found outside of Japan. They work closely with local producers who share their values and are passionate about the foods they create, while connecting you to their stories and their communities. They also include all the English translations making it easy to enjoy all these Japanese tastes and flavors.
How Does the Service Work?
Their Care Packages are available in two options: Subscriptions and Collections
Subscription Care Packages: available monthly Nourishing Essentials Care Package and quarterly Seasonal Delights Care Package

. One time gift purchases are also available. 

Collections Care Packages: 

available year round for delivery at any time. Their Creative Beginnings: Redefining "Wa" Care Package

contains all the essentials ingredients you need to create delicious Japanese foods in your own home, their Zuru Zuru Noodles: "Yui" Care Package

is a curation of Japan's best noodles and their 

Japanese Green and Specialty Teas: "Ryu" Care Package

is filled with a hand-picked selection of authentic Japanese teas.
Special Discount for Just One Cookbook Readers Worldwide
Kokoro Care Packages is also offering Just One Cookbook readers a 10% discount on your first order from a subscription purchase.
CODE:  JOCYUZU
You can use the code at the checkout and it is limited to one use per customer. Be sure to use your code by Sept 30th, 2020.
Enter to Win Yuzu-Inspired October Nourishing Essential Care Package Today
GIVEAWAY RULES:
Please Note: Your email for the comment entry has to match with your email address in my Email Newsletter Subscription mailing list.
This giveaway contest closes on Monday, September 28, at 12 p.m. PST and is open to readers worldwide.
Three (3) winners will be selected via Pick Giveaway Winner Plugin and contacted via email, so please include a valid email address in the email address entry box (please double check your spelling!).
The winners are required to respond within 36 hours to claim the prize.
HOW TO ENTER:
The more tickets/comments left on this blog post will increase your odds of winning. Good luck!
Ticket 1 (Required): Subscribe to Kokoro Care Packages newsletter (at the bottom of the webpage) and leave a separate comment below and tell us 'Who would you most like to share this Care Package with?'.
Ticket 2 (Required): Subscribe to JOC Email Newsletter if you haven't and leave a comment below on this post. 
Ticket 3 (Optional): Follow Kokoro Care Packages Instagram OR like them on Facebook and leave a separate comment below on this post.
Ticket 4 (Optional): Follow my Instagram and then leave a separate comment below on this post.
Ticket 5 (Optional): Subscribe to my YouTube channel and leave a separate comment below on this post.
Ticket 6 (Optional): Like my Facebook and leave a separate comment below on this post.
*****
Thank you for participating in this giveaway! The winners are…
Marie Bergström
Wai
Katy
Congratulations! We'll contact you shortly.