Print Recipe
Jump To Recipe
This light and refreshing Bean Sprout Salad takes only 10 minutes to make!  It's crunchy, nutty, and so addicting!  It's a perfect side dish for any Asian meals!
Do you need one more side dish that goes well with Asian food?  Bean Sprout Salad is a great side dish or salad recipe that's very easy, inexpensive, and healthy!  I like serving bean sprout salad with BBQ, Japanese meal, or any Asian style meal.  It's great bento filler too, if you need just one more dish!
Bean Sprout Salad – Namul ナムル
Namul (나물) simply refers to a Korean seasoned vegetable dish.  In Japan, we enjoy many Korean or Korean-inspired dishes.
Today's recipe Bean Sprout Salad is pretty common dish housewives in Japan make.  We call this dish Moyashi no Mamuru もやしのナムル (bean sprout namul), which original Korean dish is sukju-namul.  
Cooking Tips for Bean Sprout Salad
1.Removing Brown & Stringy Roots
Did your mom teach you to remove the brown part and stringy root part of bean sprouts?  My mom taught me to do that when she asked me to prep bean sprouts.
Growing up in Japan, helping my mom in the kitchen simply meant prepping work, not actual cooking.  Maybe because I wasn't so enthusiastic about cooking.  I remember being in the kitchen (doing all the prep work) was a chore than anything.
Washing dirty dishes and drying them (no dish washer), prepping ingredients (like washing and peeling vegetables), wrapping hundreds of gyoza…  I think my daughter is way more enthusiastic about cooking than 9 year old me back then.
After many many years later, when I was cooking my own meal in my apartment kitchen in the US, I realized that I learned so much about basics of cooking through my ears and eyes from those "prepping" days in my mom's kitchen.  Were you always a cooking enthusiast?
Back to the topic.  So the reasons why we remove those brown parts and stringy roots is that bean sprouts taste much better without them.  You may not notice the subtle difference if you eat bean sprouts with other flavorful sauce or ingredients, but you may notice the clean flavor when you eat them raw or with simple seasonings like today's recipe.
Recently, I also learned that these stringy part is nutritious.  Well, that sounds like a good excuse to skip removing brown/stringy parts all together especially if we cook bean sprouts with other flavorful ingredients/sauce, doesn't it?
2. Blanch Bean Sprouts for 1.5 Minutes
This probably depends but my suggestion is to cook just for one and half minutes.  After draining, the bean sprouts will slowly cook with remaining heat anyway.  You can adjust as you like, but should be between 1 to 2 minutes.
3. Drain Water Well
You don't want to dilute the seasonings, so make sure to drain well before adding bean sprouts to the sauce.  Also, bean sprouts  tend go bad fast; so avoid water in the dish especially if you want to keep it a bit longer.
Don't want to miss a recipe? Sign up for the FREE Just One Cookbook newsletter delivered to your inbox! And stay in touch with me on Facebook, Google+, Pinterest, and Instagram for all the latest updates.
Bean Sprout Salad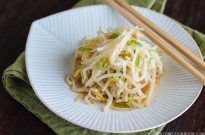 Ingredients
9

oz

bean sprouts

(1 bag = 9 oz or 255 g)

1

green onion/scallion

(optional)
Instructions
[Optional] Remove the brown part and stringy root part. I recommend doing this extra step when you eat raw bean sprouts or when they are seasoned with light flavor sauce. You can taste the clean bean sprouts.

Rinse the bean sprouts under cold water and drain well.

Add 4 cups (1L) or enough water to cover the bean sprouts in a pot and bring to boil.

Once boiling, add bean sprouts to cook for 1.5 minutes.

Drain into a colander and set aside for 5 minutes as you don't want to dilute the sauce with remaining water.

Cut the green onion/scallion into small pieces. Grind the sesame seeds in a mortar and pestle. Grate the garlic, or use a garlic press to crash the garlic.

In a medium bowl, combine all the ingredients for the seasonings and mix well. It might look little but it's more than enough.

Add the bean spout and green onion/scallion in the bowl.

Toss all together and serve. You can also let cool in refrigerator for 30 minutes before serving. You can store in refrigerator overnight, but I don't recommend to keep more than 24 hours.
Recipe Notes
Recipe by Namiko Chen of Just One Cookbook. All images and content on this site are copyright protected. Please do not use my images without my permission. If you'd like to share this recipe on your site, please re-write the recipe and link to this post as the original source. Thank you.