Daio Wasabi Farm is the world's largest wasabi farm located in Azumino, Nagano Prefecture. Stroll through the vast wasabi fields, see how they're grown, and taste the many wasabi flavored foods and snacks.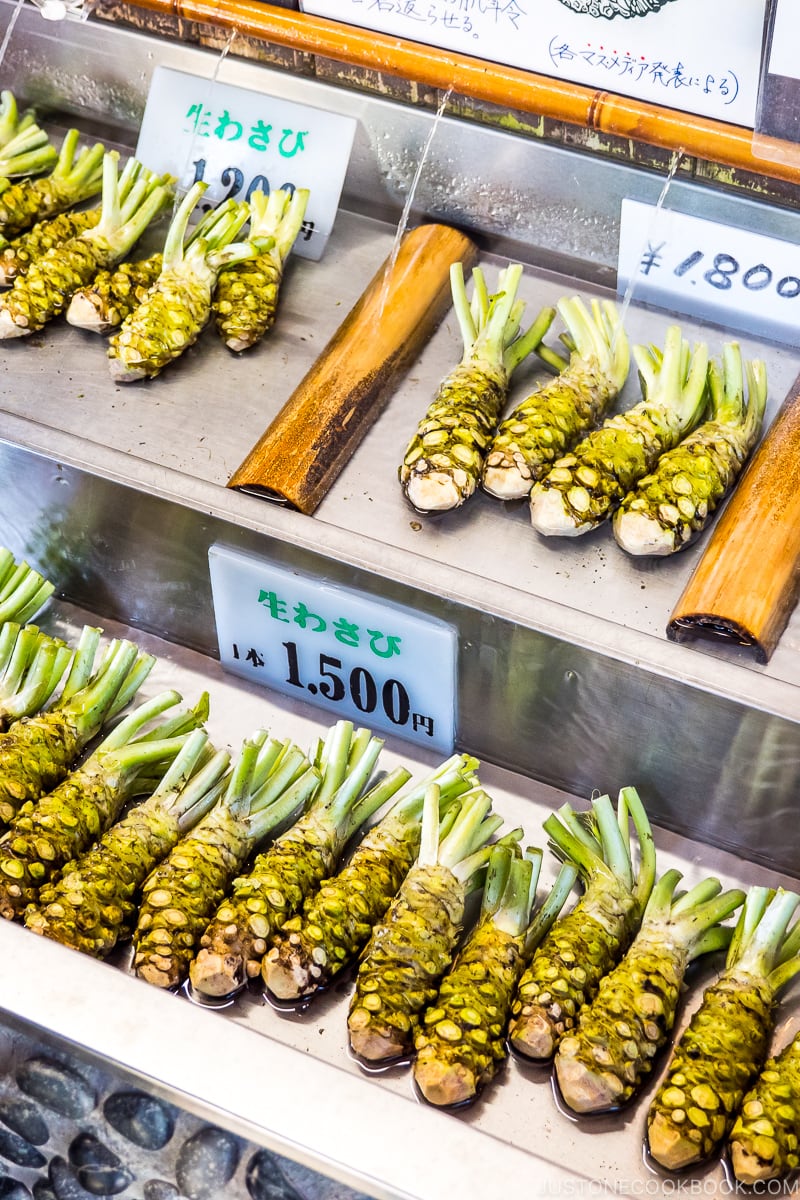 During our visit to Nagano area, one of the unique places we visited was Daio Wasabi Farm. It is the largest wasabi farm in the world at 40 acres (150,000 m²) and visitors are able to see how these plants thrive at the picturesque farm.
Where is Daio Wasabi Farm
Daio Wasabi Farm is in Azumino City, about 30 min by car north of Matsumoto. From Tokyo, it takes about 3.5 hrs by train to Hotaka Station. It's about a 10 min car ride from the station and there are plenty of taxis around for hire.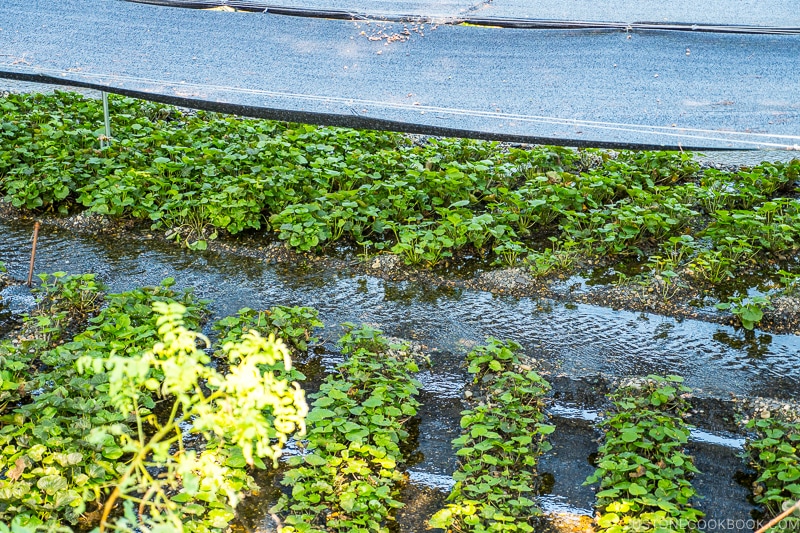 The farm is surrounded by the Japanese Alps. The snowmelt from the mountains feeds into nearby rivers and makes it a perfect location to grow wasabi.
Daio Wasabi Farm Facts
Daio Wasabi Farm was started in 1915 and has been established for 100 years. As it gained popularity with visitors over the years, it transitioned from just a farm to include tourist-friendly attractions and features on the property.
It is free to visit the farm and visitors are allowed to tour around the property by themselves. Daio produces over 100 tons of wasabi a year and accounts for 10% of wasabi produced in Japan.
Perfect Place to Grow Wasabi
Wasabi is a challenging crop to grow (BBC calls it the hardest plant to grow). and requires consistent clean cool flowing water.
A clean water source is part of the reason why it's so difficult to scale wasabi farming commercially. At Daio, a river from the snowmelt flows right through the farm providing the perfect water source at a consistent temperature all year round.
Besides a clean water source, wasabi prefers shady and cool conditions. When we visited during the summer, there were rows and rows of black fabric covering the plants to protect them from the sun.
Even on a really hot summer day, when we touched the water, we were really surprised that it was icy cold. As the river flows through the farm, we can see that wasabi is grown in gravel beds and not just soil.
Real Wasabi
You may be surprised to find out that a wasabi plant takes 12-18 months to mature. Also, the part that's used to grind into wasabi paste is actually not the root, but its stem or rhizome.
Because it is so hard to grow, it is difficult to find real wasabi outside of Japan. Almost all the wasabi used in Japanese restaurants, Asian supermarkets, or tubes are horseradish dyed green. The flavors of real wasabi don't last long especially after grated.
If you are able to find real wasabi, the prices are astronomically high. In the US, fresh wasabi is about $125 a pound (the same price as A5 Wagyu Beef)! If you are interested in real wasabi, Half Moon Bay Wasabi, Oregon Coast Wasabi, and South/North Carolina Wasabi ship them within the US.
Sometimes, authentic sushi restaurants will have real wasabi and it's worth asking the chef if he has a secret stash hidden.
The fresh real wasabi flavors are completely different from the imitation horseradish. The heat is more subtle with a bit of sweetness and delicate vegetal flavors. It is not used just for sushi in Japanese cuisine but also used in steamed dishes, chawanmushi, and simmered food.
Watermills at Daio Wasabi Farm
There are several watermills at the farm right next to the river and they're actually quite famous. Besides looking postcard-perfect, these watermills were featured in Akira Kurosawa's film Dreams (Village of the Watermills).
We saw raft tours (additional fee required) with visitors in the surrounding waterway. The tours are available in the spring and summer months.
Food at Daio Wasabi Farm
There are many restaurants, food stands, and gift shops at Daio that sell wasabi-infused or flavored foods. The dining options include soba restaurants and snack bars.
At the terrace cafe, you can find wasabi ice cream, wasabi over rice, wasabi croquette. You get the idea. The wasabi-flavored ice cream was surprisingly good!
Vistors can buy wasabi leaves and fresh wasabi to go. Depending on the size, fresh wasabi were 1,500 yen and up.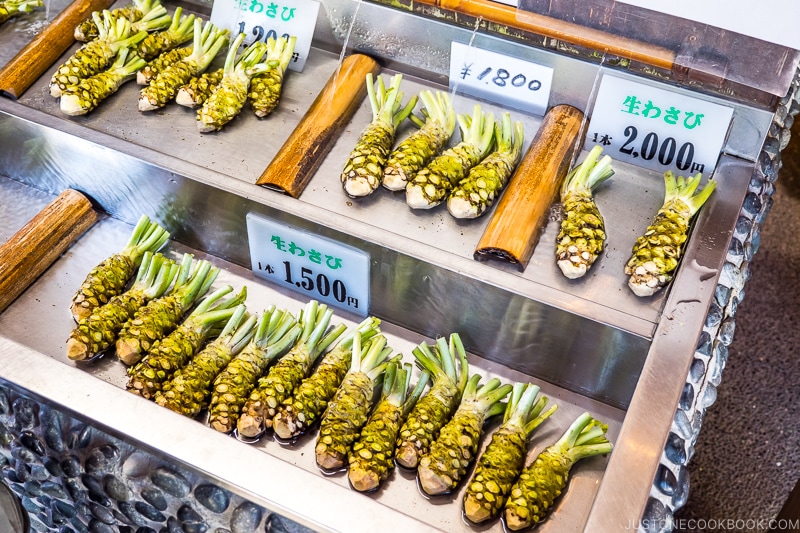 Lastly, in the gift shop, you will find an assortment of pickled vegetables all wasabi flavored.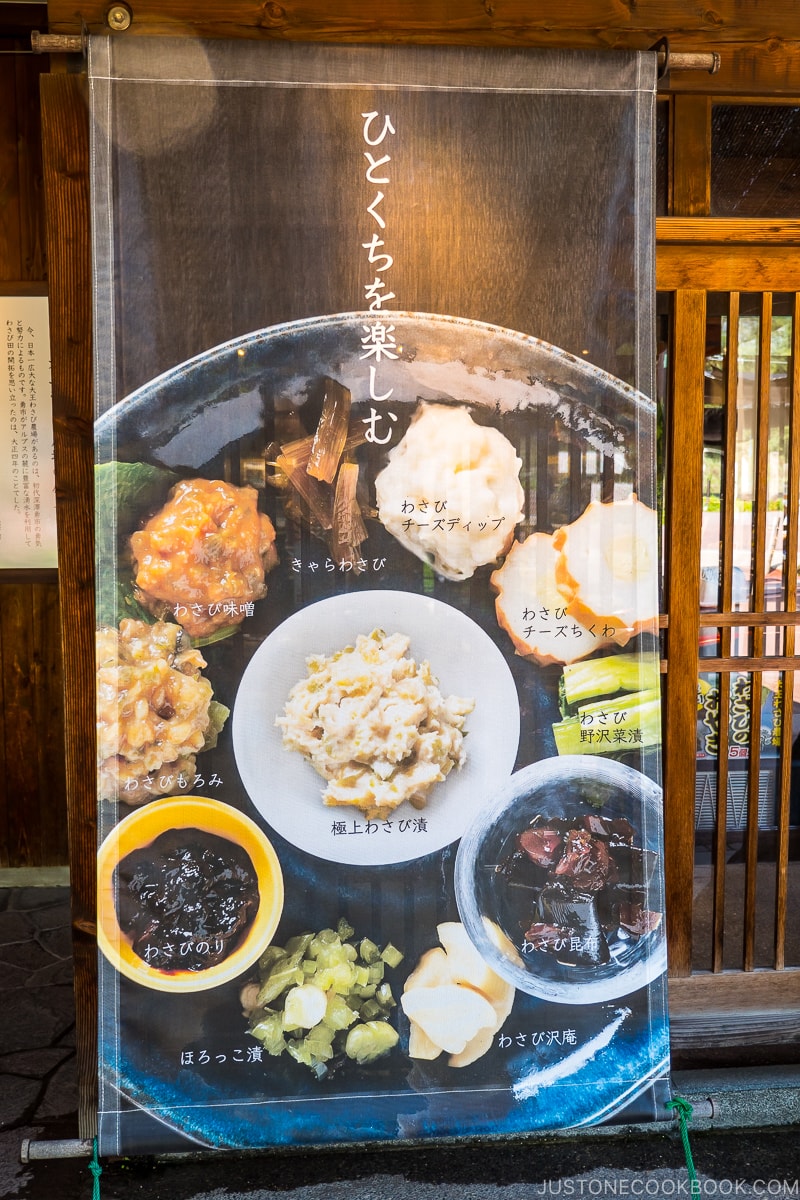 As always, thank you for reading our travel adventure and we hope you enjoyed our visit to Daio Wasabi Farm.
If you are planning a trip to Japan, head on over to our Japan Travel posts for ideas! See you in the next travel post.