This Homemade Popcorn with Truffle Salt is the next best thing for movie nights or party snack!
Love popcorn but never made it from scratch at home?  Today could be the turning point for you.  Throw away those microwave popcorn bags in your pantry (they're bad for health) and get popcorn kernels instead (I get organic ones from Trader Joe's).
Homemade popcorn is one of the easiest snacks you can make at home and it's DELICIOUS!  It's healthy and high in fiber, and the best part is that you can create your own flavored popcorn!  Today I'm going to share my family's #1 favorite, Truffle Salt Popcorn.
Watch How To Make Truffle Salt Homemade Popcorn 美味しいポップコーンの作り方
Quick and easy homemade popcorn recipe with organic coconut oil and truffle infused sea salt, it's our family favorite movie treat!
Family Movie Time with 

Homemade Popcorn
Mr. JOC and I work on weekends filming tutorial videos and photographing my recipes.  Since the natural light is so important for food photography and final video clip, we usually start filming in the morning and wrap up around evening time.
Our children are very supportive for what we do, and they patiently wait for us to finish our work (we usually give them assignments like doing math problems on the computer or practicing piano and they get to have free time afterwards).
Because we have limited time to spend with children on weekends, we really treasure our family time even more.  One of our favorite activities we do together is family movie time.  The kids pick the popcorn flavor of the night while Mr. JOC figure out what movie to watch.  I go to the kitchen with my daughter and we make popcorn together.
Tips for Making Perfect Homemade Popcorn
Although making popcorn is easy, here are some of my tips to achieve desired the perfect homemade popcorn.
POT: Use a heavy-bottomed pot (like Dutch ovens) deep enough to accommodate the popped corn kernels.  For 1/2 cup of popcorn kernels, you will need at least a 3 1/2 quart pot, preferably 4 1/2 quart.  That will give plenty of space for popcorn to move around.
OIL: My personal favorite is coconut oil which is tasty and considered "healthy" fat.  You can also use canola oil which has nice clean taste and doesn't overwhelm the popcorn's natural flavors.  I don't recommend olive oil as it has a low smoking point and tends to burn quickly.
HEAT: My gas stove is pretty strong so I use medium heat, but it should be between medium to medium-high heat.
SALT: I like adding salt (in this case, truffle salt) to the oil in the pan before popping.  Oil in the pot is nicely infused and salt will be well distributed throughout the batch.  With my recipe (below), I do not sprinkle additional salt after making popcorn.
SHAKE: Every 30-60 seconds, give the pot a shake to make sure all of the kernels get popped.
LID: Keep the lid slightly ajar while popping (not while shaking) to release the steam, and uncover the pot immediately after popping.  This will help the popcorn stay crisper.
Truffle Salt for Homemade Popcorn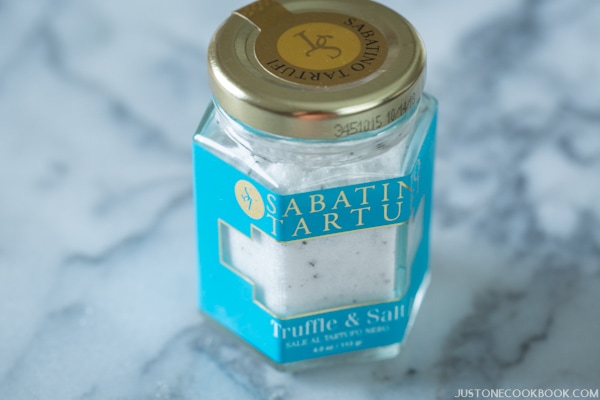 So, who doesn't love truffles?  I'm definitely a big fan and so glad I found the truffle & salt mix.  The rich, earthy odor and flavor of black truffle infused with sea salt.  The one word that comes to mind, heaven!  Besides popcorn, truffle salt enhances flavors for various types of food, from grilled meat to scramble eggs.  If you love truffle, I highly recommend you to experiment with truffle salt at home.
I bought Sabatino Truffle Sea Salt on Amazon, which is relatively inexpensive compared to this brand (I'll try next time!).
Not a Fan of Truffle? 
If you are not a fan of truffle (what!)… of course, you can make classic popcorn with butter at home.  It tastes amazingly delicious so go ahead and toss that microwave popcorn! 😉
CLASSIC BUTTER
Make the popcorn by following the recipe below (but replace truffle salt with kosher salt).  While making popcorn, melt 2 Tbsp. butter (for 1/2 cup popcorn kernels) in the microwave or on the stovetop.  As soon as popcorn is done, drizzle the melted butter over hot popcorn and mix all together.
If you are not in a hurry, here's an even better way to enjoy butter flavored popcorns at home.  Add 4 Tbsp. butter in a saucepan and allow it to simmer.  Remove from heat and skim the foam off with a spoon. Once it's clean, you see a yellow layer of clarified butter with milk solids underneath.  Pour the clarified butter over popcorn and avoid pouring the milk solids.


I hope you enjoy making this Homemade Popcorn with Truffle Salt recipe!  If you try it, don't forget to share your picture on Instagram, Facebook, or Twitter with #JustOneCookbook.  Thank you so much for reading, and till next time!
Don't want to miss a recipe? Sign up for the FREE Just One Cookbook newsletter delivered to your inbox! And stay in touch on Facebook, Google+, Pinterest, and Instagram for all the latest updates.
Homemade Popcorn with Truffle Salt
This Homemade Popcorn with Truffle Salt is the next best thing for movie nights or party snack!
Keyword:
popcorn, truffle
Servings
:
4
quarts (16 cups)
Ingredients
3

Tbsp

coconut oil

(peanut oil, vegetable oil, canola oil)

½

cup

popcorn kernels

(1/2 cup = 110 g)

1

tsp

truffle and salt
Instructions
Gather all the ingredients.

Set a large deep pot (I use my Le Creuset) on the stovetop over medium heat. Add 3 Tbsp. coconut oil and 3 popcorn kernels.


Close the lid and wait until the kernels pop. When the kernels pop, it's when the oil is hot enough to add the rest of the popcorn kernels.


Open the lid and add 1 tsp. truffle and salt and the remaining popcorn kernels.


Cover the pot with the lid and gently shake the pot from side to side (or back and forth). This will distribute the popcorns in an even layer and mix the truffle and salt with the kernels.


While the kernels pop, shake the pot occasionally over the burner to prevent the kernels from burning. When you are not shaking the pot, keep the lid slightly ajar to release the steam from the popcorn. Cook until there's about 2-3 seconds between pops. By this time, you can't hear many kernels moving against the bottom of the pan.


Remove from the heat. Shake a few times to let the last few kernels pop and take the lid off to let the steam out, this will allow the popcorns to stay crisp. Enjoy!

Recipe Notes
Equipment you will need:
The pot I used in this recipe is Le Creuset Enameled Cast-Iron 3.5 Quart Oval (Dutch) French Oven.
Recipe by Namiko Chen of Just One Cookbook. All images and content on this site are copyright protected. Please do not use my images without my permission. If you'd like to share this recipe on your site, please re-write the recipe and link to this post as the original source. Thank you.