Experience Nikko's renowned beautiful landscape and breathtaking views from Nikko Irohazaka, Akechidaira Plateau, and Kegon Falls, one of Japan's three most beautiful waterfalls.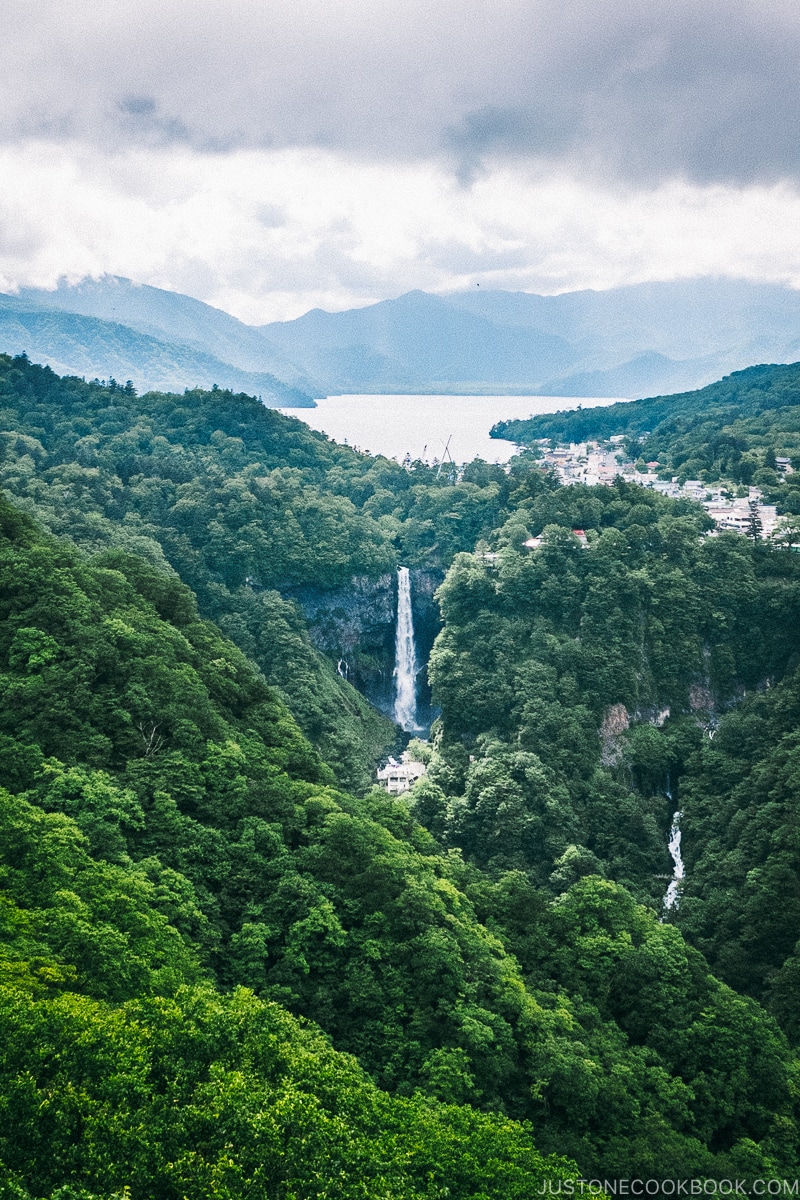 Nikko is renowned for its beautiful natural scenery and we recommend making a stop at the nearby Kegon Falls during your visit to the area. Why? Kegon Falls (華厳滝) is one of the three most beautiful waterfalls in Japan (日本三名瀑) and just a short 30 min drive away. On the drive to Kegon Falls, the scenery is lush green in the summer and bursting with autumn colors during the fall season. If you love breathtaking natural scenery then this is the trip for you.
Nikko Irohazaka 日光いろは坂
You can get to Kegon Falls by driving or taking the bus (Route Y – 日光駅~中禅寺温泉~湯元温泉中禅寺温泉行). The road to the falls is really fascinating and it is called Nikko Irohazaka and it was selected by Japan's Construction Ministry as one of Japan's distinct 100 roads.
The drive from Nikko Shrines and Temples to Kegon Falls is not long at about 10 miles (16 km). During the offpeak period, it takes about 30 min without traffic. However, during the autumn foliage viewing period, the traffic is really crowded and the same trip could take hours. Part of the reason why it takes a while to drive 10 miles is the road is filled with crazy hairpin turns. Yes, the images below are screenshots of the navigation system in the car during our drive.
While driving on Nikko Irohazaka to the falls, you can stop by Kurokamidaira View Point and take in the vast view of the surrounding mountains, valleys, and Nikko below.
Akechidaira Plateau 明智平展望台
As you continue on Nikko Irohazaka, you can make a stop at Akechidaira Ropeway and ride it to Akechidaira Plateau. The view from Akechidaira Plateau is considered one of the most unique in the area as you can see Lake Chuzenji flowing down Kegon Falls to the west and Nikko to the east.
Kegon Falls 華厳滝
Continue on the road heading towards Lake Chuzenji and Kegon Falls is located near the east end of the lake. In fact, Kegon Falls is the only outlet for Lake Chuzenji. What's really cool about visiting Kegon Falls is that visitors can take an elevator (for a fee) to the bottom of the fall for a closer look.
Similar to the height of the fall, the elevator travels down 100 meters (300 feet) from the ground floor.
Once the elevator door opens, there are still a few flights of stairs visitors have to go down to get to the observation point.
Wow, what a sight. The powerful waterfall flows from 300 feet up (100 meters) up down to a valley and rushing down a hill between greens and rocks.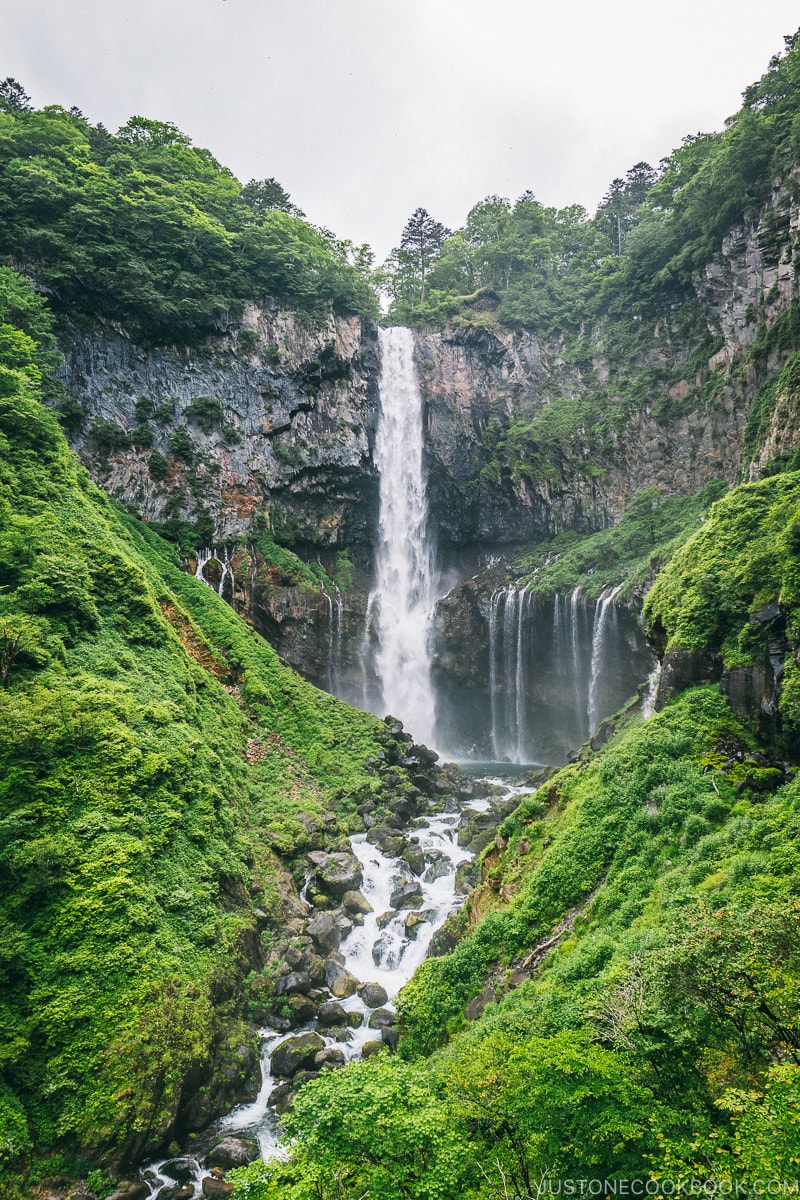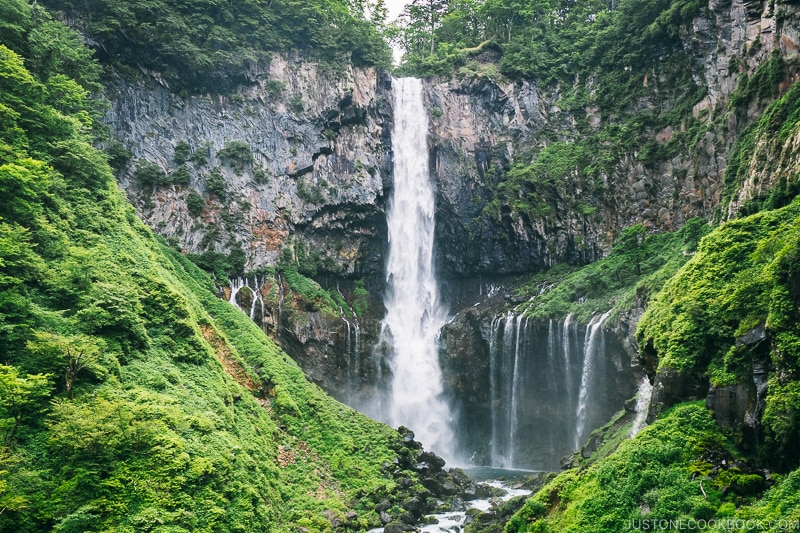 Thank you for reading our travel guide on Kegon Falls. We'll take you to next to Lake Chuzenji to wrap up our travel to the Nikko Area.
Nikko Travel Guide
Oya History Museum 大谷資料館