Kyoto Travel Guide: Eastern Kyoto, one of the most beautiful cities in Japan with its enchanting gardens, captivating rock displays, and magnificent temples and shrines.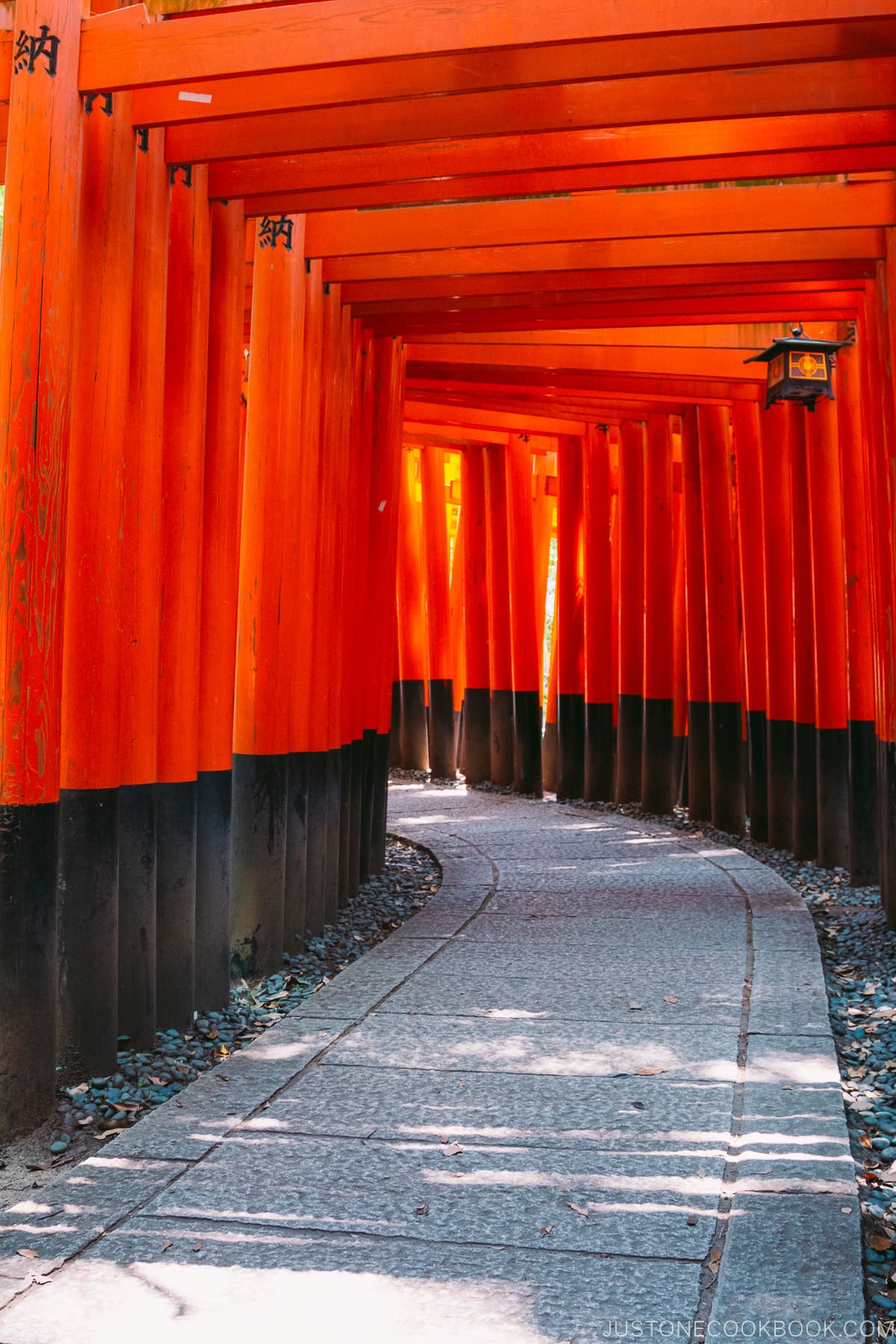 Our family spent 3 days visiting Japan's former capital, Kyoto. I was particularly looking forward to the trip because it's one of my favorite cities in Japan and filled with deep-history, captivating architecture, stunning nature, and exquisite cuisine. Equipped with our trusty iPhones and comfortable shoes, our adventure began.
Getting to Kyoto
To reach Kyoto from Tokyo, the fastest way is to take the Tokaido Shinkansen (bullet train), which takes roughly 2 hrs and 20 mins. Trains from Tokyo depart every 10 minutes between 6 AM to 9 PM, every day of the week, providing flexible travel options. At the Shinkansen station, we always have a little pre-train ritual. Each person picks their favorite bento, known as ekiben, and other delectable foods to eat on the train.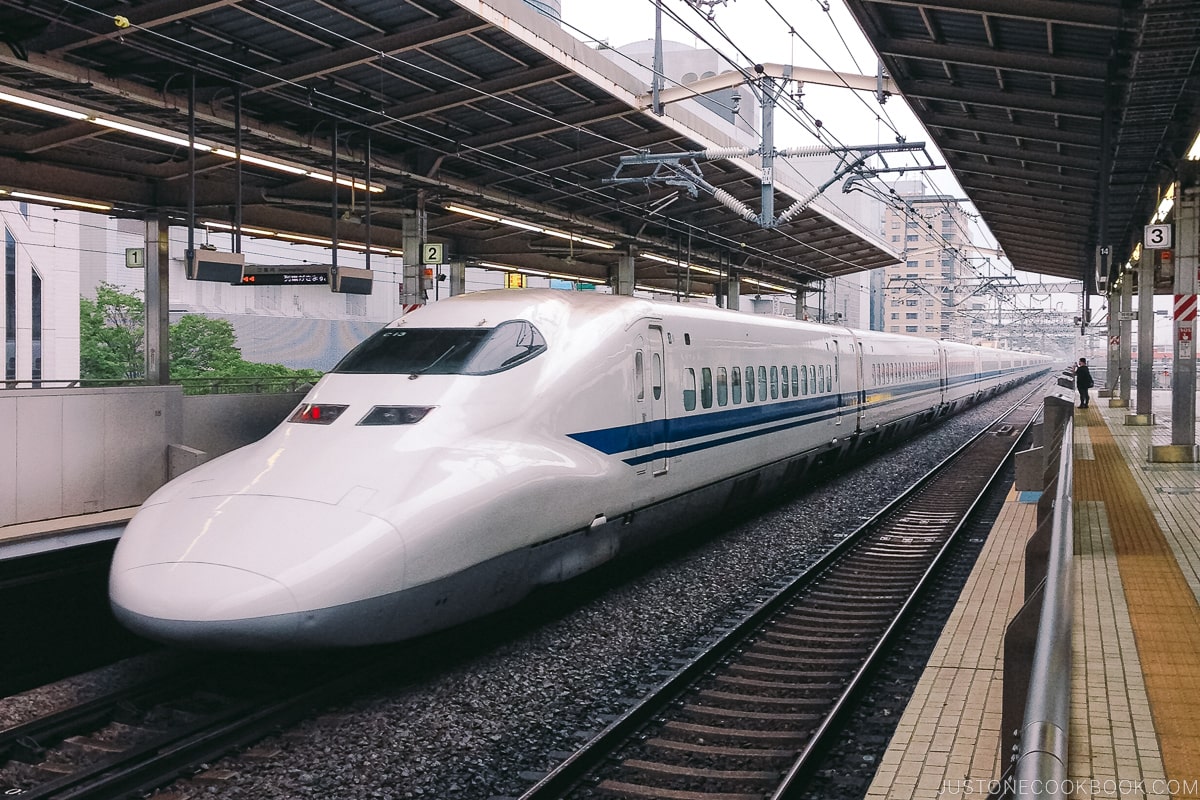 If you don't have time to shop before your train departs, don't worry, they sell bentos and drinks on the trains as well. If you are traveling from Osaka instead of Tokyo, opting for the local Keihan Line will save you a considerable amount of money vs. taking the Shinkansen. Depending on where you are, the fare is about ¥1,200 – 1,500 compared to ¥3,200.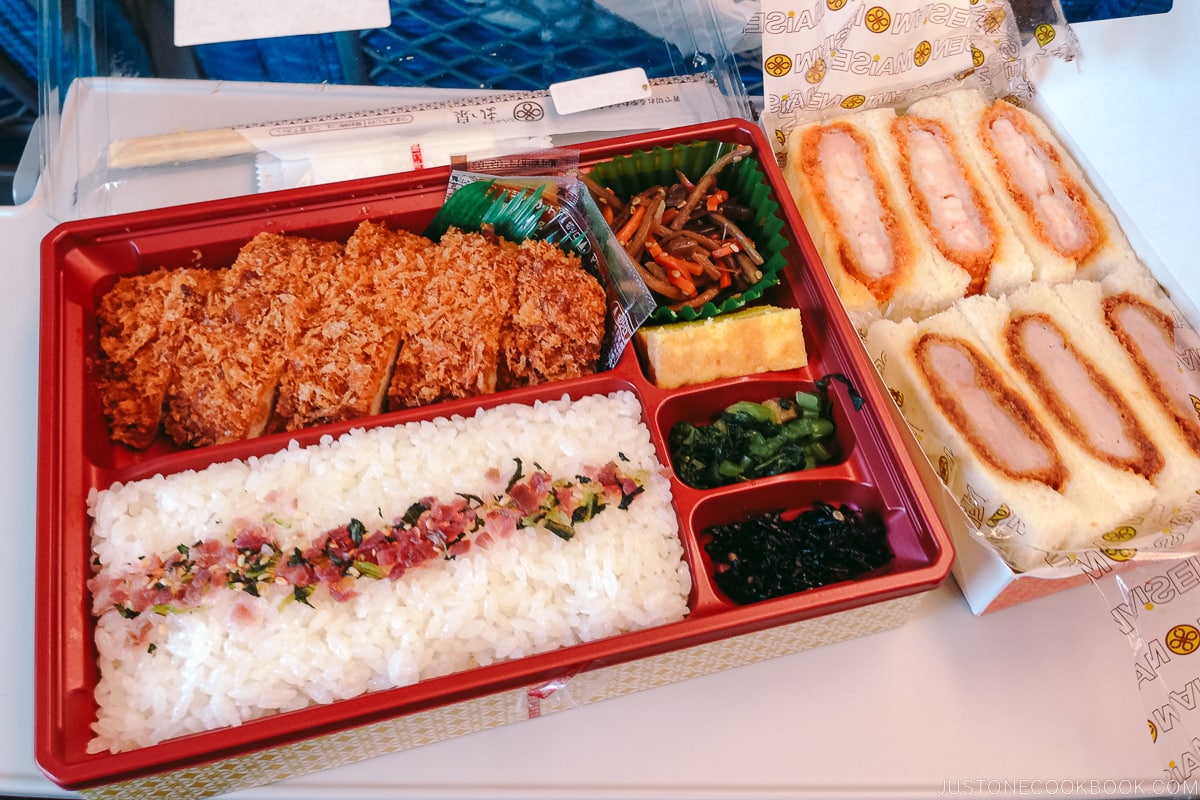 Getting Around Kyoto
When you arrive in Kyoto, you can purchase a convenient 2-day unlimited pass in the Municipal Subway stations for ¥2,000 for adults and ¥1,000 for children. They also have the 1-day unlimited pass available. Keep in mind the pass only covers the city bus and the Kyoto Municipal Subway, and does not include the JR line or the Keihan line. However, using the metro and the bus routes, you'll be able to access almost every place you would want to visit with ease.
The subway line is composed of 2 lines, one that runs east to west (Tozai Line) and one that runs north to south (Kasaruma Line).
The most important thing about transportation in Kyoto is to wear super comfortable shoes. You'll be doing a lot of walking in Kyoto so make sure to bring great walking shoes when visiting. I also recommend carrying water bottles around to stay hydrated, especially in the summer months.
About Kyoto
Kyoto is quite special for a few reasons:
Kyoto served as the former capital of Japan until the capital moved to Tokyo in 1869
There are over 2,000 religious buildings (1,600 Buddhist temples and 400 Shinto Shrines). To put that into perspective, if you visit 5 a day it'll take you more than a year to see all of them.
The city boasts 17 UNESCO World Heritage Sites, 38 Buildings designated as National Treasures, 160 properties designated as Important Cultural Properties
8 enchanting gardens designated as Special Places of Scenic Beauty.
A Movie studio theme park
Amazing Japanese food (Kyo-ryori), Tea, Gion Matsuri Festival.
That's just some of the staggering facts about Kyoto. Unless you are going to spend over a month in Kyoto, it won't be possible just to see the featured sites so what I recommend is to prioritize the sites you want to see most. Keep in mind, millions of visitors come to Kyoto each year so destinations do tend to get crowded.
To optimize your time and minimize any travel hassle, we recommend trying to stay within one section of the city. For example, going from Ginkakuji, on the east side, all the way west to the Arashiyama area takes about 1 hr 15 min. By focusing on one specific area, you can make the most of your time in Kyoto without excessive travel.
While the list is not too comprehensive, we would like to share with you our insights and experiences. Given the countless attractions to see in Kyoto, we'll be sharing 3 separate posts covering the eastern part, the central and western parts, and finally, the delectable Kyoto cuisine.
When traveling in Japan, we strongly recommend getting a data plan for your smartphone. It's very easy to get around Kyoto with guidance from Google Maps.
Kyoto's Most Popular Attractions – East Side
Just to clarify, all locations I am mentioning below are located on the east side of Kyoto Station. These are some of the most incredible places we have visited, starting from North to South.
Did you know Ginkaku-ji (Silver Pavilion) is actually the nickname for Jisho-ji (慈照寺) even though it's the more commonly used name? The breathtaking temple was completed around 1489 by Shogun Ashikaga Yoshimasa as a villa for him to relax and reflect. When he passed away the villa was converted to a Buddhist temple. The temple's main feature is the Kannon Hall, which was originally supposed to be covered in silver foil. He had built a style of pavilion similar to Kinkaku-ji, built by his grandfather Ashikaga Yoshimitsu.
The tranquil garden is beautiful and peaceful and is married beautifully with the iconic Kannon Hall, along with the mesmerizing sand gardens and intricate sculptures dotted around the complex.
Philosopher's Path 哲学の道 (read more)
As you exit Ginkaku-ji and reflect on its beauty, just a few blocks away is the beginning of the scenic Philosopher's Path. It stretches roughly 1 ¼ miles l(2km) along a canal lined with cherry trees. Its name is derived from Japanese philosopher, Nishida Kitaro, who used to meditate on the path as part of his daily walk to Kyoto University. The scenic route is especially popular during the cherry blossom viewing season when it's in full bloom, with many various temples, restaurants, and cafes offering a pit stop for a bite to eat or rest. Approaching the end of the path, you will end up near Nanzenji.
Nanzen-ji is an impressive temple ground dating back over 700 years, in 1264. Emperor Kameyama loved the location so much that he built his detached palace here, and later on transformed the palace into a zen temple in 1291.
Although some of the original buildings were destroyed in a fire in the 16th century, many were rebuilt more impressively than in the past. Among the main features of the temple ground include:
Sanmon (main gate)
a zen rock garden created in the 1600s
the paintings of tigers that decorate the sliding doors of the room
the view of the aqueduct that connects Lakes Biwa to Kyoto.
From Nanzen-ji, you can hop on the Tozai line at Keage station to Sanjokeihan station to reach Gion, which is the best-known geisha district in Japan. In Gion, you feel as though you're transported to another time (actually most of Kyoto feels that way to me) with streets lined with beautifully preserved architecture. There are plenty of entertainment and dining options in Gion too, from exotic specialty restaurants to traditional Japanese food.
When you're there, don't miss walking on Hanami-koji & Shirakawa-minami Dori and enjoy the historic charm of Japan. Gion offers unique ambiences throughout the whole day so be sure to explore both day and night.
Nearby Gion is Yasaka Shrine, known to host one of Japan's biggest festivals – Gion Matsuri. It is also one of the few shrines that are open at night and beautifully lit. Oh, by the way, it's only 1,300 years old.
Kiyomizu-dera 清水寺 (read more)
From Gion, you can take the bus to Kiyomizu-dera, a Buddhist temple that's designated as a UNESCO World Heritage site. What makes this temple so staggering is not just its beautiful design but the fact it was built without a single nail in 1633. Once you see it you'll think, how's that even possible as it perches high on the hilltop.
As you get off the bus, it's a ½ mile hike up the hill to get to the temple, which may sound like a lot but trust me, it's worth it. Along Matsubara Dori and neighboring roads, there are many charming shops and restaurants where you can browse and take a break. We had a great tofu meal there at Okutan which I'll share in my 3rd post about Kyoto food.
Upon arriving at the hilltop terrace, you'll be greeted with a breathtaking view of downtown Kyoto and the temple's main hall. As you make your way around the main hall and down the steps, the structure looks even more grand and impressive.
After exploring the main hall, and descending down, you can refresh yourself with the streams from Otowa Waterfall. As we were leaving there was a small food stall selling shaved ice and we ordered my daughter's favorite Strawberry and my Ujikintoki (Green Tea Shaved Ice) to share. It's a great place to relax and stretch out your legs as there is a bit more walking ahead.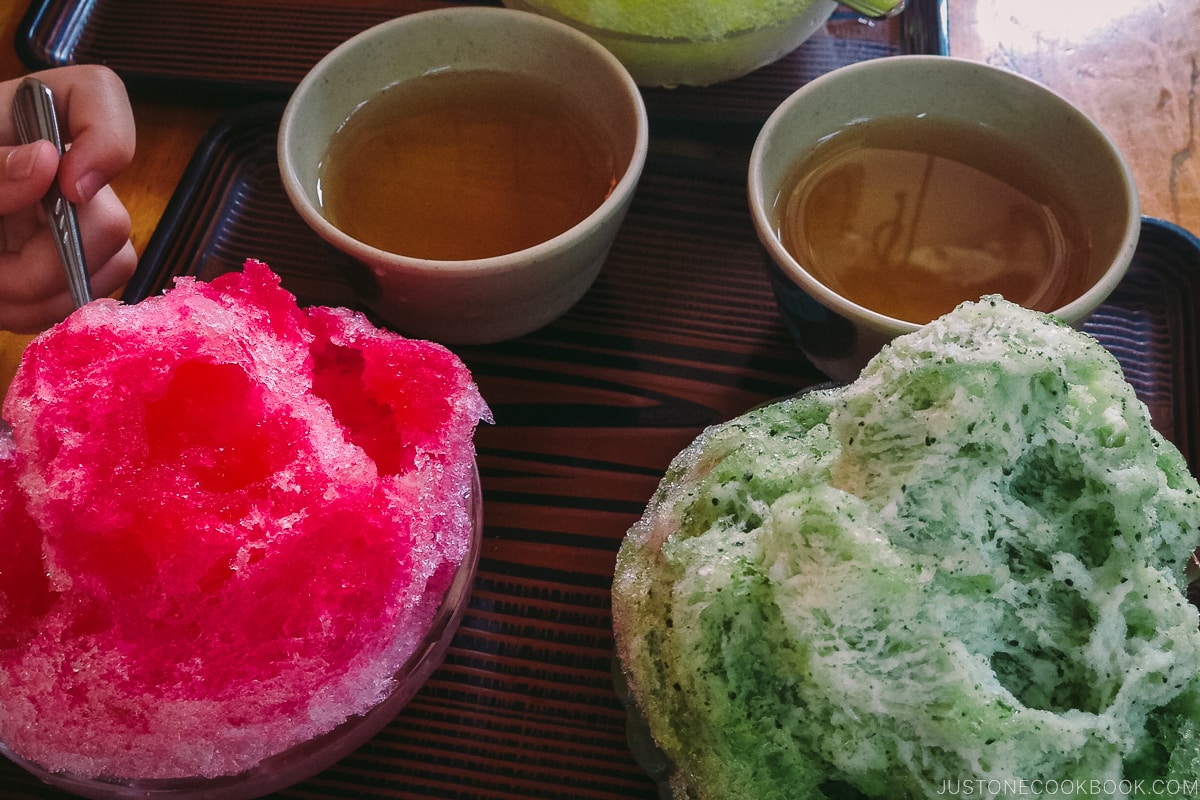 Fushimi Inari Taisha 伏見稲荷大社 (read more)
From Kiyomizu-Dera to Fushimi Inari, you have a few options. You can either take the bus to Shichijo and then jump on the Keihan line or walk directly to Kiyomizu Gojo station to take the Keihan line. Keep in mind, the 2-day pass does not cover the Keihan line so you'll need to pay for the train fare.
Fushimi Inari Taisha is known for its thousands of vibrant Torii gates donated by businesses across Japan. Serving as the head shrine of Inari, it was originally revered as the God of crops and agriculture but is now worshiped by all industries.
While the main shrine, built in 1499, is located at the bottom, the ascent up reveals many other smaller shrines. It takes around 1 hour to reach the top and another 30 minutes to descend. Have you ever wondered what's carved on the other side of the gates? Inscribed are the names of businesses or individuals, where they are from, and the corresponding dates on another column. Dotted throughout the complex are various fox statues as they are considered the messengers of the Inari god.
Where to Stay in Kyoto
We stayed at the Westin Miyako Hotel because back then some of the rooms can comfortably sleep 4 in the room (4 beds!) The room was very spacious and had a view of Westin's ryokan (Japanese-style rooms) in the back. The hotel is near Keage Sta. so it was very easy to get around the city.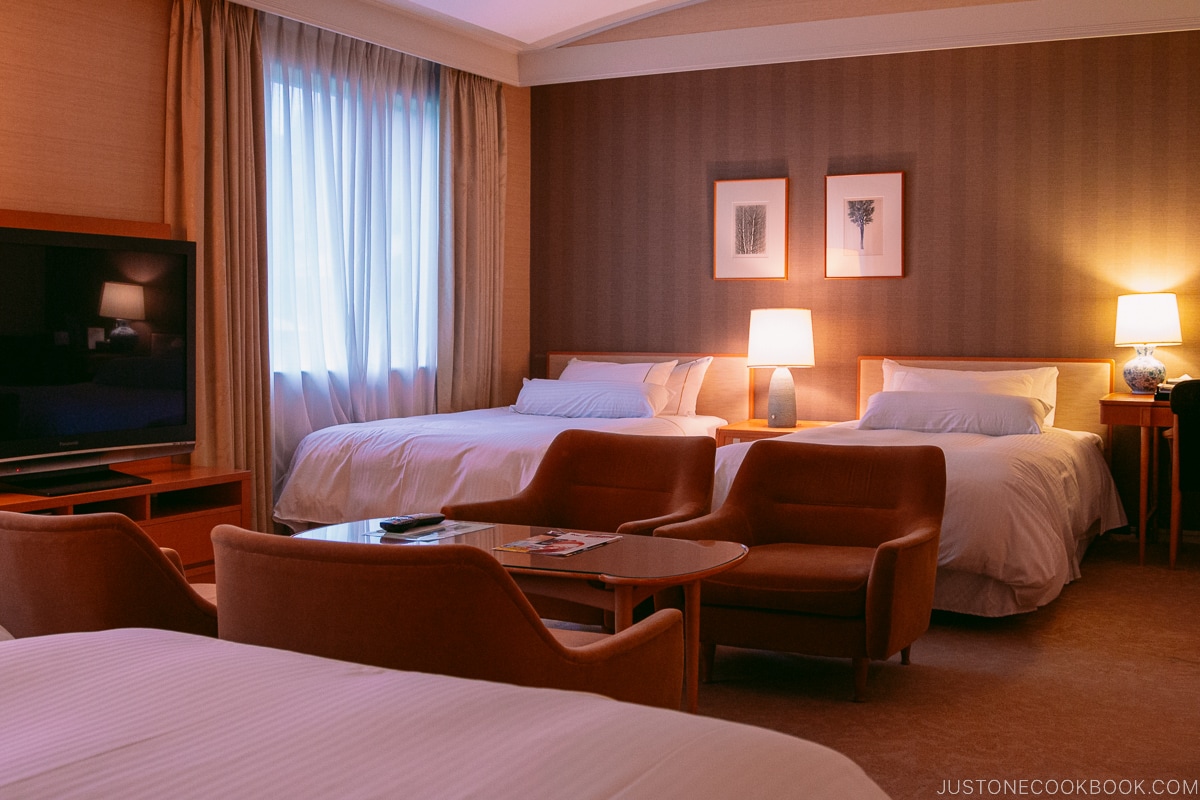 Our recommendation for Kyoto is to stay within a short walk (5-8 min) of a Kyoto Municipal Subway station so it's easy to get around. After a long day of walking around the last thing you want is a long walk back to the hotel or Airbnb.
Having fun so far? Get your legs rested, as we have quite a bit more of Kyoto to cover in Part 2: The Ultimate Guide to Kyoto – West Side and Kyoto Station.