This Miso-Marinated Hamachi Bowl is a simple yet elegant meal you can easily pull off at home! I'll show you how to defrost the sashimi-grade hamachi and make this restaurant-quality rice bowl in a short time.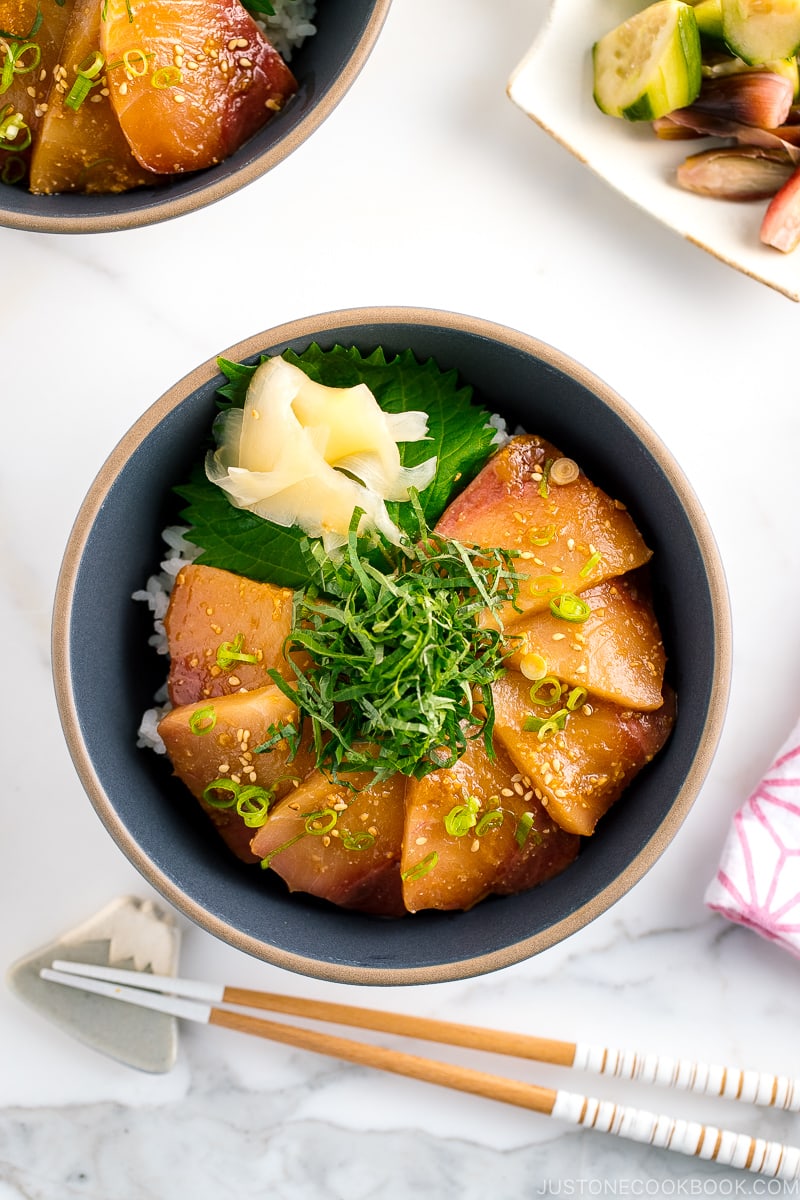 My family enjoys sashimi, so we occasionally treat ourselves to delicious chilled seafood dinners at home. Among all the raw fish, our favorites include Salmon Sashimi Bowl and this Miso-Marinated Hamachi Bowl (ハマチ漬け丼).
The wonderful thing about making sashimi bowls at home is they are utterly fuss-free! On a day when I don't feel like spending too much time cooking, I can still pull off a refreshingly elegant meal with minimal effort.
This recipe involves marinating the hamachi slices and top them over steamed rice. That's how easy it is!
What's Marinated Sashimi Bowl?
Marinated sashimi bowl is called Zukedon (漬け丼) in Japanese, and it means a donburi (don for short) consisting of marinated sashimi over a bed of steamed rice. Zuke means "to marinate"; sashimi is marinated in soy sauce, mirin, and sake (and miso in today's recipe) for 30 minutes (or 2 hours at most).
Why You'll Love Miso-Marinated Hamachi Bowl
Having sashimi in the freezer, you don't need to go shopping to make this recipe.
Little prepping and incredibly easy to make.
Amazing restaurant-quality meal at home!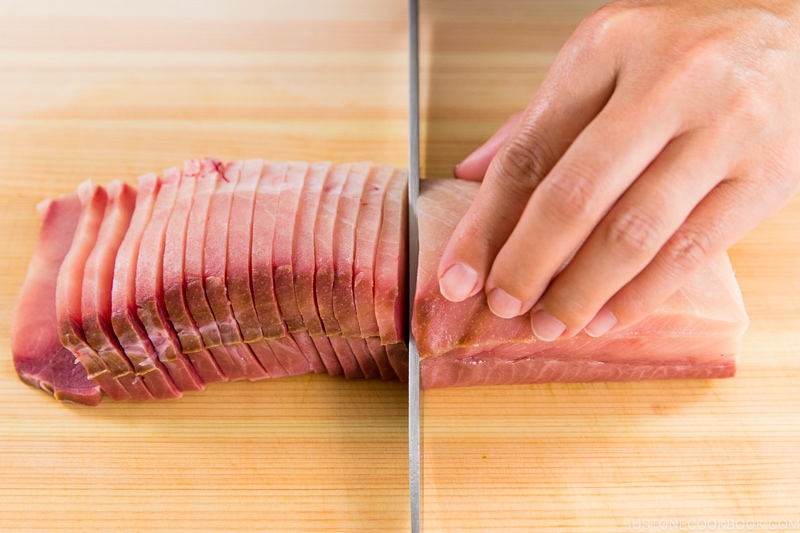 Hamachi (Yellowtail) – A Fine Choice for Sashimi & Sushi
Most people are familiar with salmon and tuna for sushi and sashimi, but hamachi is actually a highly sought-after fish in Japan. Known as Japanese amberjack or yellowtail, hamachi is a seasonal favorite in the colder months, and it's one of the best fish to enjoy raw as sushi and sashimi. In Hawaii, hamachi poke is a wildly popular choice.
Sometimes hamachi or yellowtail gets mistaken as a type of tuna, but it is a fish of an entirely different family.
What makes hamachi so exceptional? At first bite, the flavor is delicate, then it leaves you with a silky, buttery taste that is simply irresistible. It has a rich flavor like toro, but not as overpoweringly fatty. The firm yet melt-in-mouth texture feels like a luxury!
Where to Get Sashimi-Grade Hamachi
These days I see more home cooks are venturing out to prepare meals like a professional chef! I've seen my friends making homemade noodles, sourdough bread, sushi, homemade pizza, ramen, and all. This movement is amazing!
I also receive requests from my readers who crave for sushi and sashimi at Japanese restaurants. So this is one of my recommendations that you can make at home. You don't even need to have any advanced knife skill or sushi roll techniques to pull it off.
To get sashimi-grade fish, you have to either go to Japanese grocery stores (they carry sashimi-grade fish) or order online. We order sashimi-grade Hamachi from Catalina Offshore.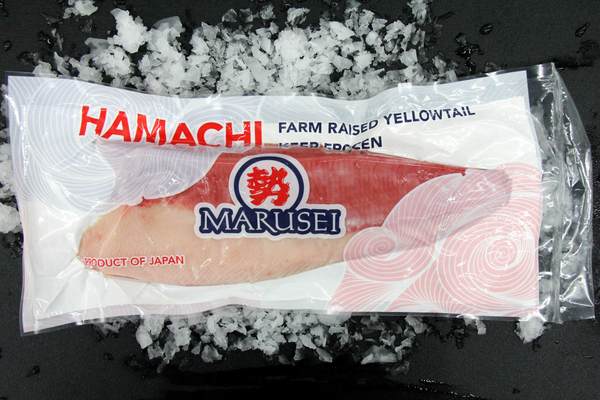 A vacuumed-packed frozen Hamachi is delivered to your doorstep in a styrofoam box with dry ice in it. You can keep the frozen sashimi-grade fish in the home freezer for 2-3 weeks. Make sure the temperature is set to the coldest!
How to Defrost Sashimi-Grade Fish
There are two ways to defrost raw fish. The proper recommended way and unofficial way.
The proper way is to defrost the sashimi-grade fish in the refrigerator overnight. The unofficial way is a "quick defrost", which takes just 20-30 minutes from frozen to thaw. All you need to do is to submerge your frozen sashimi-grade fish in cold water still sealed in the vacuum package.
I like the quick method because I can keep the sashimi-grade fish slightly firm, and it's a lot easier to slice thinly and cleanly. It also doesn't release as much moisture from the sashimi compared to the official method (thawing in the fridge) so it's a lot cleaner to handle.
Tips to Slice Hamachi Sashimi
There are a few tips for slicing salmon sashimi that has worked for us.
Place the hamachi block in the freezer for 5-10 min before slicing. This will firm up the flesh so it's easier to slice.
You don't need a sashimi knife but make sure to use a really sharp knife. Do not use a serrated knife to slice sashimi.
The simplest way to slice hamachi sashimi is to cut the fish vertically. Pulling the knife towards you, start the cut from the base of the knife to the tip. This method is called hira-zukuri.
How to Make Miso-Marinated Hamachi Bowl
It involves 5 steps.
Make sure the rice is cooked ahead (whether scheduled in your rice cooker or ready to reheat from the freezer). Otherwise, just make steamed rice using your method. The rice cooking time is not counted for total preparation time.
Make marinade.
Slice the sashimi-grade fish.
Marinade the sashimi for 30 minutes.
Serve the marinated sashimi over steamed rice.
To make this delicious miso-based marinade, you'll need only 5 ingredients.
Soy sauce
Sake
Mirin
Miso
Grated ginger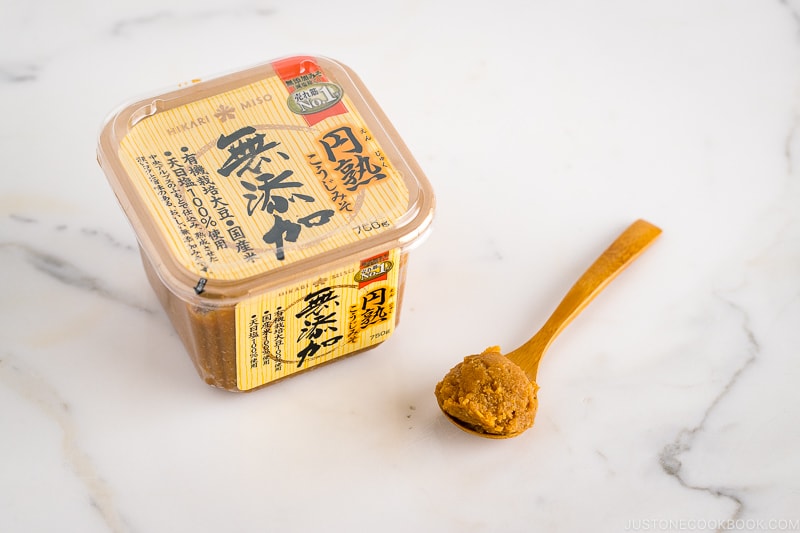 I use Enjuku Koji Miso by Hikari Miso for this recipe. Enjuku Koji Miso is Hikari Miso's long-selling product for over 20 years since its introduction in 1993. The preservative-free miso features a mild flavor and rich fragrance incorporated with natural sweetness and robust umami of koji.
How Long Do We Marinate?
Depending on the flavor of the fish and how thick you cut it, you can always adjust to your preference. For me, I like to marinate Hamachi for at least 30 minutes or for a maximum of 2 hours. Find the perfect balance for your liking!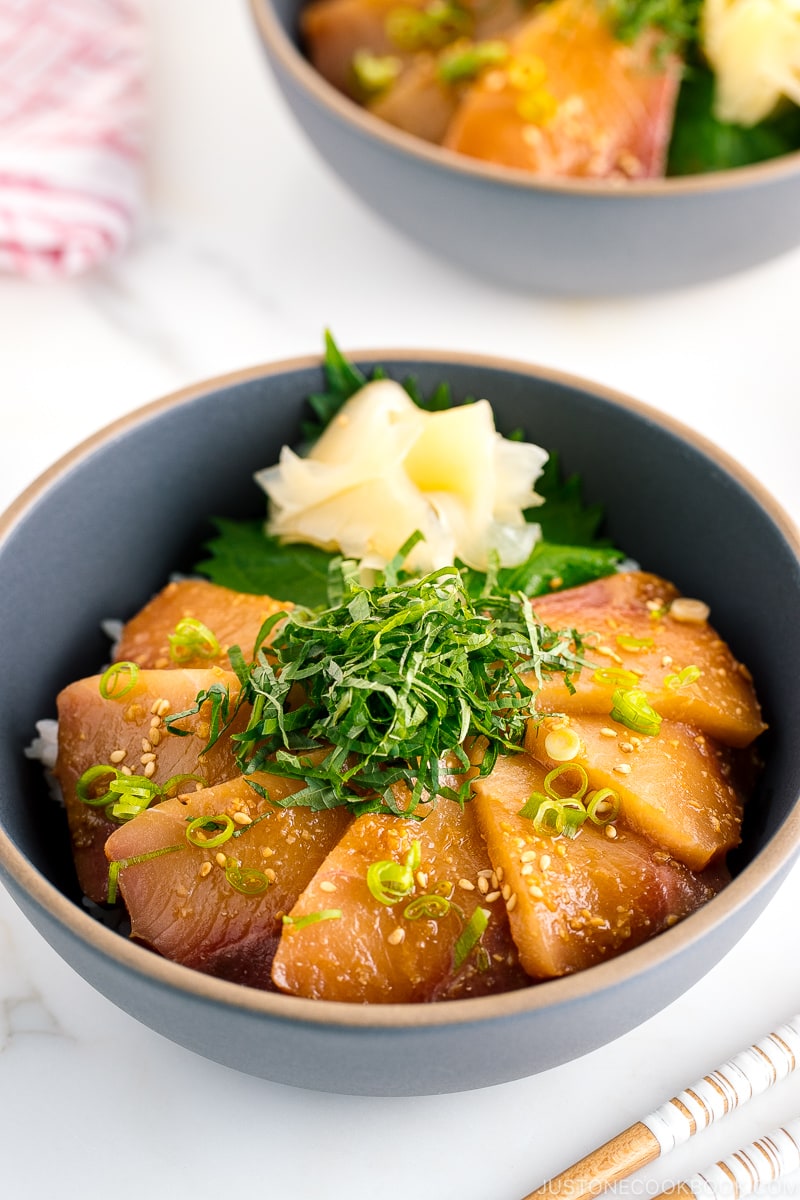 What Dishes To Serve with Miso-Marinated Hamachi Bowl
To make a complete meal, you can serve the Hamachi Bowl with a bowl of miso soup and 1-2 side dishes (salad, simmered dishes, etc).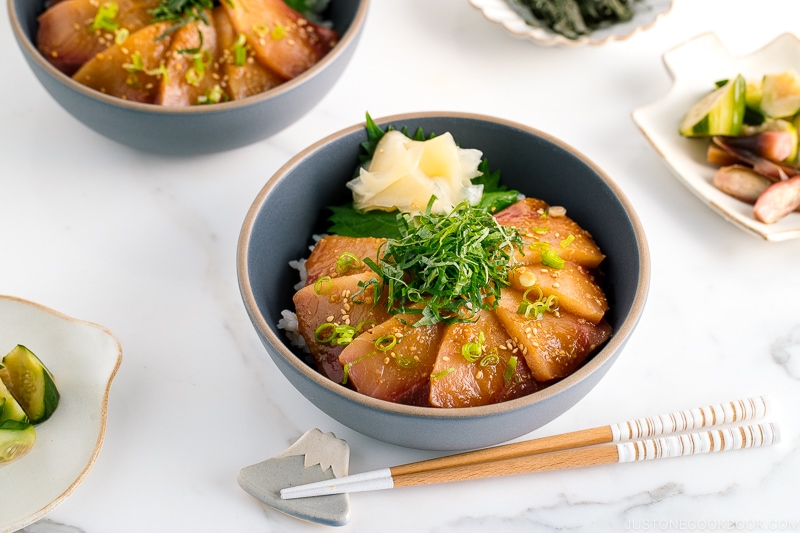 Wish to learn more about Japanese cooking? Sign up for our free newsletter to receive cooking tips & recipe updates! And stay in touch with me on Facebook, Pinterest, YouTube, and Instagram.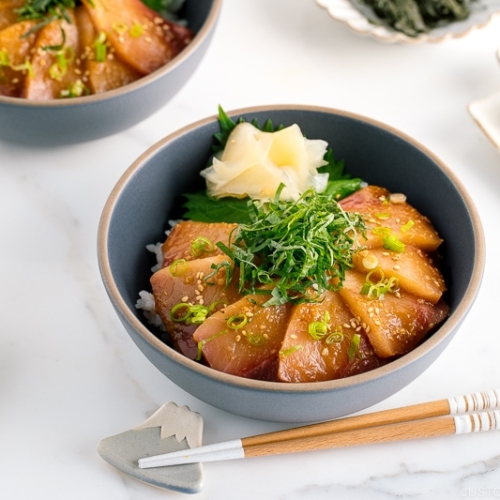 Miso-Marinated Hamachi Bowl
This Miso-Marinated Hamachi Bowl is a simple yet elegant meal you can easily pull off at home! I'll show you how to defrost the sashimi-grade hamachi, and make this restaurant-quality rice bowl in a short time.
Ingredients
1

lb

sashimi-grade yellowtail (hamachi)

(Read the blog post on how to defrost frozen sashimi-grade hamachi; Sub: salmon or kanpachi/amberjack)

1

knob

ginger

(1 tsp grated ginger)
Japanese Ingredient Substitution:
If you want substitutes for Japanese condiments and ingredients, click
here
.
Instructions
Gather all the ingredients.
To Make the Marinade
Peel and grate ginger. You will need about 1 tsp of grated ginger.

In a small saucepan, combine mirin, sake, and soy sauce.

Bring it to simmer over medium heat and let the alcohol evaporate for a minute. Then turn off the heat and add miso.

Whisk to combine the miso with the sauce. Then add grated ginger and mix all together. Set aside to let cool completely.
To cut Hamachi
With a sharp (sashimi) knife, cut the hamachi into 5 mm slices.
To Marinate Hamachi
In a glass deep container (with a lid), put some marinade on the bottom and start placing Hamachi slices in a single layer. Then drizzle the marinade on top.

Then place more Hamachi slices on top followed by the marinade.

Once you finish with all the Hamachi slices, close the lid and refrigerate for 30 minutes to 2 hours (2 hrs maximum; otherwise, it gets salty).
To Prepare Hamachi Bowl
Cut the green onion/scallion into fine rounds.

Wash the shiso leaves and pat dry with a paper towel. Roll the shiso leaves up. Keep some of the shiso for serving.

Cut the shiso into chiffonade and separate them loosely.

Prepare bowls of steamed rice and set aside so it's not too hot. Prepare the toppings and take out the Hamachi sashimi from the refrigerator. Place the shiso on top of the rice.

Place the sashimi slices on top of the rice. Garnish with sesame seeds, green onion, shiso chiffonade, and sushi ginger on top. Enjoy!
Nutrition
Nutrition Facts
Miso-Marinated Hamachi Bowl
Amount per Serving
% Daily Value*
* Percent Daily Values are based on a 2000 calorie diet.
©JustOneCookbook.com Content and photographs are copyright protected. Sharing of this recipe is both encouraged and appreciated. Copying and/or pasting full recipes to any website or social media is strictly prohibited. Please view my photo use policy
here
.
More Sashimi Recipes You'll Enjoy:
Our Recommendations for Buying Sashimi Online


When we have a sudden craving for sashimi we usually buy from our local Japanese supermarkets. If you don't have a reliable shop to purchase quality sashimi nearby, we would recommend buying from Catalina Offshore online.
They've been in business for over forty years and all the sashimi products we've tried from them are outstanding. Use J1COOK20 for 10% discount. Disclosure: We earn a small percentage commission from your purchase of products linked to Catalina Offshore.