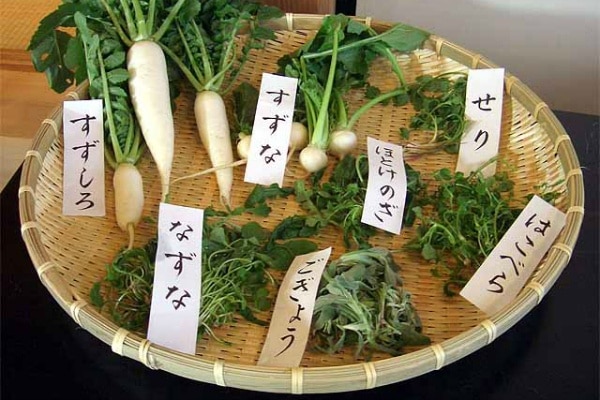 Nanakusa (春の七草) which literally means seven spring herbs is Japanese seven herbs used for Nanakusa Gayu (七草粥), a rice porridge that is eaten on January 7th of each year. Since there is little green during that time of the year, the young wild herbs not only bring colors to the dining table, they also symbolize new life awaiting in spring and are believed to ring in good health for the New Year
What are the seven herbs in Nanakusa?
They are:
Seri (せり) / Water dropwort or Japanese parsley
Nazuna (なずな・ぺんぺん草) / Shepherd's Purse
Gogyo (ごぎょう) / Cudweed
Hakobera (はこべら) / Chickweed
Hotokenoza (ほとけのざ) / Nipplewort
Suzuna (すずな・かぶ) / Turnip
Suzushiro (すずしろ・大根) / Daikon radish
In Japan you can find a very convenient Nanakusa Set, which includes 7 types of fresh herbs like this.
However, Nanakusa can be very hard to find outside of Japan.
Where to Buy Nanakusa (Japanese Seven Herbs)
I found these freeze-dried Nanakusa in a package in Nijiya, a local Japanese grocery store chain here in the Bay Area. Inside the package, there are 2 small packets. All you need to do is to add in these freeze-dried herbs in the cooked rice porridge.
Of course nothing beats fresh herbs, but these freeze-dried herbs are very convenient and taste pretty good for those who would like to follow this Nanakusa Gayu custom on January 7th.
Recipes with Nanakusa