It may look fancy, but this French-style Pear and Almond (Frangipane) Tart is easier to make than you'd think. It's an elegant dessert to serve at your next party.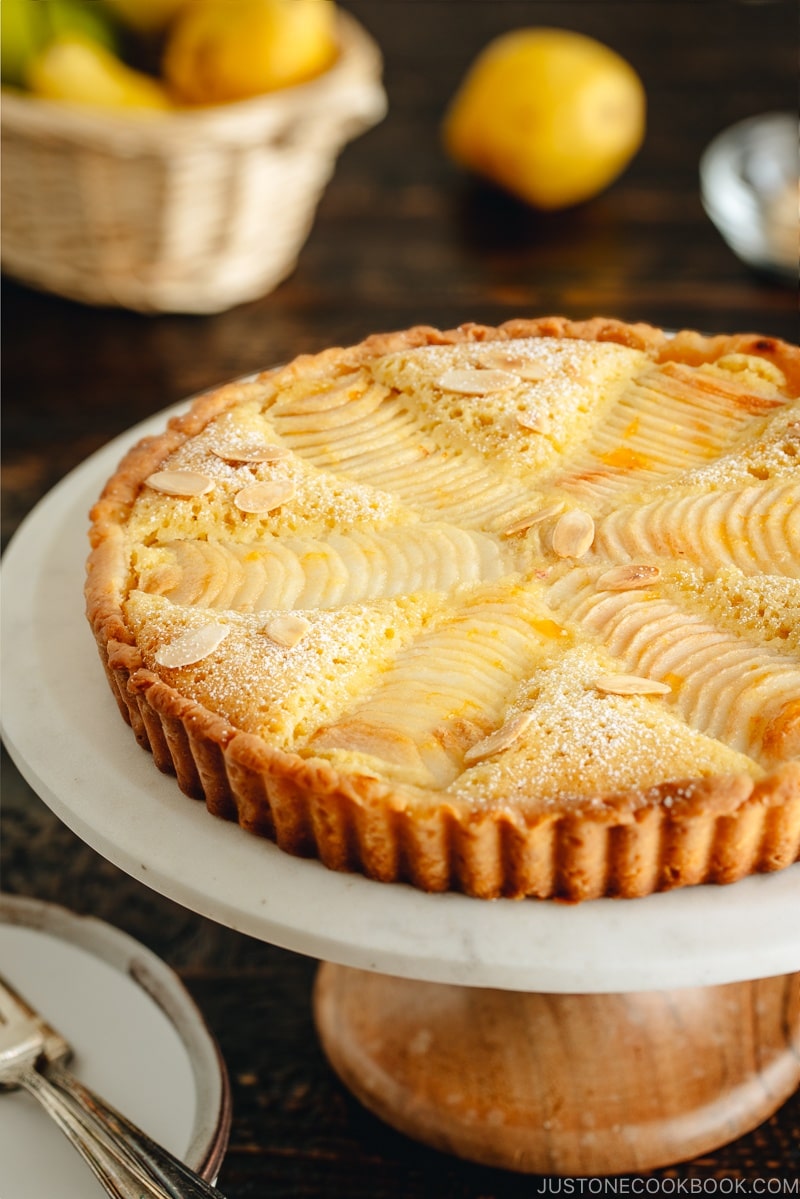 With Thanksgiving fast approaching, I'd like to share one of our favorite fall dessert recipes using seasonal fruits; and that's Pear Almond Tart or Pear Frangipane Tart (洋梨のタルト).
With homemade sweet tart crust and seasonal pears on top of the creamy and delicious almond cream filling, this tart is an excellent dessert to enjoy at tea time or after a meal.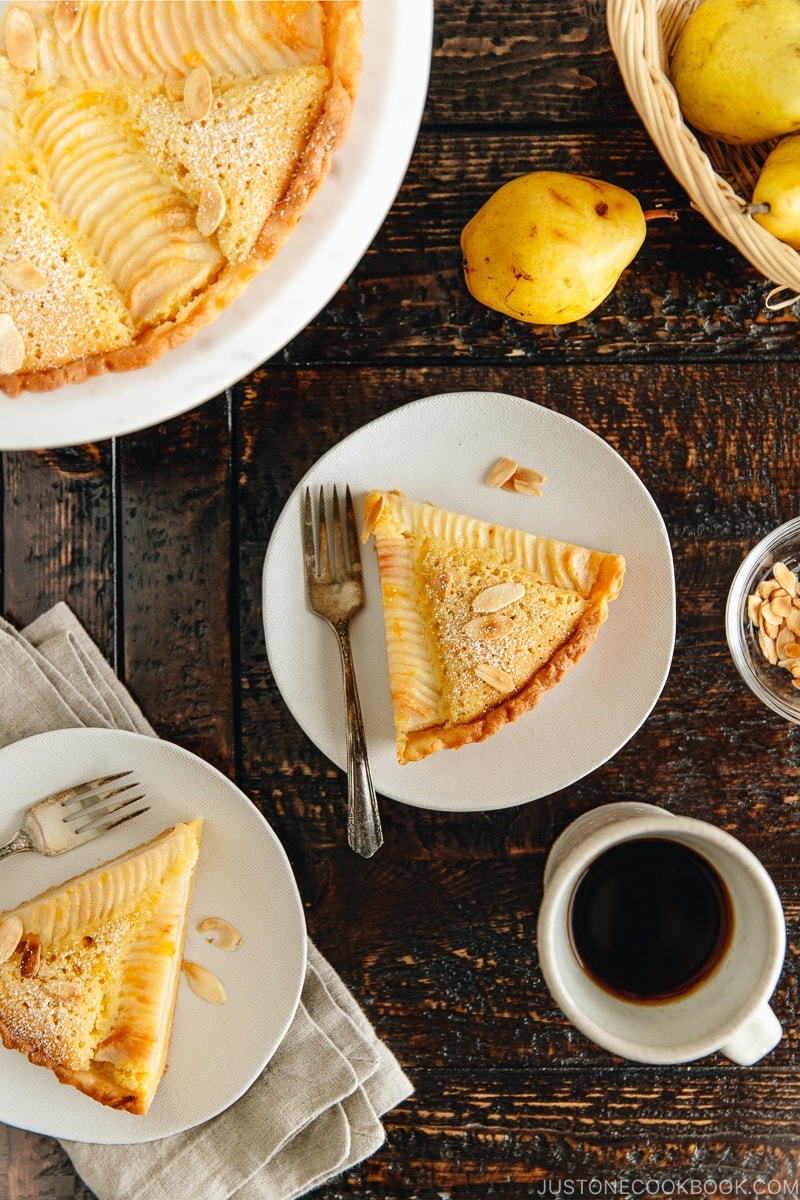 3 Easy Steps to Make Pear and Almond Tart
This tart requires 3 steps. The best part about this dessert is that you can prepare a tart crust and almond cream filling much ahead of time (not just a day before). So if you're making this tart for Thanksgiving, plan out how much time you will need for other savory dishes and make a time window to make a tart crust and almond cream filling.
Step 1: Make Homemade Sweet Tart Crust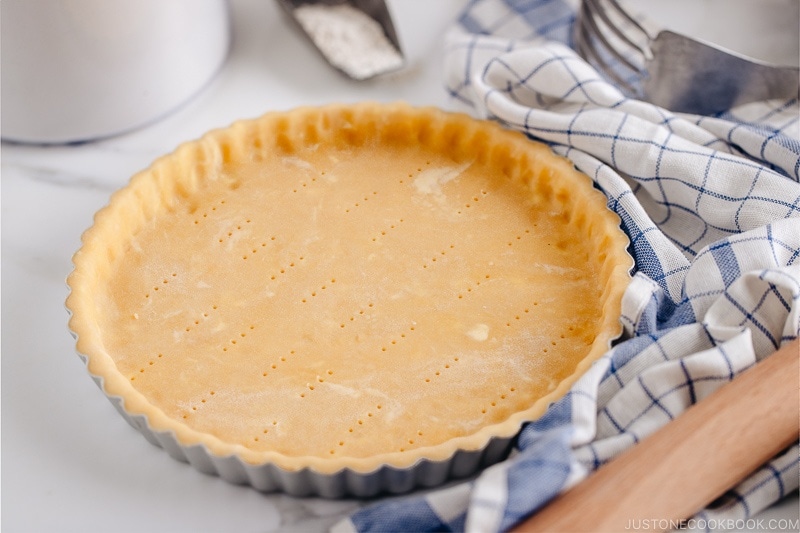 Wait, do we have to make a tart crust from scratch? Yesssss! Well, you don't have to, if you want to save time and use a store-bought tart crust. But if you never made a homemade tart crust before, let me persuade you to make one with me today, at least once!
Imagine this. When you eat a tart from a good pastry shop, you wonder why it's so delicious. I believe half of the deliciousness comes from those buttery, crumbly, cookie-like crusts (and the other half is the filling). This homemade tart crust tastes so much better than a store-bought tart shell that you'd swoon over by it. Trust me, it is totally worthy of your time to make a homemade tart from scratch.
At this step, we prepare the pastry dough and then partially bake the tart crust before filling it with the almond cream mixture. If you're ready to read the process, hop over to my Sweet Tart Crust recipe with detailed step by step pictures.
Step 2: Make Almond Cream (Frangipane) Filling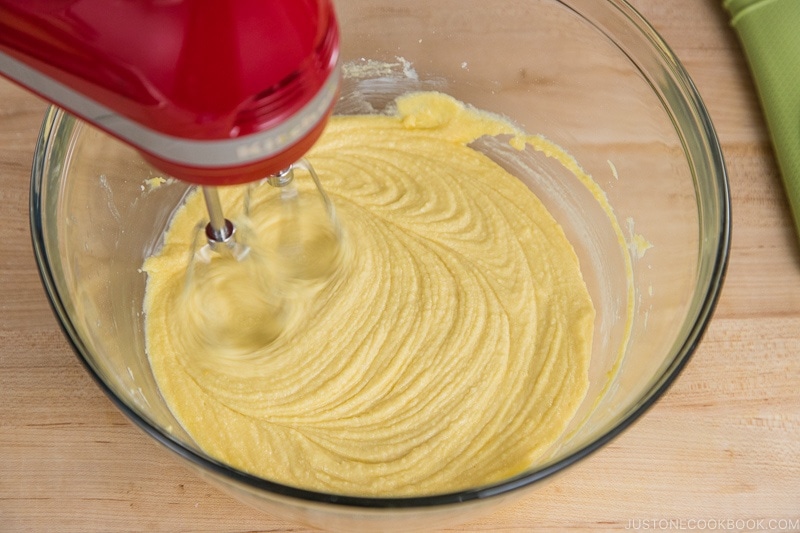 Frangipane (or frangipani in Italian, crème frangipane in French) is an almond-flavored sweet pastry cream used as a filling in tarts, cakes, and assorted pastries. It is made of creamed butter, sugar, eggs, and finely ground almonds.
This step is really easy peasy, and the greatest advantage is you can make it ahead of time (3 days prior to baking)! So whenever you have time, you can prepare it and store in the refrigerator. I find it so convenient when you are multi-tasking, especially during the crazy Thanksgiving week.
Step 3: Assemble and Bake!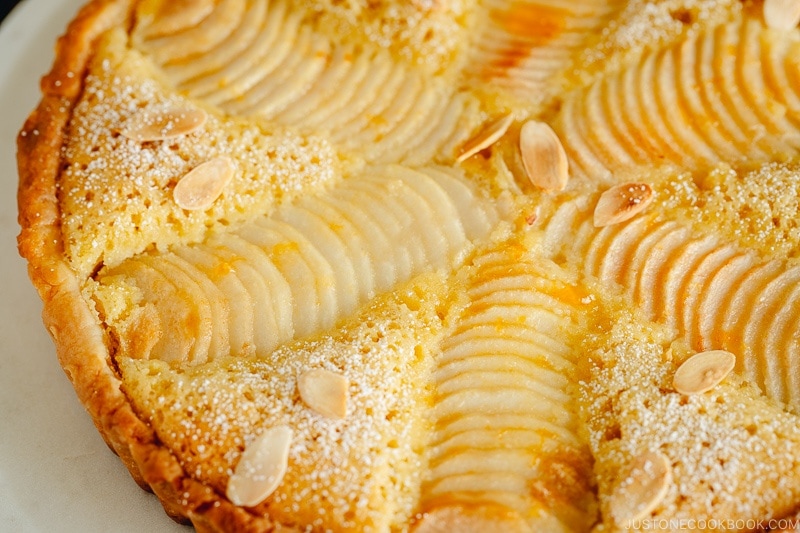 The final step comes down to an assembly of the sweet tart crust, almond cream, and fresh pear slices and the baking in the oven. Your kitchen would start smelling so amazing with the delicious Pear Almond Tart being made in the oven!
Best Kinds of Pears for Pear and Almond Tart
The best pears for Pear Almond Tart are Bartlett and Anjou. Barlett pears start arriving at farmers markets and your grocery stores in late summer. They're soon followed by Bosc and Comice which are in season in the fall through winter. Then Anjou, which is a winter pear. Get Barlettt or Anjou for this tart recipe depending on the season you're making.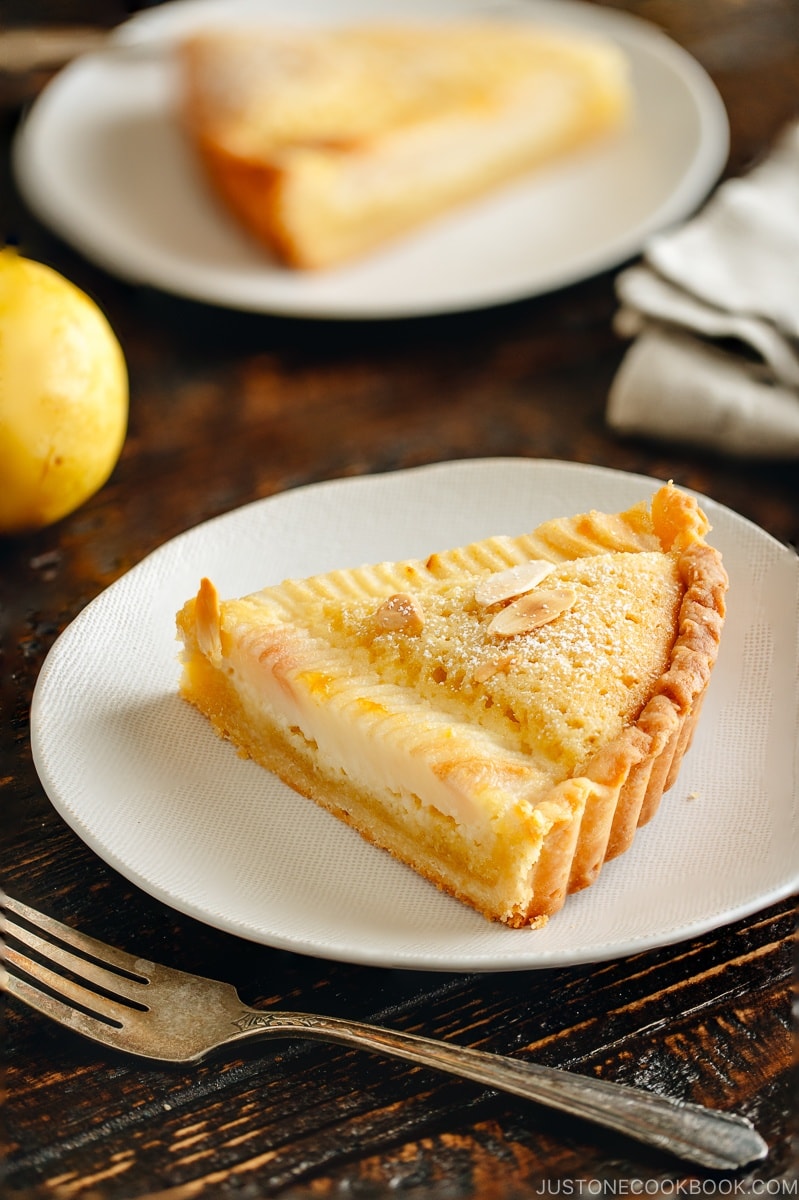 Almond Flour & All Purpose Flour from Bob's Red Mill
This post is sponsored by Bob's Red Mill®. I couldn't be any more thrilled when I get to work with Bob's Red Mill® to develop this Pear and Almond Tart recipe.
As an employee-owned company, Bob's Red Mill® uses high-quality whole grains to satisfy all vegan, paleo, and gluten-free friendly cooking and baking needs. From almond flour, cake mixes, coconut flour to various grains, it offers the largest lines of organic, whole grain foods in the country. You can be assured that all of its products are certified Kosher and made with ingredients grown from non-GMO seeds. If you're curious, you can go to the website and learn more about the founder, Bob Moore and his mission too.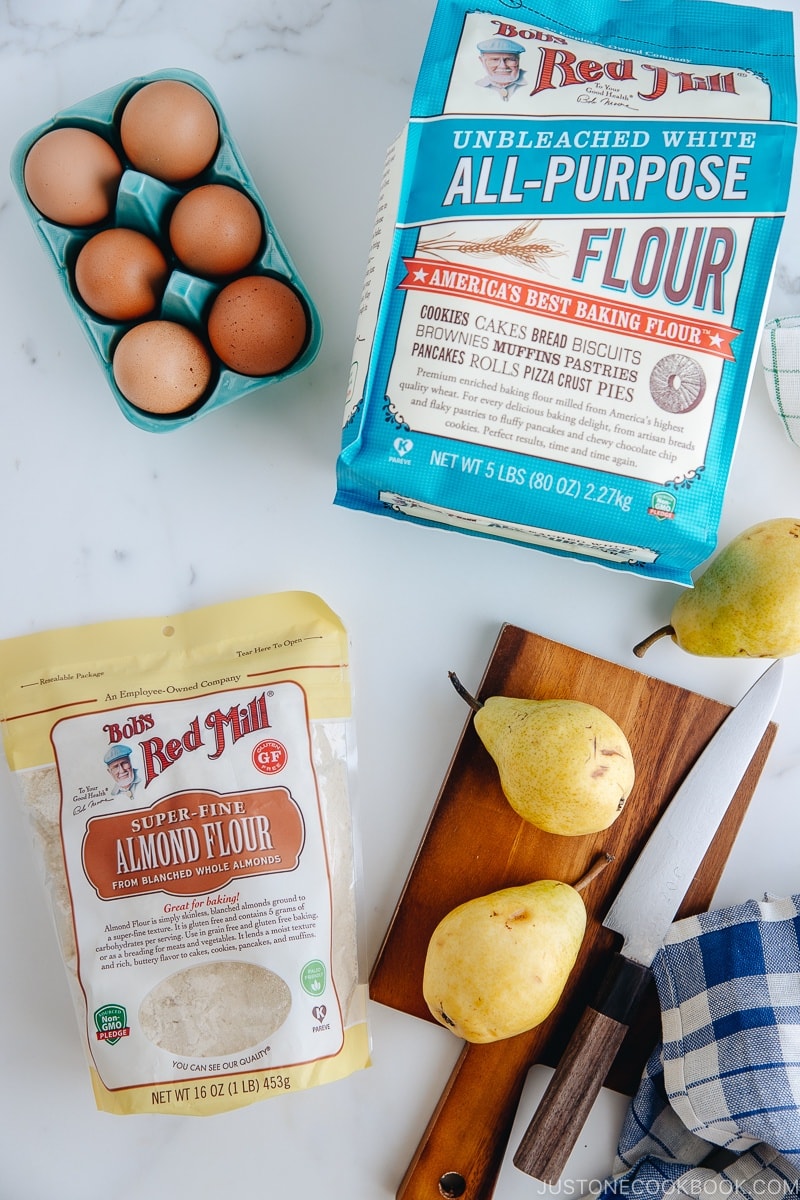 To achieve the perfect texture for the Pear Almond Tart, I used Unbleached White All-Purpose Flour and Super-Fine Almond Flour from Bob's Red Mill®. Because it is sifted to a very fine texture, their flours are fantastic for all baked goods.
The All-Purpose Flour is unbleached, unbromated, enriched baking flour milled from the highest quality North American wheat. The Super-Fine Almond Flour is made from the finest California-grown almonds, which have been blanched and ground to a fine meal that is ideal for gluten-free baking.
You should be able to find their flours at any major grocery stores. Alternatively, you can also buy it on Amazon.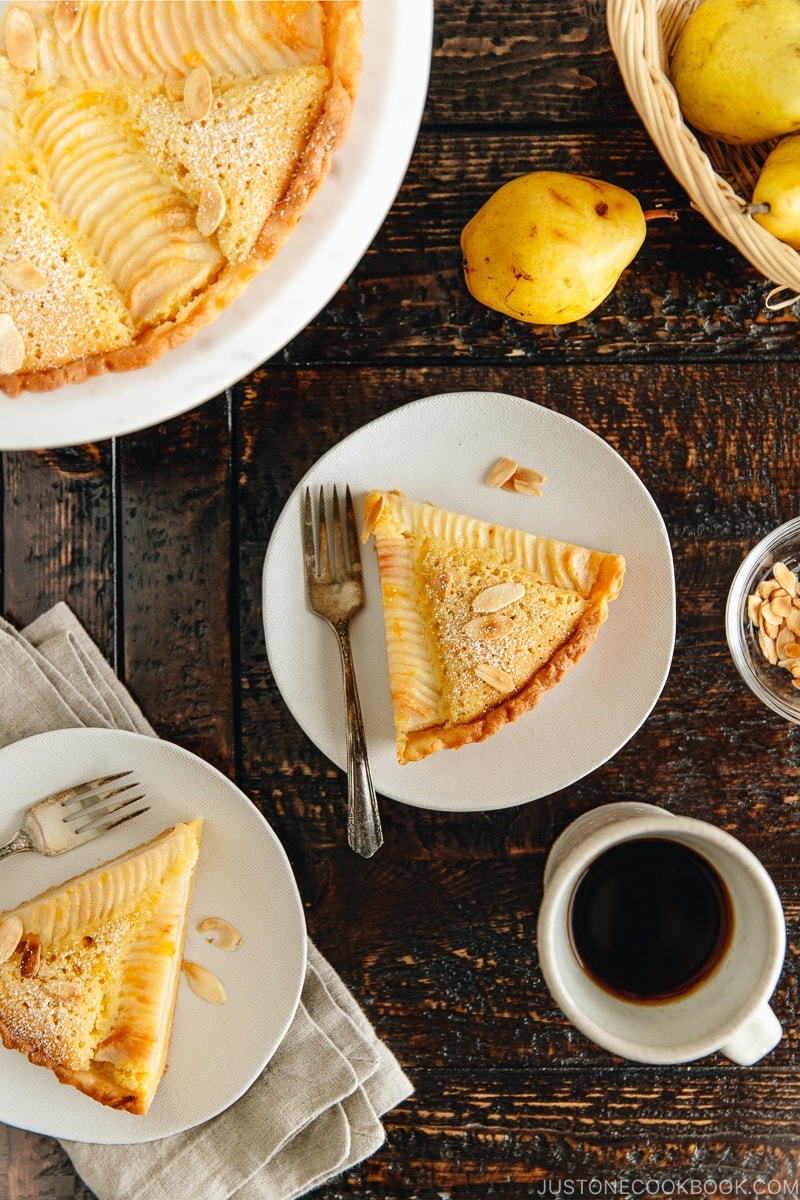 Behind the Scene Side Note:
On the day when we had to photoshoot this Pear and Almond Tart, I've noticed that my favorite anodized aluminum tart pan was missing. I discovered later on that it fell behind the stacked cake pans in the cabinet above my refrigerator, but being 5 feet tall, the pan escaped my sight completely.
So I had to bake this pear and almond tart in my non-stick tart pan, which I don't have a good relationship with. Despite using the exact same recipe, my tart crust tends to shrink when it's baked in it (cursed!).
You can see the same sweet tart crust baked in the non-stick tart pan (shown in this Pear and Almond Tart recipe) and in the anodized aluminum tart pan (shown in my Sweet Tart Crust recipe).
Despite the minor kitchen mishap, the tart still tastes heavenly. The sweet filling and the homemade buttery crust are all that made the difference. If you're looking for a show-stopper dessert for your holiday table this year, you want to make this Pear and Almond Tart.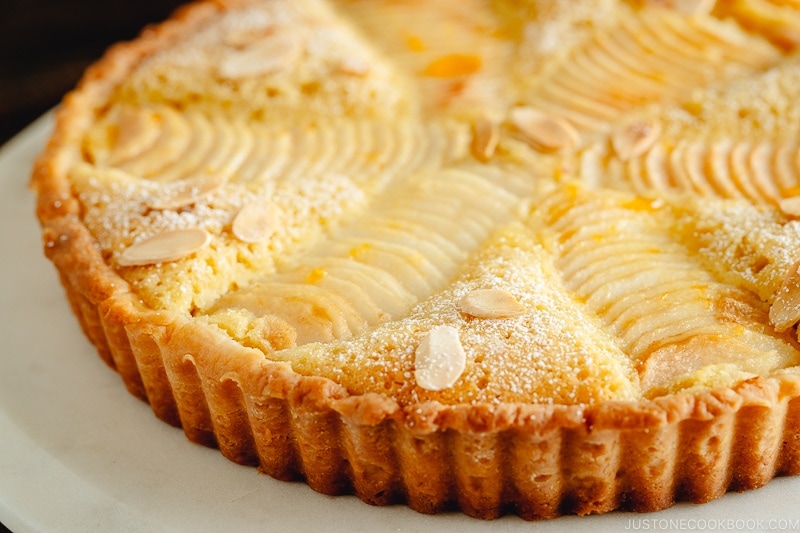 Don't want to miss a recipe? Sign up for the FREE Just One Cookbook newsletter delivered to your inbox! And stay in touch with me on Facebook, Pinterest, and Instagram for all the latest updates.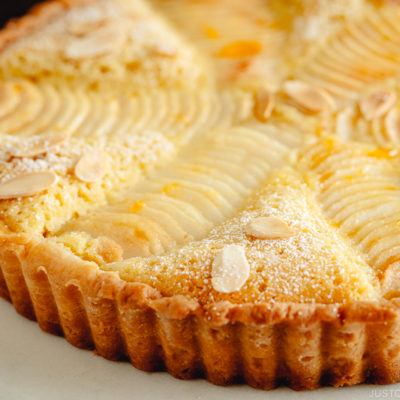 Pear and Almond Tart
It may look fancy, but this French-style Pear and Almond (Frangipane) Tart is easier to make than you'd think. It's an elegant dessert to serve at your next party.
Servings:
1
9-10 inch (23-25 cm) tart
Ingredients
1

Homemade Sweet Tart Crust

(9–10 inch, 23–25 cm)

½

cup

unsalted butter

(

1

stick,

8

Tbsp; at room temperature)

1

cup

confectioners' sugar

(or substitute

½

cup,

100

g granulated sugar)

1

cup

almond flour

2

Tbsp

all-purpose flour (plain flour)

2

large eggs (50 g each w/o shell)

(at room temperature)

1

tsp

pure vanilla extract

1

Tbsp

rum

(optional)

1

tsp

almond extract

(increase to

1½

tsp if you skip the rum)

3

Bartlett or Anjou pears

(use smaller ones possible; You can use canned pear halves instead. Drain the canned pears and dry them well before using them.)

½

lemon

3

Tbsp

apricot jam

1

tsp

confectioners' sugar

(for sprinkling)

1

Tbsp

sliced almonds

(for sprinkling)
Japanese Ingredient Substitution:
If you want substitutes for Japanese condiments and ingredients, click
here
.
Instructions
To Make the Sweet Tart Crust
Make

1 Homemade Sweet Tart Crust

that's "partially baked" by following this step. You can make the tart crust ahead of time.
To Make the Almond Cream Filling (Frangipane)
Gather all the ingredients. Make sure to take out the butter and eggs from the refrigerator and keep at room temperature. If the eggs are too cold when you add to the mixture, they reduce the temperature of the butter, making emulsion more difficult. Adding the eggs all at once also inhibits emulsion, and results in that scrambled egg appearance. You can soak the cold eggs for 5 minutes in warm (not hot!) water, but it's best to take out both butter and eggs out from the fridge earlier.

In a large bowl, cream the softened

½ cup unsalted butter

.

Add

1 cup confectioners' sugar

and mix well until the mixture resembles a coarse meal.

Add

1 cup almond flour

,

2 Tbsp all-purpose flour (plain flour)

, and

¼ tsp Diamond Crystal kosher salt

, and mix well.

Add

2 large eggs (50 g each w/o shell)

one at a time and incorporate into the mixture.

Add

1 tsp pure vanilla extract

,

1 tsp almond extract

, and

1 Tbsp rum

.

Whisk until homogenized and smooth. The almond cream can be kept refrigerated for up to 3 to 5 days or frozen for weeks.
For the Assembly
Preheat the oven to 375ºF (190ºC). For a convection oven, reduce cooking temperature by 25ºF (15ºC). Melt

3 Tbsp apricot jam

and

1

Tbsp water in the microwave for 10 seconds until liquified. Apply the jam on the base of the cooled pastry case to prevent soggy bottom. Reserve the jam for later. Fill the baked tart crust with almond cream, smoothing out to the edges with an offset spatula, and refrigerate for 30 minutes to set.

Meanwhile, peel

3 Bartlett or Anjou pears

, cut each in half lengthwise, and scoop out cores.

Cut each half crosswise into ⅛-inch (3-mm) slices. Squeeze the lemon and rub the pears with the juice from

½ lemon

to prevent browning.

Take out the tart crust from the refrigerator. Gently press each pear half to fan out toward the stem/top side. Slide the knife under pears and transfer to the almond filling.

Arrange the top with points facing in and pears fanning out toward the center. Make sure to space pears out so they are not touching, as the filling will puff up and they need room to expand.
Bake the Tart
Bake the tart at 375ºF (190ºC) until golden brown or the bamboo skewer inserted into the center of filling comes out clean, about 40–45 minutes.

Remove the tart from the oven and let cool in the pan on the wire rack. Brush the pears with the leftover apricot jam. Once it's cool, carefully unmold the tart.

Toast

1 Tbsp sliced almonds

in a frying pan (no oil) until golden, about 5 minutes.

Sprinkle

1 tsp confectioners' sugar

and toasted almond slices on top, if desired, and serve slightly warm. Cut into wedges and enjoy!
Storage
The tart can be stored in the refrigerator up to 3 days. Slightly reheat the tart before serving.
Nutrition
Nutrition Facts
Pear and Almond Tart
Amount per Serving
% Daily Value*
* Percent Daily Values are based on a 2000 calorie diet.
©JustOneCookbook.com Content and photographs are copyright protected. Sharing of this recipe is both encouraged and appreciated. Copying and/or pasting full recipes to any website or social media is strictly prohibited. Please view my photo use policy
here
.