Restaurant Review: Robataya New York. This rustic Japanese joint in New York serves up authentic Japanese grilled dishes with high quality ingredients and minimal flavoring.
As you walk up and down streets lined with restaurants in Japan, there are assortments of choices to pick from. From wafu style pasta to tonkatsu to shabu shabu, the choices are simply endless. Of all the restaurants' types, one of my favorites is robatayaki (炉端焼き) style cooking. There is something magical about delicious fresh ingredients being grilled on top of charcoal that makes it tastes amazing.
When I was in NY last year and was talking to our friend about dinner suggestions, he recommended Robataya NY (炉端や) as a unique experience. It's quite popular so we were lucky to make a reservation that evening as someone had canceled.
The exterior is nondescript but the interior of the restaurant is intriguing as you walk in. There are two main dining areas, one in the front where it's bar counter in a large half-circle shape. In the back, the scenery is set up like a Japanese farmhouse, with bamboo decorations and dark wooden structures throughout.
At the bar counter, in front of where the patrons sit you see various vegetables on plates as well as an eclectic collection of fish and meat being kept cold on ice. Behind the produce and ingredients, there are two chefs sitting next to each other who prepare all the grilled dishes the customers order. If you do decide to visit Robataya, definitely try to get a seat at the counter.
To grill the produce, the chef digs out the fresh ingredient with a long wooden paddle and after cooking, delivers your plate to you on the paddle. They work the entire evening preparing food kneeling on their knees, and hidden from the customer's view in front of the chefs is robata grill where they cook the food. As I observe them preparing each dish, it's amazing how proficient they are with their knife skills. Expertly preparing, slicing, and grilling different ingredients as the orders come in.
I had the Robataya Course for $58/person, which I thought was reasonable for NYC where everything seems to cost more. The course came with an appetizer plate, sashimi, dish of the day, grilled vegetables, a meat dish, a fish, kamameshi rice, and miso soup. It does not include dessert.
All the dishes that were served at Robataya are typical Japanese style, small portions but each with different taste and texture. The appetizer was made up of three contrasting flavors and ingredients. The eel, chicken roll, and bamboo shoot in bonito flakes all had unique taste and texture that sets them apart. The sashimi wasn't special but was definitely fresh and well presented on the dish with decorations. Our first grill dish was eringi mushroom, eggplants, and shishito peppers. The veggies were grilled perfectly and infused with charcoal cooking's unique essence.
For the main course, the black cod with saikyo miso (gindara saikyo yaki) with was velvety and melted in your mouth. The meat dish was grilled beef fillet and tsukune (chicken meatball). Tsukune was a bit on the salty side but both dishes were grilled just right and palatable. The other dish was "today's dish" – deep fried fish surimi wrapped in yuba sheet (a type of tofu skin). I like yuba so this was a nice surprise.
And finally, we were served the kamameshi which I looked forward to the most. For the kamameshi, Robataya used really good rice which I appreciate. I was looking forward to slightly crispy rice on the bottom and was a bit disappointed to not find any. The crab kamameshi was savory and all the aroma from the crab was absorbed and infused into each kernel of rice. I love ikura and salmon combo I so paid extra $16 for the salmon ikura kamameshi, it was good but I would save the $16 and just eat it in a sushi restaurant instead.
Dessert was not included in the course menu, so I ordered mochi ice cream and matcha oshiruko with shiratama dango and chestnut. The oshiruko was not so sweet and it was wonderful to end the meal. I hope to make it at home one day.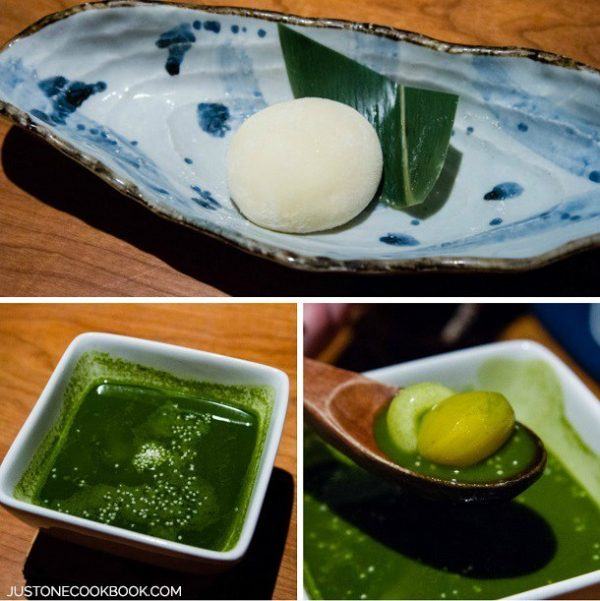 After eating at Robataya, I went to read the Yelp reviews and realized there were many signature dishes I didn't get to try on the course menu. I wished they had included at least some of those on the tasting menu.
I love the quality of ingredients at Robataya and am impressed with the skills of the chefs behind the robata grill. The focus on grilling great ingredients with minimal flavor is the essence of Japanese cooking. It's fun to watch your food being prepared and it tastes great as well,  I look forward to going back to try more dishes at Robataya. For more images of Robataya, please click here on their site.
Full Disclosure: Just One Cookbook was not compensated by Robataya and all opinions are my own. The price and menu at Robataya were based on my visit in December 2013.