Originated in Sapporo, Hokkaido, a northernmost island of Japan, Soup Curry is a light curry-flavored soup served with fall-off-the-bone chicken and colorful vegetables that are flash-fried to give the vibrant colors. It's relatively a new addition to the popular Japanese curry scene.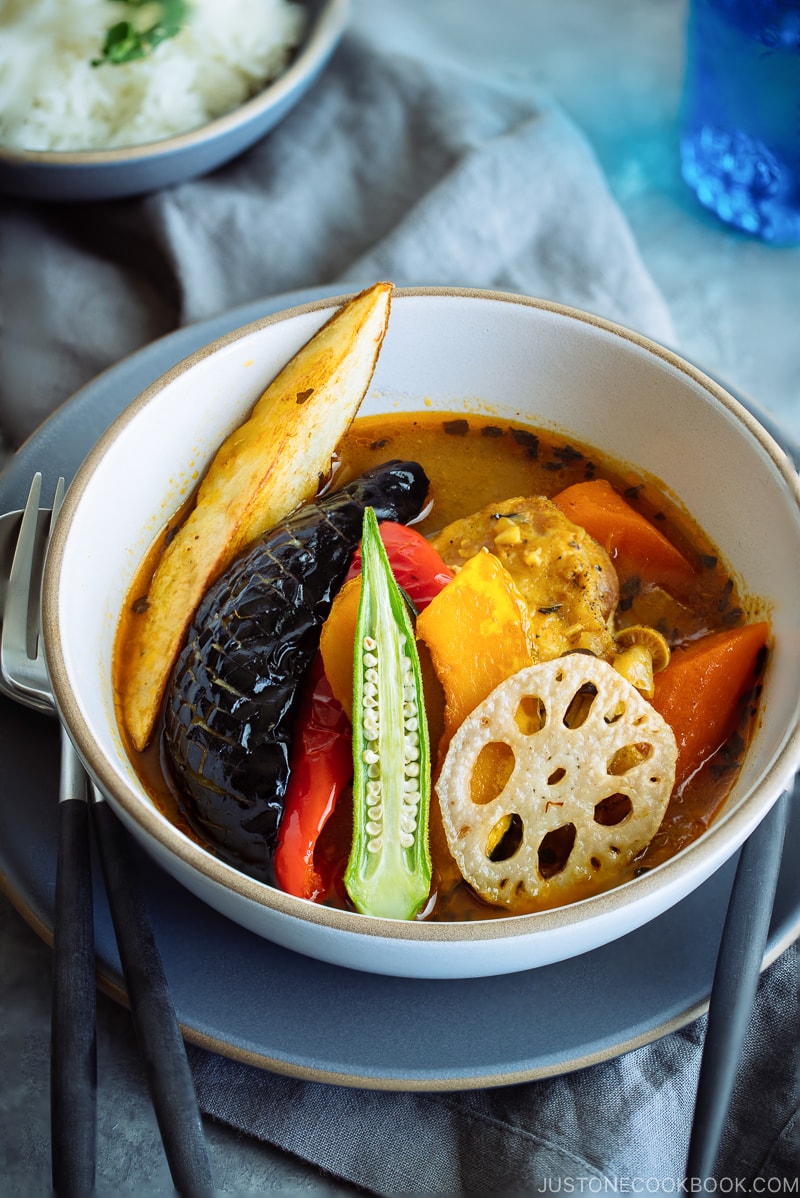 Most notably known as the birthplace of the oldest beer in Japan, Sapporo, the capital of Hokkaido, is also a food lover's paradise. You can find incredibly fresh seafood, seasonal vegetables from local farms, and high-quality dairy products, all of which contribute to its thriving food scene.
Aside from the famous soft-serve ice cream, snow crab, and jingisu kan (barbecue-style mutton dish), another local specialty that any visitors to the snowy city must-try is Soup Curry (スープカレー). Served piping hot and filled with nutritious ingredients and flavorful spices, this amazing curry dish is one of the best cure-alls on a cold, snowy day, or any day when your curry craving hits.
What is Soup Curry?
The original soup curry was firstly created by a cafe in Sapporo in the early 70's. Inspired by a Chinese/Korean medicinal soup and curry from Indonesia, Thailand, Sri Lanka, and India, it was a clever adaptation of all these different influences with local elements in mind. By 2000's, more specialty shops started popping up everywhere in Sapporo and soup curry became Sapporo's new signature dish.
The typical soup curry consists of the following: a light curry flavored soup, chicken leg, and non-battered deep-fried vegetables ("suage"-style, 素揚げ) such as eggplants, potatoes, carrots, bell peppers, okra, and kabocha squash. Unlike the typical Japanese curry, steamed rice is always served separately. You scoop up the rice and then dip into the soup curry to enjoy together. When you're almost done with the rice, you transfer the remaining rice into the soup curry and enjoy the last bits together.
With so much vibrancy and comfort that comes with the curry, it is no wonder the locals go wild about it. There's no better way to keep you through the long winter nights with this restorative dish.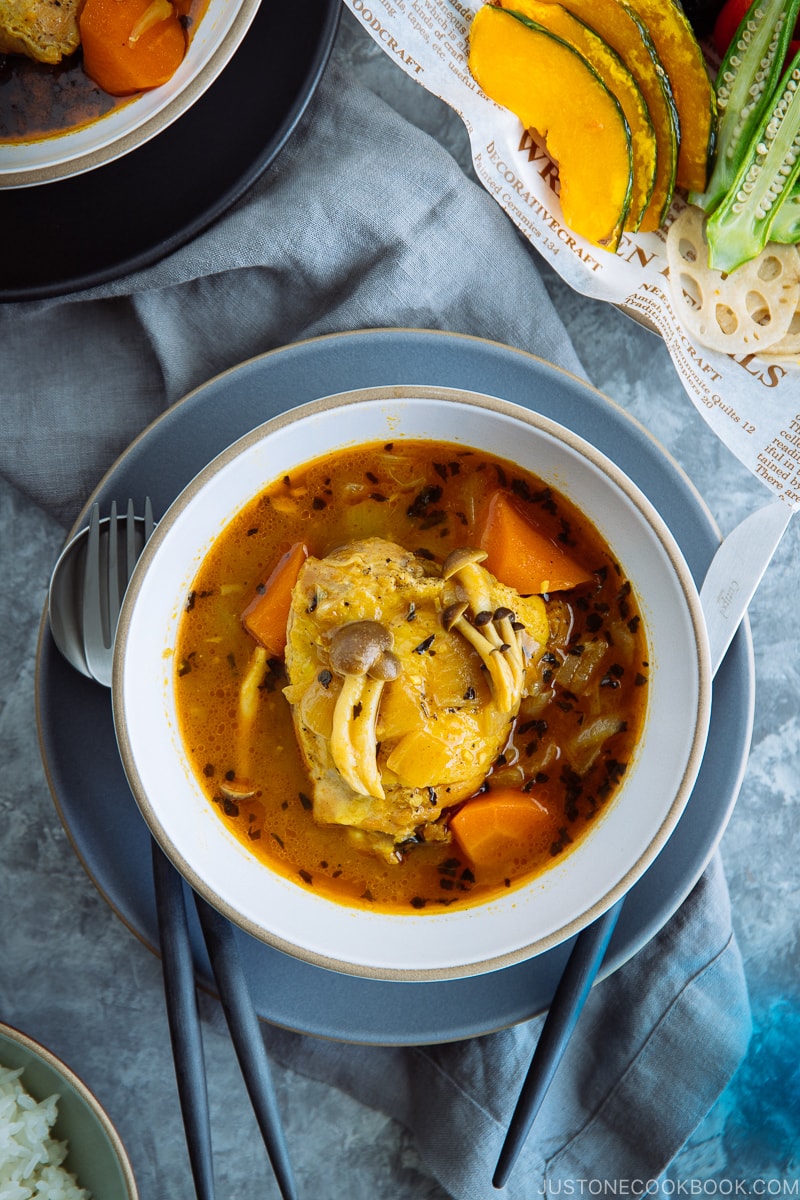 5 Key Points for Soup Curry
1. Soupy
As the name suggests, soup curry is soupy – it's thin and watery, not thick like the regular Japanese curry.
2. Layers of spices
When Japanese make curry, we rely on the store-bought curry roux like this. However, for soup curry, you add more spices like curry powder, garam masala, basil, etc. The fun part of this recipe is you can create your own spice blend for the soup curry and easily adjust to your own likings. My friend who helped me create this recipe uses honey and mango chutney. My kids and I love these additions in our soup curry as well.
3. Colorful and Chunky Ingredients
Soup curry has very colorful and chunkier vegetables as you don't cook them in the curry with meat and stock. Instead, vegetables are deep fried without batter (Japanese "su-age" technique) and served on top of the curry at the end. More about "su-age" technique later.
4. Varying Textures
You get to enjoy fall-off-the-bone chicken, tender carrots, and crisp deep-fried vegetables all in one bowl. The varying textures add a distinctive presentation and enjoyment to the curry dish.
5. Rice is Served Separately
Unlike a typical Japanese curry, steamed rice is served in a separate bowl or a plate.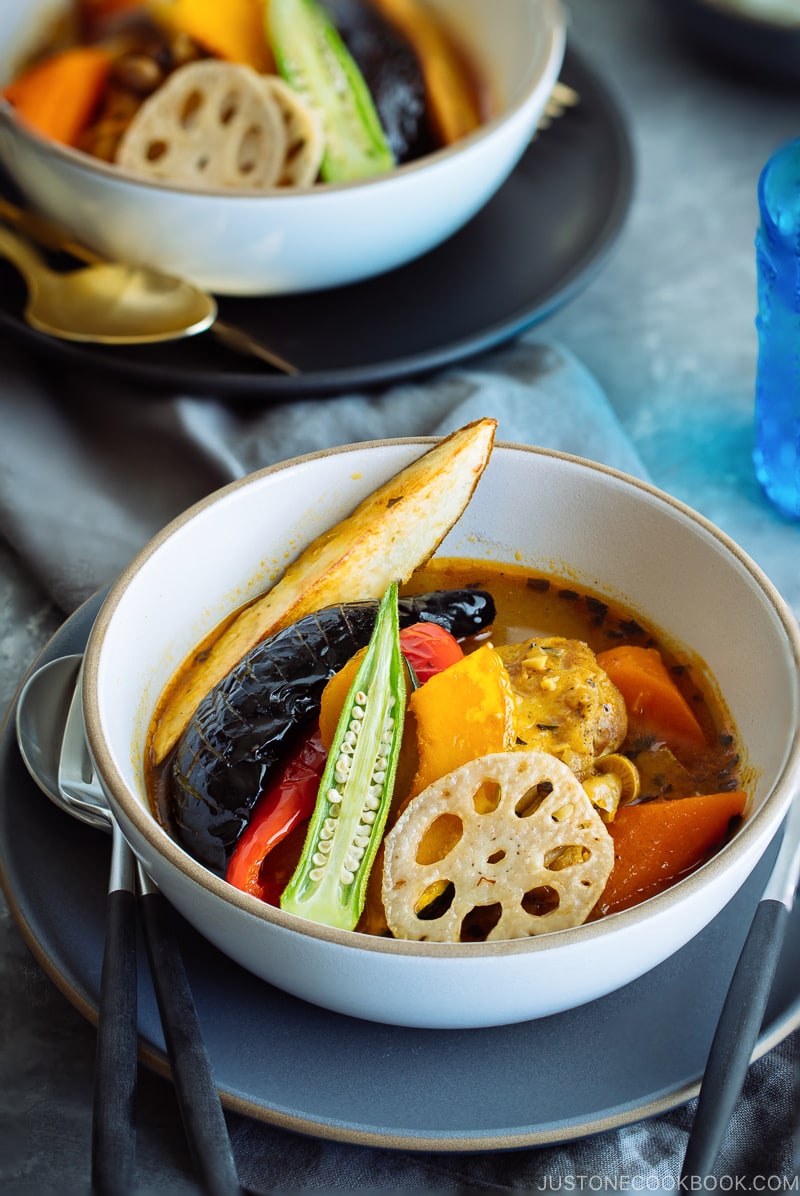 What is Su-age (素揚げ)?
Su-age is basically flash fry without coating any flour or batter. Su means natural or uncoated in this case and age (pronounce a-geh) means deep frying. Cooking time varies from 30 seconds (bell peppers) to 3 minutes (potatoes).
This traditional Japanese cooking technique is used to preserve or intensify ingredients' original flavors, vibrant colors, and shapes. I have used this technique in recipes like Eggplant Agebitashi and Sweet and Sour Chicken.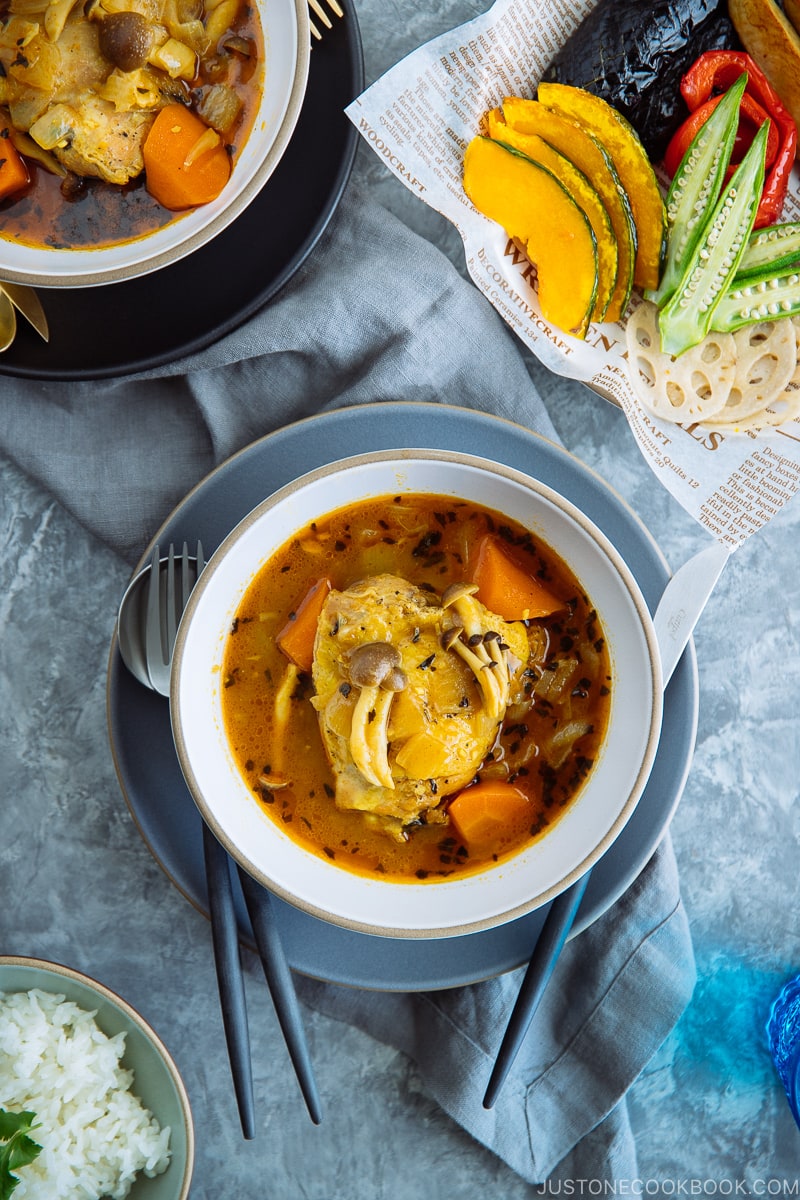 If you're using a pressure cooker, making the soup curry itself is a doable task. The flash-frying is where it takes a little longer time. You can choose to skip the deep-fried vegetables, but then again, who wants to miss out the best part of this delicious dish. So, if you're going to make this Sapporo-signature soup curry, go ahead and indulge yourself. It's totally worth the effort!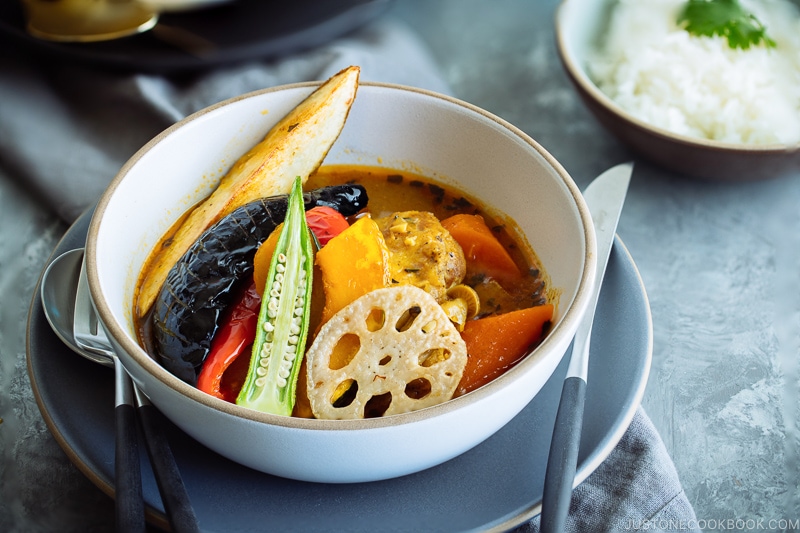 Wish to learn more about Japanese cooking? Sign up for our free newsletter to receive cooking tips & recipe updates! And stay in touch with me on Facebook, Pinterest, YouTube, and Instagram.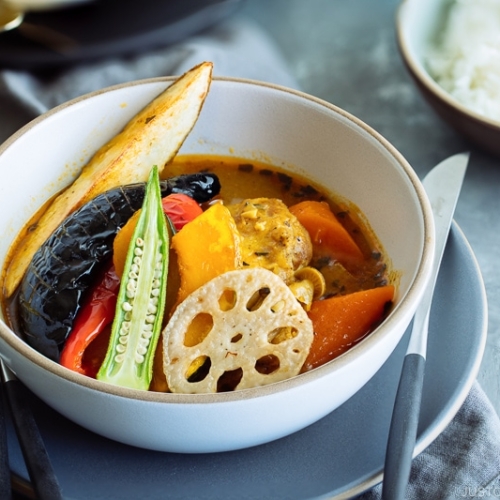 Sapporo Soup Curry
Originated in Sapporo, Hokkaido, a northernmost island of Japan, Soup Curry is a light curry flavored soup served with fall-off-the-bone chicken and colorful vegetables that are flash fried to give the vibrant colors. It's relatively a new addition to the popular Japanese curry scene.
Video
Ingredients
Japanese Ingredient Substitution:
If you want substitutes for Japanese condiments and ingredients, click
here
.
Instructions
To Make the Steamed Rice
Rinse and wash

2 rice cooker cups uncooked Japanese short-grain white rice

3 times and drain well. Place the rice and

water

in the inner pot of the cooker. Close the lid.

Select [Rice] using the [MENU] button and set the steam time to 8 minutes. Press the [COOK] button. When cooking is completed, warming will start. Fluff up the rice with a rice scooper. Tip: Adjust the cooking time and water according to personal taste.
To Prepare the Ingredients
Gather all the ingredients. Once we start cooking, we don't have time to measure, so make sure to prepare the seasonings ahead of time:

1 piece Japanese curry roux

,

1 Tbsp Japanese curry powder

,

1 tsp garam masala

,

1 Tbsp tomato paste

,

1½ Tbsp mango chutney

, and

1 Tbsp honey

.

Dice

1 onion

(it doesn't have to be perfect).

Cut

1 carrot

into small pieces. I recommend using the rangiri Japanese cutting method to increase the surface area. It'll help cooking evenly and faster, and absorbing more flavors.

Mince

3 cloves garlic

and grate

1 knob ginger

.

Discard the bottom of

1 package shimeji mushrooms

. Roughly separate the mushrooms into small clusters.

Pat dry

2.5 lb bone-in skin-on chicken thighs

with paper towels to remove any moisture. Season the chicken with

1 tsp Diamond Crystal kosher salt

and

freshly ground black pepper

.
To Stir-Fry
Set the cooker to [BROWNING FRY, level 6] for 30 minutes (you can add more minutes later on if you need extra time).

Heat

½ Tbsp extra virgin olive oil

and brown the chicken, skin side down, for 5 minutes each side, or until golden brown. Don't crowd the pot and brown the chicken in batches, if necessary.

After the bottom side is nicely brown, flip to cook the other side. Then, transfer the chicken to a plate and continue with the next batch. Set aside.

Add the diced onion and

1 Tbsp unsalted butter

. Add

¼ tsp Diamond Crystal kosher salt

. Sauté until translucent, about 7–8 minutes.

Add the garlic and ginger and mix all together.

Add the Japanese curry roux, the Japanese curry powder, and the garam masala. Give it a quick stir.

Add the tomato paste and sauté until fragrant.

Add the honey and mango chutney and mix all together.

Gradually add half of the

3 cups chicken stock/broth

, scraping the brown bits on the bottom of the pot. Transfer the chicken back to the pot.

Add the carrots, shimeji mushrooms, and the rest of the chicken broth.

Add

1 Tbsp dry basil

and

1 bay leaf

. Gently mix all together.
To Pressure Cook
Close the lid and set cooker to [MULTI COOK, level 9] for 35 minutes. For Instant Pot directions, see Notes.

Once the pressure cooking is done, open the lid and stir. Add

1 tsp Diamond Crystal kosher salt

and

1 tsp soy sauce

.

Taste and adjust the flavor.
To Deep-Fry the Vegetables (optional)
Lotus root: Thinly slice

2 inches lotus root (renkon)

and soak in water (or ideally in

2

cups water +

1

tsp of rice vinegar) for 10 minutes.

Bell pepper: Remove the seeds from

½ red bell pepper

and cut into

4

wedges.

Okra: Remove the hard corners from

2 okra

and cut in half lengthwise.

Kabocha: Thinly slice

2 oz kabocha squash

(cut in half if it's too big). If the kabocha is too hard to cut, microwave for 30 seconds or more if it's still hard.

Potato: Cut

1 russet potato

into

6–8

wedges and soak in water to remove starch for 10 minutes.

Eggplant: Right before deep-frying (otherwise it'll change color), cut

2 Japanese or Chinese eggplants

in half and cut the skin side in crisscross pattern. This creates a nice design and helps to absorb more flavors.

Make sure to remove moisture from all the vegetables with paper towel or kitchen towel before frying.

Add 1 cup neutral oil in a frying pan (I use a cast iron pan) or pot. Deep/shallow fry the vegetables at 350ºF (175ºC) and drain the excess oil on a paper towel or a wire rack.
To Serve
Serve the steamed rice in a small bowl or plate and the soup curry in a bowl. Top the soup curry with deep-fried vegetables. When you eat, pick up some rice with a spoon, and scoop soup curry. Enjoy!
To Store
You can keep the leftovers in an airtight container and store in the refrigerator for up to 3 days and in the freezer for a month.
Notes
Instant Pot users: Use [Saute] mode to brown the chicken.  Then for pressure cooking, set to [Manual, High Pressure] for 15 minutes. Make sure the steam release handle points at "sealing" and not "venting". Expect pressure cooking takes 10-15 minutes to reach pressure before the cooking program starts, and another 15-25 minutes to naturally release pressure. When the pot is ⅔ of the way full, I highly recommend natural release.
Nutrition
Nutrition Facts
Sapporo Soup Curry
Amount per Serving
% Daily Value*
* Percent Daily Values are based on a 2000 calorie diet.
©JustOneCookbook.com Content and photographs are copyright protected. Sharing of this recipe is both encouraged and appreciated. Copying and/or pasting full recipes to any website or social media is strictly prohibited. Please view my photo use policy
here
.