A must-keep Teriyaki Salmon recipe with an authentic Japanese homemade teriyaki sauce. Pair it with white wine for a relaxing weekday dinner.
Growing up in Japan, I enjoyed eating a variety of fish as Japan is surrounded by the ocean, and we eat as much seafood as meat for a source of protein in our diet.  Today I'm going to share with you an authentic Teriyaki Salmon recipe, and show you how the Japanese make it at home. Over here, salmon fillets are cooked in a frying pan until nicely browned but the meat is still tender and juicy. We then finish it off with a nicely glazed homemade Teriyaki Sauce.
Watch How To Make Teriyaki Salmon 照り焼きサーモンの作り方
Quick and easy teriyaki salmon recipe. Salmon fillet cooked until tender perfection in an authentic Japanese homemade teriyaki sauce.
Authentic Teriyaki Salmon
Although there are many "Teriyaki Salmon" recipes available on the Internet, I noticed most of the recipes are quite different from how the Japanese make it at home.  Here are the main differences:
No Teriyaki Sauce Bottle
In Japan, we do not have bottled "teriyaki sauce" like the ones you can find in grocery stores here in the U.S.  We always make teriyaki sauce for each recipe at home, and every family makes it slightly differently based on their preference and ingredients that they are using.  See more about authentic teriyaki sauce in the next section.
No Need To Marinate
One of the important essences in Japanese cuisine is to bring out the original flavor of the ingredients through cooking. We don't want to overwhelm the main ingredient(s) with spices and seasonings (except for some dishes, of course). For this recipe, we use sliced salmon fillet and it is very delicate. Therefore, we don't want to marinate the salmon with teriyaki sauce before cooking.
No Oven Cooking
I believe there are three reasons why we don't use the oven for cooking teriyaki salmon.
It's not common to use an oven for Japanese cooking, especially when it comes to traditional recipes.
Older Japanese kitchen doesn't have an oven, but most of the newly built homes come with an oven in the kitchen as many homemakers bake bread and baked goods at home in past 10-15 years.
In Japan, most salmon is cut thinly diagonally, therefore cooking time is fast and we don't need to put it in the oven to cook for a long time.
No Thick Cut of Salmon
In Japan, salmon fillet is sliced differently than in the US. Japanese fillets are cut diagonally and sliced thinner (about ½ to ¾ inch thickness) compared to American or western cut. If you buy salmon as a whole fish, you can fillet it the Japanese way.  It will cook faster and also absorb flavors quickly.
Authentic Teriyaki Sauce with 4 Ingredients
If you see teriyaki recipes in Japan, 99% of "teriyaki sauce" is made of 4 ingredients: soy sauce, sake, mirin, and optionally sugar.  The best way to start making teriyaki sauce is to use equal parts of soy sauce, sake, and mirin. If you need a bit more sweetness, just add sugar to your liking. That's the basic of teriyaki sauce.
Japanese cooking doesn't require so many condiments compared to other ethnic cuisines. However, two of the essential pantry items I highly recommend are sake and mirin. Japanese recipes use both of these condiments 90% of the time (have you noticed?).  You can't create authentic Japanese flavors without sake and mirin because they are essential to Japanese cooking.
Now if you can't consume alcohol, you can read substitution option in my sake and mirin pantry pages.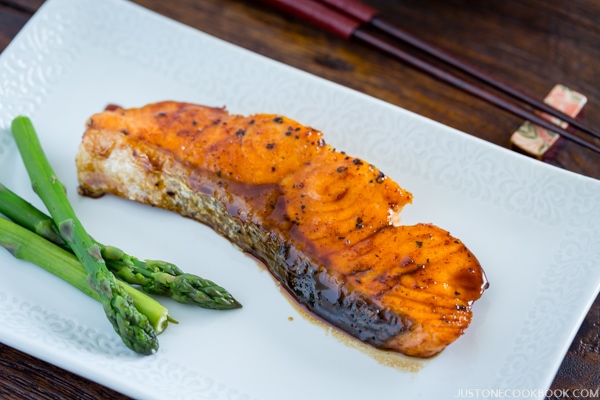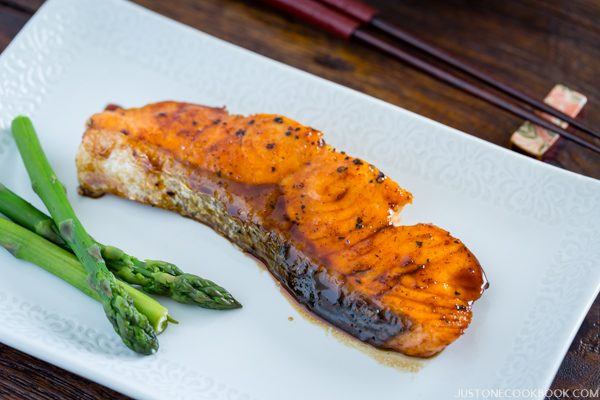 Salmon and Its Health Benefits
My family loves seafood, and we especially enjoy salmon because it is packed with omega-3 fatty acids which brings big health benefits!
Salmon is loaded with protein and the two omega 3s — DHA and EPA — that helps with brain, nerve and eye development. As the body can't make omega-3 fatty acids, the best way to obtain them is through the food we eat.
If you love salmon, you can try out my other salmon recipes which I share on my blog.  If you are not a salmon fan, you can always substitute this recipe with fresh seasonal fish (including white fish).
Pairing Teriyaki Salmon With Wine
For today's recipe, I paired it with 2014 Masi Masianco. We actually tried the 2012 vintage 2 years ago and we really enjoyed it.
After tasting the 2014, we're happy to share that the quality stayed consistent.  This particular wine is a blend of 2 grapes, Pinot Grigio and Verduzzo from 2 different vineyards and harvested at separate time.  This distinct mix offers a more complex palate compared to other Pinot Grigios.
As you smell it, you notice it's mature and full bodied for a white wine. After the first sip, the initial thoughts are soft and light, yet as you drink the wine you feel it becoming creamy. Quite an interesting change in character. Lastly, it has a refined dry finish and pleasantly not over sweet leaving your mouth refreshed. This wine contrasted very well with the teriyaki salmon and we recommend it for other seafood as well.
Make extra Teriyaki Salmon for Onigirazu next day!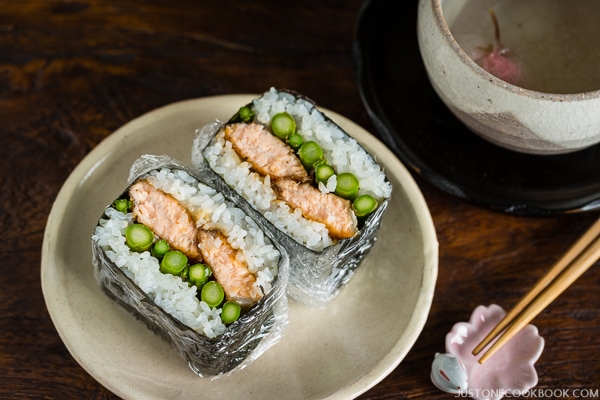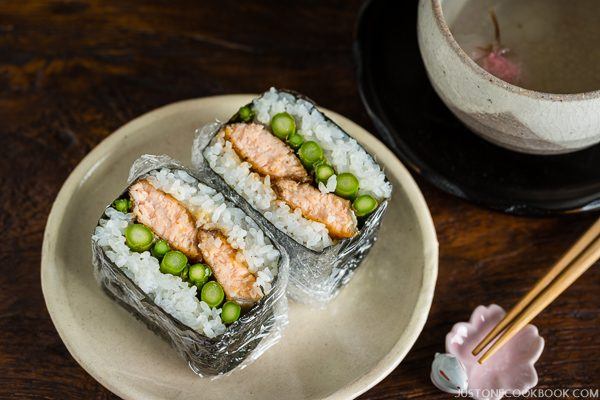 If you are interested in other Teriyaki recipes, check out 17 Teriyaki Recipes You Must Make at Home.
Don't want to miss a recipe? Sign up for the FREE Just One Cookbook newsletter delivered to your inbox! And stay in touch on Facebook, Google+, Pinterest, and Instagram for all the latest updates.
Teriyaki Salmon
A must-keep Teriyaki Salmon recipe with an authentic Japanese homemade teriyaki sauce. Pair it with white wine for a relaxing weekday dinner.
Keyword:
salmon teriyaki, teriyaki sauce
Ingredients
2

fillets

salmon with skin

(2 fillets = ½ to ¾ lb = 340 g) (1/2 to 3/4" thickness, skin will hold the flesh together while cooking)

1/4

tsp

salt (kosher or sea salt; use half if using table salt)

Freshly ground black pepper

1

Tbsp

all-purpose flour

(See Notes why using flour)

½

Tbsp

neutral flavor oil (vegetable, canola, etc)

1

Tbsp

unsalted butter

1

Tbsp

sake

(or Chinese rice wine or dry sherry)
Instructions
Gather all the ingredients.

Combine the ingredients for Seasonings and mix well until the sugar is mostly dissolved (or you can microwave for seconds). Rinse the salmon and pat dry. Season the salmon with kosher salt and black pepper on both sides.


Sprinkle 1/2 Tbsp. of all-purpose flour on one side of salmon and spread evenly. Flip over and sprinkle the rest of flour on the other side. Gently remove the excess flour.


In a frying pan, add the vegetable oil and melt the butter over medium heat. Don't burn the butter. If the frying pan gets too hot, reduce heat or remove from the heat temporally.


Add the salmon fillets, skin side on the bottom (this will be top when you serve). Cook the salmon for 3 minutes, or until the bottom side is nicely browned, and then flip.


Add sake and cover with lid. Steam the salmon for 3 minutes, or until it's cooked through. Remove the salmon to a plate.


Add the seasonings to the pan and increase the heat little bit. When the sauce starts to boil, add salmon back in the pan and spoon the sauce over the salmon.


When the sauce thickens, turn off the heat. Plate the salmon on a plate and serve immediately.

Recipe Notes
All Purpose Flour: By coating the fish with flour, we keep nice umami and juice inside. Also, the texture will get crispy and the sauce will be nicely coated.
Recipe by Namiko Chen of Just One Cookbook. All images and content on this site are copyright protected. Please do not use my images without my permission. If you'd like to share this recipe on your site, please re-write the recipe in your own words and link to this post as the original source. Thank you.
Editor's Note: This post was originally published on Apr 25, 2013.  The post is updated with a new video and images in May 2016.
Full Disclosure: We received 2014 Masi Masianco from Jarvis Communications free of charge to use in exchange for an honest review.  We received no compensation for the wine review.