Print Recipe
Jump To Recipe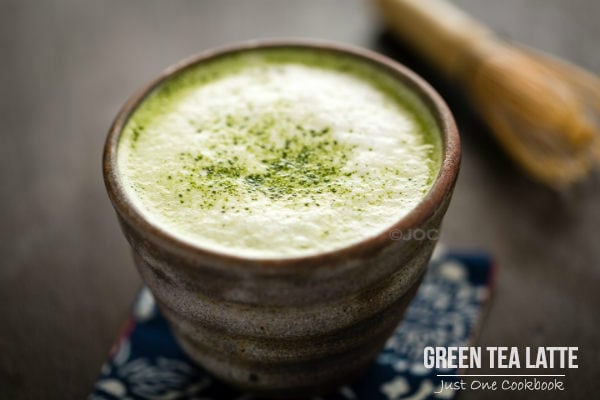 One of my guilty pleasures was to swing by Starbucks in the afternoon to get their Green Tea Latte (with just one pump of syrup!) before picking up my kids.  Usually by the afternoon, I've already had a few cups of coffee/tea/chai and I need something little sweet for my afternoon pick-me-up and green tea latte is just perfect.
However, recently I came to realize that I can actually buy 1-2 packages of good quality matcha green tea powder with the same cost as 2 cups of Green Tea Latte at Starbucks.  And with one package of matcha green tea powder, I can make many cups of my favorite latte.
The embarrassing part was that I have actually stocked up my pantry with many matcha green tea powder packages already!  Unlike espresso, we don't need any special machine to make this latte; all you need is milk and matcha green tea powder.
I love the slightly bitter and sweet taste of matcha, with a bit of sugar and blending in milk, it's just perfect.  These few days have been really cold in the bay area so it tastes extra good as I take slow sips of the warm latte from the cup.  You can easily make the iced version of the drink by using cold milk and adding ice for hot summer days.
To make nice foamy froth, I now use ZENPRO Milk Frother and I LOVE IT!  I used to use this $2 IKEA frother which works great too.  But if you make Green Tea Latte often like I do, the ZENPRO milk frother is definitely nice to have!  
If you are interested in this product, ZENPRO offers JOC readers 15% off discount code ZENPRO15 for all ZENPRO products!   It's a great chance! 🙂
However, if you don't care much about the froth on top of the latte, and it still tastes wonderful without it.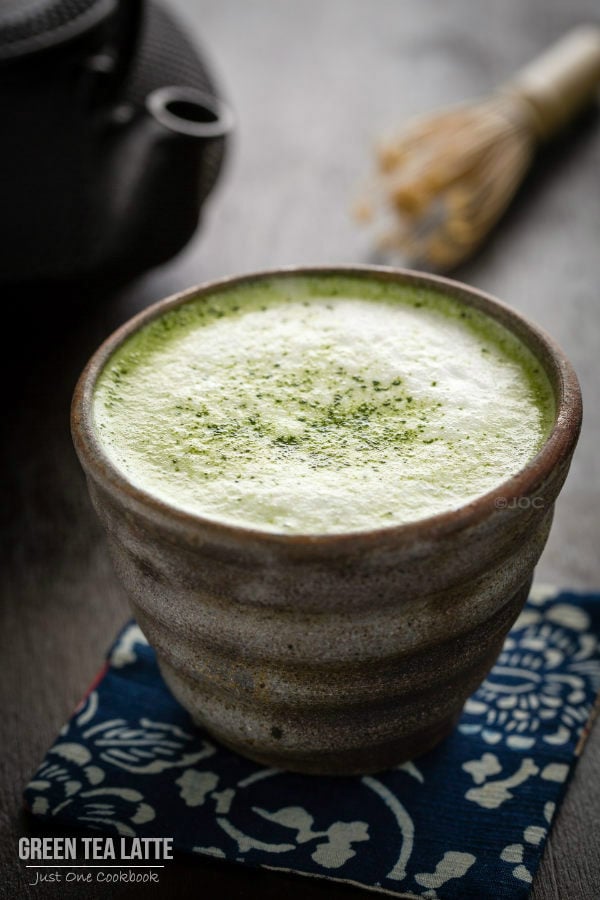 I made a video to show you how easy it is to make Green Tea Latte.  And please follow my YouTube channel if you haven't.  🙂
Don't want to miss a recipe? Sign up for the FREE Just One Cookbook newsletter delivered to your inbox! And stay in touch on Facebook, Google+, Pinterest, and Instagram for all the latest updates. Thank you so much for reading, and till next time!
Green Tea Latte
Ingredients
1½

tsp

matcha (green tea powder)

1

Tbsp

water

(hot water but not boiling water

1

cup

milk

(cows, almond, soy, etc)

1

tsp

granulated sugar

(optional)
Instructions
Gather all the ingredients.

Sift green tea powder into the cup to get rid of the lumps in the powder.


Add hot (not boiling) water and whisk briskly until powder is all dissolved. This prevents the tea having lump in it so do not skip. The green tea paste should be smooth and foamy. I use a frother but you can also use a small regular whisk or chasen (bamboo whisk used for Japanese tea ceremony).


Add milk and sugar in a small saucepan. Heat the milk over medium heat until small bubbles start to appear around the edge of the saucepan. Do not bring the milk to full boil. Turn off the heat. (Or use cold milk for iced latte)


Froth the milk until foamy, about 10 seconds with a frother. If you don't have a frother, you can skip.


Add the hot milk and foam in the cup and dust the green tea powder on the top. (Add ice for an extra cold iced latte).

Recipe Notes
My frother is from IKEA. It was $2.50 and it works great!

Recipe by Namiko Chen of Just One Cookbook. All images and content on this site are copyright protected. Please do not use my images without my permission. If you'd like to share this recipe on your site, please re-write the recipe in your own words and link to this post as the original source. Thank you.