Print Recipe
Jump To Recipe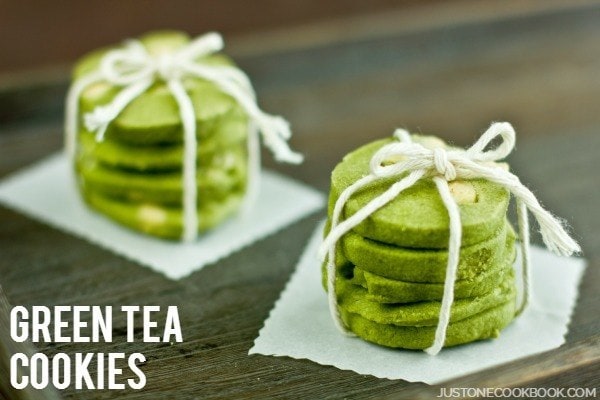 When I saw my foodie friend Anh's Matcha and White Chocolate Cookies post on her blog A Food Lover's Journey last month, I knew I needed to make it.  I love both traditional and modern Japanese sweets that contain sweet red bean paste or/and matcha (green tea).
I was not only excited to eat these cookies, but I was also looking forward to taking pictures of cookies for the first time.  I have seen how all the food bloggers take pictures of cookies – most common one is usually by tying them with ribbon!  Despite my excitement, I did not have the right type of ribbon so I ended up using cooking twine…  I actually struggled a lot with my very first cookie photos because it was such a hard object to make it interesting.  But the cookies were wonderful.  I know I'll make these again and again!
As for the recipe, I pretty much followed Anh's recipe because I don't see anywhere I need to change or want to change.  The amount of white chocolate I used was a guesstimate.  For those of you who want to try this recipe, I hope you can find 100% pure matcha powder in your local Asian grocery store.  The good quality ones should have very beautiful green color, not dull green.  Here's the Maeda-En Brand I use for my Green Tea Ice Cream and this recipe and it's around $6 for 1 oz (28.5g).  It's a bit pricey but matcha is expensive in Japan as well.
I leave you with these delicious cookies as I have packing to do for a little get-away with my family.   Happy Veteran's Day and have a great weekend!
*For Vegan Green Tea Cookies, please click here.  Roxana of A Little Bit of Everything made these delicious Green Tea Cookies on my blog.
Don't want to miss a recipe? Sign up for the FREE Just One Cookbook newsletter delivered to your inbox! And stay in touch on Facebook, Google+, Pinterest, and Instagram for all the latest updates. Thank you so much for reading, and till next time!
Green Tea & White Chocolate Cookies
Ingredients
240 g (2 cups) all purpose flour (See Note if you use cup measurement)
15 g (2½ Tbsp.) green tea powder (matcha) (1 Tbsp. matcha is 6 g)
170 g (3/4 cup) unsalted butter, softened
130 g (roughly 1 cup) powder sugar
Pinch of salt
2 large egg yolks
50-65 g (1/4-1/3 cup) white chocolate chips
I highly recommend you to use a kitchen scale to get a perfect result.

Instructions
Sift the flour and the matcha powder.

Cream together the butter, powder sugar, and salt until soft and light.

Add the egg yolks and beat well.

Gradually add the flour and matcha powder.

Fold in the white chocolate chips.

Shape the dough into roughly 2 round 7" (18 cm) logs.

Wrap the logs in plastic wrap and place them a bed of rice (Your log will stay cylindrical and your cookie slices won't have a flat side). Chill in refrigerator for several hours or, better yet, overnight.

Preheat oven to 350F (175C) degrees. Remove the dough from plastic wrap and cut the cookie slices to 7mm (1/4 inch) thick. Place them on a baking sheet lined with parchment paper, 1.5 inches apart.

Bake until the edge of the cookies starts to get slightly darker, about 13-15 minutes. Cool on a wire rack and store in the airtight container once they are cool.

Notes
A properly measured cup of all purpose flour weighs 4.25 oz (120 g). The weight for 1 cup of all-purpose flour varies depends on how you measure it. When you measure flour by volume, please follow the methods below. I've tested this method many times, and if you do it properly, 1 cup is VERY close to 120 g each time.
1. Fluff up the flour several times with a spoon.
2. Using the spoon, sprinkle the flour into your dry-cup measure (the one that measures exactly a cup at the top).
3. Scrape off the excess with a knife.
Source:
A Food Lover's Journey
, originally from Okashi Treats by Keiko Ishida.