I often get asked by readers "Can I freeze rice"?  The answer is yes, you can freeze cooked rice.  I recommend you to freeze the cooked rice even you will be eating it next day.  The rice will stay fresher when it's packed with moisture and frozen as soon as it's cooked.  You can store the rice in the freezer up to 1 month.
Here's how to freeze rice.
You will need airtight containers. There are containers that are specifically made for freezing rice and can be found in large Japanese grocery stores or Japanese home goods stores.  The difference between these containers and standard microwaveable containers is that there is a built-in vent on the lid to let the steam come out when heating up.  These special lids allow you to microwave with the lid on to keep the moisture.  If you cannot find these containers, use other microwave safe containers or glass containers.  You can buy the containers online here.
While the rice is still hot, put the rice in the container.  It's best to place into container as soon as it's done cooking.
Immediately close the container with the lid.  When the rice has cooled, store in the freezer.  The quality will stay well up to 1 month.
When you need rice, take out the rice from the freezer, open the vent and microwave while it's frozen.  For this size of container, it requires to heat about 2 ½ minutes (with 1100 w).  You might want to experiment with your microwave as each container/rice bowl is different in size.
If you don't have microwave-safe containers or glass containers, you can use microwave-safe plastic wrap.  For convenience, use a rice bowl for measurement.  Place the plastic wrap on top of the rice bowl and put rice on top.
Remove the rice bowl and wrap quickly to keep the moisture.  I usually shape the rice into square so that I can organize these packets easily in the freezer.
Put it in a freezer bag and close tightly.  Write down the date you pack.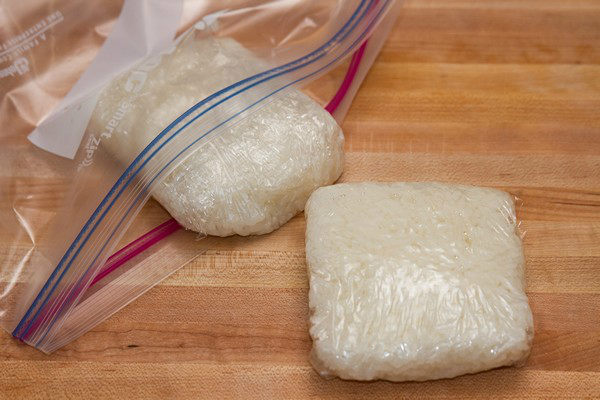 You can defrost until the plastic wrap comes off, and then transfer to a bowl and loosely cover with plastic wrap to microwave for 1 1/2 to 2 minutes.