Print Recipe
Jump To Recipe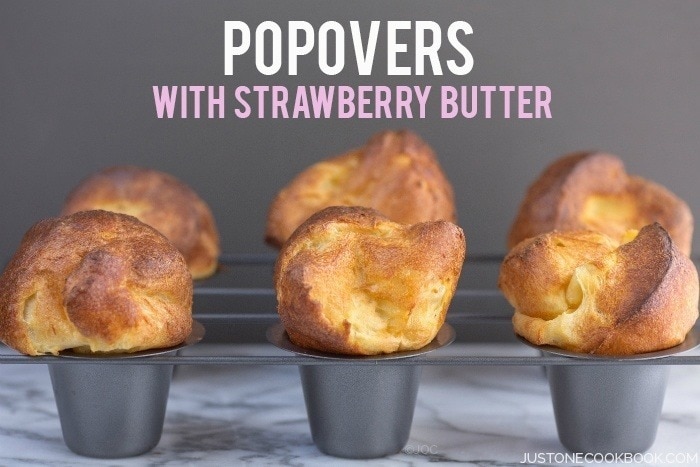 As the holiday season is approaching, there is one recipe that I really wanted to re-share, and that is Popovers with Strawberry Butter.
I first shared this recipe about 2 years ago and it's been a popular dish in my family, especially around the holiday season.  Why am I re-sharing?  I created a tutorial video on how to make these heavenly treats and updated the post with new photos.
I first had these popovers many years ago with Mr. JOC while we were still dating.  Before we had our children, Mr. Joc and I enjoyed shopping in the Union Square in San Francisco on weekends and stopping by The Rotunda in Neiman Marcus for lunch.
While waiting for my favorite Lobster Club sandwich, The Rotunda served a complementary popover with strawberry butter instead of bread.  As you slather strawberry butter on airy and fluffy warm popover, you will fall in love with it immediately and crave for more.
What are Popovers?
They are similar to English Yorkshire puddings. In the UK, Yorkshire puddings are usually served with roast meat and gravy and are a staple of the traditional British Sunday roast. Neiman Marcus shares this recipe in their cookbook as well as on the last page of the children's menu in the restaurant.  When I discovered I could easily make these at home, I was overjoyed.
Popovers – Irresistible!
Why do I personally like them so much?  A couple of reasons; first they are really easy to make and secondly I simply can't resist tasty pastry!  As I am writing this post I could already taste them again.
The best way to enjoy them is straight out of the oven.  As you rip apart the crispy outer shells, warm steam escapes from the slightly doughy and soft bread like inside.  Smear on the tasty strawberry butter and see it melt on the warm popovers and blends together, then take a bite.  Yummy!
This recipe makes 12 popovers and each popover pan can make 6.  I use 2 popover pans to make them at the same time.  I'll be making these again soon for this holiday season and I hope you will give these a try and enjoy the popovers and strawberry butter with your loved ones.
Here's the video on How To Make Popovers with Strawberry Butter on my YouTube Channel! Enjoy!
Don't want to miss a recipe? Sign up for the FREE Just One Cookbook newsletter delivered to your inbox! And stay in touch on Facebook, Google+, Pinterest, and Instagram for all the latest updates. Thank you so much for reading, and till next time!
Popovers with Strawberry Butter
Serves:
Makes 12 popovers
Ingredients
3½ cups milk
4 cups all-purpose flour
1½ tsp. salt
1 tsp. baking powder
6 large eggs, at room temperature
Non-stick spray
Strawberry Butter
¾ cup butter, at room temperature
½ cup good quality strawberry preserves
Equipment you will need
Instructions
Place the milk in a bowl (or 4-cup measuring cup) and microwave on high for 2 minutes, or until warm to the touch.

Sift the flour, salt, and baking powder together into a large mixing bowl.

Add the eggs into the stand mixer fitted with a whisk. Beat on medium speed for about 3 minutes, until foamy and pale in color.

Turn down the mixer to low and add the warm milk.

Gradually add the flour mixture and beat on medium speed for about 2 minutes.

Turn the machine off and let the batter rest for 1 hour at room temperature.

When it's almost 1 hour, preheat oven to 450F (230C) degree. Place each of the popover pans on a baking sheet and spray the pans with nonstick spray.

Fill the popover pans almost to top with the batter.

Transfer to the oven and bake on 450F (230C) degree for 15 minutes. Then turn down the oven temperature to 375F (190C) degree and bake for 30 minutes, or until the popovers are a deep golden brown on the outside and airy on the inside.

While baking, make strawberry butter. Place the butter in the stand mixer and beat on high until light and fluffy. Add the preserves and beat until well combined. Serve popovers warm with strawberry butter.

Notes
Prep time is not including the 1 hour that we need to rest batter.
I use these
popover pans
. If you use muffin pans instead, use every other tin so that the popovers have plenty of room to expand OR pour only halfway up with batter.
To save the strawberry butter, keep it in an airtight container and store in the refrigerator for 2-3 days.
Recipe is from
Neiman Marcus Cookbook by Kevin Garvin and John Harrison
.
Editor's Note: Images and content were updated in October 2014.