Print Recipe
Jump To Recipe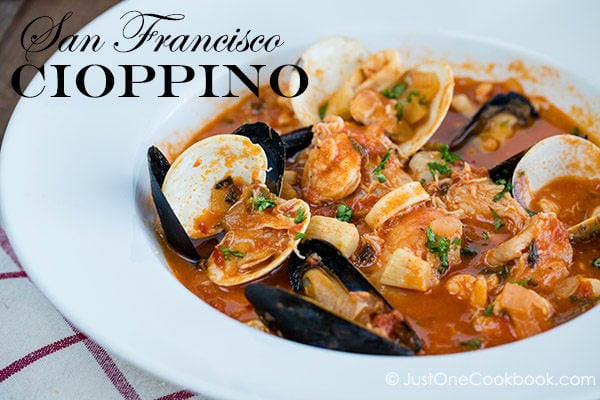 It's been one week since I came back from the recent Japan trip, and I've been feeling extremely cold here in San Francisco after spending 6 weeks in hot and humid weather there. My body isn't completely adjusted yet and all I want for dinner is nice warm soup…
Then I remembered the Cioppino recipe that I made a while ago. So today I am taking a break from summer recipes and will share this delicious seafood stew instead. I hope my South Hemisphere readers are happy to see this nice warm dish in the midst of winter. 🙂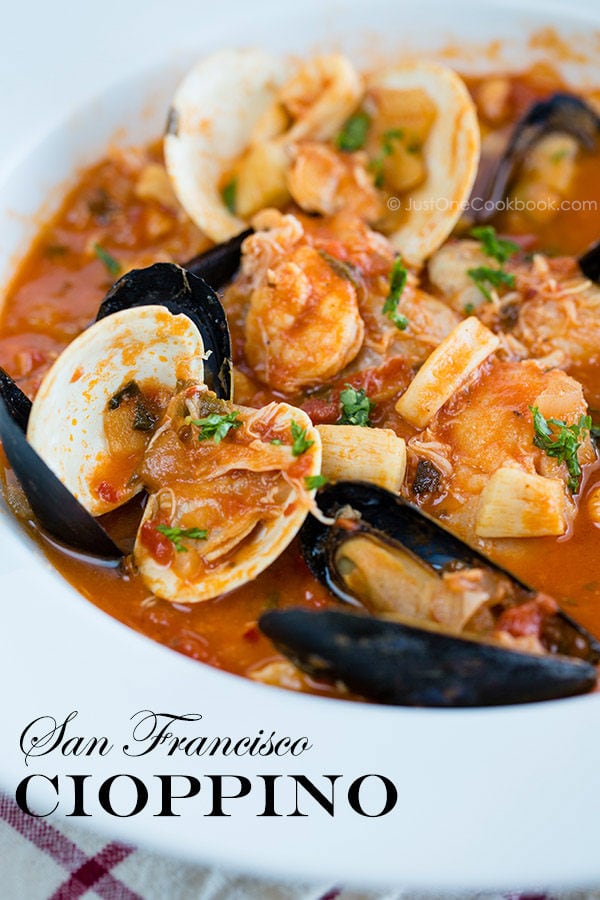 My family and friends really enjoy the easy French seafood stew, Bouillabaisse, and I had been wanting to try a really good seafood stew that originated in San Francisco called Cioppino. Cioppino is an Italian-American dish, and traditionally made from the catch of the day including Dungeness crab, clams, mussels, shrimp, squid, scallops, and fish (read more here).
There are whole a lot of Cioppino recipes out there, but the recipe I used today is from the famous fish market in Moss Landing, Phil's Fish Market & Eatery. I haven't had a chance to visit this restaurant yet in person, but from a little bit of research online Phil's recipe seems pretty authentic and I wanted to give it a try. I adapted the recipe a little by reducing the serving size and changing some ingredients. I was afraid of including the whole Dungeness crab (Continuing the topic from my previous post about Mango Lassi Popsicle, I also became allergic to crab in my early 20's…so sad!), so I only included a little bit of crab meat instead.
Don't get intimidated by the long list of ingredients because the process is fairly simple. It's really worth it at the end! I hope you enjoy this really flavorful seafood stew. I'd definitely need a big bowl right now… so cold!
While I was researching for cioppino recipe, I found this video of Throwdown with Bobby Flay at Phil's Fish Market. You've guessed it, they competed to see who can make the best Cioppino!
Don't want to miss a recipe? Sign up for the FREE Just One Cookbook newsletter delivered to your inbox! And stay in touch on Facebook, Google+, Pinterest, and Instagram for all the latest updates. Thank you so much for reading, and till next time!
Cioppino
Ingredients
For Cioppino:
1

Tbsp

extra virgin olive oil

1

Tbsp

unsalted butter

1

clove

garlic

(chopped)

¼

cup

white wine

½

lb

Little Neck clams

(See Notes)

¼

lb

mussels

(scrubbed, see Notes)

2

quarts

Cioppino Sauce

(recipe follows)

2

dashes

Worcestershire Sauce

1-½

lb

Dungeness crab

(cooked, cleaned and cracked, to save time I bought ¼ lb cooked crab meat instead)

¼

pound

shrimp

(shell-on if possible for more flavor)

¼

lb

squid tubes

(cut in rings)

½

lb

firm-fleshed white fish fillets

(I used Pacific Cod, cut in 2-inch cubes)

⅛

lb

bay scallops
For Cioppino Sauce:
2

Tbsp

extra virgin olive oil

½-1

onion

(halved and thinly sliced)

1

fennel bulb

(halved, core removed, and thinly sliced)

4

cloves

garlic

(chopped)

2

bay leaves

¼

cup

parsley

(chopped)

2

Tbsp

sweet basil

(chopped)

2

sprigs

fresh thyme

1

can

tomatoes

(1 can = 14.5 oz) (peeled, crushed by hand)

1

can

tomato sauce

(1 can = 15 oz)

2

bottles

clam juice

(1 bottle = 8 oz)

Dash

Worcestershire sauce

½

Tbsp

brown sugar

Freshly ground black pepper

(to taste)

crushed red peppers (red pepper flakes)

(to taste)

Kosher salt

(to taste)
Instructions
Gather all the ingredients.
Cioppino Sauce:
Heat the olive oil in a large saucepan over medium heat. Add the onions and fennel bulbs and sauté until translucent.


Add the garlic, bay leaves, parsley, basil and thyme, and cook, stirring, just to warm the garlic. Do not let it brown.


Stir in the crushed tomatoes, tomato puree, clam juice, Worcestershire sauce, brown sugar, black and red peppers, and salt to taste.


Bring to boil and

skim off the scum and fat

. Reduce heat to low-medium and simmer uncovered for about 45-60 minutes, stirring occasionally, until thickened.
Cioppino:
Put the olive oil, butter, and garlic in a large pot over medium heat, and cook, stirring, until the garlic is fragrant, but not brown.


Add the wine and the clams, and cover. Turn the heat up to medium-high and steam until the clams start to open, about 3-5 minutes. Add the mussels, cover and steam until the just start to open, about 2 minutes.


Now stir in some cioppino sauce, the Worcestershire sauce and bring to a simmer.


Add the cracked crabs, if using, and the shrimp, and simmer for about 5 minutes.


Add the fish, squid, scallops, and cooked crab meat.


Gently stir in the rest of cioppino sauce and simmer until they are all just cooked through, about 5 minutes. Do not overcook.


Serve in large bowls, shells included. Sprinkle with minced parsley. Serve with crusty French baguette. Enjoy!
Recipe Notes
Clams and mussels: If you use clams and mussels, make sure to check if the shells are cracked or opened. Those that are just slightly open may still be fresh. To check, squeeze the shell shut. If they don't stay closed, discard them.

To learn how to de-grit clams, click here.

I used 1.5 pound seafood medley (from Costco) which contains mussels, clams, shrimp, and bay scallops.
Adapted from Phil's Fish Market Cioppino recipe.
All images and content on this site are copyright protected. Please do not use my images without my permission. If you'd like to share this recipe on your site, please re-write the recipe in your own words and link to this post as the original source. Thank you.