Known as the "gateway to Hakone", Hakone-Yumoto is home to many shops, hot spring ryokans, restaurants, and Hakone-Yumoto Station. This scenic location is easily accessible from Tokyo and the start of your memorable journey to Hakone.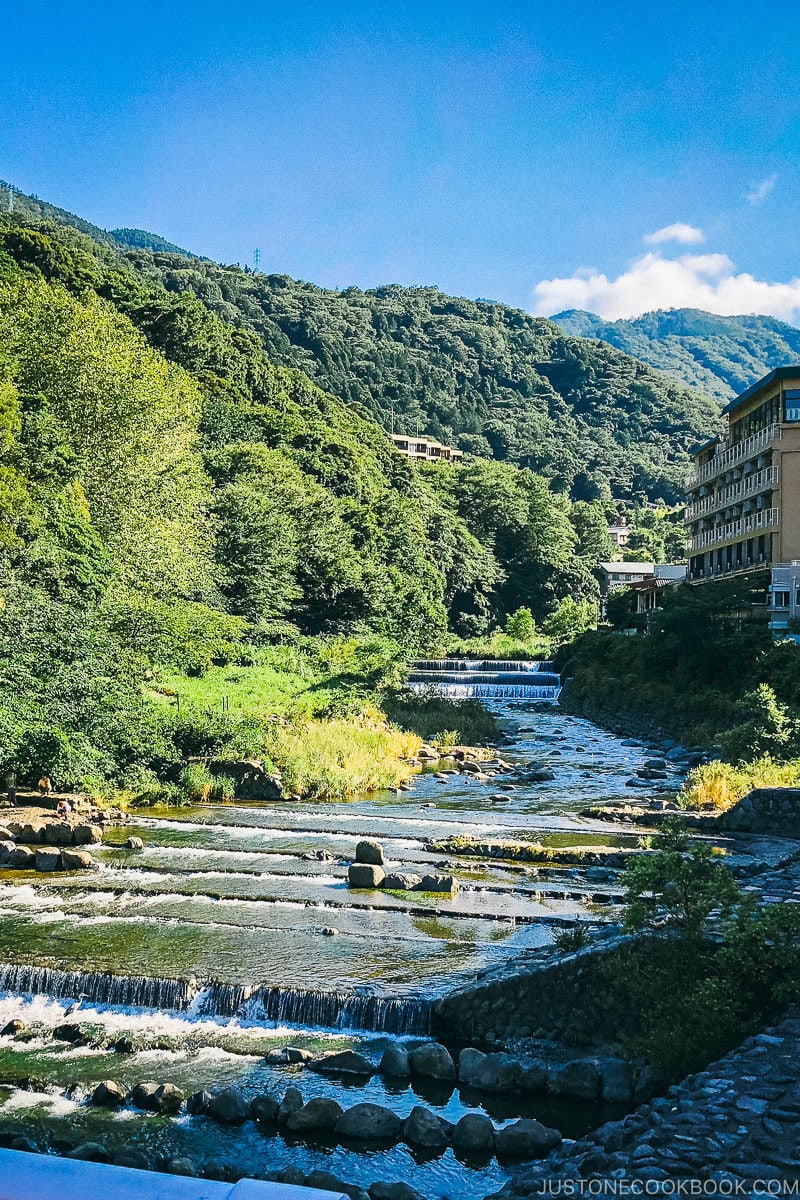 Hakone is a beautiful resort area known for its hot springs southwest of Tokyo. It is easily accessible via train or car. With over 100 onsen hotels and ryokans, plenty of museums, and many other activities to do, it's a popular destination for both Japanese and foreign visitors from abroard. If you're taking the train to visit the Hakone area, your first stop will be Hakone-Yumoto station.
How to Get to Hakone-Yumoto
Depending on where you're trying to get to in Hakone, you can drive via either the Gotemba or Odawara route. The two routes are located on opposite sides of Hakone. If you are going there by train from Tokyo, you can take Rapid-Express Odawara, the Romancecar, or the Shinkansen. Regardless of which train you will pass through Hakone-Yumoto Station.
For our family, we usually rent a car from Yokohama and drive directly to the ryokan. However, we still stop by Hakone-Yumoto to pick up snacks and souvenirs on our way to the ryokan or on the way back home.
Hakone-Yumoto Station
When you exit the Hakone-Yumoto Station, you will notice it's a busy transportation hub with many taxis and buses standing by to pick up passengers. Depending on the ryokan or hotel, sometimes they have a dedicated shuttle bus that will pick up guests from the station. If not, there are public shuttle buses you can take for 100 yen per person to get to the hotel or ryokan. Alternatively, you can always splurge on a taxi.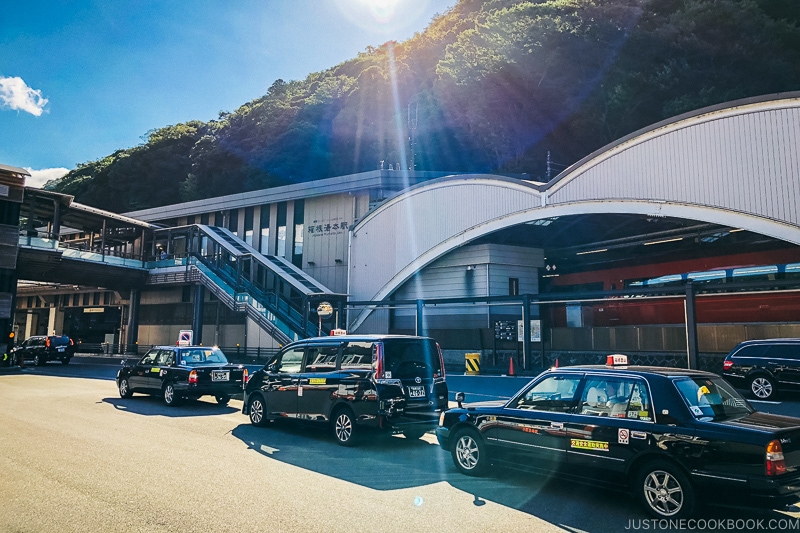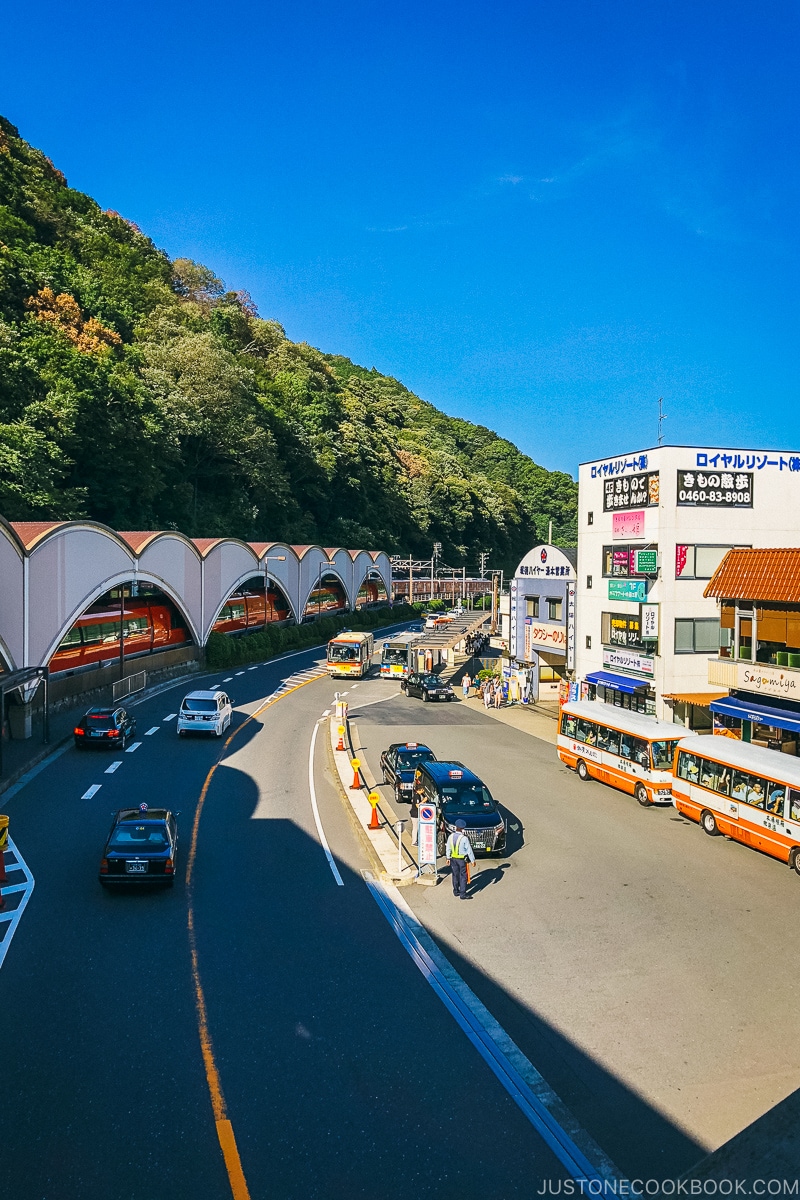 Things to do Near Hakone Yumoto Station
There are a few activities you can do near Hakone Yumoto Station. Right next to the station is the Haya River. You can cross the red Ajisai Bridge and enjoy the scenery, listen to the soothing sound of the river flowing downstream. Right on the other side of the bridge is the Yumoto Fujiya Hotel where you can use their onsen facilities as a day guest.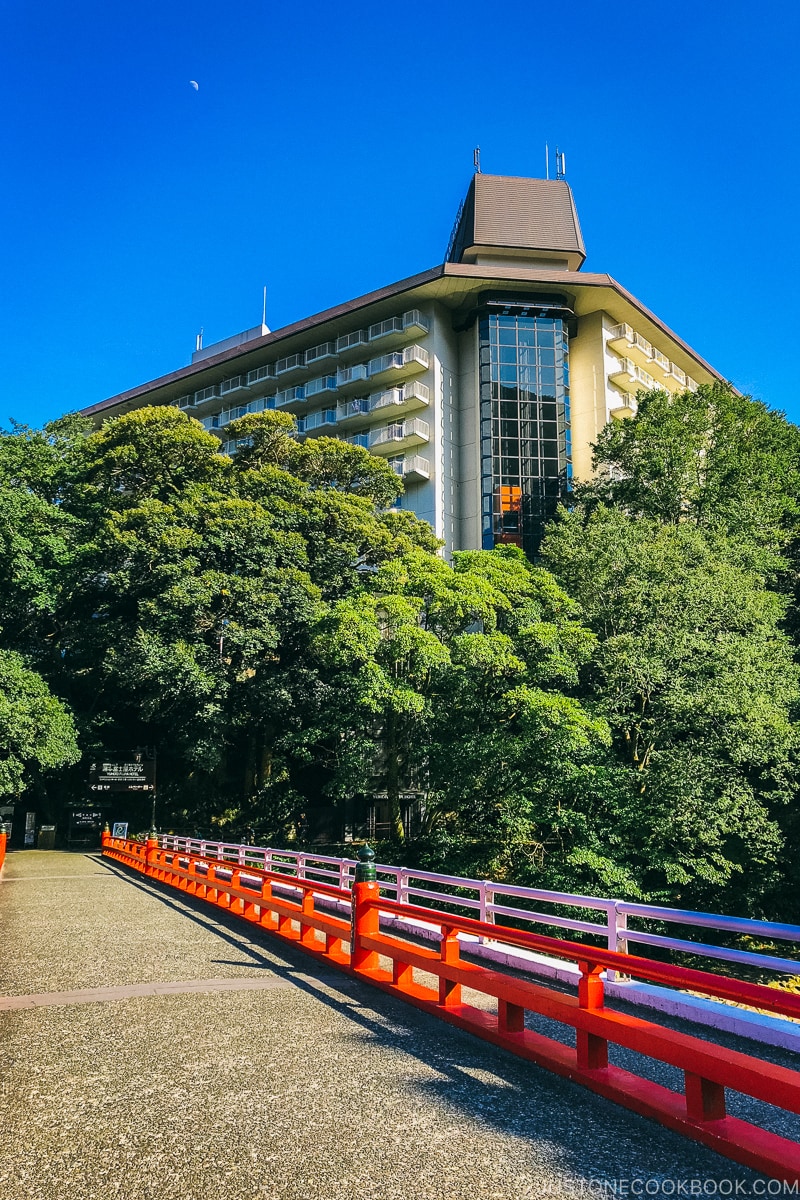 Shops and Restaurants at Hakone-Yumoto
Like many other transportation hubs in Japan, Hakone-Yumoto has plenty of shops and restaurants. It is one of the few areas with retail stores in Hakone so if you need any supplies, make sure to stock up here. Sometimes your ryokan is quite remote and you will have limited access to shop and retail stores.
If you're not sure how to get to your hotel or have questions about the region, stop by the tourist information center to get your questions answered.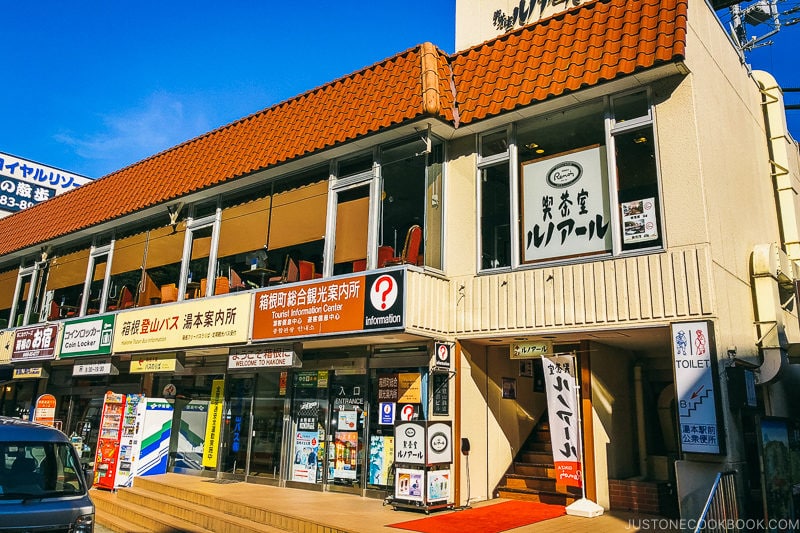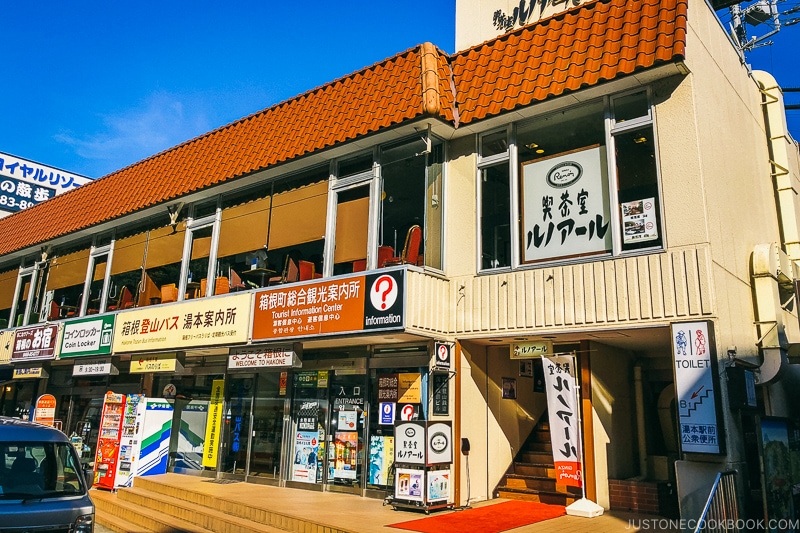 What Souvenirs to Buy at Hakone Yumoto
One of the most popular gifts from Hakone is Suzuhiro Kamaboko. If you didn't get to stop by their main shop in Odawara, you can pick some up in Hakone-Yumoto. They have all different types of kamaboko and surimi products so picks some up for friends and family.
Besides kamaboko, another popular local souvenir is onsen-manju, red bean paste inside a soft bun.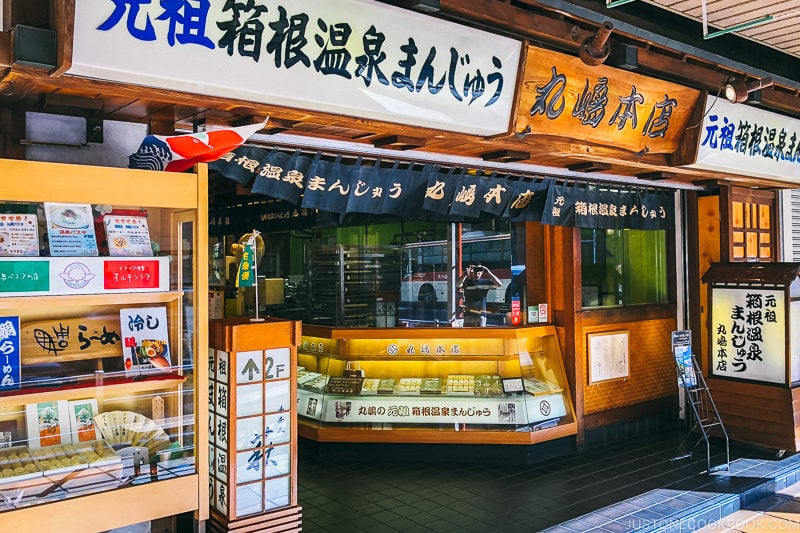 There are quite a few manju shops and our favorite is Hakone no Otsukisama 箱根のお月さま (Hakone's moon) from Nanohana.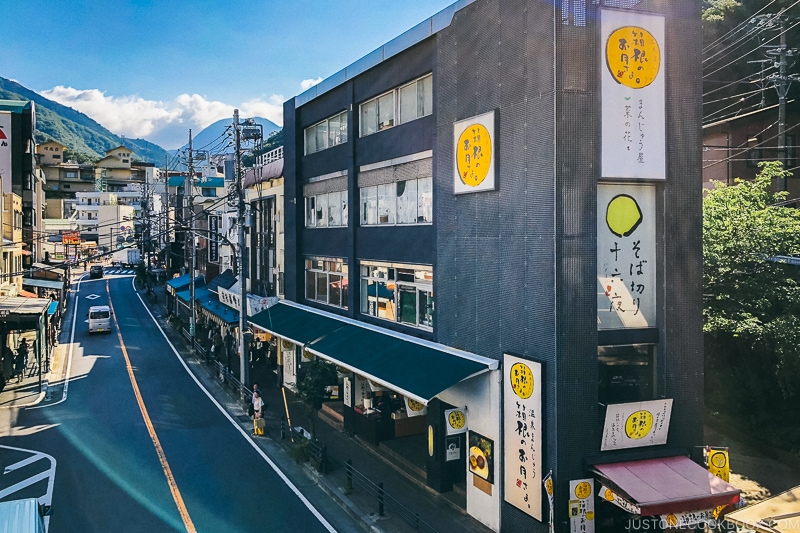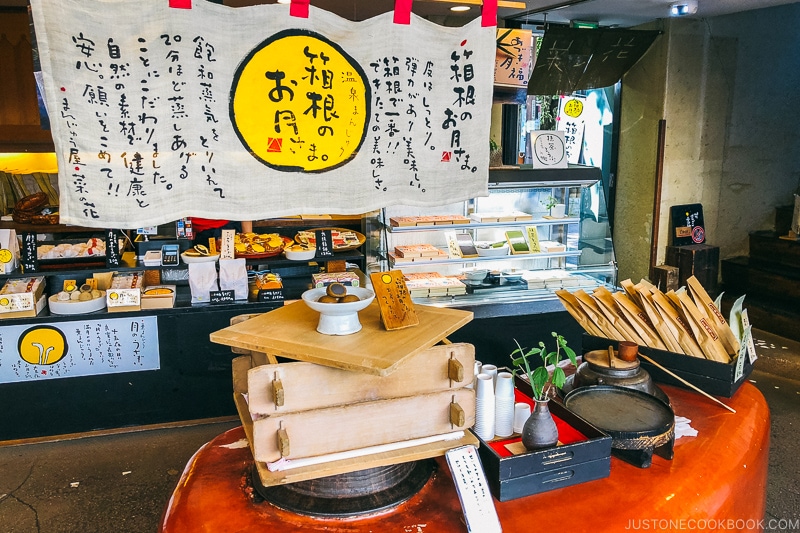 These tasty treats start at just 100 yen each and it's perfect as a tea time snack in the ryokan. The outer bun is super soft and moist and the red bean paste inside is just the perfect sweetness to enjoy with green tea.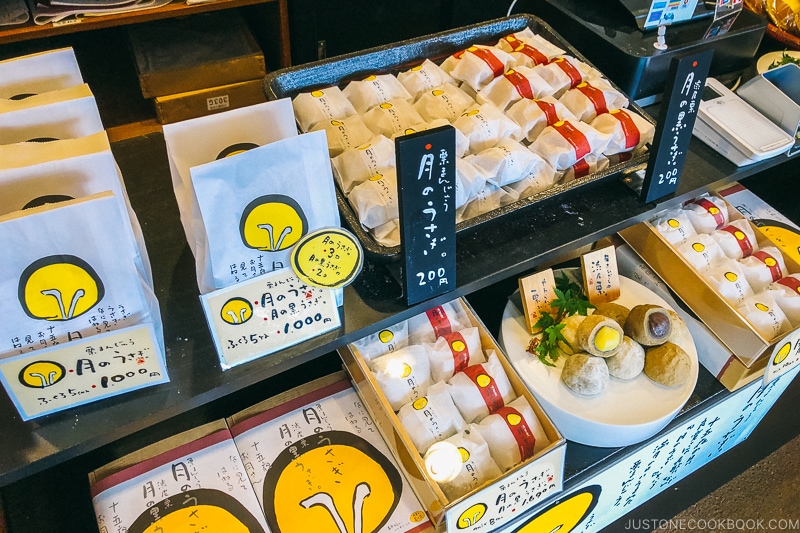 You can also find other Japanese sweets and souvenirs ranging from pastries, kombu, and ume (Japanese plum) specialty shop.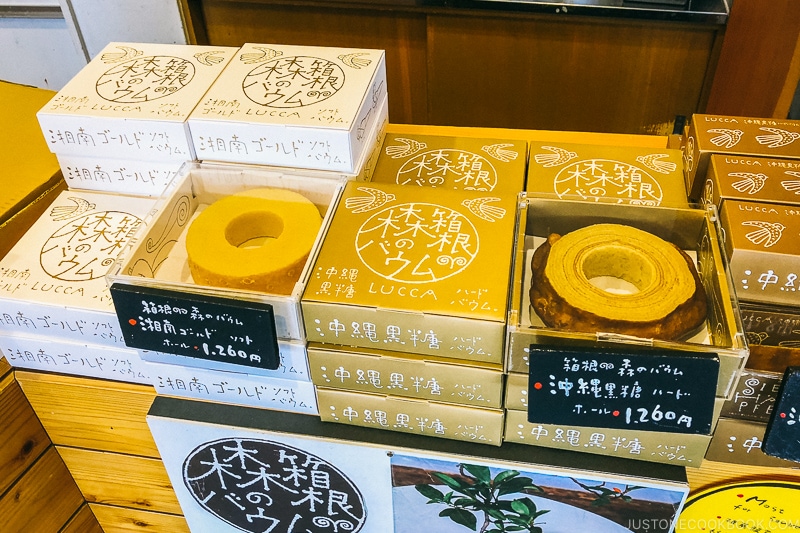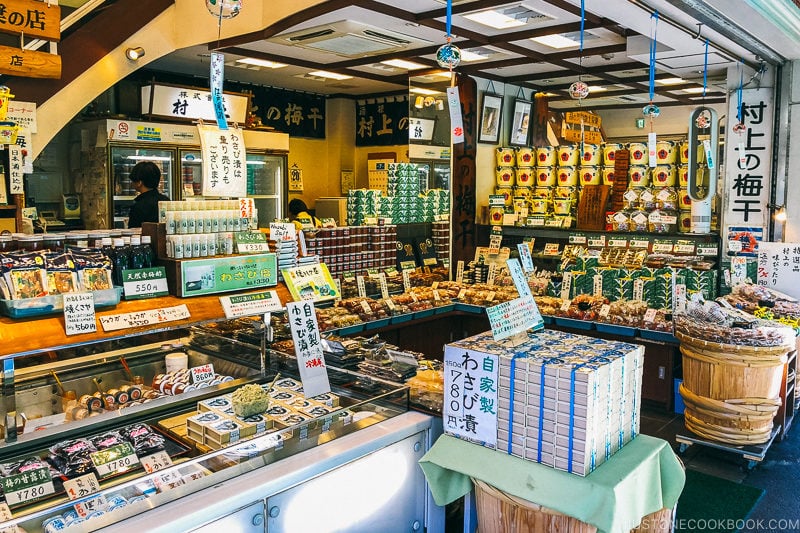 Restaurants
This area is also one of the few areas that have some restaurants serving dinner. Since many hotel guests include a meal plan with their stay, restaurants in the area tend to close early so keep this in mind. It's quite a treat to enjoy the kaiseki meals the ryokan prepares but it's too much food or not your style, you can find a quick meal at Hakone-Yumoto.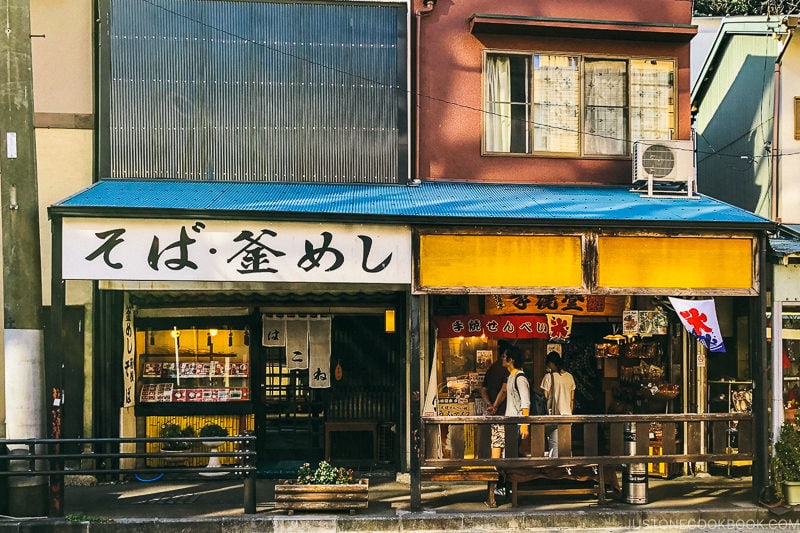 Free Shuttle Bus to Nearby Activities
Lastly, if you decide to explore the area there is a free shuttle bus that will take you to Hakone Kitahara Toy Museum, Hakone QQB Terrace Wimpy, Forest Adventure Hakone, and Hakone Yuryo (onsen facility).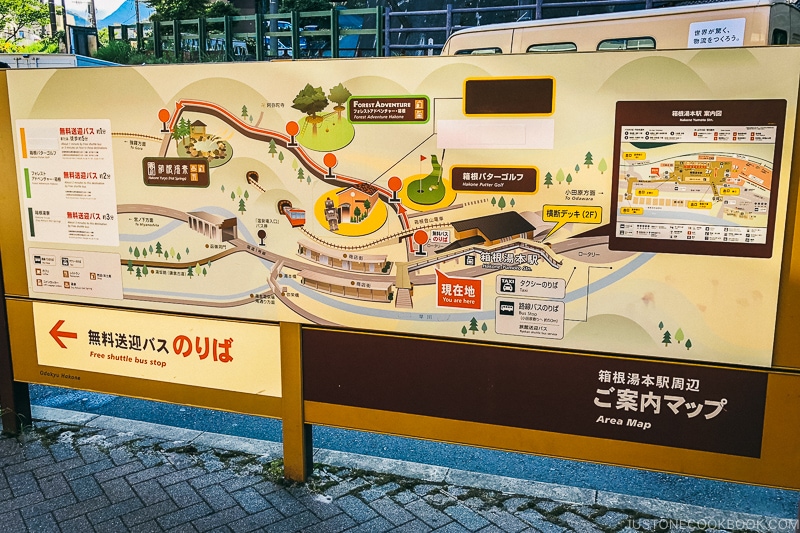 Hakone Freepass
So you're now in Hakone, how will you get around without a car? Luckily Odakyu Railway has it all figured out for visitors to the area. Hakone Freepass is a 2 or 3-day transit pass that will cover your transportation cost from Shinjuku to the Hakone Area. You can purchase the Freepass in Shinjuku, Machida, or Odawara and the cost gets lower (ranging from 4,600 to 6,100 for adults) as you get closer to Hakone. Children's pass is much lower ranging from 1,000 to 1,750 yen.
The pass allows you to ride on 8 different transportation networks and it's a great way to see Hakone without having to worry about the transportation cost. Since Hakone is in a mountainous region, many of the rides on the trains, ropeway, cable car, and cruise offer unique views and sceneries. We highly recommend utilizing the Freepass if you're not driving.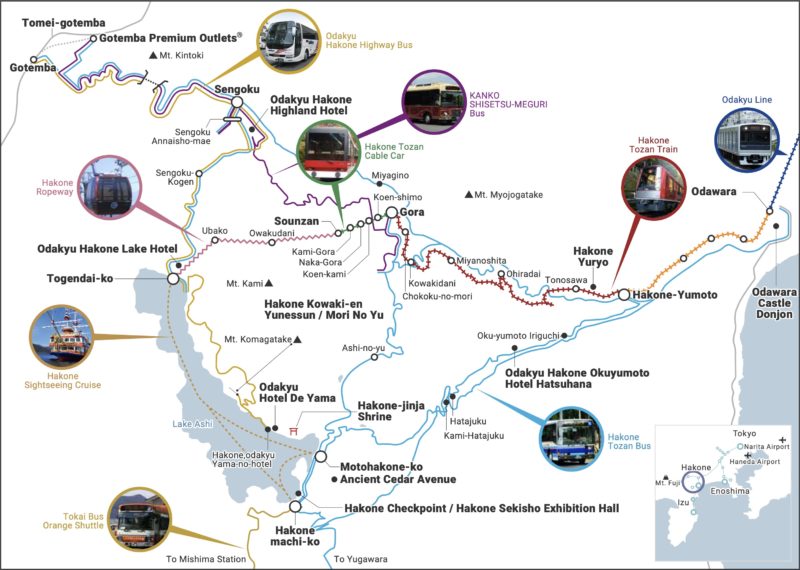 Please note from time to time due to volcanic or weather-related activities parts of the network may not be running. This is especially true for Hakone Ropeway so please check for the latest conditions for safety and travel planning.
Now you know how to get to Hakone-Yumoto and travel around using the Hakone Freepass, stop by Hakone and soak in its famous hot springs on your next trip to Tokyo. We'll cover the rest of Hakone in the following guides.
Just One Cookbook Hakone Travel Guide