Print Recipe
Jump To Recipe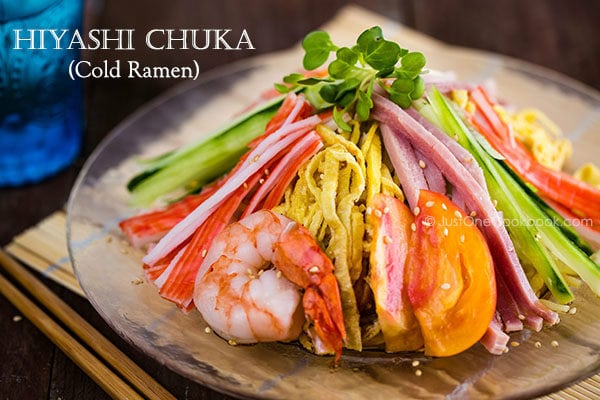 These past two days temperatures soared across Kanto area (including Tokyo/Yokohama area) as the rainy season has ended 15 days earlier than usual.  During these hot and humid days, all I want to eat are chilled dishes like cold soba, cold udon, and cold ramen called Hiyashi Chuka (冷やし中華).  Today I'm sharing Hiyashi Chuka recipe with my favorite homemade dressing.
Hiyachi Chuka literally means "chilled Chinese"; however, it is a Japanese dish with chilled ramen noodles and various colorful toppings.  Popular toppings include strips of egg crepes, cucumber, ham, and imitation crab.  Soy sauce or sesame based dressing is poured over the noodles and toppings.
Although the store bought Hiyashi Chuka package comes with dressing, it has lots of MSG and preservatives.  For healthier option, you can easily make the dressing at home yourself.  The dressing recipe I specified below is more than enough for 3 servings, in case you want to add more toppings than what I have included.
Feel free to be creative and add your favorite toppings.  If you are vegetarian, omit ham, shrimp, and imitation crab and add your favorite veggies instead.
On hot days, cold dishes like Hiyashi Chuka is a perfect nutritious meal to cool our body down, while filling up our tummy.  Now go ahead and pick up some noodles and enjoy!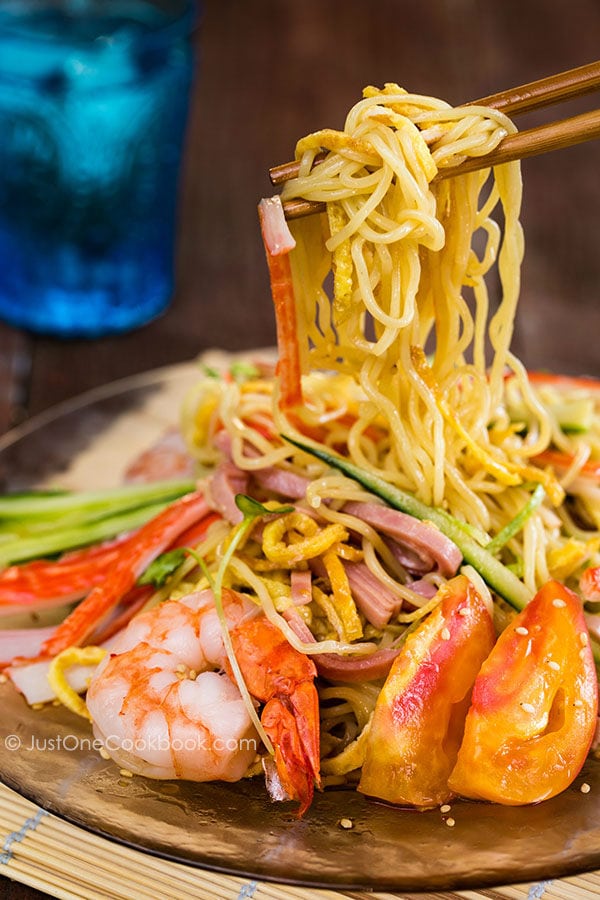 Don't want to miss a recipe? Sign up for the FREE Just One Cookbook newsletter delivered to your inbox! And stay in touch on Facebook, Google+, Pinterest, and Instagram for all the latest updates. Thank you so much for reading, and till next time!
Hiyashi Chuka (Cold Ramen)
Ingredients
For Shredded Egg Crepe:
2

large eggs

(beaten)

2

tsp

granulated sugar

¼

tsp

Kosher salt

neutral flavor oil (vegetable, canola, etc)
Other topping options:
chicken tender

(steamed, shredded)

bean sprouts

(blanched)
Noodles:
3

package

ramen noodles

(1 package = 6 oz) (or chukamen noodles, See Notes) (GF Ramen Noodles)
Instructions
Gather all the ingredients.

Combine all the noodle dressing ingredients in a medium bowl and whisk all together. You can keep it chilled in the refrigerator.


For eggs, you make thin egg crepe and cut into thin strips (Kinshi Tamago). If you want to make super thin crepe, follow my recipe here (

How To Make Shredded Egg Crepe

). Whisk together the eggs, sugar and salt. Heat the oil in the pan over medium heat. Pour the egg mixture into the pan and cook on both sides.

Cool the crepe and slice into very thin strips.


For shrimps, bring a small pot of water to a boil. Add sake and shrimp and cover with the lid. The alcohol in the sake will help remove the smell and tender the meat. Turn off the heat when the color of shrimp started to change and let it cook with remaining heat. Do not overcook otherwise shrimp will become hard. Transfer shrimps to a plate and let them cool.


Cut all the topping ingredients.

For the noodles, bring a pot of water to a boil and add the noodles, separate the noodles before dropping into water. Cook according to package directions. Drain the water and rinse the noodles to remove starch. Soak the noodles into a bowl of ice water to cool. Drain completely and divide the noodles on plates/bowls.


Place all the toppings and pour the dressing before serving. Serve with karashi hot mustard and pickled ginger on the side, if desired.
Recipe Notes
Ramen noodles: I used GF Ramen Noodles.
Recipe by Namiko Chen of Just One Cookbook. All images and content on this site are copyright protected. Please do not use my images without my permission. If you'd like to share this recipe on your site, please re-write the recipe in your own words and link to this post as the original source. Thank you.