This simple Japanese Sesame Sauce (Goma Dare) is creamy, flavorful, and savory. Use it as a dipping sauce for shabu shabu (Japanese hot pot) or try it with steamed vegetables, cold or hot tofu, green salad, and somen or udon noodles. The possibilities are limitless!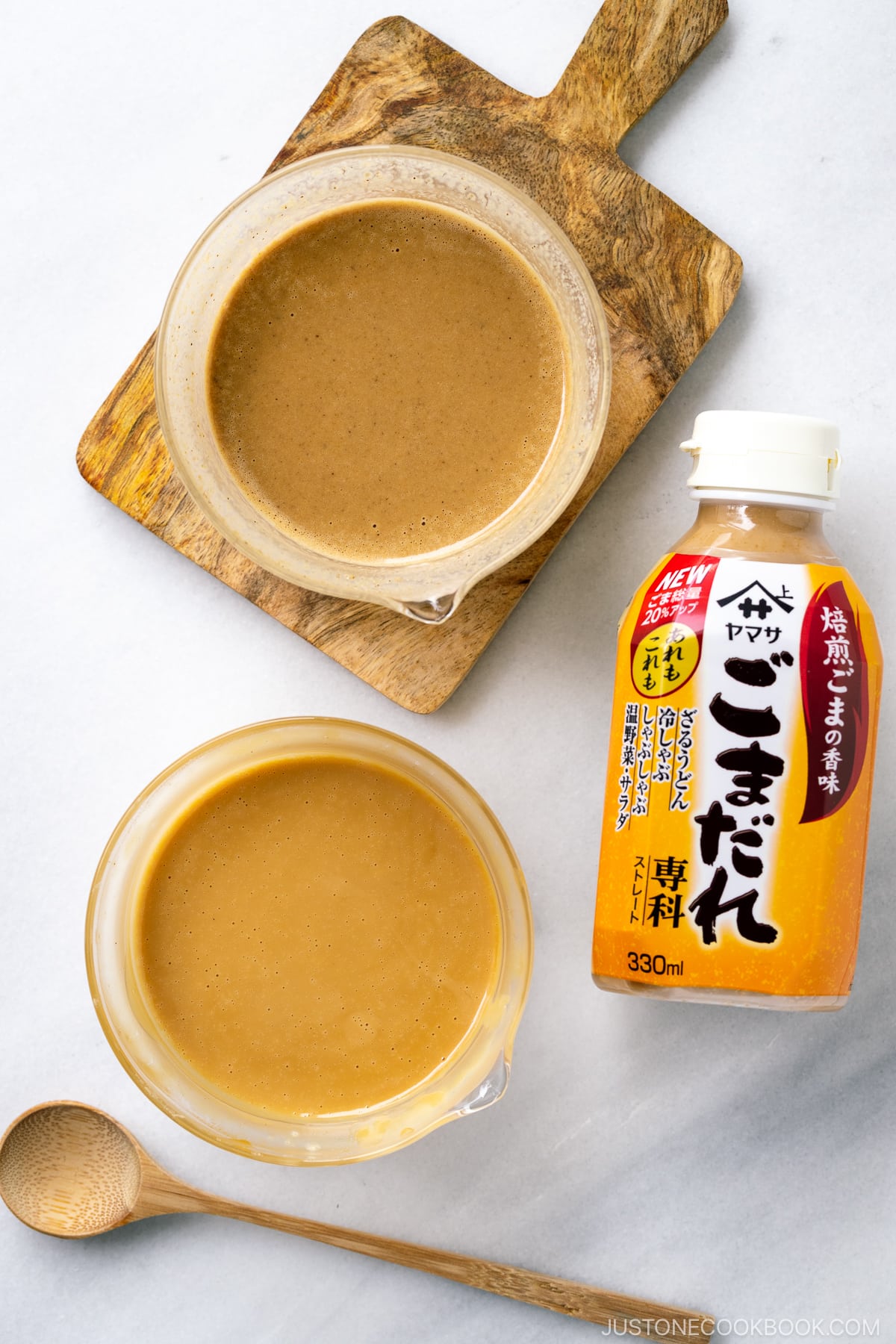 Japanese Sesame Sauce, or Goma Dare (胡麻だれ), is one of the dipping sauces typically served with the Japanese hot pot, Shabu Shabu. However, there's so much more to this flavorful and creamy condiment. It is as wonderful as a dressing for salads and noodle dishes, or as a sauce to pair with grilled or steamed veggies and tofu!
Let me show you how make goma dare from scratch, with just a few simple ingredients.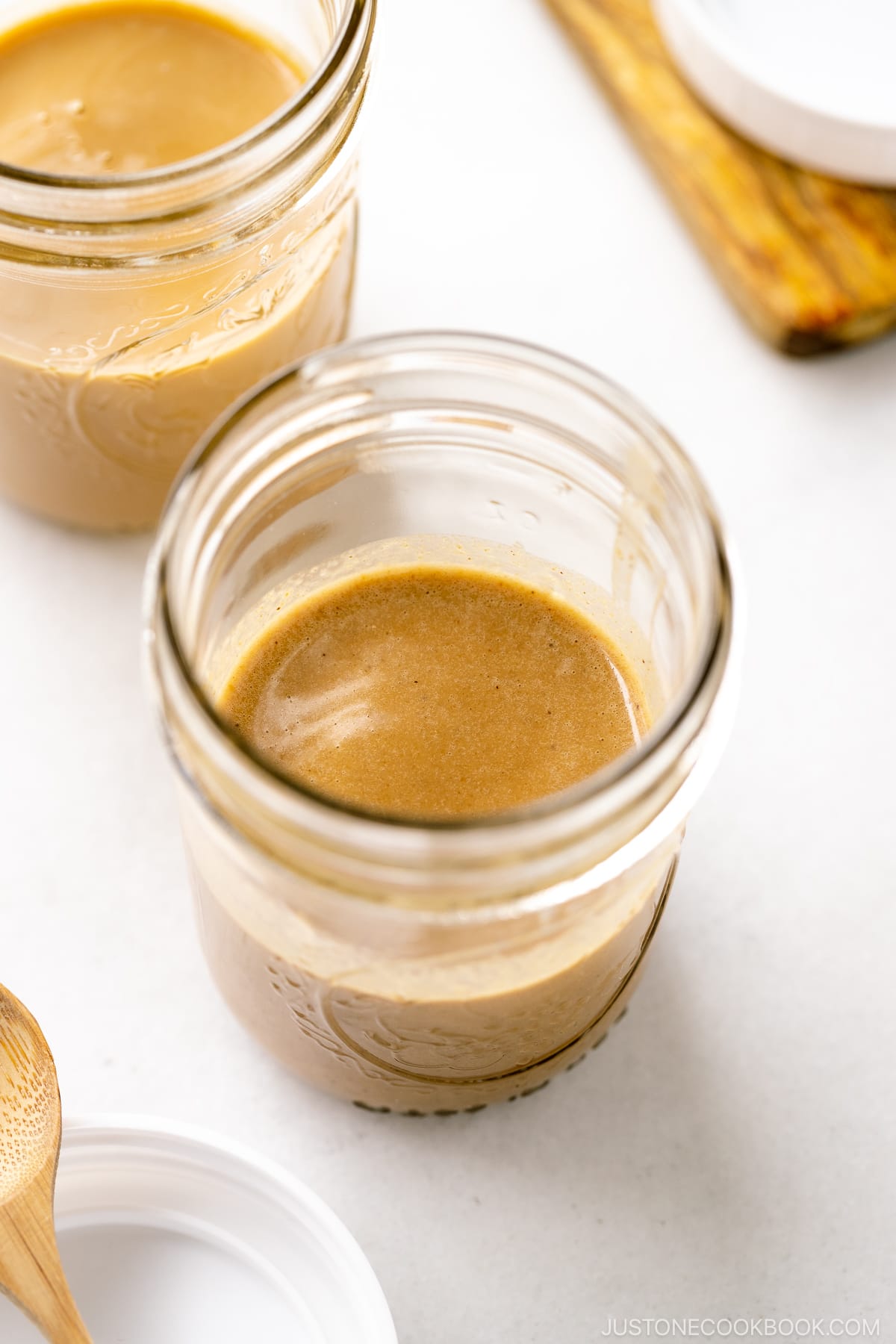 What is Goma Dare?
Pronounced as [Goh-mah Dah-Leh], this creamy and flavorful sauce is made with Japanese sesame paste, sugar, soy sauce, rice vinegar, and dashi (Japanese soup stock).
Goma (胡麻, ごま) means sesame seeds and Dare or Tare (たれ) means sauce in Japanese.
Besides Shabu Shabu, this sauce goes really well with various dishes, and we'll talk about it later in the post.
How to Make Sesame Sauce
Ingredients You'll Need
Japanese sesame paste (nerigoma) – More about it below.
Sugar
Soy sauce
Rice vinegar – Try to use rice vinegar as it's a lot milder than other kinds of vinegar.
Dashi (Japanese soup stock) – You can make it from scratch (Kombu + Bonito Dashi or Vegan Dashi) or use a quick and easy Dashi Packet (I used this method for this recipe). You can also make dashi using water and Dashi Powder.
Salt
Overview: Cooking Steps
All you need to do is to mix everything. I recommend mixing the sesame paste and sugar first and making sure the sugar is completely dissolved before adding any liquid ingredients.
Then, add the soy sauce and rice vinegar, followed by the dashi.
Taste it and adjust it with salt.
What is Nerigoma (Japanese Sesame Paste)?
Nerigoma (ねりごま) is a Japanese sesame paste made by grinding whole toasted white sesame seeds into a paste. It is rich, creamy, and flavorful, and it's similar to nut butter like peanut butter. There are both white sesame and black sesame pastes, so make sure to choose the white sesame paste for this recipe.
You can find nerigoma on Amazon (here and here) or in Japanese grocery stores.
You can also get Chinese sesame paste (zhī ma jiàng, 芝麻酱) from Asian grocery stores. I have never tried it yet, but I assume it's similar to the Japanese variety.
And there is a Meditteranean sesame paste called tahini. You can get this at most American grocery stores. It is similar yet not quite the same as the Japanese variety in terms of texture and taste. Tahini is made from hulled, raw sesame seeds, which is why it's lighter in color and less flavorful.
I assume everyone will be using a different type of sesame paste for this recipe, so please adjust the amount of the sesame paste of your choice.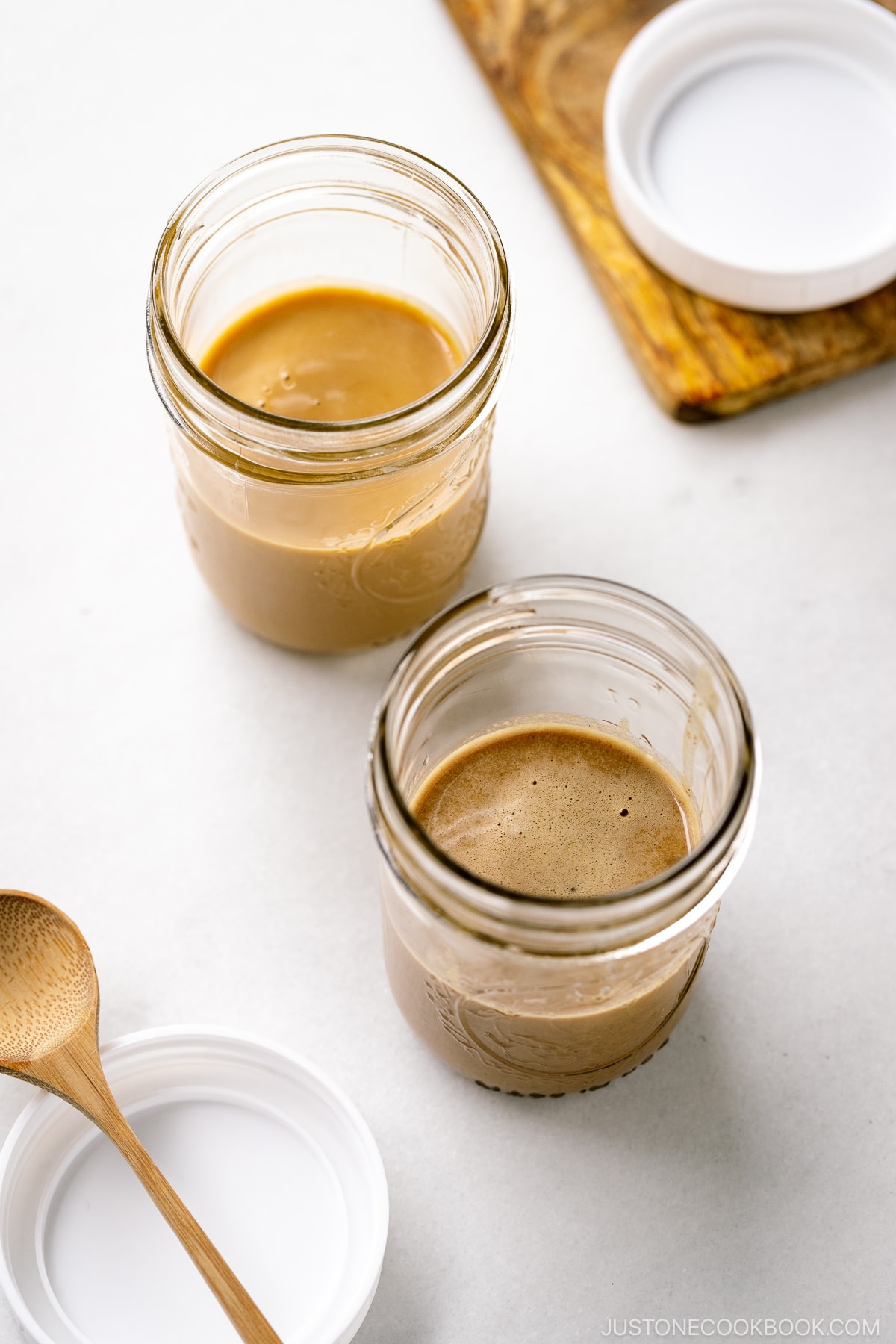 Cooking Tips
Mix the sesame paste REALLY well. This is a very important step before measuring your sesame paste. The paste separates from the oil while stored in the jar, so mix it all up then scoop the paste.
Reduce the amount of the same paste if you're using a homemade version. Your homemade sesame paste is very rich, flavorful, and thick, so you don't need as much as store-bought sesame paste or tahini. Some high-end sesame paste brands also offer a thick paste, so adjust accordingly.
You need enough liquid to make a smooth sesame sauce. While you're gradually adding liquid to the sesame paste, you will see the paste starts to solidify, like when chocolate seizes (read this article). Don't panic. If you add more liquid, it will become smooth again.
To make a really good sesame sauce, use high-quality sesame paste (or make a homemade version!), make a strong, concentrated dashi, and use just the right amount of salt to bring out the flavors as increasing the amount of soy sauce will make the sauce darker.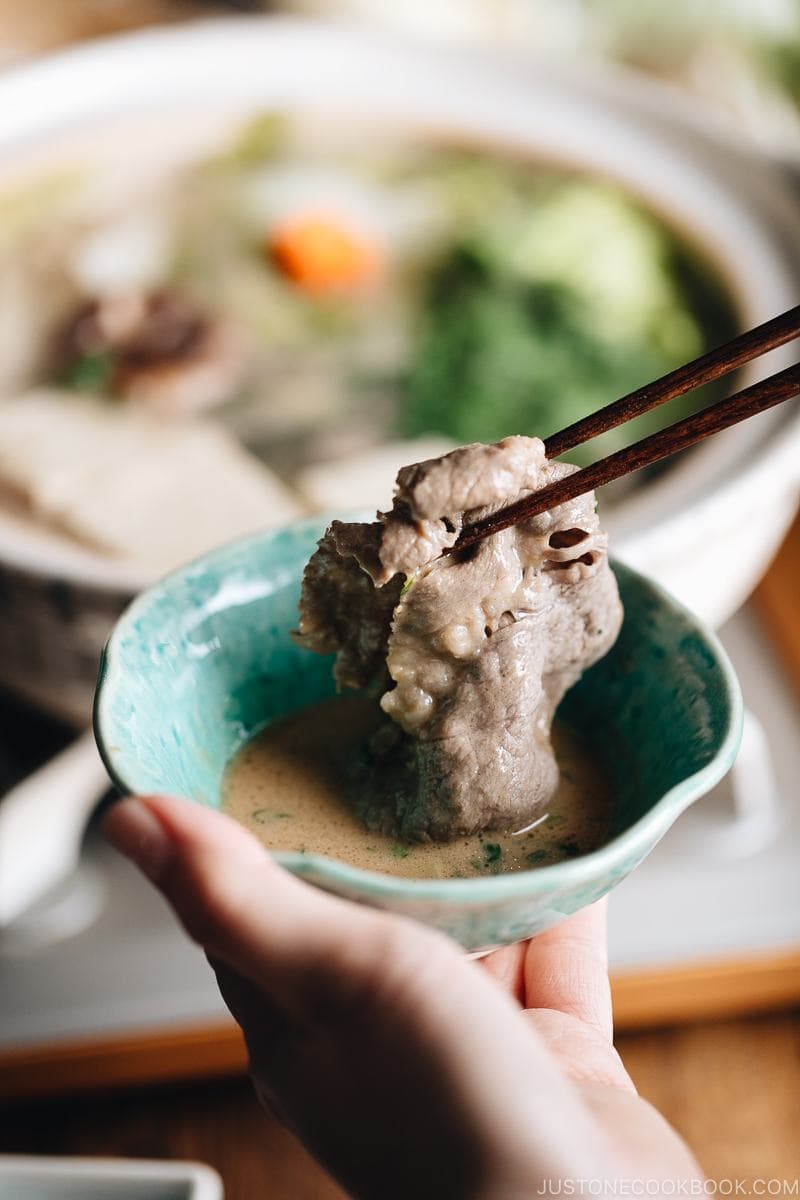 Delicious Ways to Use Goma Dare
I make this homemade sesame sauce for Shabu Shabu, but this rich and nutty sauce goes well with all kinds of food! If the sauce is too thick for a dish, you can dilute the sauce with dashi. Add more rice vinegar to make it a refreshing salad dressing!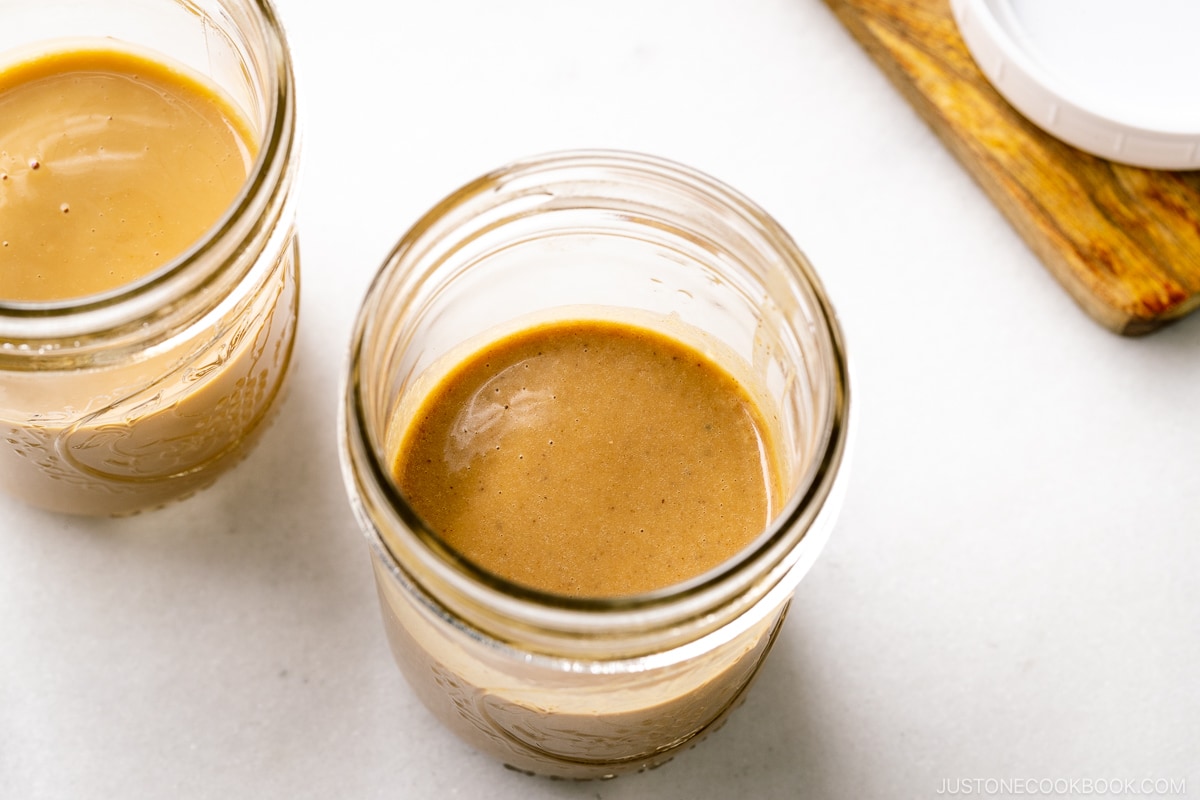 Wish to learn more about Japanese cooking? Sign up for our free newsletter to receive cooking tips & recipe updates! And stay in touch with me on Facebook, Pinterest, YouTube, and Instagram.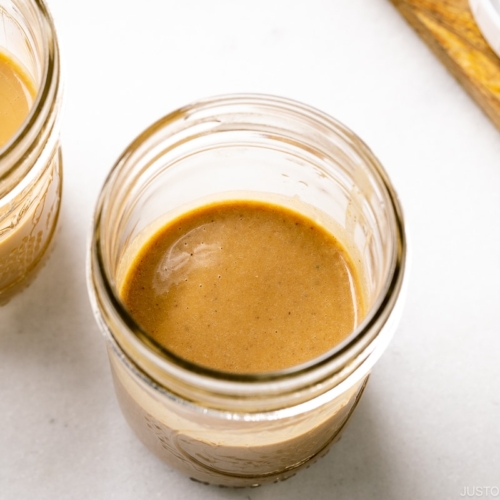 How to Make Sesame Sauce (Goma Dare)
My simple Japanese Sesame Sauce (Goma Dare) is creamy, flavorful, and savory. This rich and nutty sauce combines toasted white sesame paste, dashi, soy sauce, rice vinegar, sugar, and salt. Use it as a dipping sauce for shabu shabu Japanese hot pot or try it with steamed vegetables, cold or hot tofu, green salad, and somen or udon noodles. The possibilities are endless!
Servings:
2
(one batch yields ½ cup, or 120 ml)
Japanese Ingredient Substitution:
If you want substitutes for Japanese condiments and ingredients, click
here
.
Instructions
Before You Start…
If you're here for the old version of my Sesame Sauce recipe, please see the Notes at the end of the recipe card. However, I highly recommend that you try this revised recipe!

Gather all the ingredients. Please note that one batch yields ½ cup (120 ml), roughly 2 servings as a dipping sauce for Shabu Shabu. If you also serve Ponzu dipping sauce alongside this sauce, then you may have enough for 4 servings.

Mix your sesame paste really, really well before you measure it, as the oil tends to separate in the jar. Then, measure the sesame paste and add it to a small bowl. I used my Homemade Sesame Paste and it's a thick consistency, so I measured 3 Tbsp for one batch. Tip: Use a silicone spatula to scrape it off the measuring spoon so you can measure it precisely.
To Make the Sauce
Add

3–4 Tbsp Japanese sesame paste (neri goma)

and

4 tsp sugar

to a small bowl and mix well until it is completely dissolved.

Then, add

1 Tbsp soy sauce

and

4 tsp rice vinegar (unseasoned)

and mix together. Did your sesame paste clump up? If your paste is different from mine, this may happen. Don't worry; we'll fix it in the next step. Tip: According to this article, sesame paste is full of carbohydrate molecules that are drawn to the liquid you add. This produces clumps and thickens the paste. The paste will continue to clump and thicken as you gradually stir in more liquid. Once you add enough liquid, though, the sauce eventually will thin out and become smooth.

Gradually add

2 Tbsp dashi (Japanese soup stock)

to the mixture, drizzling in a little bit at a time. Blend in the dashi completely before adding more. Tip: Why gradually? It's extremely hard to blend the thin liquid into the thick paste. It's easier to combine when you introduce the liquid slowly.

Repeat, adding a bit of the dashi and stirring to combine before adding more. Once you've blended in all the dashi, the consistency of the sauce should be smooth and liquid but still thick.

Taste the sauce. Add

⅛ tsp Diamond Crystal kosher salt

to taste and stir to combine. You also could add more soy sauce if you wish (this will make the sauce darker). Your Sesame Sauce is now ready to use.
When Using Thin Sesame Paste or Tahini…
Here, I made the sesame sauce using Kadoya brand sesame paste to share how it differs from using homemade paste. You can see that the sauce is much lighter in color. This paste is also thinner, similar to tahini, so I used 4 Tbsp of sesame paste for one batch of this sesame sauce.
To Store
You can keep the sauce in an airtight container and store in the refrigerator for up to 5 days.
Notes
My old sesame sauce recipe (Serves 2):
Whisk together 2 Tbsp nerigoma (or tahini), 3 Tbsp sake, 1 Tbsp ponzu, 1 Tbsp miso, 1 tsp sugar, 1 tsp mirin, 1 tsp unseasoned rice vinegar, 1 clove garlic, 1/2 Tbsp neutral-flavored oil, and 1/2 Tbsp roasted sesame oil. 
Nutrition
Nutrition Facts
How to Make Sesame Sauce (Goma Dare)
Amount per Serving
% Daily Value*
* Percent Daily Values are based on a 2000 calorie diet.
©JustOneCookbook.com Content and photographs are copyright protected. Sharing of this recipe is both encouraged and appreciated. Copying and/or pasting full recipes to any website or social media is strictly prohibited. Please view my photo use policy
here
.
Editor's Note: This post was originally published on December 2, 2011. It's been updated with new images and content and the revised recipe in March 2023.