Learn how to thicken sauces and soups with cornstarch slurry. This technique helps to seal in all the great flavors in the sauce to make perfect Mapo Tofu, Egg Drop Soup, and many more dishes!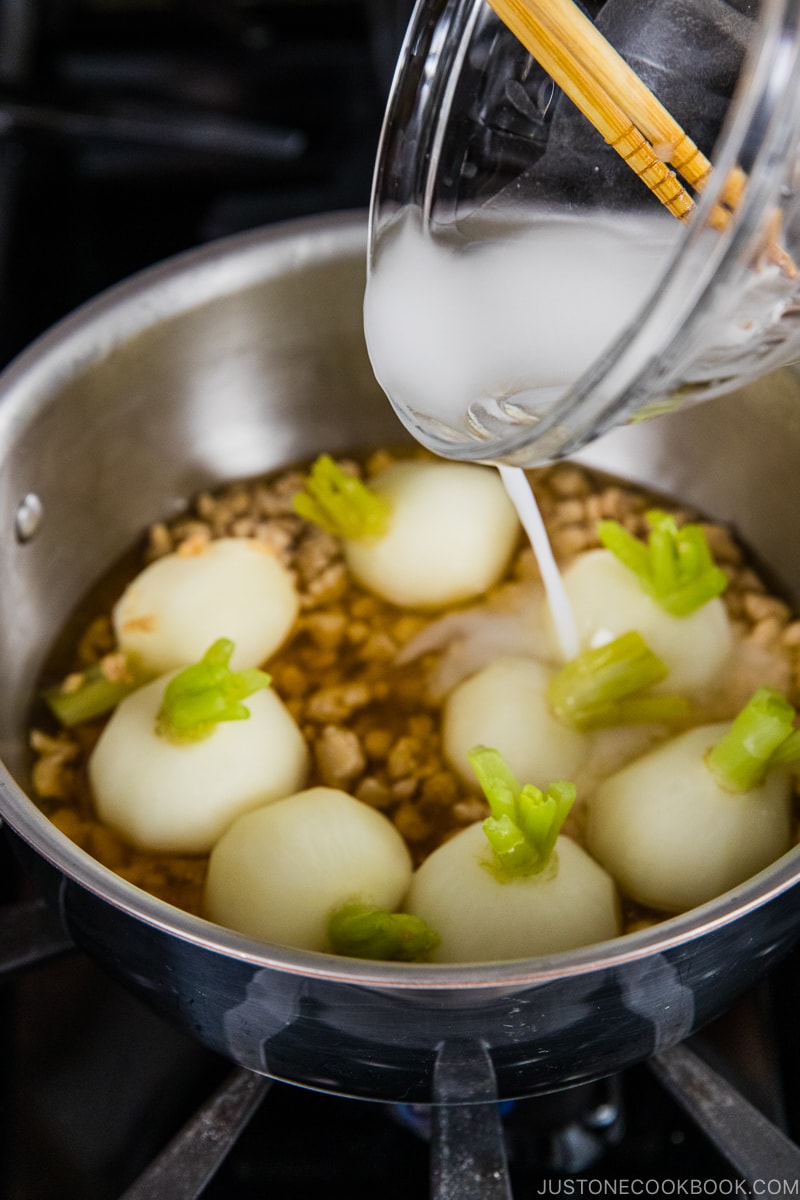 In Japanese cooking, you'll find many Chinese-influenced dishes known as Chūka Ryori (中華料理). Many dishes like Mapo Tofu, Crispy Noodles with Seafood, and Sweet & Sour Chicken have a velvety, gravy-like sauce. This thick sauce allows the food to retain the heat and flavors of the dish very well.
Today let's learn how to thicken sauce and soup in Japanese cooking!
What is Slurry?
A slurry is a mixture of thickening agents and liquid to thicken soups and sauces. In Japan, we use potato starch (we call it katakuriko 片栗粉) to make a slurry. It is known to make a thicker texture than cornstarch can make.
However, since cornstarch is easier to get here in the United States and is generally used in Chinese cooking, you can use cornstarch in place of potato starch in my recipes.
The liquid for a slurry is often water, but sometimes it can be a mixture of condiments or dashi (Japanese stock).
The benefit of thickening the sauce and soup is to trap all the delicious flavors, and because the thick sauce or soup coats the ingredients well, you can enjoy them together in one bite whereas a thin sauce or soup can slip through the ingredients and more challenging to stick on the food.
Perfect Ratio for Cornstarch to Water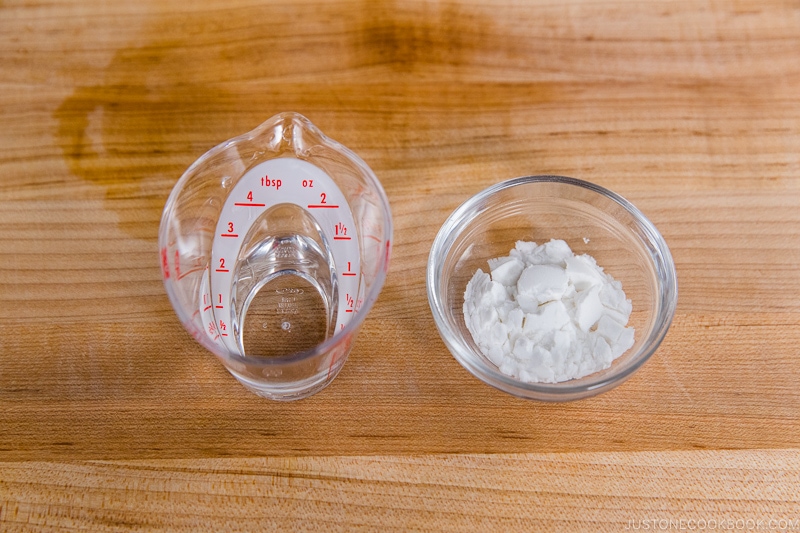 To make a slurry, start with 1 to 2 ratio of cornstarch to water. For example, prepare 1 tablespoon of cornstarch and 2 tablespoons of water. Then whisk together really well. When you add more water, it just takes more time to thicken the sauce or soup.
If you're a seasoned cook, you can start with a 1 to 1 ratio: 1 tablespoon cornstarch and 1 tablespoon water. Just keep in mind it'll thicken very quickly and end up in a clump if not mixed quickly and well.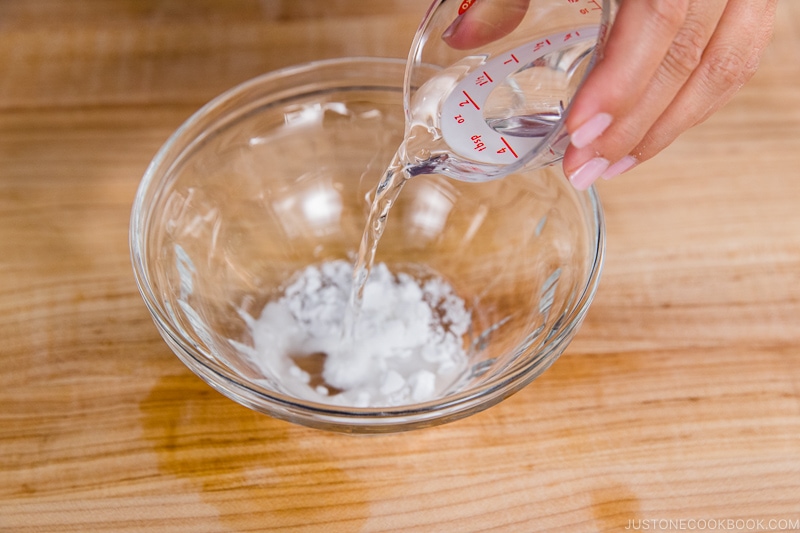 3 Tips to Avoid Lumpy Sauce and Soup
1. Mix the cornstarch really well
It's very important to let the cornstarch dissolve completely in the liquid first. And make sure to whisk the slurry until right before you are pouring it into the sauce/soup.
2. Add a slurry small amount at a time
Instead of pouring the slurry all at once, add gradually and check the consistency before adding more.
3. Constantly mix with a spatula or ladle after adding the slurry
Use a spatula or ladle to mix the sauce/soup throughout and thoroughly. Don't use a small spoon or cooking chopsticks to do this step. Quickly blend in all together.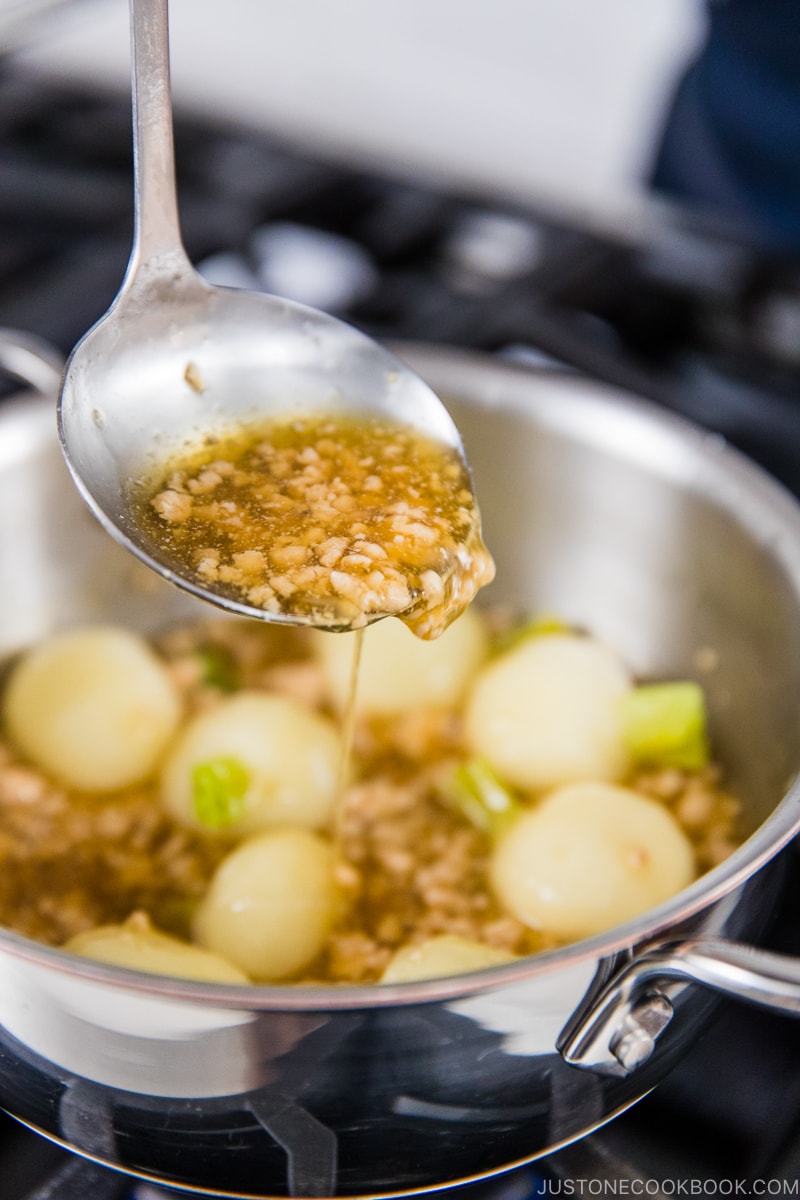 How to Adjust the Thickness of Sauce/Soup
When the sauce is too thin:
If you have already added a slurry to the sauce/soup, you can make another slurry to adjust the thickness. Never add the cornstarch by itself to the sauce/soup.
When the sauce is too thick:
Add and distribute water a little bit at a time. Just be aware when the sauce is too thick, it's harder to evenly distribute and parts of the dish may end up lumpy.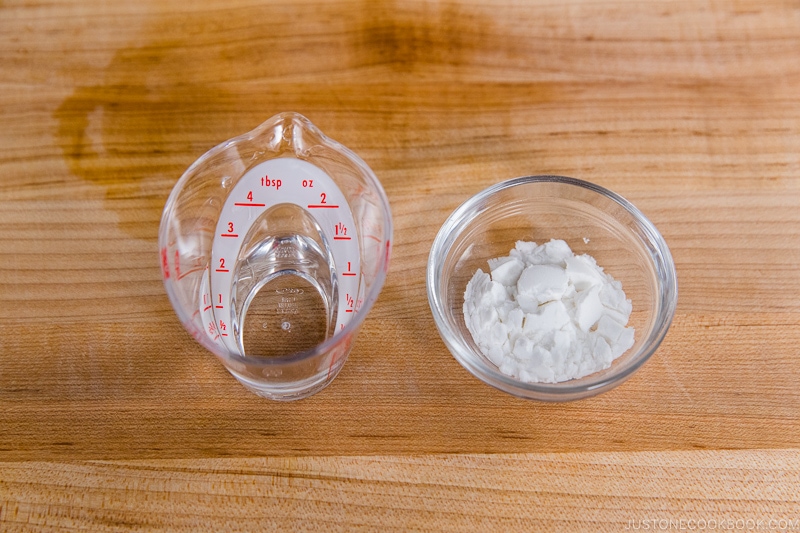 Frequently Asked Questions
Q: Is corn flour the same as cornstarch?
A: No. Corn flour is a yellow powder made from finely ground, dried corn, while cornstarch is a fine, white powder made from the starchy part of a corn kernel. Corn flour is used similarly to other flours, whereas cornstarch is mainly used as a thickener.
Q: Why don't you use flour instead? We can thicken gravy with flour.
While cornstarch gives a smooth texture with a glossy luster, flour makes the sauce and soup cloudy. For every 1 tablespoon of cornstarch, you'll need to use about 3 tablespoons of flour. Flour takes much longer to cook as you'll need to remove the raw flavor of the flour.
Also, cornstarch thickens better, and potato starch has even stronger thickening ability.
Q: The consistency of the sauce looked good while cooking it but as soon as I served to a dish, the texture became a lot looser than before. Why?
A: The sauce became loose due to the remaining moisture released from the ingredients you're cooking with. To avoid that, you want to extract the moisture of the food (especially ingredients with higher moisture content) by cooking them longer before adding in the slurry.
Q: What's the best substitute for cornstarch for Japanese/Asian recipes?
A: It can be replaced with potato starch, tapioca starch, or arrowroot.
Arrowroot: Made from the root of the plant of the same name, this type of starch is an easy one-to-one substitution for cornstarch. It will also produce the same glossy finish that cornstarch does.
Potato starch: Another one-to-one substitution—just be careful when you whisk, it tends to clump up more than cornstarch.
Tapioca flour (starch): A great substitute. You'll want to use 2 tablespoons for every 1 tablespoon of cornstarch.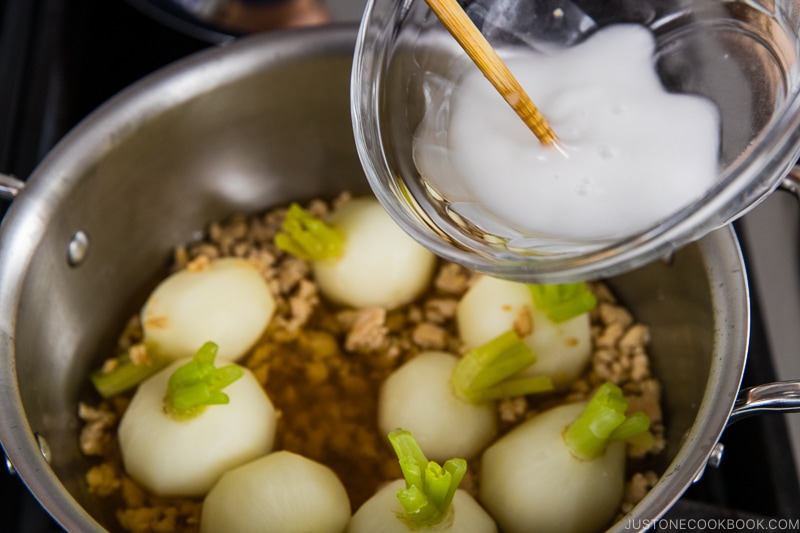 Wish to learn more about Japanese cooking? Sign up for our free newsletter to receive cooking tips & recipe updates! And stay in touch with me on Facebook, Pinterest, YouTube, and Instagram.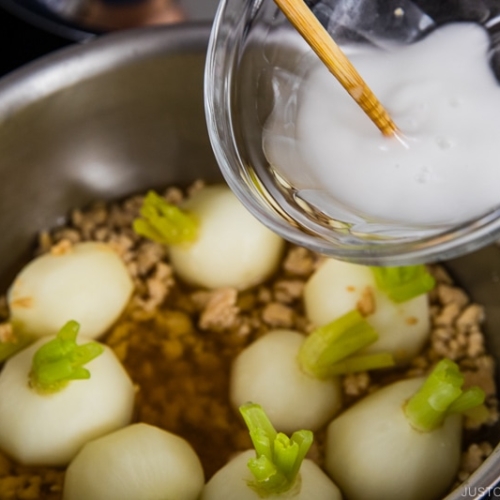 How to Make A Slurry to Thicken Sauce and Soup
Learn how to thicken sauces and soups with cornstarch slurry. This technique helps to seal in all the great flavors in the sauce to make perfect Mapo Tofu, Egg Drop Soup, and many more dishes!
Japanese Ingredient Substitution:
If you want substitutes for Japanese condiments and ingredients, click
here
.
Instructions
Gather all the ingredients.
To Measure and Mix the Ingredients
Measure

1 Tbsp potato starch or cornstarch

and add

2 Tbsp water

. Whisk the mixture really well until there are no lumps. Tips: Make sure you DO NOT use warm or hot water as the slurry will start to thicken in an instant! It's good to prepare a slurry ahead of time so you won't end up with lumps.
To Adjust the Heat
Right before you finish cooking, adjust the heat to medium (or medium-low for a beginner cook) and get ready to add in the slurry to thicken the sauce/soup.
To Combine with a Sauce or Soup
Mix the slurry one more time before adding to a sauce or soup as the cornstarch tends to settle at the bottom of the mixture.

Whisk the mixture as you evenly distribute into the sauce or soup.

The sauce or soup will thicken as you continue cooking over the stove. When it has almost reached the consistency you look for and develop a luster and become more translucent, remove from the heat. Tips: The sauce will continue to thicken with remaining heat, so don't overcook the food. You should not need to cook for more than 5 minutes after adding in the slurry.
©JustOneCookbook.com Content and photographs are copyright protected. Sharing of this recipe is both encouraged and appreciated. Copying and/or pasting full recipes to any website or social media is strictly prohibited. Please view my photo use policy
here
.