This Myoga Yukari Rice (Mazegohan) is a mixed rice dish made with Japanese ginger and dried red shiso seasoning. It is tangy, aromatic, and so beautiful to look at. Enjoy it as part of your summer meal!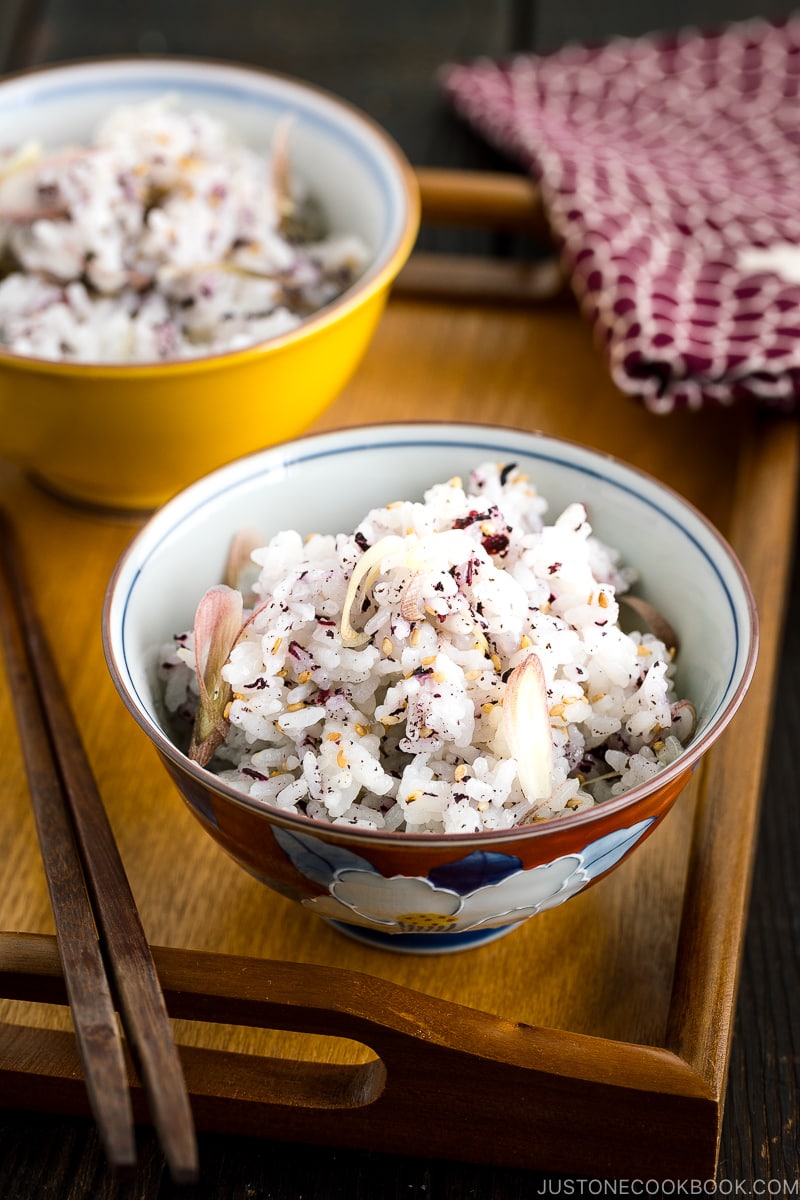 Japanese cuisine is all about using seasonal ingredients in our daily cooking. As the summer weather continues, I want to share this refreshing rice dish – Myoga Yukari Rice (Mazegohan) (みょうがとゆかりの混ぜご飯) – that guarantees to bring your appetite back. Too many unknown words? Let me explain.
What Are Myoga and Yukari
Both myoga (Japanese ginger) and yukari are Japanese ingredients that are incorporated into the steamed rice. They are one of the signature produce that we specifically enjoy during summertime. In case you're not familiar, I want to quickly introduce them to you.
1. Myoga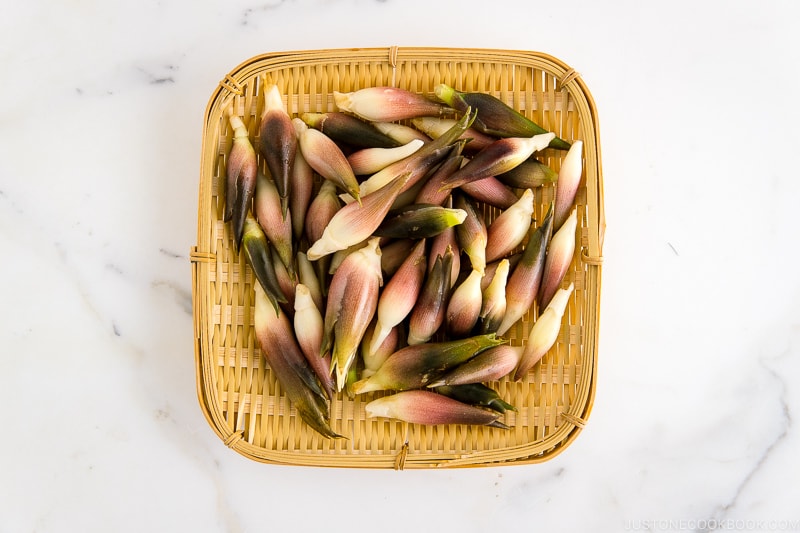 Also known as Japanese ginger, Myoga (ミョウガ, みょうが, 茗荷) is harvested for its unopened flower bud and flavorful shoot instead of its root. The flower buds are slightly larger than thumb-size and they come in pinkish-bronze outer layers.
Myoga has a distinct flavor, with a mild ginger overtone and zesty tang. The Japanese enjoy this unique ginger for its tender crunchy texture and refreshing taste.
2. Yukari Rice Seasoning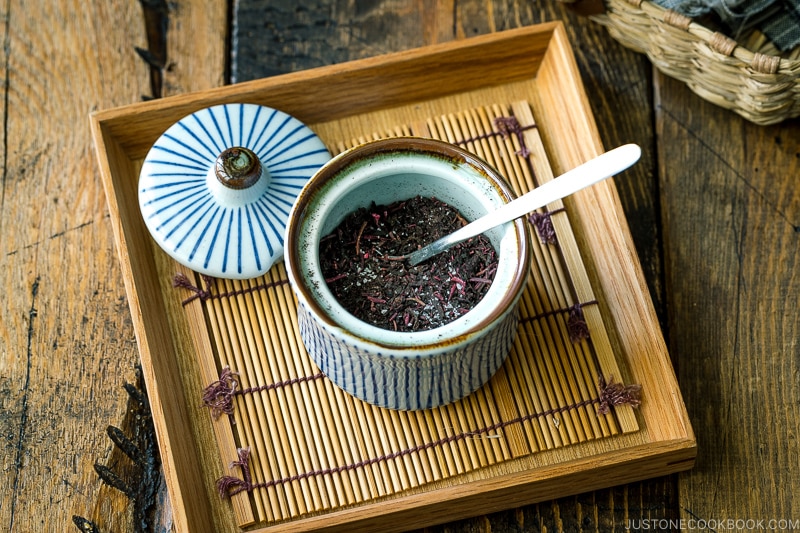 Made of dried red shiso leaves and salt, Yukari (ゆかり) is considered a type of furikake (Japanese rice seasoning). We sprinkle over steamed rice or to make seasoned rice balls.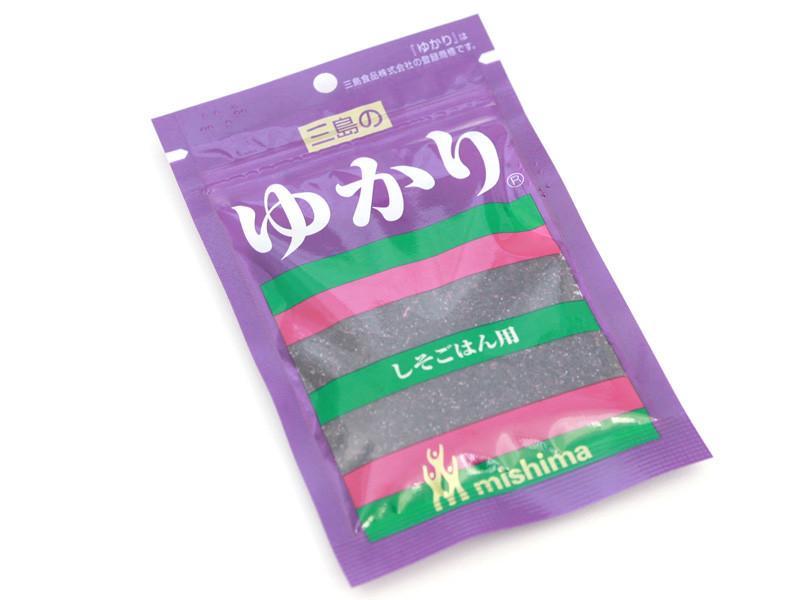 You can purchase this Mishima brand furikake from a Japanese grocery store or make it your own if you have lots of red shiso leaves in your garden.
What is Mazegohan
For those who have been following my blog or any Japanese food sites and recipe books, you are most likely come across some types of Japanese mixed rice.
When cooked rice is mixed together with uncooked or cooked ingredients, the dish is called Mazegohan (混ぜご飯). Maze or Mazeru (verb) means 'to mix' in Japanese.
You may be more familiar with another type of mixed rice called Takikomi Gohan (炊き込みご飯). Takikomi or Takikomu (verb) means 'to cook ingredients with rice' where uncooked rice and raw/fresh ingredients are cooked together.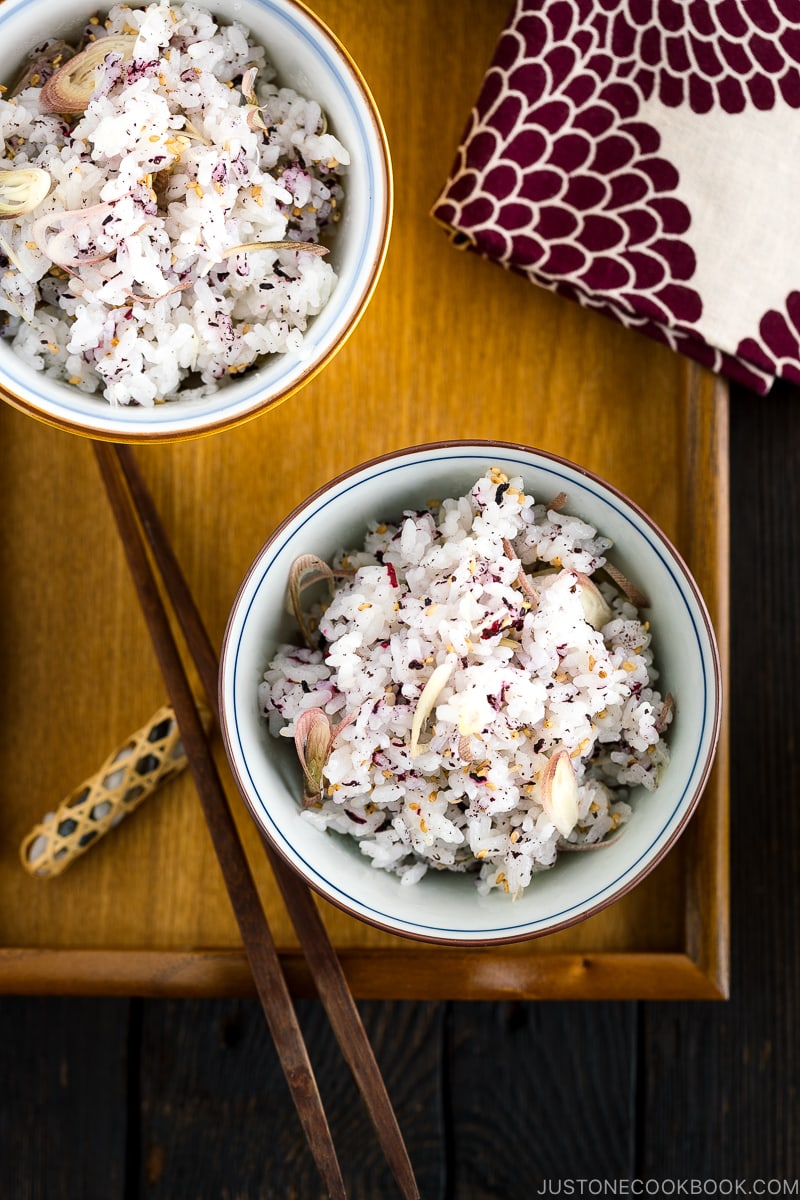 How to Make Myoga Yukari Rice
Mazegohan is a lot easier than making Takikomi Gohan as you just need to mix all together right before serving. To make this recipe, you need to:
Cut myoga ginger into thin slices – Cut as thin as possible so you don't end up biting into any big chunks.
Gently mix freshly cooked rice, myoga, yukari rice seasoning, and sesame seeds – I recommend using a large bowl (such as sushi oke) or a baking sheet. Make sure to run water so rice won't stick.
Serve and enjoy!
I love serving the Myoga Yukari Rice with grilled corn and a simple fish dish like this and this. Or you can even serve it with a salad or chilled tofu along with a bowl of soup.
This zesty mixed rice is a celebration of Japanese summer and you're welcome to enjoy it with any summer meals you could come up with!
Popular Seasonal Rice Dishes on JOC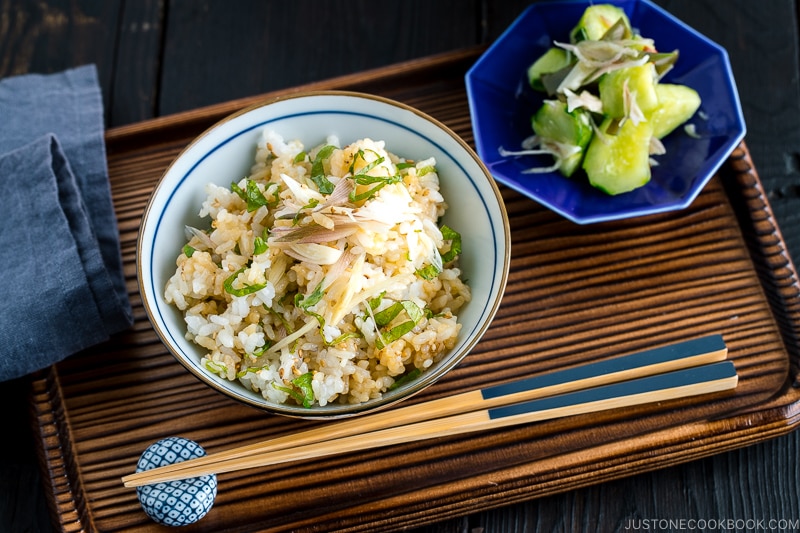 Rice is a staple in Japanese cuisine. Therefore, we enjoy it in many different ways. Here are some of our favorite seasonal rice dishes!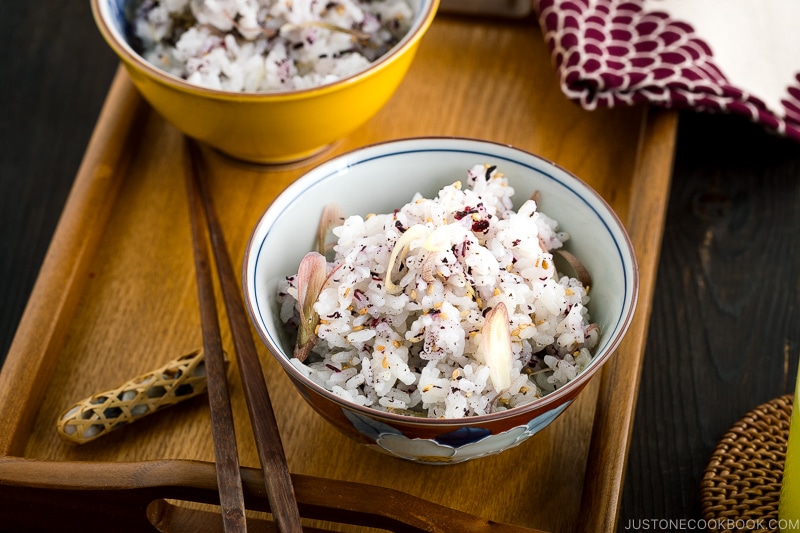 Wish to learn more about Japanese cooking? Sign up for our free newsletter to receive cooking tips & recipe updates! And stay in touch with me on Facebook, Pinterest, YouTube, and Instagram.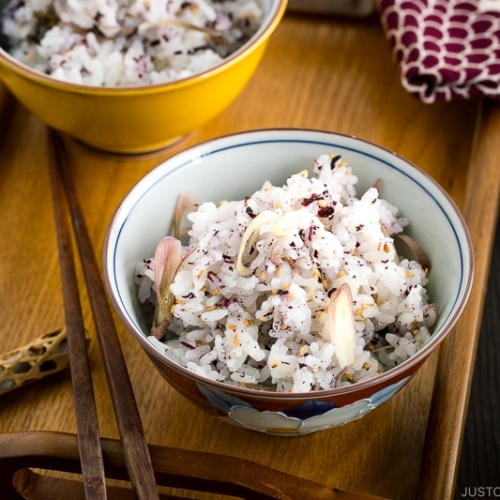 Myoga Yukari Rice (Mazegohan)
This Myoga Yukari Rice (Mazegohan) is a mixed rice dish made with Japanese ginger and dried red shiso seasoning. It is tangy, aromatic, and so beautiful to look at. Serve it as part of your summer meal.
Japanese Ingredient Substitution:
If you want substitutes for Japanese condiments and ingredients, click
here
.
Instructions
Gather all the ingredients.

Discard the bottom ends of myoga ginger. Thinly slice the myoga diagonally.

Run a large bowl (here I used sushi oke, but you can also use a baking sheet) under cold water to make it wet, so the rice won't stick. Add the freshly cooked rice and yukari rice seasoning to the bowl and mix them all together.

Add white sesame seeds and thinly sliced myoga ginger.

Gently mix together with a rice paddle (scooper) in a cutting motion so that the rice doesn't get mushy. Serve into rice bowls and enjoy!
To Store
You can keep any leftover rice in an airtight container and store it in the freezer for a month. I don't recommend refrigerating rice as it gets hard. I freeze my rice even when I plan to eat it the next day.
Nutrition
Nutrition Facts
Myoga Yukari Rice (Mazegohan)
Amount per Serving
% Daily Value*
* Percent Daily Values are based on a 2000 calorie diet.
©JustOneCookbook.com Content and photographs are copyright protected. Sharing of this recipe is both encouraged and appreciated. Copying and/or pasting full recipes to any website or social media is strictly prohibited. Please view my photo use policy
here
.