Print Recipe
Jump To Recipe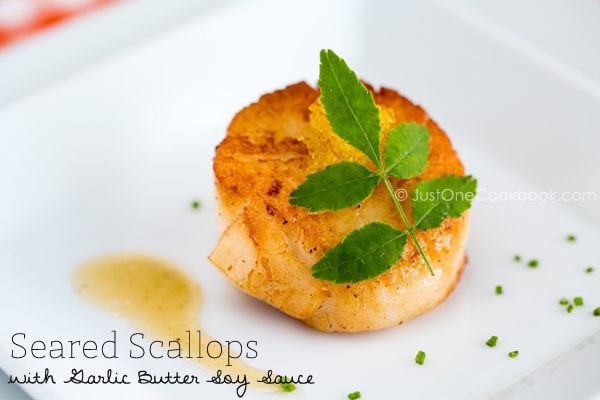 Mother's Day is just around the corner so today I want to share a delightful Seared Scallop dish that you can cook to celebrate this occasion.  Also, I prepared an international giveaway so don't forget to check out the details!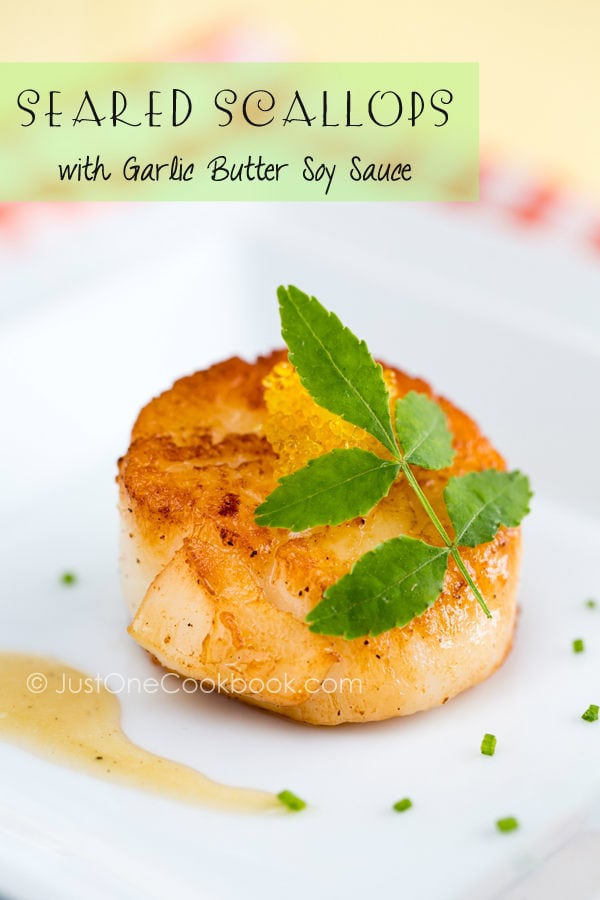 Seared Scallops are really easy and quick to prepare and they look beautiful when you present them delicately on a plate.  It can be an appetizer, main dish, or one of your side dishes.  My seared scallop recipe comes very detailed, including instructions to brine the scallops and to make clarified butter for searing.  These extra steps don't add much labor or time, however, you can omit the "optional" steps.
You can be creative to make your own sauce, or simply serve with a squeeze of lemon juice on top.  Today I prepared the scallops in three way.
My first sauce is the garlic butter soy sauce.  It's the garlic butter sauce with a Japanese twist by adding soy sauce.  Combining butter and soy sauce is always a popular combination in Japan so I hope you give it a try.
The second sauce is spicy mayo.  Japanese loves seafood with mayo and I made the mayo spicy to add kicks to the flavor.  Spicy mayo is really easy to make – just add Sriracha sauce to mayonnaise and you can find my recipe here.
The third sauce is Unagi sauce.  This thick soy sauce is my children's favorite because it's sweet.  I used a bottled unagi sauce this time (as you only need a few dollops), but you can make homemade unagi sauce using my recipe here.
Now that scallops and sauces are covered, my husband Shen will talk about the wine he paired up with these delicious scallops.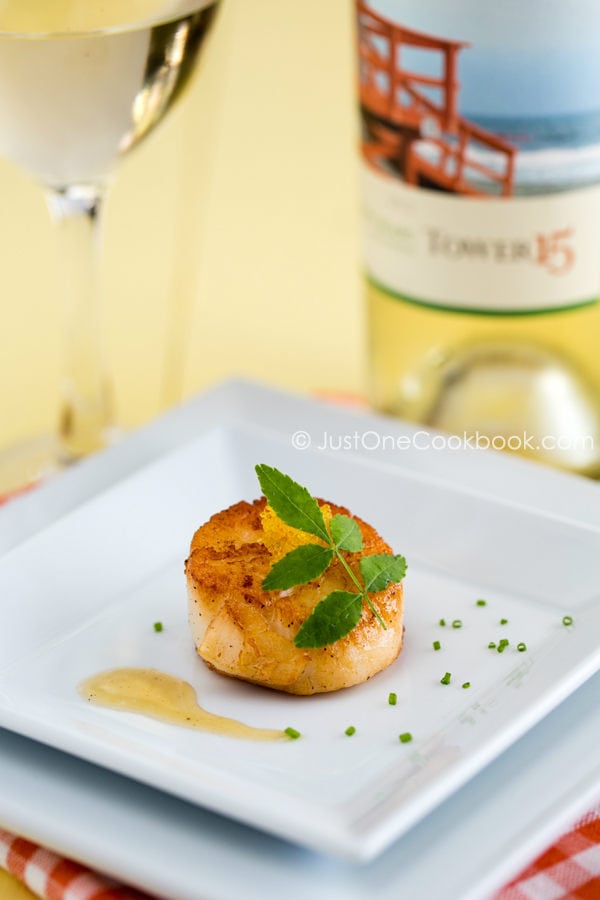 Summer is just around the corner and it's been a pretty warm spring in the San Francisco bay area.  This past week the temperature broke 85 a few times and it was the perfect weather to enjoy white wine.  During the warm months, we enjoy drinking rose and fun white wines in the afternoon while watching the kids play in the backyard.  Tower 15's Sauvignon Blanc and Rose are perfect for these relaxing occasions.
The Sauvignon Blanc is Tower 15's first release and it's simply fabulous!  The texture is very creamy and easy on the palate.  It's is a very fruity wine, reminding me of fresh peach juice with a hint of tartness and spice.  We've paired this wine with three styles of seared scallop and they worked very well together.  Beside the Sauvignon Blanc, we shared the "Sunset Rose" a few days ago with a group of friends at a Chinese restaurant and everyone enjoyed it.  The crisp chilled Rose filled with summer fruit flavors complemented the salty Chinese food and cleaned the palate.  If you are looking to bring a fun bottle of wine to bring to a party this summer, I would recommend the Rose for a afternoon BBQ and the Sauvignon Blanc for sit down dinner in the backyard.
Here is a fun 2 min clip from Pali Wine Co on how they bottled the wines.
Please note: We received no compensation for this review. We received Tower 15's 2012 Sauvignon Blanc and Sunset Rose from Jarvis Communications free of charge to use in exchange for an honest review.
Now it's time for GIVEAWAY!
Seared scallops are cooked, and wine is selected.  Now how about a present?
I am giving away three (3) $25 dollar virtual gift cards from my favorite kitchen store, Sur La Table!
Click HERE to read more details and enter to win.  This is an international giveaway, and anyone can enter to win.  For those winners who live outside of the US or prefer same value Amazon gift card instead, I'd be happy to arrange.  Good luck!
Don't want to miss a recipe? Sign up for the FREE Just One Cookbook newsletter delivered to your inbox! And stay in touch on Facebook, Google+, Pinterest, and Instagram for all the latest updates. Thank you so much for reading, and till next time!
Seared Scallops
Course:
Appetizer, Main Course
Ingredients
1

lb

sea scallops

(I used graded U8 scallops, see Notes)

Kosher salt

Freshly ground black pepper

3

Tbsp

clarified butter

(or regular butter if you like)

¼

cup

yuzu flavored tobiko

(for garnish, see Notes)

Chives

(or parsley, I used Japanese herb "kinome" (young leaf of prickly ash), for garnish)
For Brining (Optional):
¼

cup

Kosher salt

½

cup

water

(boiling)

2

cups

water

(cold)
For Sauce:
1-1 ½

Tbsp

salted butter

2

tsp

garlic

(2 tsp = 1 large clove garlic) (minced)

¼

cup

dry white wine

(such as Sauvignon Blanc)

1

tsp

soy sauce
Instructions
[Optional] Make clarified butter. Clarified butter does not burn as easily as regular butter so it's the best choice for searing scallops beautifully. Read my step-by-step instruction

here

.

[Optional] If you want to brine scallops*, follow the directions below; otherwise, skip to Step 4. For brining scallops, combine the salt with the boiling water in a large bowl, stirring to dissolve the salt. Then add cold water.


[Optional] Add the scallops to the brine and let stand for 10 minutes (no longer, or the scallops become too salty). Drain the scallops.


Rinse under cold water and gently pat dry with the paper towels. Sprinkle the scallops lightly with salt and freshly ground black pepper.


Heat the clarified butter in a large stainless steel frying pan* over medium-high heat until it begins to smoke. If you use regular butter, melt the butter over medium heat. Add the scallops in a single layer, leaving enough space between each scallop (If necessary, cook in 2 pans or in 2 batches.).


Cook without moving the scallops*, until the bottoms are nicely browned, about 3 to 3 ½ minutes. Turn each scallop gently and put it in a different part of the pan so the surface is hotter and gives the best sear. Cook the other side for another 3 to 3 ½ minutes.


Transfer the scallops to a wire rack to drain excess oil while you prepare the sauce.


For the pan sauce, heat the butter in a large frying pan over medium heat. Add the garlic and sauté until fragrant. Add the wine, stirring constantly, and cook about 3 minutes, until alcohol is evaporated and the sauce becomes thick.


Lastly add the soy sauce and mix all together. Remove the pan from heat and spoon the pan sauce over the scallops or serve in a separate bowl.

Recipe Notes
Prep/Cook time: This excludes the time for brining scallops and making clarified butter.
Sea scallops: U8 means there are 8 of this size scallop in a pound. 
The reason why we brine scallops is for flavor and removing the chemical taste.
You can create more beautiful caramelized exterior using stainless steel pan than non-stick pan.
Let the scallops cook without moving until the bottom browns and releases on their own.

Yuzu flavored tobiko: or regular tobiko can be found in Japanese grocery store.



To prevent from oil splatter, you can use this oil splatter guard.
The method for preparing and cooking scallops is from Thomas Keller's Ad Hoc at Home.
Recipe by Namiko Chen of Just One Cookbook. All images and content on this site are copyright protected. Please do not use my images without my permission. If you'd like to share this recipe on your site, please re-write the recipe in your own words and link to this post as the original source. Thank you.