Shishito peppers are mild green chili peppers with a bite! They are very popular in Japan and are often served pan-fried as an appetizer at izakaya restaurants or pan-grilled as part of Teppanyaki.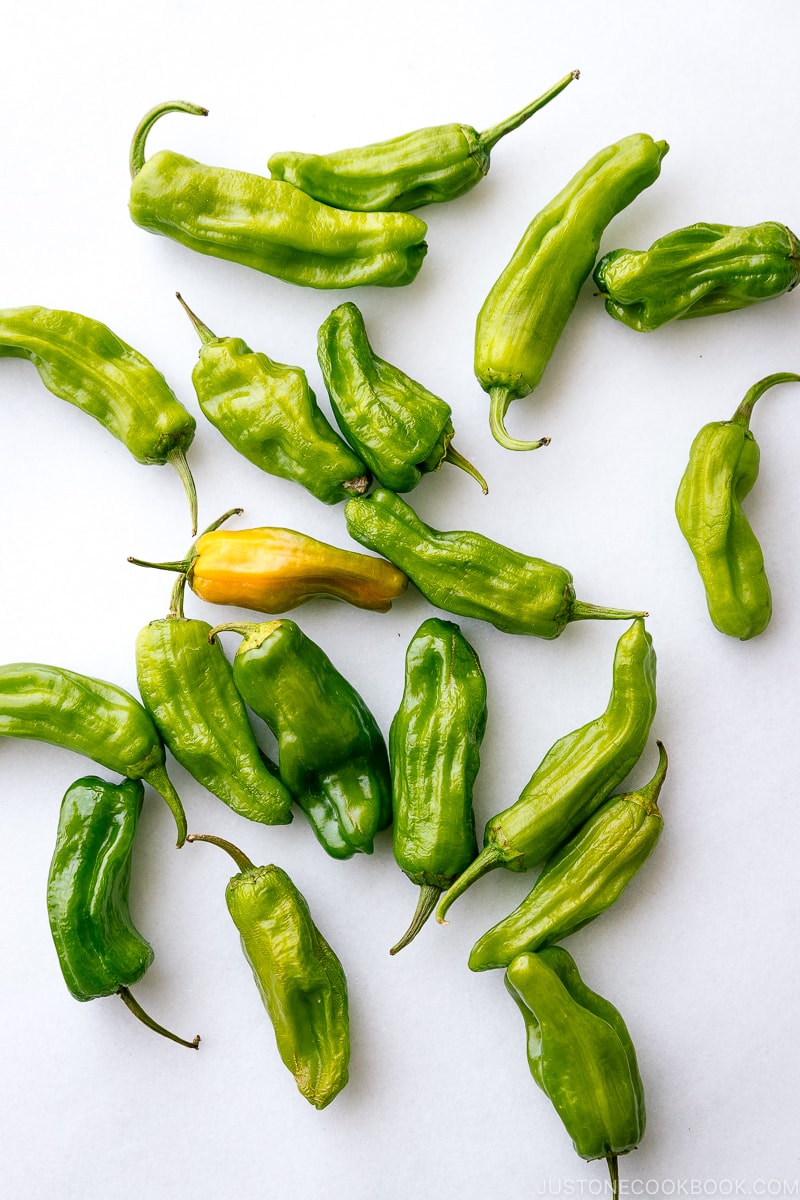 Hailed from East Asia, shishito peppers (獅子唐) are small peppers with thin and glossy skin and wrinkles on the surface. You may mistake them for jalapeños, but rest assured, the peppers are rated at 100-1,000 Scoville Heat Units, which means they are fairly tame.
You can eat these chili peppers whole by grilling, deep-frying as tempura, sautéing or simmering. They make the best appetizer when served pan-grilled until the skins are charred with a slight crispy texture. Tossed with some sea salt and a few fresh grinds of black pepper, they can be so addicting that you can't stop eating!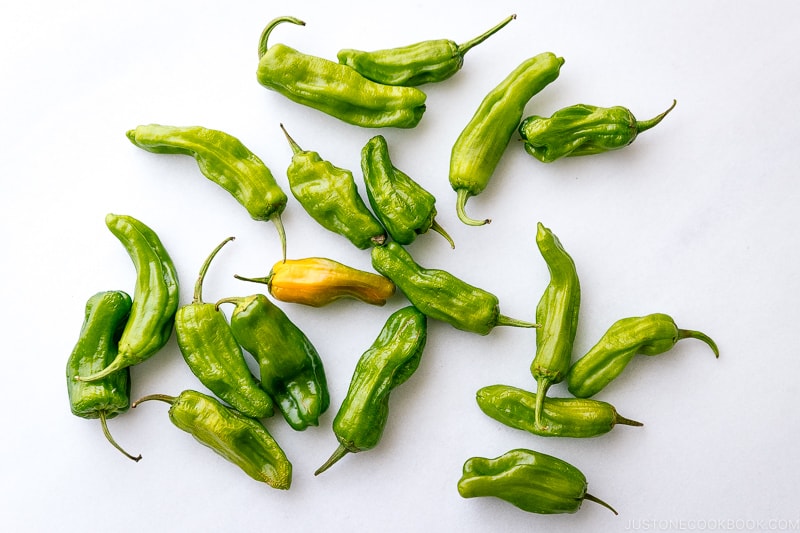 What Are Shishito Peppers
These lime green finger-sized wrinkly peppers are young pods harvested early and turn bright red when mature.
The name shishi (獅子) is a reference to the Chinese guardian lion, as the tip of the shishito supposedly resembles it. They are harvested year-round and reach peak season in the spring to summer seasons.
They are an excellent source of fiber, vitamins A, B6, C, and K, folate, and potassium.
What Does It Taste Like
Raw shishito peppers have a fresh grassy and slightly bitter flavor like green bell peppers. Once cooked, shishito peppers develop a mild, slight creamy and sweet taste that come with a bite.
Approximately one in ten of shishito peppers are fiercely spicy, so watch out!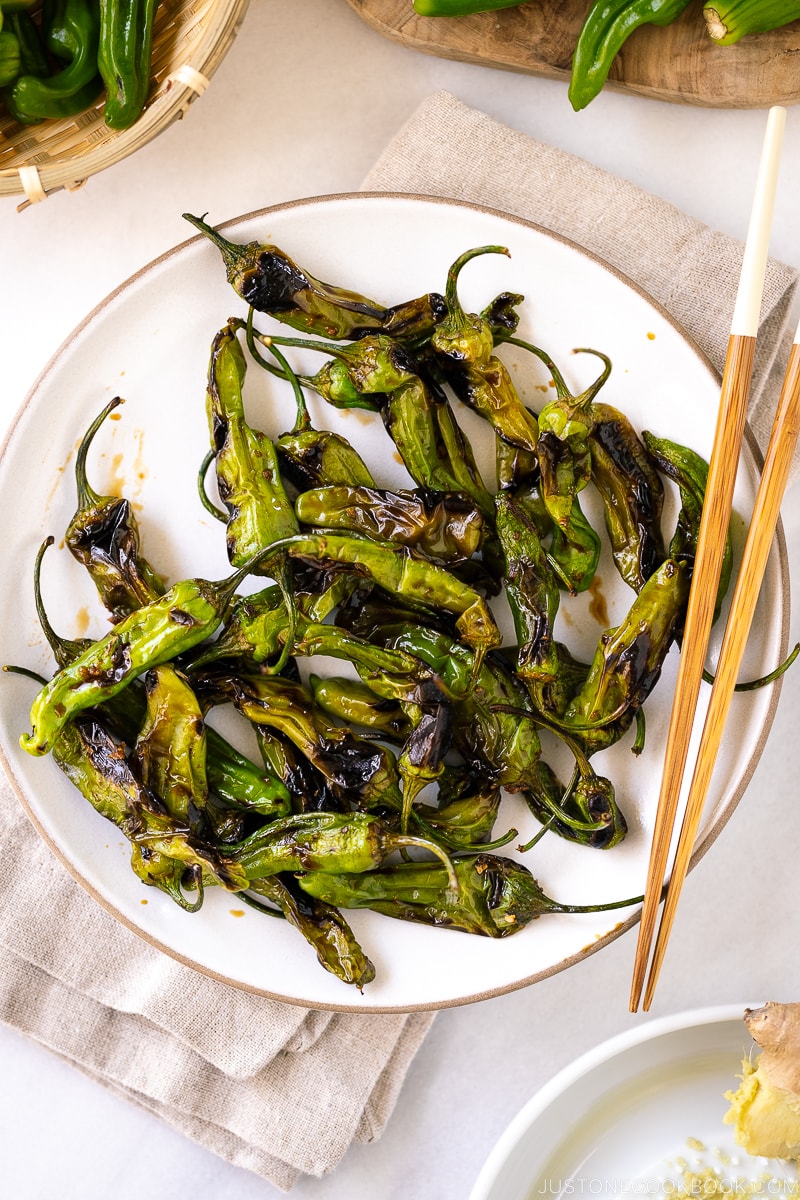 How To Cook
The beauty of shishito peppers is they cook quickly and need minimal prep. You can pan-fry them, put them on skewers to grill, or simmer the peppers in dashi-based liquid, or eat them raw in a salad.
To prevent the peppers from popping, I recommend poking one or two holes in the peppers before searing them directly on the hot pan.
The easiest method to cook shishito is by heating a tablespoon of olive oil in a frying pan. When the oil is hot, add the peppers and cook, turning occasionally, until nicely seared and blistered. You can add a touch of soy sauce to the pan if you like. Keep your eyes closely on the pan so they do not burn. Remove from the heat and season with salt and pepper, or a sprinkling of shichimi togarashi.
Serve them as a stand-alone appetizer, or as a side to go along with your cold soba noodle salad, BBQ dishes, grilled fish, sushi meal, etc.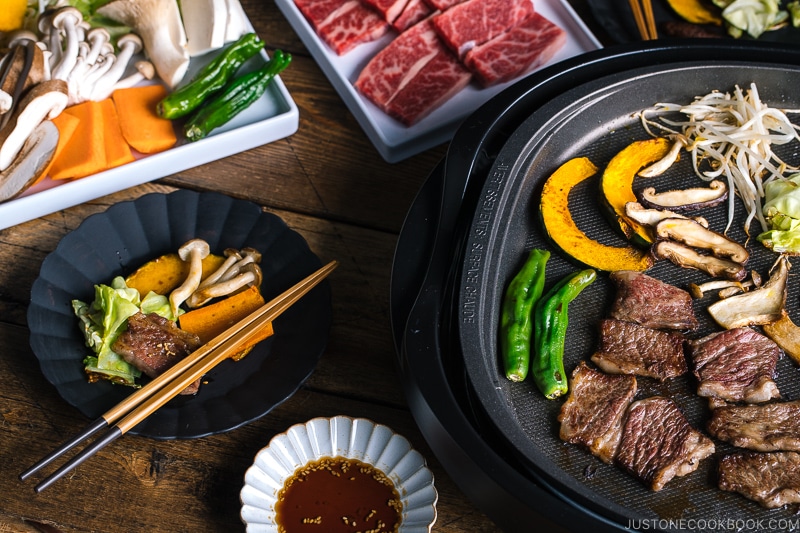 Where To Buy
You can find shishito peppers at Japanese/Asian grocery stores, large supermarkets like Whole Foods or Trader Joe's, and at your local farmer's market.
They are very easy to grow as well. Plant the seeds in a pot and place in a sunny spot, they will thrive! You can buy the shishito pepper seeds from online sources such as Amazon or Etsy.
Substitutions
You could substitute with similar peppers such as green bell peppers or padron peppers.
Recipes Using Shishito
---
Wish to learn more about Japanese cooking? Sign up for our free newsletter to receive cooking tips & recipe updates! And stay in touch with me on Facebook, Pinterest, YouTube, and Instagram.