Shishito peppers are mild green peppers with a bite that is pan-roasted with salt or seasoning. They make an excellent side dish for fish and meats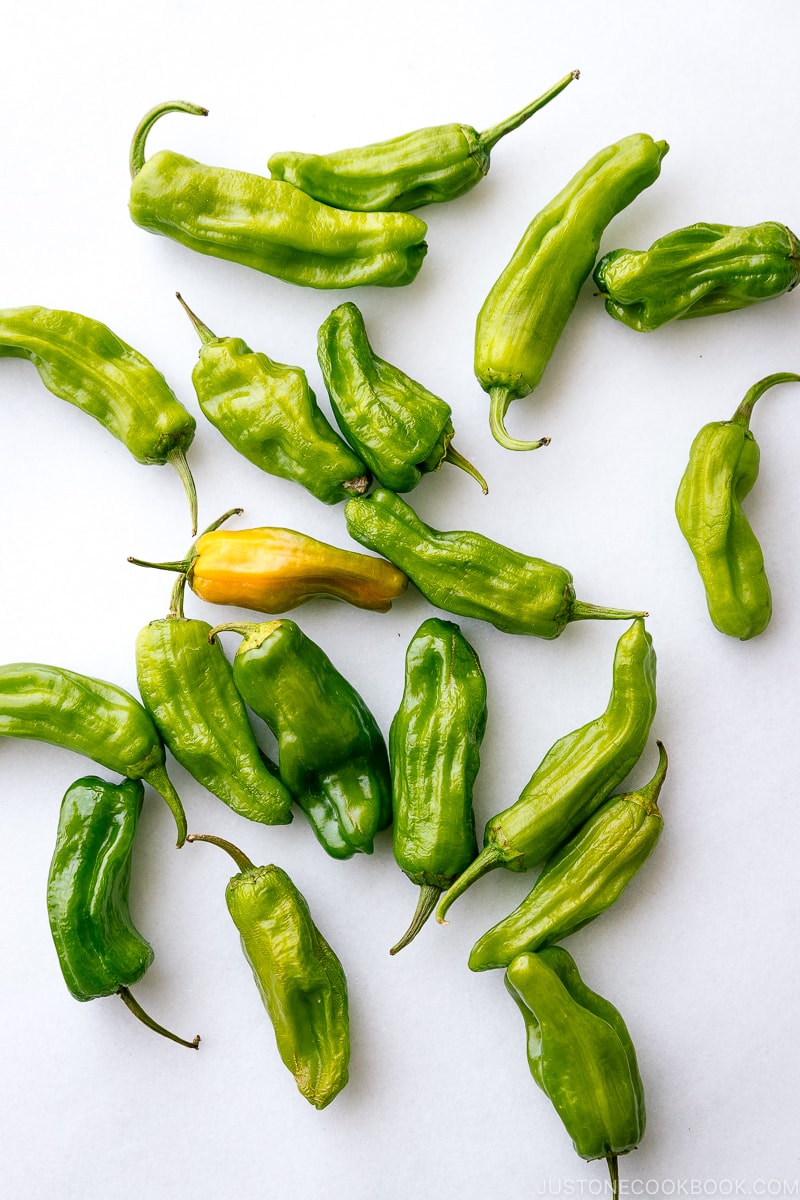 Shishito peppers (獅子唐) are small peppers with thin and glossy skin and wrinkles on the surface. You may mistake them for jalapeños, but rest assured, most are not spicy. It is harvested year-round and reaches peak season in the spring to summer seasons. It's eaten whole and can be grilled, deep-fried as tempura, sauteed, or simmered. It makes a great appetizer or side dish.
What Are Shishito Pepper
These lime green finger-sized wrinkly peppers are young pods harvested early and turn bright red when mature. The name shishi (獅子) is a reference to the Chinese guardian lion, as the tip of the shishito supposedly resembles it. These quick-cooking peppers need minimal prep, perhaps a sprinkle of sea salt or soy sauce, and cook on medium-high heat.
It's an excellent source of fiber, vitamins A, B6, C, and K, folate, and potassium.
What Does It Taste Like
Shishito has a grassy and slightly bitter flavor like green bell peppers. Approximately one in ten are fiercely spicy, so watch out!
How To Use
Shishito is best cooked as is, pan-fried, deep-fried, or roasted in the oven. Cook them until the skin forms blisters.
Where To Buy
You can find shishito peppers at Japanese/Asian grocery stores, large supermarkets like Whole Foods or Trader Joe's, and at your local farmer's market.
Substitutions
You could substitute with similar peppers such as green bell peppers or padron peppers.
Recipes Using Shishito
---
Wish to learn more about Japanese cooking? Sign up for our free newsletter to receive cooking tips & recipe updates! And stay in touch with me on Facebook, Pinterest, YouTube, and Instagram.