A flavorful herb packed with antioxidants and health benefits, yomogi is a beloved ingredient in Japanese culture. It's an ingredient in Wagashi, steeped for tea, added to hot baths, and used in eastern medicine.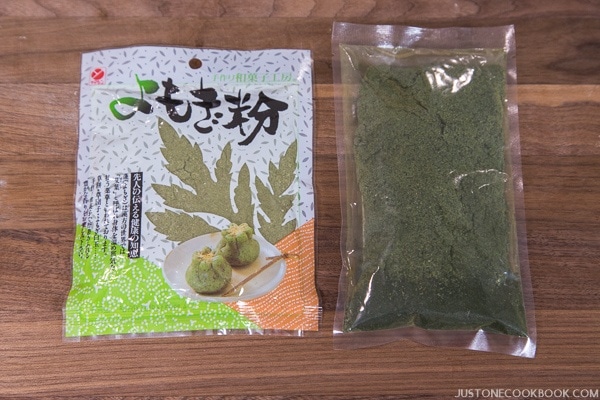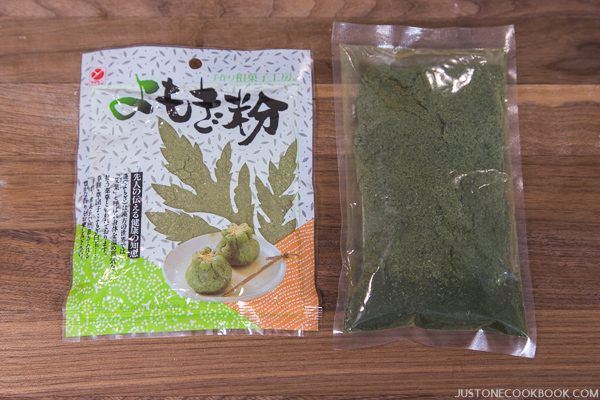 Yomogi (蓬) or mugwort is an aromatic and medicinal herb of the Japanese Mugwort plant. Native to China, Korea, and Japan, it is a species in the sunflower family. The Japanese use the forest green leaves in various culinary applications and traditional medicine.
What Is Yomogi
Yomogi (Artemisia princep) is a perennial plant that grows wild in the mountains, hills, and even in cities all over Japan. The yomogi leaves have green, fuzzy, finely cut leaves.
The Japanese use it as an ingredient for Wagashi associated with the spring season. In the spring, you will see wagashi such as Kusa Mochi (草餅), yomogi mochi (蓬餅), and Hanami Dango 花見団子. It's also used in a three-tiered diamond-shaped hishimochi, a mochi associated with Girl's Day/Doll's Day. You may also see yomogi anpan and other bread offerings at Japanese bakeries. Aside from its use as a natural food dye, it's enjoyed as a tea, an ingredient in soups and rice dishes, and added to bath water.
It is long used in traditional medicine to detox and beautify the skin. Studies show that yomogi essential oils may have anti-inflammatory and anti-cancer properties. There are customs of hanging yomogi and iris leaves outside the home on May 5th to keep evil spirits away. It is said that evil spirits dislike their fresh fragrance, and the herbs could strengthen the body.
Other names include Japanese mugwort, Korean wormwood, Korean mugwort, ssuk, and kui hao.
What Does It Taste Like
It has an earthy and fresh fragrance and a slightly bitter and grassy flavor. The deep green color is similar to matcha but tastes very different.
How To Use
It is commonly used in Wagashi associated with the spring season. The leaves are dried for tea, blanched for soups and rice dishes, and added to bath water for their soothing effects.
Recipes Using Yomogi
Where To Buy
To make kusa mochi or hanami dango outside of Japan, look for yomogi powder sold at Japanese grocery stores. You may also see yomogi wagashi and bread at Japanese bakeries and confectionery stores.
Finding fresh yomogi in grocery stores may be difficult, but it's a hardy plant that thrives in most climates, so you can try growing it in your garden. It can grow in harsh conditions, from lots of sunlight to partial shade and poor to rich soils.
Health Benefits
It's long known as all-purpose herbal medicine. It can treat inflammation, diarrhea, bacterial infection, and circulatory disorders. It can also treat worms, remove excess salt and toxins, aid digestion, and has soothing effects to promote sleep. Nutrition-wise, it contains Vitamin A, B1, B2, and C and minerals such as iron, calcium, and phosphorus.
For women, it can soothe menstrual or menopausal symptoms and help alleviate problems associated with monthly periods, including headaches, fatigue, nausea, and abdominal pains. However, pregnant women should be cautious as it may encourage miscarriages.
---
Wish to learn more about Japanese cooking? Sign up for our free newsletter to receive cooking tips & recipe updates! And stay in touch with me on Facebook, Pinterest, YouTube, and Instagram.