Print Recipe
Jump To Recipe
Start your morning with this delicious and refreshing green tea smoothie made with banana, almond milk, and matcha powder.
Today I'm sharing one of my favorite smoothies and it's Matcha Green Tea Smoothie (抹茶スムージー).  Summer is just around the corner and I thought some of you may be interested in healthier food and drink menus (once in a while, at least?).  If you've been reading my blog for a while, you know how much I love matcha (green tea powder) and it seems right to start sharing smoothie recipes using matcha.
Watch How to Make Green Tea Smoothie 抹茶スムージーの作り方
Delicious and refreshing smoothie made with banana, almond milk, and matcha powder.
Difference between matcha (green tea powder) & regular green Tea leaves
Before I start, I want to mention once again that matcha (or green tea powder) is NOT something you can make by grinding green tea leaves that you normally drink at home or restaurant.  I receive this question all the time, so please make sure that you don't grind green tea leaves to make matcha.  What's matcha then?  Read this post where I explain a little bit more about matcha.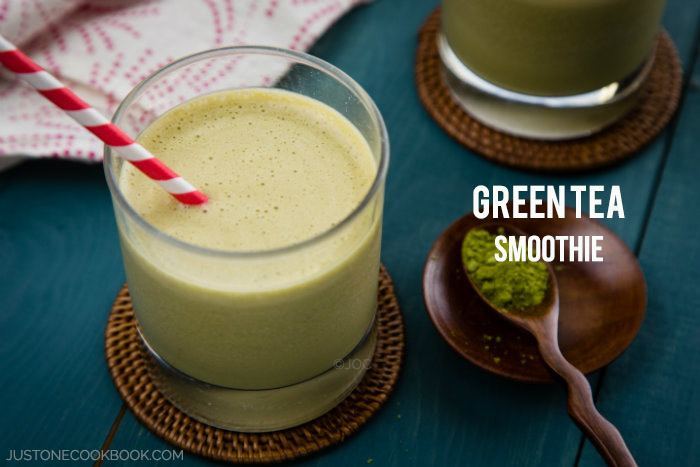 After becoming a full-time food blogger, I spend more time in testing recipes (= "eating") and sitting in front of computer (= "not moving").  Back in October last year (before I gain another year), I've decided to live a healthier lifestyle.  What that means to me is that 1) make time to go to the gym 5 days a week and exercise for at least one hour, 2) sleep by 1 am, not 2 am anymore, and 3) eat smaller portion (and less carbohydrate).
And smoothies became a part of my life ever since.  They are not a replacement for a meal in my case.  Instead they are more like healthier "snack" between meals to fill me up as I don't eat a big portion during meal times anymore.  I make healthy smoothies for Mr. JOC and myself every morning and another round of smoothies for my kids and myself everyday after school.  I'll share our healthy and delicious daily smoothie recipes in the near future.  Of all the smoothie recipes I've experimented with so far, my favorite is green tea smoothie.  The taste of banana mixed with my favorite matcha green tea flavor complements each other well and the result is simply irresistible.
You can use any blender to make smoothies, but I bought a Nutribullet from Costco a while back when it was discounted.  It's so easy to use!  You can make as many servings as you like, but what I like most about this Nutribullet is that it's easy to make ONE serving.  And the blender container will turn into a cup so you don't need to pour the smoothie into a glass (one less thing to wash!) and you can even take it it go with a special lid (I am not being paid or compensated by Nutribullet).
Don't want to miss a recipe? Sign up for the FREE Just One Cookbook newsletter delivered to your inbox! And stay in touch on Facebook, Google+, Pinterest, and Instagram for all the latest updates. Thank you so much for reading, and till next time!
Matcha Green Tea Smoothie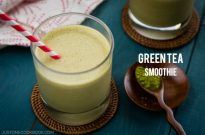 Ingredients
1

Banana

5

ice cubes

¾-1

cup

unsweetened almond milk

(or cow's milk, coconut milk, etc)
Instructions
Gather all the ingredients.

Put banana and ice cubes in an electric blender/mixer or Nutribullet.


Pour almond milk and add matcha green tea powder on top.


Blend until all the ingredients are combined and smooth. Pour into a glass/glasses.

Recipe Notes
I use NutriBullet to make smoothies.

Recipe by Namiko Chen of Just One Cookbook. All images and content on this site are copyright protected. Please do not use my images without my permission. If you'd like to share this recipe on your site, please re-write the recipe and link to this post as the original source. Thank you.