Print Recipe
Jump To Recipe
Before the summer is over, I have a couple of popular Japanese summer recipes that I want to share.  One of them is cold soba noodles, and we call it Zaru Soba.

Soba is the Japanese name for buckwheat and it also means the noodles made from buckwheat flour.  I've seen all kinds of creative soba noodle recipes in the US, but in Japan soba noodles are served either simply chilled with a dipping sauce or in hot broth as a noodle soup, similar to how we prepare Japanese Udon noodle soup.
Cold soba noodles are typically served in zaru, which means bamboo basket in Japanese.  We serve noodles with some toppings (green onions and wasabi, sometimes grated daikon) and dipping sauce called Mentsuyu.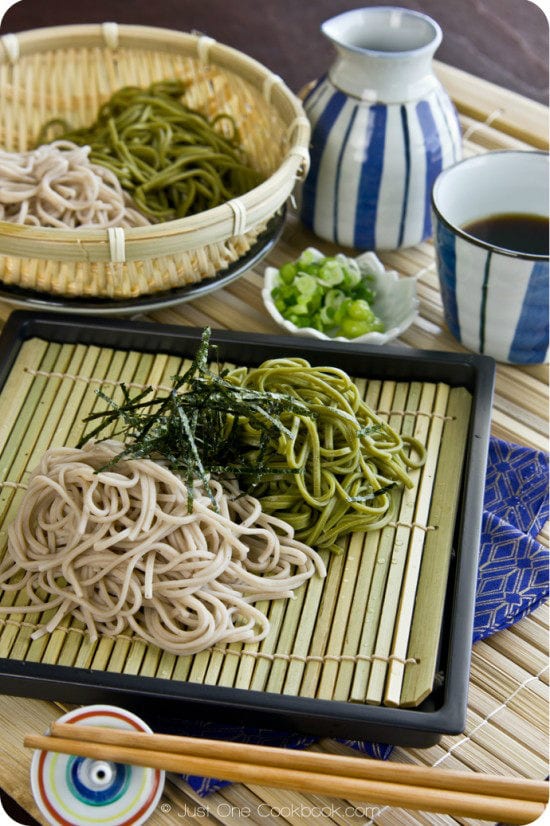 Summer in Japan can be really hot and humid, and Zaru Soba was one of my favorite lunch menu when I was growing up.  My mom usually serves with Vegetable Tempura and Shrimp Tempura, but honestly when it's super hot outside, who wants to deep fry…so let's keep it simple today.
You can buy a bottle of Mentsuyu in Japanese or Asian grocery store, but for homemade Mentsuyu recipe, click here.  I hope you get some appetite with these cold soba noodles.  Stay cool!
Don't want to miss a recipe? Sign up for the FREE Just One Cookbook newsletter delivered to your inbox! And stay in touch on Facebook, Google+, Pinterest, and Instagram for all the latest updates. Thank you so much for reading, and till next time!
Zaru Soba (Cold Soba Noodles)
Ingredients
14 oz. dried Soba Noodle (I also used cha soba (green tea soba) today)
Dipping Sauce (tsuyu)
Toppings
Instructions
For dipping sauce, The dipping sauce is supposed to be a little salty because you will be "dipping" the soba noodles instead of soaking them to eat. You can always dilute it later if needed.
For soba noodle, boil a lot of water in a large pot. Unlike pasta, you DO NOT add salt to the water. Add dried soba noodles in the boiling water in circulate motion, separating the noodles from each other. Boil soba noodles according to the package instructions (each one is slightly different). Mine says boil 4 minutes. Once in a while stir the noodles so they don't stick to each other. Check the tenderness and do not overcook. I do not use "sashi mizu (adding water)" technique for this noodle as it's says so on the package.*

Drain the noodles into a colander and wash the noodles in a cold running water to get rid of slimy texture. This is very important and key to great tasting noodle.

Put chopped green onions and wasabi on a small plate. Serve soba noodles on a tray or dish. Sprinkle Kizami Nori on top right before you serve.
Notes
* I learned not a long ago that "Sashi Mizu (adding water)" technique is not necessary anymore. The technique was created back then when we didn't have gas stove, and that was the technique used in order to stop water from over spilling from the pot.
Recipe by Namiko Chen of Just One Cookbook. All images and content on this site are copyright protected. Please do not use my images without my permission. If you'd like to share this recipe on your site, please re-write the recipe in your own words and link to this post as the original source. Thank you.