Our annual holiday gift guide is here! You'll find some thoughtful, special finds that work for everyone on your list.
Believe it or not, the start of the holiday season is officially here. We've all heard that supply chains will be impacted this year, and while time will reveal the actual outcome, we figured it doesn't hurt to bring you our annual gift guide early.
Holiday Gift Guide 2021 – Gift Ideas for Everyone on Your List!
Our team had so much fun narrowing down our favorite products to help you find something for everyone on your list. So scroll on for the complete list of all of our gift guides (30 items!), including the ones in the past years.
We also included Nami's favorite shops and brands that offer special discounts exclusive to JOC readers right at the bottom of the page.
Have fun shopping!
Nami (Founder), California

Recently I started watercolor painting on the weekends with my daughter who loves art. It has been such a lovely bonding activity! I bought this watercolor paint set along with this pocket drawing book. The drawing book is small enough to finish a painting in an hour or so, so it is highly doable. Someday I'll take them outdoor to do some watercoloring, too.

This iPhone case literally allows me to go out with just my smartphone! In this iPhone case, I have my driver's license and 2 credit cards. That's pretty much what I need for grocery shopping and eating out. So many of my friends asked me about this case so I need to share it on this holiday gift guide! We bought one for our son as he is now carrying a credit card!

I've been looking for something to wear when I wake up in the morning and this lightweight kimono robe has been wonderful! It's lightweight and has a 3/4 sleeve! I had more traditional style bathrobes before but they are thick and bulky and it was hard to move around. My new robe, however, allows me to wash my face or do dishes easily without getting my sleeves wet and to move around and do chores with ease. It also keeps me warm until I change my clothes! Super cozy and comfortable.
I cannot survive the California winter without my favorite kotatsu! This Japanese electric heater table is a must-have if you are always cold (like me!). Keep your toes and legs warm and maybe take a nap. True happiness! You've probably seen a kotatsu in Japanese movies, dramas, mangas and now you can have it in your home! I recommend getting kotatsu futon from eBay (so many kinds!) and you might want to get this transformer, too.
---
Mr. JOC (Operations), California
The best kitchen shears. Period. It gets through the tough jobs including cutting through chicken backbones and lobster shells.
These headphones provide the ultimate peace. Whether it's to block out your children's bickering or zoom lessons, these are perfect.
We've switched to using carbon steel frying pan for all our cooking. It provides us a peace of mind that we're not cooking using possible cancer-causing non-stick materials.
This is your personal caddy and best friend on the golf course. Tell you the exact distance to the flag taking into account elevation differences!
---
Reese (Marketing Manager), Minnesota
These ankle & wrist weights make a great addition for anyone who wishes to step up their workout. They come in so many adorable colors and I love that they look stylish no matter where you place them in the house.
My soon-to-be-5-year-boy is obsessed with robots, and he told us that he wanted to be a roboticist when he grows up. When I asked my friend who is in the field to recommend a few robot toys that can help build a child's knowledge and interest, he highly recommends this smart robot to us. It's on the higher end, but he also recommends a few other options here: STEM 12-in-1 Education Solar Robot Toys and LEGO Boost Creative Tool Box.
Journaling has been proven to be beneficial for many reasons. If you know of a friend or a sister who needs some self-care or self-discovery, this beautiful journal by sensei Bonnie Myotai Treace makes a thoughtful gift.
We started camping this year as a family and this lantern has come in handy for all of our adventures. It's perfect for any outdoor activities, an evening scavenger hunt with your kids, or emergency.
---
Morgan (Social Media Coordinator), Rhode Island
I absolutely love my GoPro! These tiny (but mighty) action cameras are perfect for traveling and at home – they're small, durable, waterproof, and capture amazing photos and videos! Mine has seen everything from snorkel trips to the dog park to adventures in the snow and it's never let me down.
I've always been a huge Anthony Bourdain fan and this travel guide is one of my favorites. His legacy of travel is beautifully captured in this book, making it the perfect gift for anyone who wants to see the world.
I love plants as gifts, and these succulents are adorable! The little garden is packaged perfectly for gift giving, and the best part is that they partner with water.org so that each purchase provides six months of safe water for one person in the developing world.
---
Naomi (Reader Support), California
I love this Yukihira Nabe pot. Beautifully hand-stamped in Japan, and it's perfect for Nabe, soup dish, and sauteing. I can also serve right it on the table and make the dish very attractive. I even use it as a bowl to wash vegetables. It has numerous ways to use. This pot works on different types of cooktops, and it's perfect for my Induction stove too!
If you traveled to Japan before, you might have seen this! My family loves Japanese electronic bidet toilet seats! We can't live without it. I gifted this to my parent in law in the US, they never thought of using this till then. Now they also can't live without this. It was life-changing for them.
My kids love this heated blanket. 3 Heat Settings and 3 Hour Auto-off fanfictions are perfect for kids' use. They like to snuggle in this blanket and enjoy reading books. Perfect holiday gift!
---
Kayoko (Contributing Writer), Tokyo, Japan
Looking for the perfect cookbook for a baker friend (or yourself)? Any pastry or baked goods recipe by Stella Parks of Serious Eats fame is solid and will remind you of those cozy childhood memories of nibbling on classic childhood treats. She'll teach you step by step to recreate the homemade version of Oreos, peanut butter cups, red velvet cake, and more! Not only are her recipes easy to follow, but she also delves into the history and science behind each recipe.
I was skeptical when I first heard of beeswax food wrap as a replacement for plastic wrap, but I turned into a fan once I got used to it! The beeswax will wrap and cling to any bowl, plate, or produce and will last for a while with gentle use and care. Just make sure you don't wash it with hot water or leave it close to anything hot, which will melt the beeswax (like I did).
Tenugui (手拭い) are unhemmed cotton hand towels, usually dyed with patterns. These long pieces of cloth are multifunctional in use, which were traditionally used to wipe sweat or cleaned hands, for cleaning purposes, as a headwear, belt and fashion accessory, to wrap presents, and more. Tenugui are thin, which means they dry quickly and the fabric softens with use. Not only do they make excellent gifts but they can add a touch of Japanese culture to any home.
---
Richard (Video Editor for Social Media), California

A Parker Fountain Pen Starter Kit was a very thoughtful gift from my mother that solves the conundrum of being both a writer and an environmentalist. Instead of a drawer full of half-used plastic pens, I now have one expertly constructed Parker (founded 1888) fountain pen that will last me the rest of my life. A joy to write with, as expertly crafted as a fine timepiece, and easily refillable from a bottle of ink ($10 or so), this is the perfect gift for any serious scribbler.
Getting serious about tea has been one of the silver linings of being at home all the time. For this, there are few finer brands than Harney and Sons. I love their loose-leaf tea collections, especially the Paris, Japanese Sencha, and Chamomile. The assortment chests/ boxes from Harney and Sons (blends are also available in sachet) are a perfect gift. Who doesn't love a hot mug of tea on a cold winter day?
I have filled up three of these quality Decomposition notebooks during quarantine and have two more in use. They are constructed from 100 percent post-consumer waste, printed with soy ink, manufactured by a family-owned business, and yes, you can compost them when done! The designs are fun and interesting (I'm looking at a purple design with constellations that I use for classes) and the variety of sizes and uses – sketchbook to grocery list notepad – makes a Decomposition book a thoughtful gift for anyone.
---
Kylie (Operations Analyst), California
At the suggestion of a friend, I got this for my first college apartment this year. It has been amazing! Placed on a hanging shelf in my room, the projected "screen" takes up about 3/4 the width of the opposing wall in crisp, clear quality. I would recommend getting an adapter (like this one!) to make sure that you can connect it to your computer, phone, gaming console, etc. It comes with a remote, but you can also adjust the input and sound from the projector itself! This is a great find that has let me and my college friends have some awesome movie and gaming nights.
Have I read this book myself? Perhaps not. However, more of my friends than not have pleaded with me to get a copy, read it, and then let them know so we can rave about it together. While it was published several years ago, it is only now seeing a huge rise in popularity. I've seen a family friend in high school enjoying this book as well as several friends in college, so if you're looking for a good gift for a reading-inclined teen this holiday season, you can't go wrong with this one.
---
Seimi (Copy Editor), New York
As a huge matcha lover, I think this is a great set to give to anyone who enjoys the earthy flavors of green tea. It includes everything you need to make a comforting cup of matcha, whether it's traditional or mixed with your favorite milk for a latte. It comes with a traditional bamboo whisk (chasen 茶筅) as well as a sifter for anyone who prefers that method of making their tea. (I like to use the sifter as a tool for brewing loose leaf tea in individual cups as well!) The metal scoop measures out 1.5 tsp of matcha, so you know exactly how much to use per cup, and the set includes a tin of single-origin matcha that is pesticide-free and sourced from Shizuoka prefecture, Japan.
As much as I love coffee, there is something so calming about a pot of tea, especially now that the seasons are changing here in New York. I like this teapot in particular because the clear glass allows me to watch certain tea leaves blooming, and I can see how strong a cup may be based on the color of the tea. It's also dishwasher safe and incredibly easy to clean!
I think colder weather months and the holidays give us the perfect excuse to lounge a little more. I have several friends who have this robe, and they could not stop talking about how soft and luxurious the fabric feels. It's made from 100% Turkish cotton and comes in a variety of fun colors. For those who really want to sink into rest and relaxation, I believe they have a matching set of slippers as well. 🙂
30. Ghia – Cocktail Kit
I enjoy a nice cocktail every once in a while, however, most of the time I don't prefer the alcohol. This past year, I was introduced to Ghia as an alternative, spirits-free apéritif, and I really enjoyed it! My friends and I had a great time making refreshing drinks while cooking together without having to worry about any of the sugar or side effects that sometimes come with alcohol. The set includes a bottle of the apéritif, which is vegan, caffeine-free, and has no added sugars; a reusable spout for easy pouring; a jar of edible flowers to garnish drinks; and festive holiday coasters! (Plus, the jar of flowers is reusable! I use mine to store loose leaf tea).
---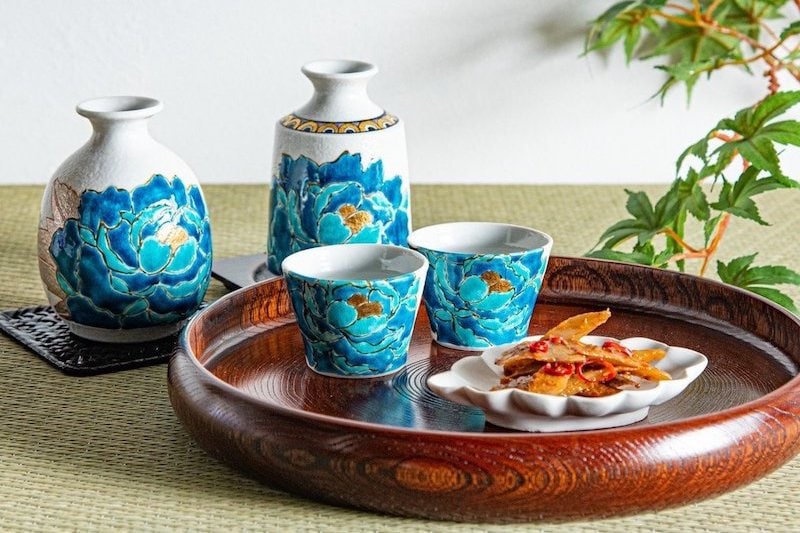 We hope you enjoyed the list we've put together. And if you have any questions about any of the recommended items, leave us a comment below!
Also, enjoy additional discounts from shops & brands that Nami partners with here:
Holiday Gift Guides