Join us on the Beppu Travel Guide as we played at Suginoi Hotel, feasted on Chicken Tempura (Toriten), and explored the "Jigoku – hells".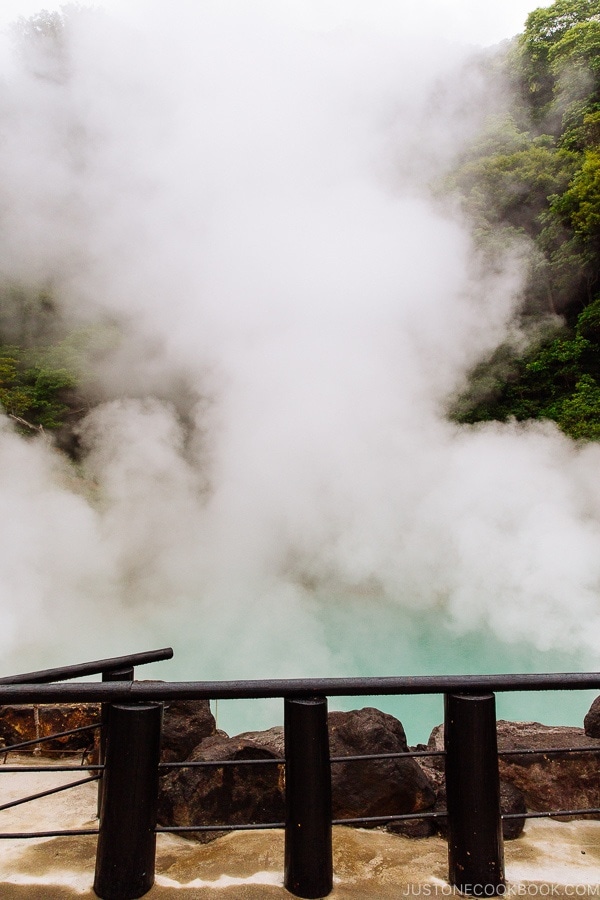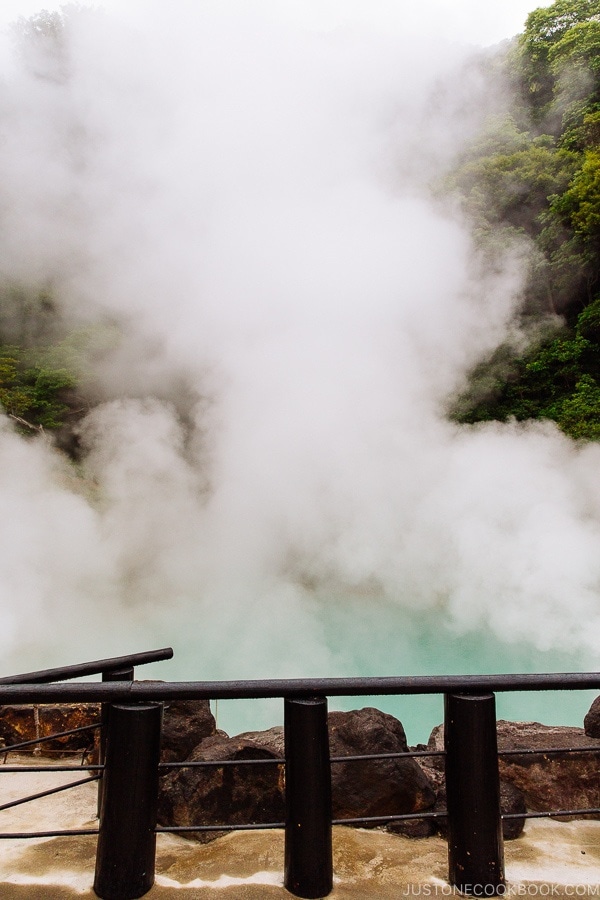 Our family took a trip to southern Japan last year and had an amazing time. Even though it's still Japan, the food, the scenery, and the culture are very different from large cities like Tokyo, Kyoto, or Osaka.
We'll share a travel guide for each location we visited once a week. If you missed our posts for Hiroshima and Miyajima, here are the links to visit the Hiroshima Peace Memorial Museum and Itsukushima Shrine. For each location below that we visited, we'll also share a local recipe the same week.
Hiroshima (広島) – recipe Grilled Oysters
Miyajima/Itsukushima (宮島/厳島) – recipe Baked Japanese Fried Oysters
Beppu (別府) – recipe Chicken Tempura (Tori-ten)
Kurokawa Onsen (黒川温泉)
Kumamoto (熊本市)
Fukuoka (福岡市)
Ready to tour Beppu with us? Let's go!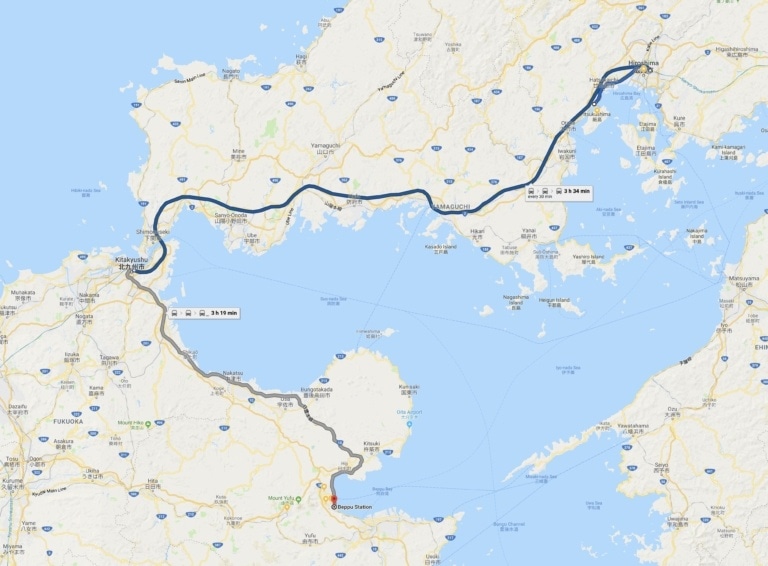 Kyushu Shinkansen – Beppu Travel Guide
From Hiroshima to Beppu, we took the Kyushu Shinkansen to Kokura Station and then transferred to JR Limited Express Sonic (the blue train below). What was interesting is even though Kyushu Shinkansen's exterior is similar to ones in Tokyo, the interior of the reserved seating section is very different.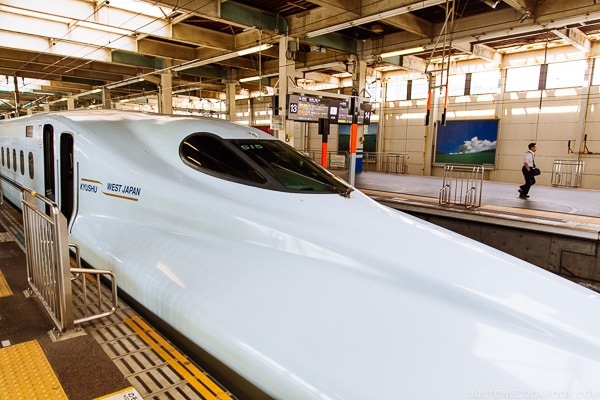 Instead of 5 seats across, there are only 4 seats so it was quite roomy and spacious. The armrest and table are also made of antique cherry wood rather plastic which gives riders a warmer feeling and a touch of elegance.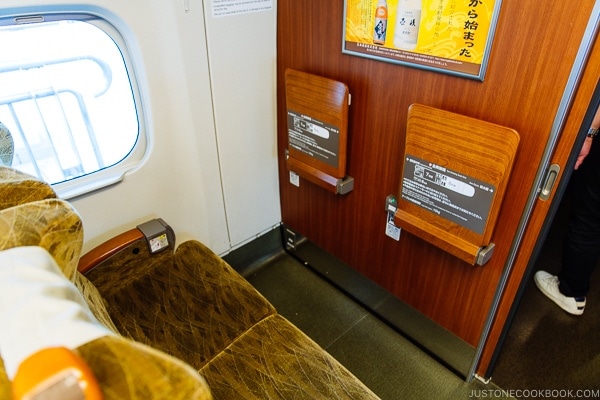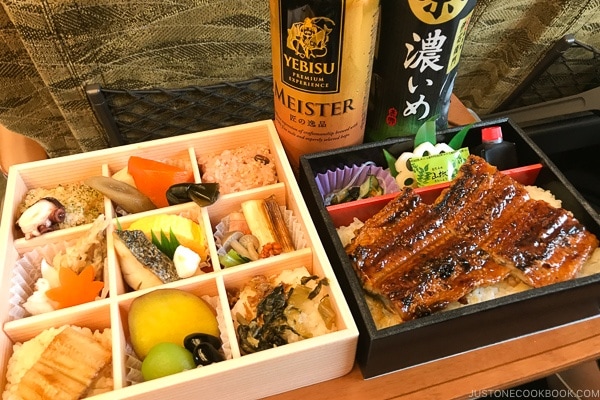 We transferred to JR Limited Express Sonic. We left Miyajima at 1 pm and it was a 3-hour train ride to Beppu so we arrived around 4 pm.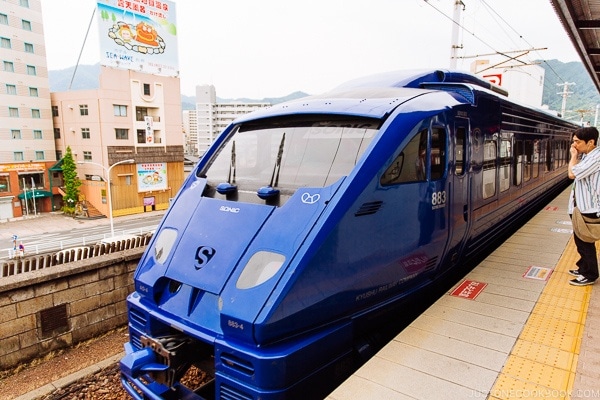 Beppu Onsen (Hot Springs)
Though not as well known as other Japanese hot springs town internationally, Beppu is actually ranked #1 in Japan for 1) hot spring discharged; 2nd only to Yellowstone National Park worldwide and 2) the number of hot spring vents.
While we were on a taxi ride in the city, the driver offered to take us to a vista point to get the view of the city with all the hot spring vents coming out. It was a pretty cool scene. The driver informed us that the vents are more visible and dramatic on a cloudy/foggy day vs. sunny day.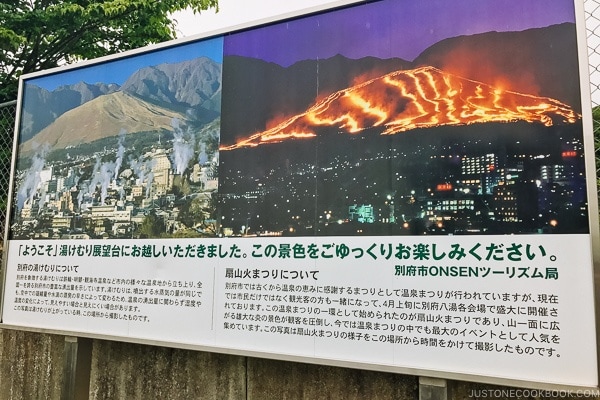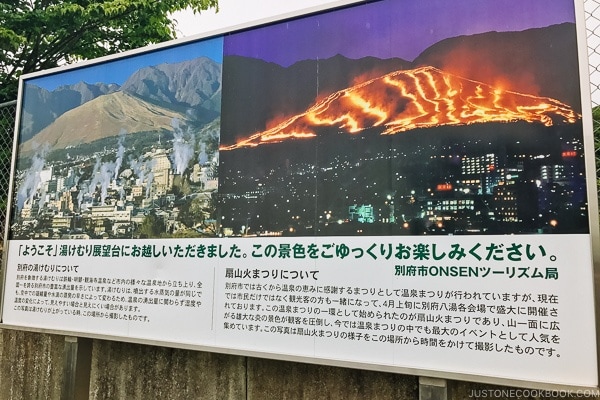 To be completely transparent, due to the limited time we had in Beppu, we did not do many tourist activities. We spent the majority of our time relaxing and having fun in our hotel – Suginoi Palace (our trips are not sponsored and we pay for our own travel). The only sightseeing we did was on day 2 visiting the Hells of Beppu.
For today's post, I'll introduce the Jigoku – the Hells of Beppu, Chicken Tempura (toriten), and bamboo basket weaving, then share the rest of our stay at Suginoi Palace.
Jigoku (The Hells) – Beppu Travel Guide
As I mentioned, the only tourist spot we visited was the Hells of Beppu. The primary reason was we were short on time, and the second reason was the RAIN. It started raining pretty hard on our second day there and we weren't able to do the outdoor activities.
We did make it Jigoku and there are a total of 7 hells and we visited Umi-Jigoku and Oniishibozu-Jigoku. Please click on the travel guide below to learn more.
In case you are interested in tourist activities, here is a sightseeing map of Beppu for your reference.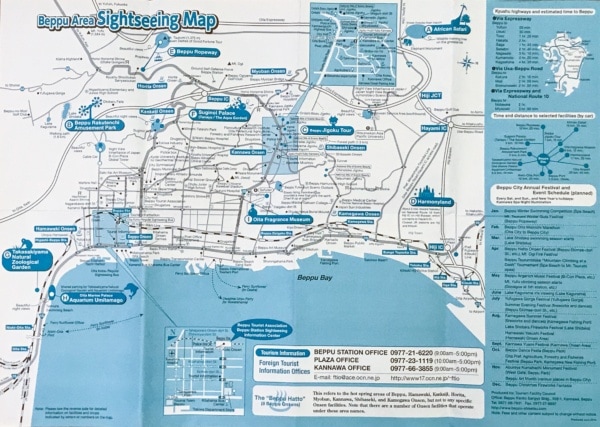 Beppu local food – Chicken Tempura (Toriten) (とり天)
There are several local dishes in the Beppu area that are famous. The first is Jigokumushi, where food is cooked over steaming hot spring vent. You can actually go to Jigokumushi Kobo Kannawa (地獄蒸し工房 鉄輪) operated by the city of Beppu, and steam either your own food or purchase ingredients there for steaming. Here's a Beppu food stand which sells corn and sweet potato cooked over the steaming vents below.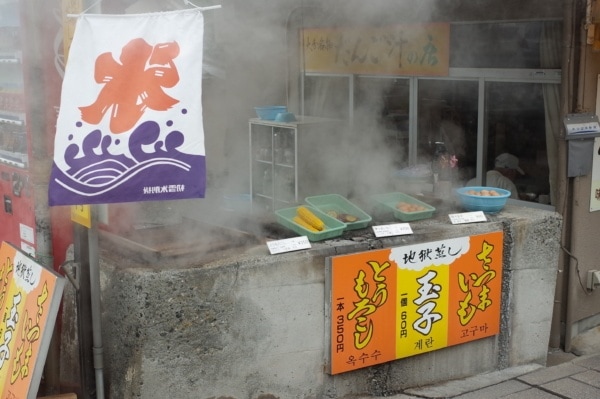 The second dish that's really well known in the Beppu area is Chicken Tempura called Toriten. Tempura is very common in Japan but chicken tempura is unique to the Oita prefecture area. How does it taste? DELICIOUS!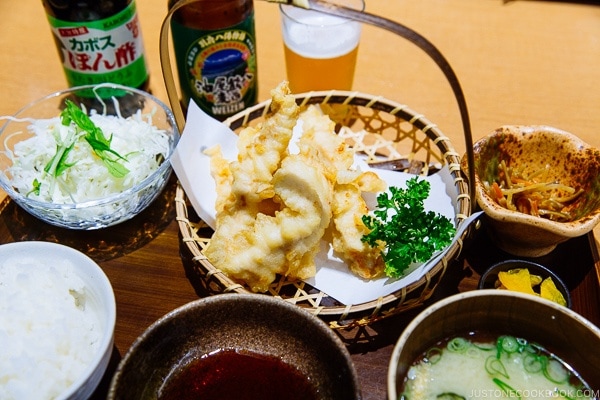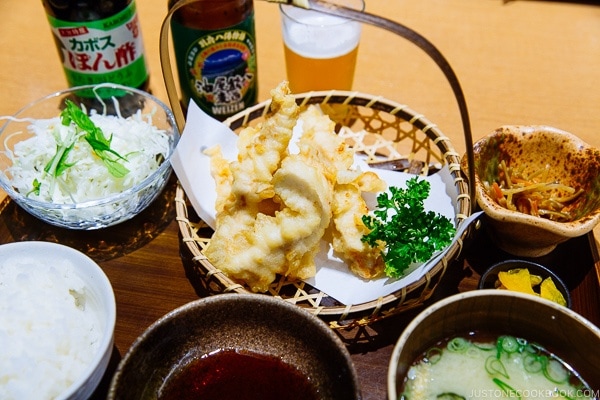 We were surprised how good Toriten was. Who could resist crispy batter wrapped around juicy chicken strips? Instead of tempura dipping sauce (tsu-yu) for regular tempura, Toriten is dipped in ponzu sauce with Japanese karashi hot mustard.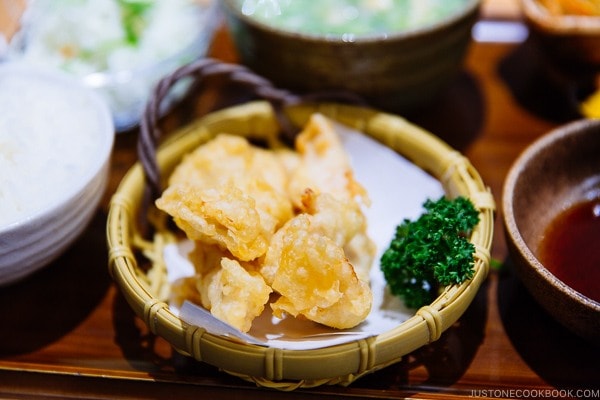 Beppu Bamboo Basket
Besides the hot springs and Cihcken Tempura, Beppu is also very well known for its bamboo weaving with a rich 400 years of history. Today there's even a school (Oita Bamboo Technical Training Support Center) established to study the bamboo craft.
The bamboo industry in Beppu thrived for hundreds of years until the 1950's when plastic started to replace bamboo as a material. This change in demand forced the local bamboo industry to start crafting high-end bamboo pieces for art and luxury pieces rather than for practical uses.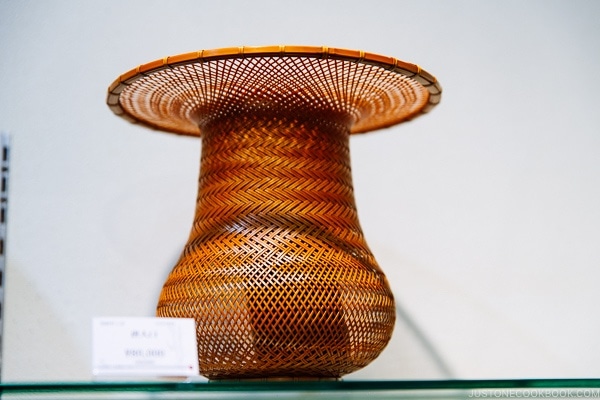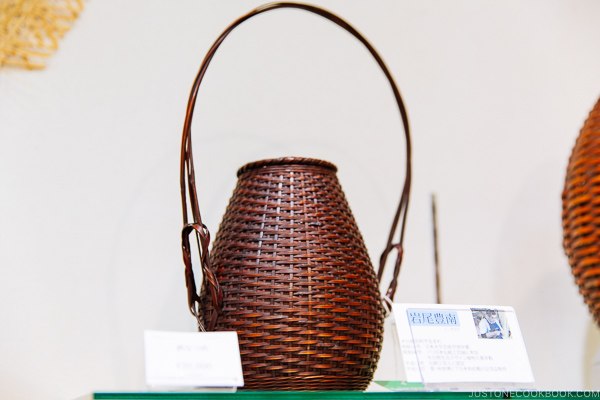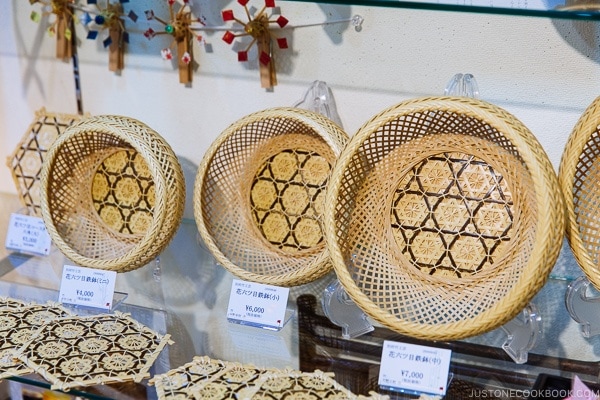 Ready to go have some fun? From the Beppu station, we took the Suginoi hotel shuttle which runs every 15 minutes from 8 am to 10 pm. It's a 10-minute ride from the station to the hotel.
Why Suginoi Hotel?
To get our children excited about our Japan travel plans, we booked Suginoi hotel for their indoor waterslides (we usually use JTB to book our hotels). We wanted to surprise our children for being good sports traveling (walking) all over with us and rarely complain.
Before we arrived at the hotel, we thought it was just a hotel with some slides. Little did we know it was like a Las Vegas hotel with hot springs, and without the casino and gambling.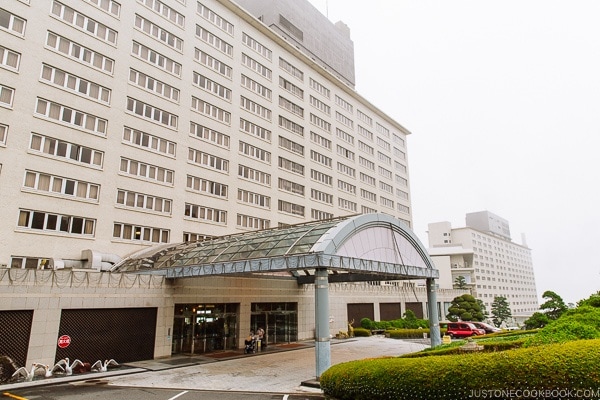 The exterior of the hotel is fairly plain and doesn't suggest all the fun packed inside. The hotel is both of the large buildings you can see in the pictures above.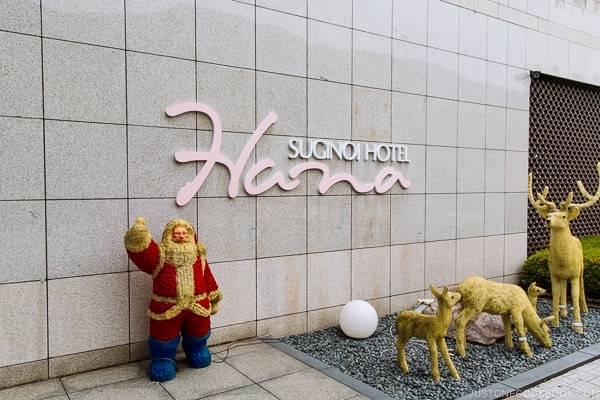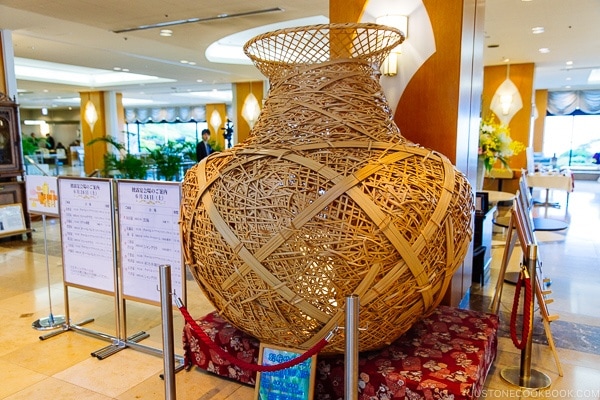 The hotel is made up of 3 buildings, we stayed in HANA building. Between the three buildings, there are a total of 647 rooms and can accommodate up to 2,900 guests.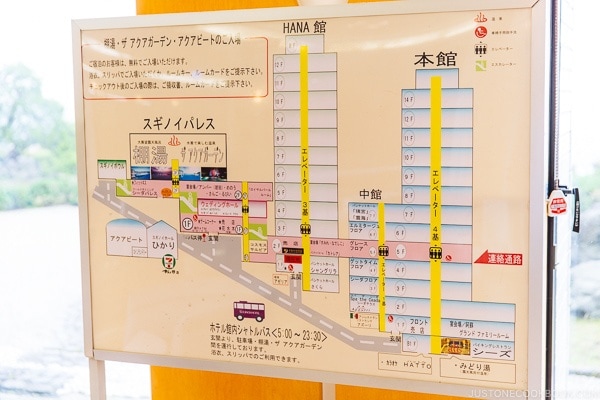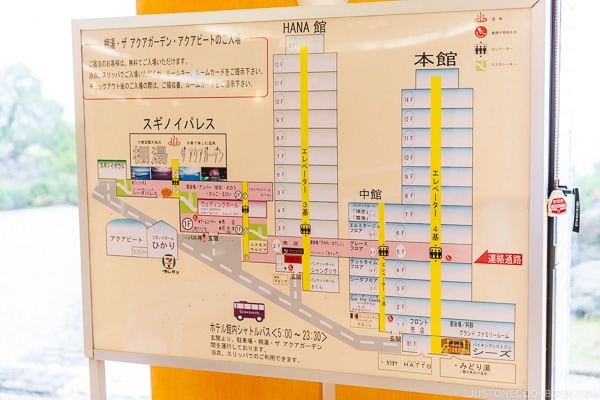 Time to explore our hotel room! Our room was a Western + Japanese room, with 2 twin beds as well as a Japanese tatami room.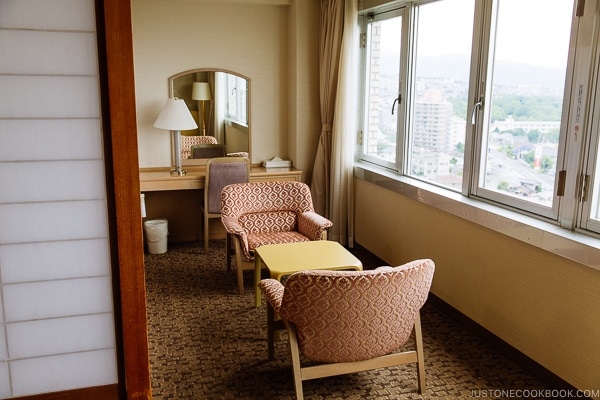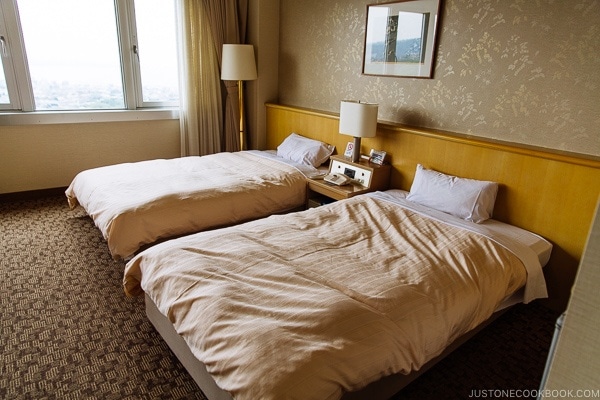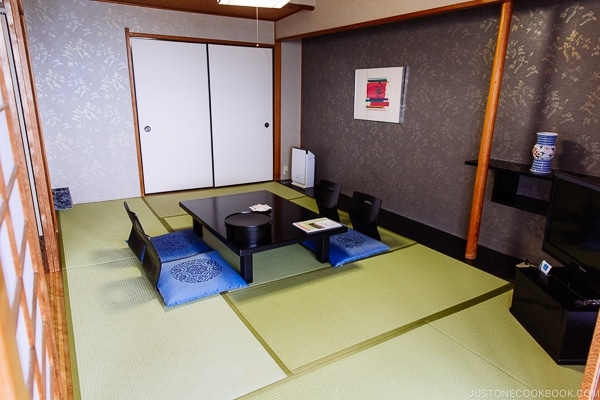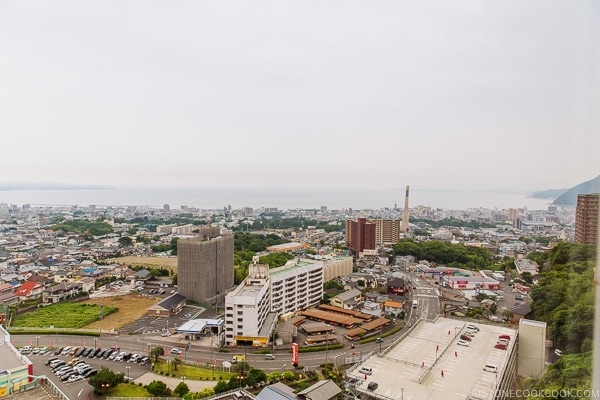 Soon after checking in, it's pool time. During the summer months through early fall, AQUABEAT (water slide, wave pool, water playground) is open. The AQUABEAT facility is located across the street from the hotel.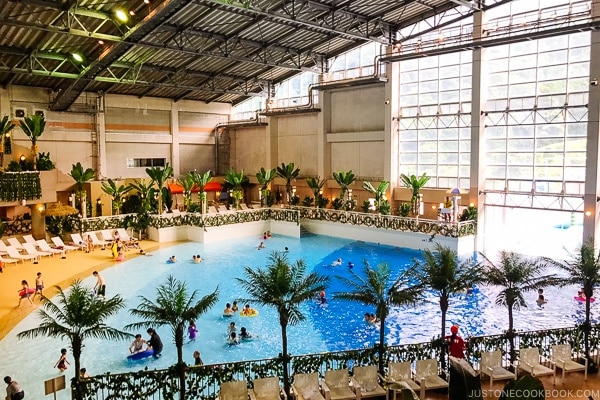 The indoor pool area is enormous, besides what you see in the image above, the structure is 5 stories tall with 5 different slides, multiple pools, and offer many other activities.
There are storage lockers if you need to store personal items. One downside is there isn't really anywhere to sit and relax unless you pay extra to rent lounge chairs or cabanas. The giant lifesavers also requires a rental fee and it varies based on size.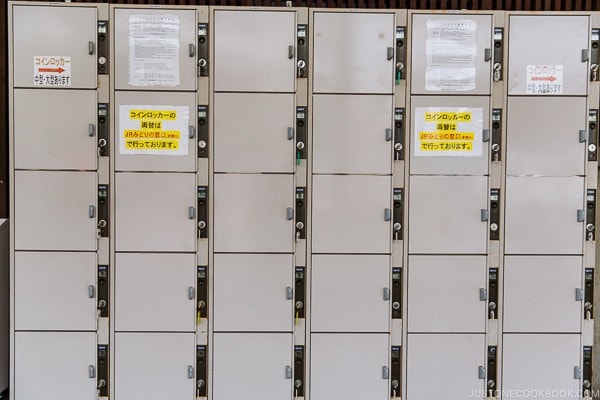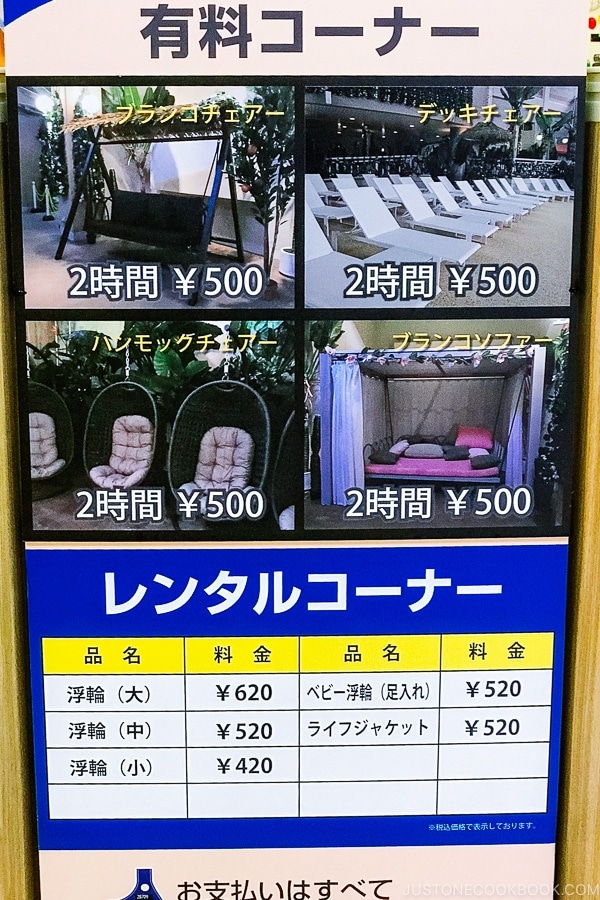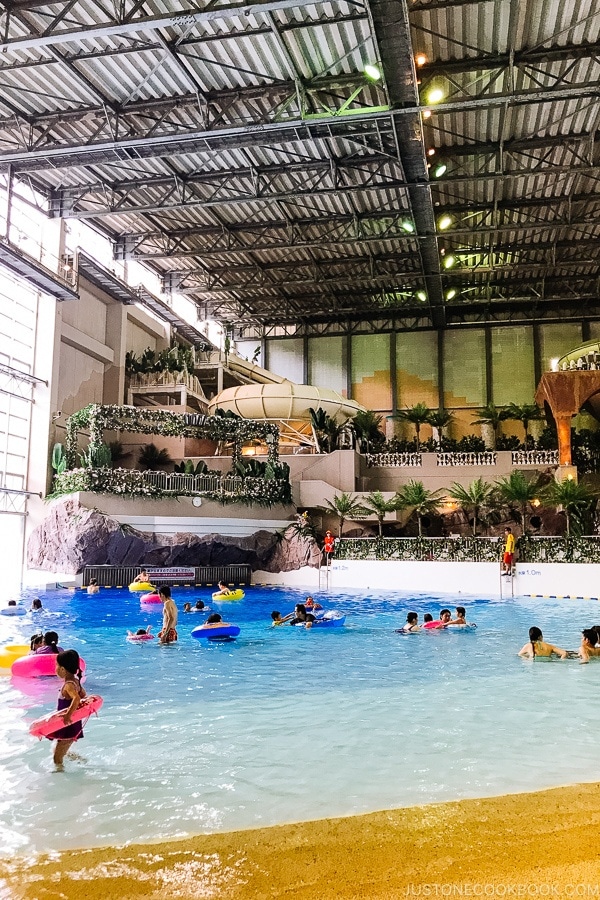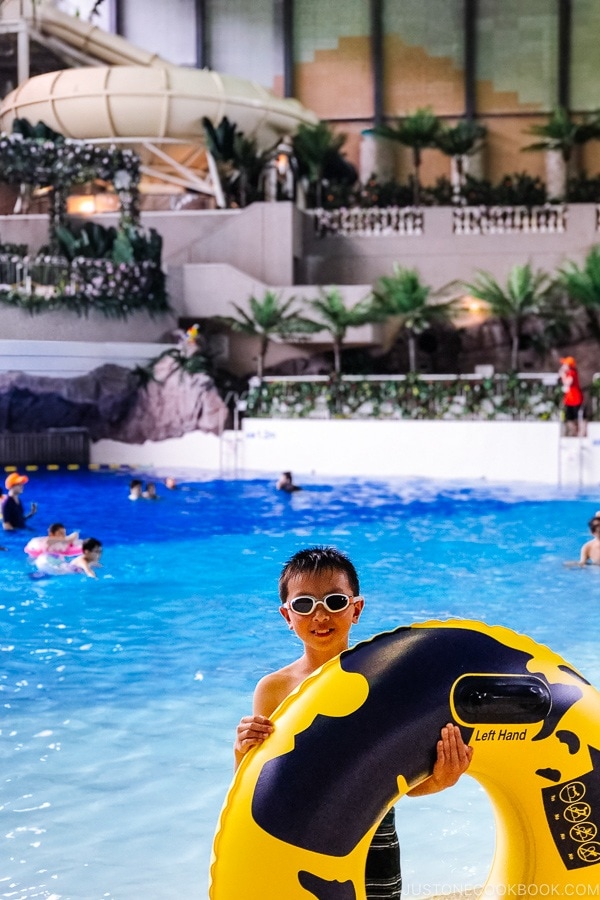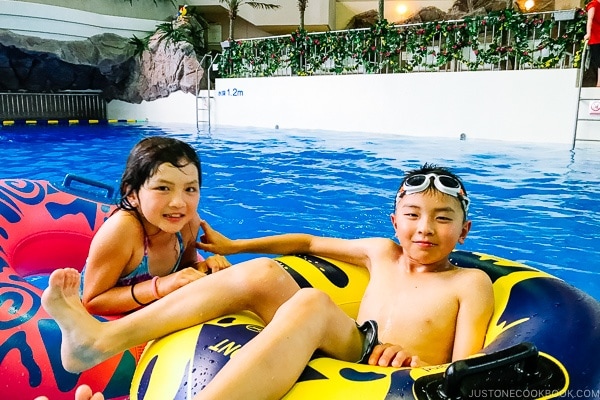 The slides are all pretty high, 3 of them you are required to go down with a tube and one you can just slide down. The last slide is what we called the "toilet bowl" and we weren't brave enough to try. The rider spins around a giant bowl at fast speed then gets dumped into a deep pool.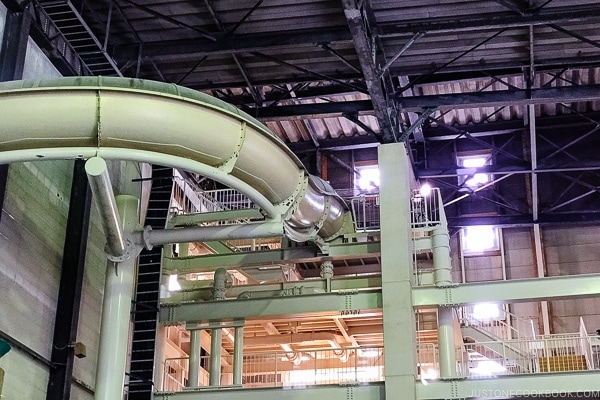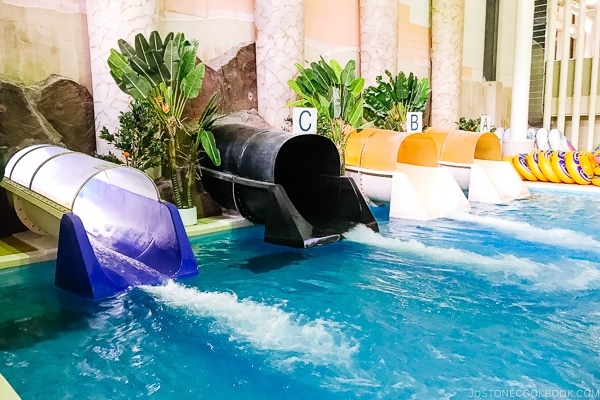 There is an outdoor play area with giant water bucket pouring down and fountains spraying everywhere.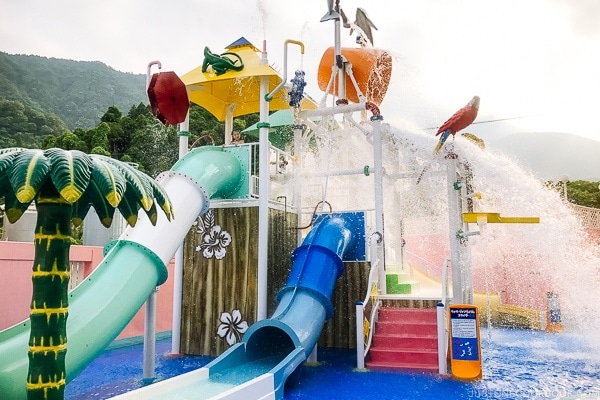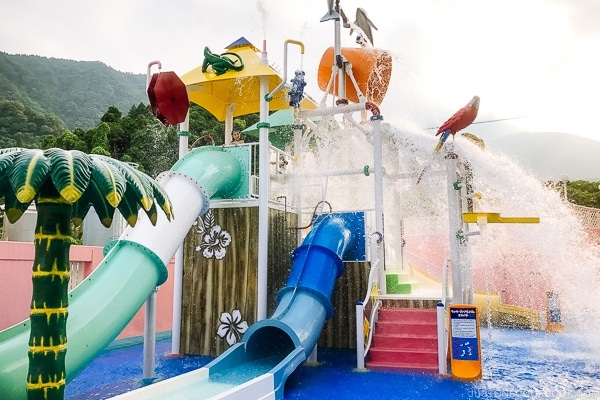 Other activities you can do outside include the inflatable water walking ball (for extra cost).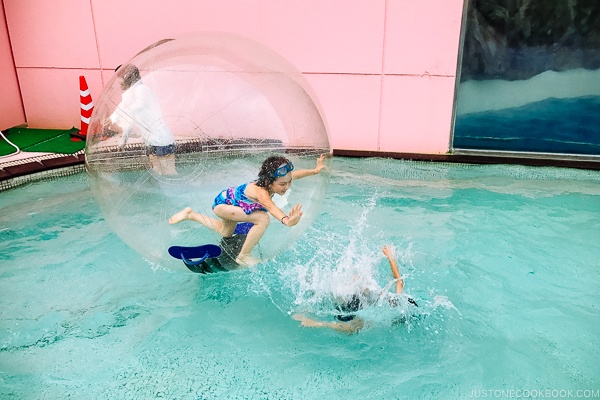 Ristorante Azzurri – Suginoi Hotel
When we were checking in, we were offered dinner upgrade to Ristorante Azzurri for 1,000 yen ($10) per person which usually cost 3,000 yen. Since we were not in the mood for buffet dinner, we took them up on the offer. The dinner was really good!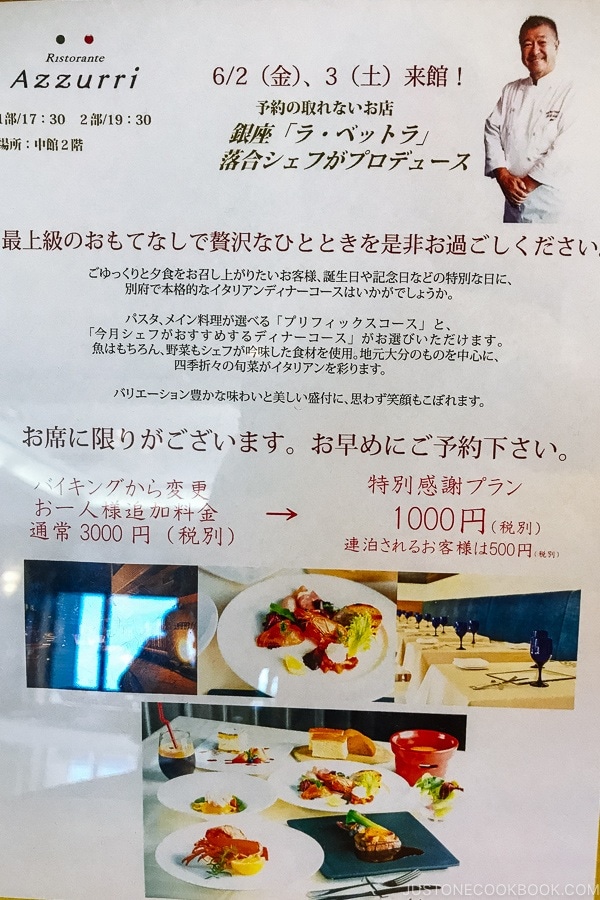 It was a western style dinner featuring Japanese ingredients, even though we were completely jet lagged and about to fall asleep from playing in the water for hours. The tasty food energized us.
It was a full course menu where we got to select an appetizer, salad, main course, and dessert from a list of options.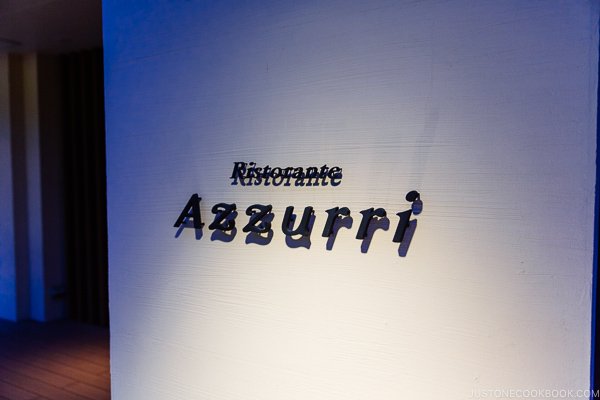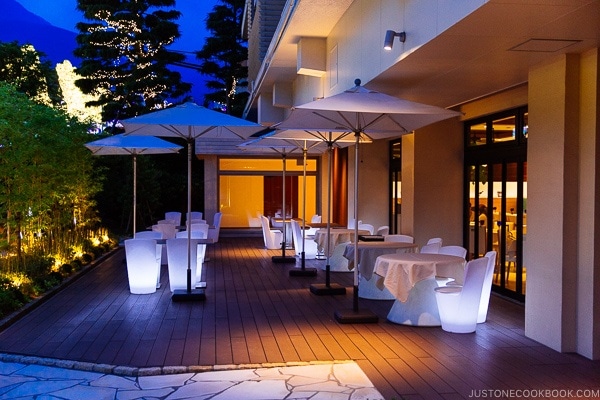 Across the street from the restaurant the hotel had set up Christmas lights. Since these lights make everyone happy, why not?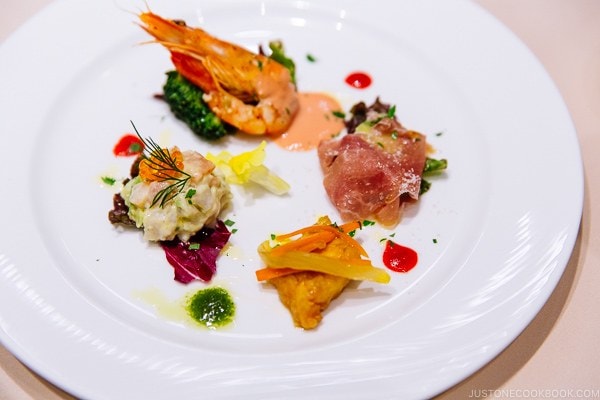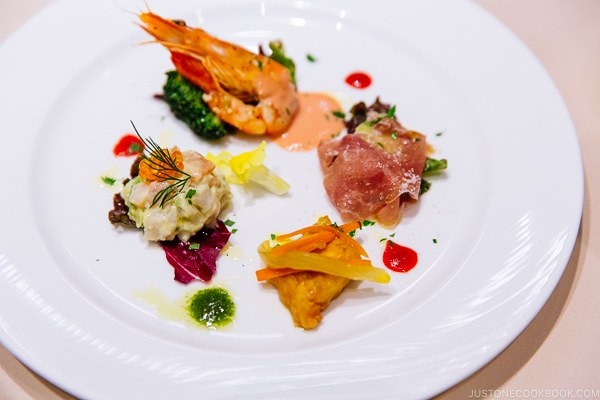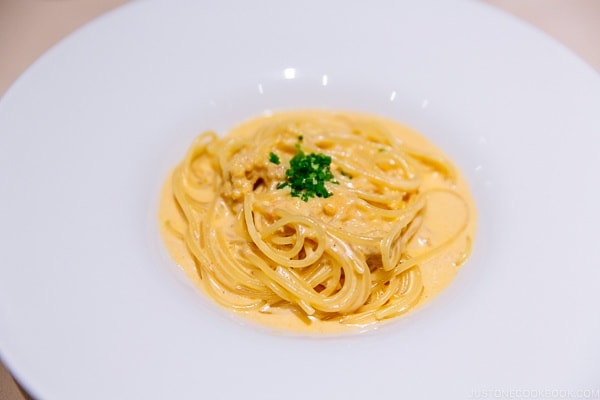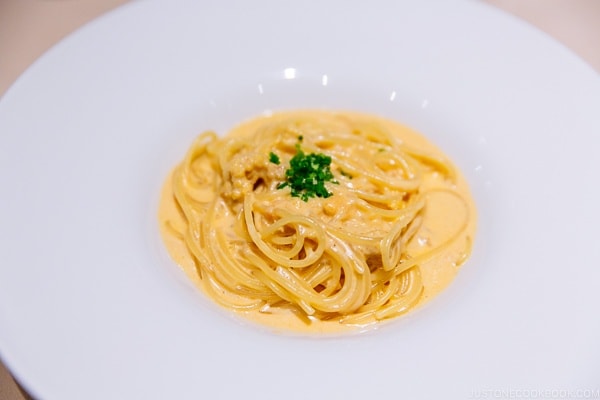 The Aqua Garden – Suginoi Hotel
After dinner and onsen (no photos allowed), we proceeded to The Aqua Garden for soaking in hot springs pool and enjoyed the musical "Fountain Show" with 3D imagery. The show plays hourly from 7 to 10 pm. Optionally you can get Salt Sauna and Fango Mud Therapy for additional cost.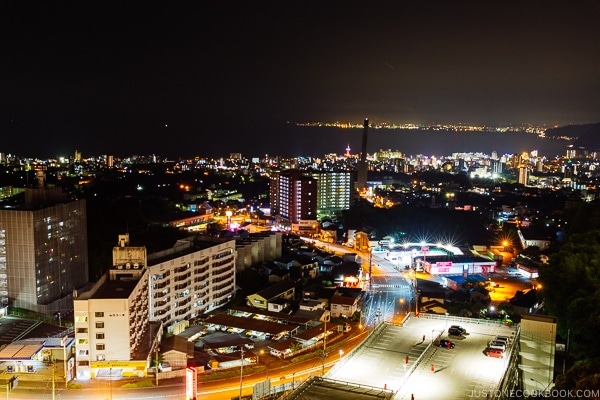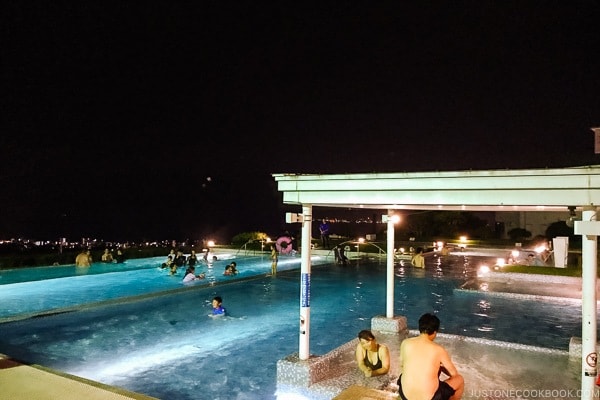 Besides all the pool facilities, there's also karaoke, bowling, gift shops featuring local Oita products, and a huge arcade with an impressive collection of machines for all ages.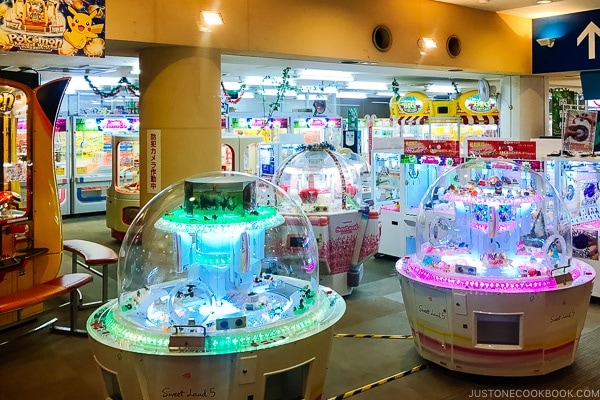 The next morning it was breakfast buffet time and we were surprised by 2 things. 1) How large the buffet area was and 2) The food was surprisingly good and well prepared. There were a ton of choices for food including both western and Japanese options.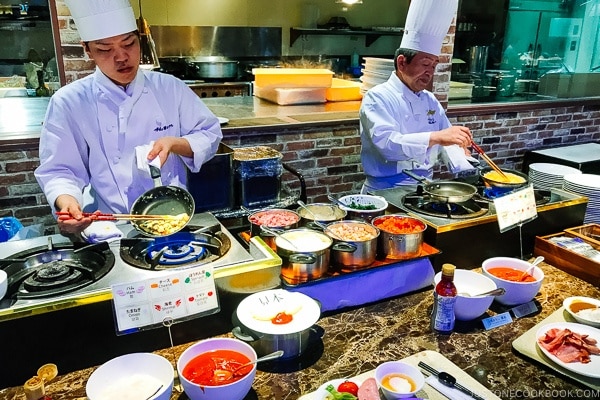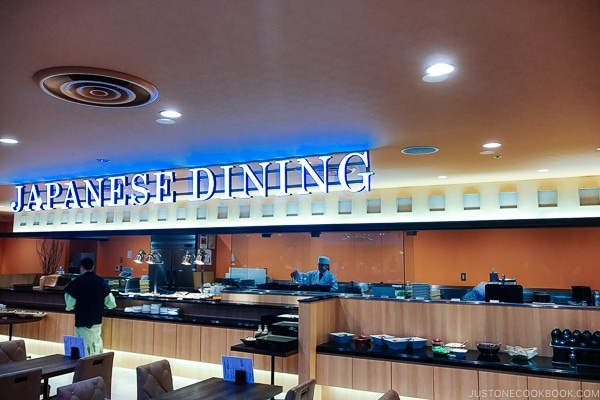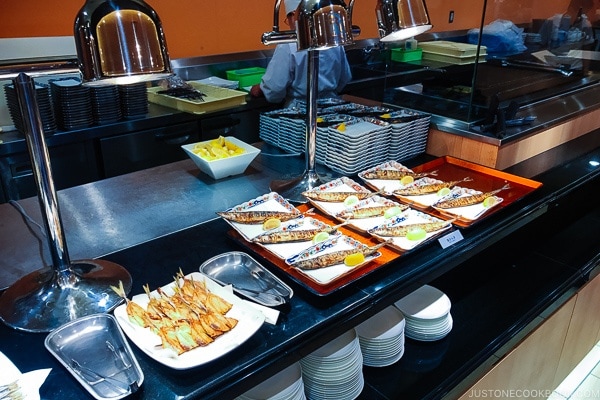 Overall we had a great time at Suginoi Hotel and do highly recommend it. Avoid the peak summer time as it could be very crowded and could make the experience less pleasurable.
---
We hope you enjoyed splashing the water with us in Beppu, for the next travel post we'll enjoy more hot spring in Yufuin. Find out who in the family has the best skills for making Japanese pottery!
If you are interested in our Travel Blogs, you can view them here.